Welcome to your weekly round-up of all the queer shenanigans shaking down on your teevee. This week, because most shows are on winter hiatus, TV Intern Karly is running down some web series to see you through the break. Mey weighs in with some thoughts on The Carmichael Show. And Laura has a midseason finale recap of Fresh off the Boat. We've also got some excellent year end TV lists coming your way, so stay tuned for that!
---
Fresh off the Boat
Tuesdays on ABC at 8:00 p.m.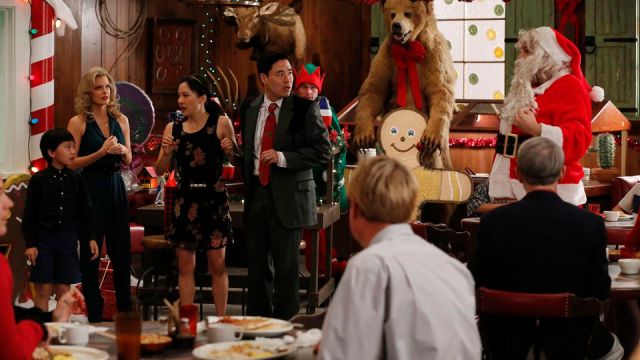 "The Real Santa" is so silly and great. It bags on white people and men, with Jessica ultimately dressing up as (Chinese, female) Santa, saying, "You think a man is thoughtful enough to give presents to everyone in the world? Do you think a man is organized enough to make a list of the behavior of every single boy and girl? … [The white men] all work for me. I am the wholesaler. They are my middlemen." It's so good, and I think there's something really sweet in the way that all of Jessica's attempts to make Santa "the best" for her son really just make Santa more like her.
But anyway! Lesbians. This week, Jessica and Louis recruit Marvin to act as Santa for a special breakfast at the restaurant. Honey excitedly volunteers to do his makeup, explaining, "I interned as a makeup artist for the traveling tour of Cats!" Her husband looks up at her fondly, asking, "Was that the summer you were a lesbian?" Honey replies, "Good memory! But no. No, it was the previous summer when I met that woman who owned the cranberry bog." She looks dreamily into the distance as the conversation continues around her. Eventually she pipes back in, murmuring, "I wonder what Lorraine is up to. Isn't it funny how people just come into your life and… then go…"
I don't know if this is a throwaway line or it's going to develop into something further, but I am HERE for this. Fresh Off the Boat is the funniest show I'm currently watching, and I would be so delighted to see more of this from Honey.
---
Rosewood
Wednesdays on Fox at 10:00 p.m.
Hello, excuse me, Pippy and TMI smooched with their mouths on the television set last week. You know how TMI has really been struggling with how her parents refuse to acknolwedge or accept her relationship with Pippy? Well, her ex-fiance (a dude) comes to town and reveals that her parents have been lying to everybody about where she is and what she's doing, while refusing to return her phone calls or emails or text messages or Facebook pokes. Finally, TMI realizes she's got to let it go. Pippy is her family now, and also Rosie and Mama Vee. To celebrate her emotional freedom, she smacks her smackaroos on Pippy's face! Happy holigays!
---
Top Chef
Thursdays on Top Chef at 10:00 p.m.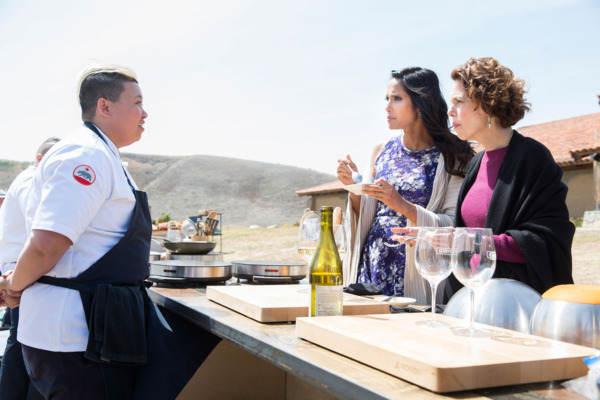 Dang, y'all. Dang! Frances got sent home from Top Chef this week after losing a Surf vs. Turf cook-off against Jason by stuffing too many ingredients onto her plate. This after her favorite road trip story was about how she took the car and left home when her dad couldn't deal with the fact that she's queer. It was a sad day! My lady love, Stacy, says maybe Frances will win her way back in like little Dougie from season 12 on Last Chance Kitchen. I hope so. Our other queer chef, Karen, dominated this week. She would have been the clear winner, but she was so busy being awesome she left her awesome fish off of Padma's plate. The other judges thought it was the best thing all day and so she made it into the top three. She didn't win the Elimination Challenge (and the barrel of wine that came with it), but I'll bet she gained some confidence, etc. Next week: Palm Springs!
---
Couple-ish
Wednesdays and Fridays on YouTube
Written by Karly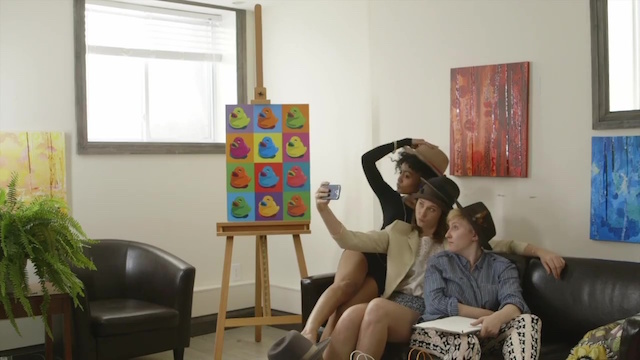 This webseries stars Kaitlyn Alexander (also creator and co-writer) and Sharon Belle from Carmilla! Kaitlyn plays Dee who, with sister Amy's help, finds a new roommate, Rachel. Rachel is British and cute, Dee is a snarky grump, and Amy is the sweet, helpful lady who keeps them together. That is until they find out that Rachel listed Dee as her common law partner so she could renew her visa and just expected Dee not to notice.
For fans and followers of Kaitlyn, they already know that Dee and Rachel will pretend to be a couple and start a Couples YouTube channel, which apparently is a thing that fools immigration departments. Amy will start to fall for Rachel; and Dee, who is gender nonbinary, will fall for a boy named Edmond. Shenans! But already this series is intriguing for the snarky dialogue and actors we already love and ones we just met. Amy is played by Mercedes Morris, who is already a fave.
---
'Til Lease Do Us Part
Monday through Friday on YouTube
Written by Karly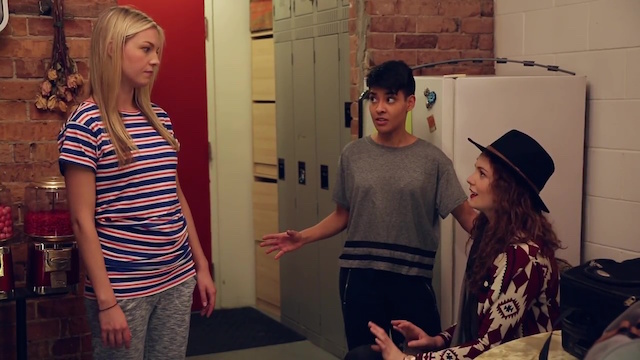 The webseries TLDUP season 2 was a Kickstarter stretch goal for the film Almost Adults starring Carmilla's Elise Bauman and Natasha Negovanlis. You might be sensing a theme here. TLDUP is like a prequel to the film: it features character Elliot (Winny Clarke), who will be Elise Bauman's love interest. I know! It's like Marvel Universe but just for lesbians!
In the series, Elliot and Jess (played by Angie Lopez) are best friends and roommates. Jess has been dating "Lexi" (Morgan Kohan) for about a month and asks Lexi to live with them until she can get back on her feet. But we know it's a classic U-Haulin'. When Lexi and Elliot meet, Elliot finds out that she is actually Alexis, her ex. They were together for 2 weeks in high school but it was a passionate romance that "Drake writes songs about." Lord, do I feel old.
Awkwardness ensues, especially when Jess asks Elliot to help cook a romantic dinner for Lexi. Jess and Elliot are cinnamon rolls and my prediction is that Lexi is the interloper bound to break both of their hearts. But maybe it's because I'm suspicious of girls who wear hats like that all the time (see Rachel above, who did lie to the government).
---
The Carmichael Show
Returns to NBC this spring
In the episode "Gender," Jerrod signs up for his family's church's Big Brother/Big Sister program. Jerrod and his Little Brother, Jordan, are getting along pretty great, so great, in fact, that Jordan feels comfortable enough with Jerrod to come out to him as gay. Jerrod leaves and thinks about what he should do, should he encourage Jordan to come out, what kind of advice should he give Jordan, what kind of support should he give Jordan? One thing is clear, though, Jerrod wants to be there for Jordan. When Jerrod goes back says that Jordan has his total and complete support, Jordan says that actually, the gay thing wasn't true, and instead of being Jerrod's Little Brother, she's Jerrod's Little Sister. She tells him that she's transgender and says "Do you know what that means? I'm a girl, even though you see me as a boy."
At first, Jerrod freaks out a little bit, but not in a bad way. He doesn't know what to say, so he starts spouting basketball history. When he goes back to his family, he freaks out a little bit more, asking for a new kid and admitting that he doesn't know what to do.
Jerrod's parents and girlfriend have this conversation.
Mom: "Transgender?! You mean he likes to dress up like a girl, like a little, mini Rupaul?"
Dad: "No, no, no, no. He means like Bruce Jenner is now Carol Anne."
Maxine: "No, her name's Caitlyn."
Dad: "I know, but I don't like that name."
While I don't like that Caitlyn Jenner's birth name is used, I cracked up at the Carol Anne joke. That's how you tell a trans joke that isn't transphobic. Also, I do love that they made a clear distinction between trans women and drag queens. Maxine also points out that "Not everyone who's transgender has surgery" and when Jerrod is confused that Jordan likes basketball and video games, "boy things," she adds that "There is no such thing as 'boy things.' The whole thing with gender is that it's just a social construct, it's not innate, we are taught what is male and female."
Jerrod eventually goes back to where Jordan's playing basketball (he said he had to run to his car to get a CD, but really went to talk to his family and just left Jordan there) and admits that he got scared. Jerrod then sits down Jordan and tries to give her the best advice he can while admitting that he doesn't understand what Jordan's going through. Jordan tells him, "I didn't ask you to help me figure out whether or not I'm transgender, I am" and freaks out a little when she thinks that if Jerrod doesn't get it, her mom won't and her friends won't. Jerrod comforts her, "Look, the fact that I don't totally get it doesn't mean that I hear what you're saying or that I don't believe you. I know that this is real. Truthfully, i don't have to get it 100% to support you 100%." He then tells Jordan that he'll help her come out to her mom. It's a really sweet moment. We see a cis, straight man stepping up and being the best ally, friend and role model to a trans girl that he can. I think that the two best examples of cis, straight men reacting to trans women coming out to them on TV this year were Jerrod Carmichael and Kanye West.
While this episode isn't exactly perfect (they misgender Jordan a lot), I do think it was maybe the most slept on piece of trans media of the year. What I really love about it is that it's pretty real. It doesn't pretend that Jerrod's family, or Jerrod himself, are perfect when it comes to understanding trans people. But they do try, and they do learn, and they do accept Jordan. Honestly, this is a really funny episode, and they made a bunch of jokes about trans people, and they made them mostly without putting trans people down or being transphobic. The Carmichael Show was renewed by NBC for a second season, and it would be absolutely great if Jordan could come back, this time an out and happy trans girl.