We are settled back in like snow falling and sticking on the grass, and so once again welcome to Boobs on Your Tube! Before we get to the shows of the week, have you heard about Rosamund Pike's new turn as a sociopathic lesbian f*cking lioness in the latest trailer drop for "I Care A Lot"? Also, Drew has fallen head-over-heels for Denali in this season of RuPaul's Drag Race. Drew also talked with trans performer and writer Shakina Nayfack about her new Audible play Chonburi International Hotel & Butterfly Club, NBC's Connecting…, and forming trans community through art. Cheryl Blossom and Toni Topaz were the prom queens of Riverdale's Season Five premiere, but at what cost? And of course we all still have Batwoman fever after Javicia Leslie's premiere in the role, which also has allowed us to welcome a new recapper, Nic, into our mix (be sure to hop over and wish Nic a Hello if you haven't had the chance yet)!
Heather made you a very cute digital arts-and-crafts project of all your favorite lesbian and bisexual TV characters in Animal Crossing: New Horizons. Riese has spent the pandemic watching all 32 seasons, 373 episodes of The Amazing Race and she would like to know where are all the lesbians? (Seriously, if you love weird and obsessive Riese deep dives, cannot recommend that piece enough!) AND FINALLY MAY WE PRESENT OUR MAGNUM OPUS: "Portrait of a Bernie on Fire" (and 24 Other Lesbian Shenanigans)
Notes from the TV Team:
+ grown-ish returned this week and, much to my surprise, it gave us a brief glimpse into Nomi Segal's life away from Cal U. Last we saw Nomi, she was unsure whether or not she'd keep the baby and — surprise! again! — she did. Baby Luna and mommy made an appearance via Facetime on this week's episode. Fingers crossed that we get to see more of them this season: It'd be interesting to see how kids get grown-ish outside of college. — Natalie
---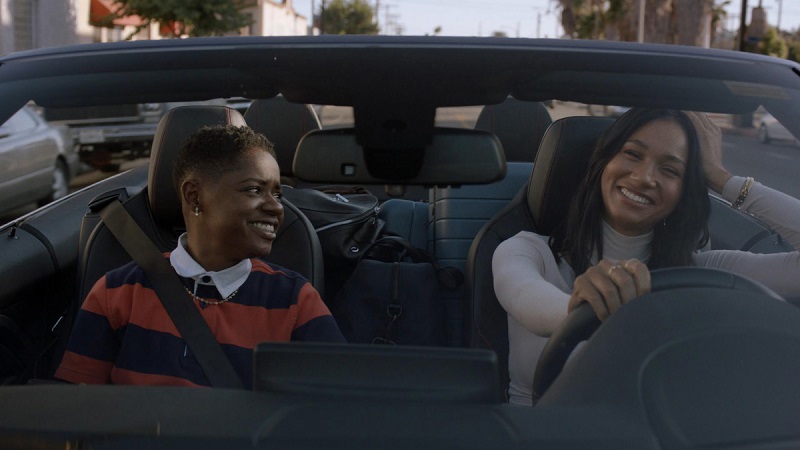 After a strong first season, All American went through a sophomore slump, at least where the show's lesbian storyline was concerned. Bre-Z's Coop went from being a central character in the first season — almost a co-lead with on-screen BFF Spencer James — to being sidelined in storylines in which she should've been prominent. As if the show heard my complaints, Coop starts off the third season by reaffirming "We some bad bitches!"… and, of course, if there's one thing I love, it's a bad bitch… so we'll see how this season goes.
When we catch up with Coop, she's fresh off her summer tour — to rave reviews, natch — and anxious to get home. She's particularly excited to see Patience who left JP's tour abruptly and without explanation. Coop rushes over to Spencer's house as soon as she and Layla return to LA and Spence, Chris and Patience are excited to welcome her back. The celebration doesn't last too long, though, as they report that Tyrone's sister is back in town. No one really knows why she's back, though, and that leaves Coop worried.
"OK, easy, Don Corleone," Patience jokes, in hopes of diffusing the tension. "I mean, it just sounds like Mo left town a long time ago, and now she made an amazing life for herself as a lawyer… why would she risk all of that to get revenge?"
Dispensing with that issue, Coop pushes Patience on why she really left the summer tour. Patience insists the touring life just wasn't for her but Coop's not buying it. She tells Patience to find her when she's ready to tell the truth. Ultimately she does: Patience explains that she left the tour because of JP and didn't want to tell Coop for fear it'd damage her career. Patience is scant on details because she signed an NDA, but she insists that JP is more cutthroat than anyone knew. The conversation is interrupted by a report from the county lock-up that Preach has been released.
Later, Coop finally comes face to face with Tyrone's sister, Mo. She admits that, initially, she came to town looking for revenge but over the summer she'd learned about the terror her brother inflicted; now, she's here to make amends. Mo's the one who got Preach released and she wants to continue to make amends with those who Tyrone hurt. Personally, I'm skeptical about Mo but if it keeps Coop front and center this season, I'll take it.
---
FBI: Most Wanted isn't one of the police procedurals I watch — after all, I'm pretty sure I watched this show already when it was called Chase and starred Rose Rollins — but when someone tipped me off to a frontburner story for the show's black lesbian character, I knew I had to give it a try.
Sheryll Barnes is a former NYPD detective who made her way to the FBI's Fugitive Task Force. As is the case with most procedurals, delving into the officers private lives is rare, but in last season's "Caesar," we got some insight into Sheryll by revisiting a past undercover identity. Sheryll's married: her wife, Charlotte, is a law professor at Columbia and the pair share a daughter. When Most Wanted picks up this week, Charlotte broaches the subject of having another child as she and Sheryll watch their daughter play in the park. Despite having talked about wanting a big family before, Sheryll's reluctant to commit to having more kids. She and Charlotte argue back and forth until a call from work interrupts their conversation.
The team's case involves a once promising black woman whose life spun out of control after being sexually assaulted in law school. It gives Sheryll even more pause about having another child: How could she ever protect another child from the evil and hatred she sees at work everyday? Her boss, Jess, assures her every parent shares that anxiety and advises, "The only way to combat evil in this world is to bring more good into it."
When Sheryll returns home, she tells her wife she wants to have another baby. She's still scared and worried but she won't let their future be determined by things they can't control. They curl up against each other in bed and promise to give this new child the best they've got.
---
Nancy Drew 201: "The Search for the Midnight Wraith"
The Drew Crew is back! We picked up where we left off, after our merry band of reluctant sleuths accidentally pissed off a sea spirit called the Aglaeca, who gifted them all with Final Destination-esque premonitions of their gruesome deaths.
On a mission to stop them, they sneak around in the dark and meet the Bobbsey Twins, more youthful mystery-solvers from the same publishing company that gave us the Nancy Drew and Hardy Boys novels. The Drew Crew saves the Bobbsey Twins from a wraith as they try to escape the curse of the Aglaeca and prevent their death curses from coming true, all while unraveling more mysteries about Nancy's birth family and where all the light in Horseshoe Bay has gone, all while trying to maintain their friendships to make all this risking-their-lives-for-each-other stuff worth it.
---
Legacies 301: "We're Not Worthy"
I was SO excited for these magical teens to return to us, but I have to admit this episode was… disappointing. I know the pandemic really screwed up plans and shooting schedules but Josie's flirtationship with Jade seems like it's going to be entirely forgotten, since Jade is fully MIA and Josie is apparently going off to see her mother even though Caroline should just come to the Salvatore School already. They broke their own rule where they EXPLICITLY STATED that a non-consensual kiss to an unconscious person was not cool last season when it was about Josie and Hope, because Landon kissed Hope right on her unconscious mouth, and somehow that was okay? And also worked?? Hope is the most badass character on this show when they let her be and now all they're having her do is pine over a wet noodle of a boy and it's starting to make me angry.
Luckily, a lot of the humor and wit I love about this show was still there, with the Super Squad meeting Nimue and giving her a hard time for doing that classic fantasy move where she only gave them vital information piecemeal and often after they tried something she knew wouldn't work. I'm worried this season is going to focus too much on Landon and not enough on the girls that make this show shine but I'm willing to give it a few episodes to work out it's pandemic kinks. Plus, episode 303 is called "Salvator: The Musical!" so I'm not giving up yet.
---
Dickinson 204 & 205: "The Daisy Follows Soft the Sun" & "Forbidden Fruit a Flavor Has"
In these two episodes, Emily faces two things I related to a lot as a queer creative: the overwhelming burden of being perceived, and writer's block. In true Emily fashion, she is extremely dramatic about both of these situations, and I personally really enjoyed when she described being unable to find words to put to paper as feeling like "a useless husk." Emily's hung up on the fact that she doesn't know how Samuel Bowles will feel about the poem she submitted and it's consuming her mind. To clear her head, she goes birding, which I think we can all agree is queer culture, and ultimately is inspired by Olmsted to stop worrying about what anyone else thinks; writing is about the thing you create, not the reaction to it.
Emily holds her chin up and attends Sue's party, but has a rough go of it; she's not sure she likes being seen. Sue is upset by this news because she loves to see Emily and thinks everyone should see her so she gives her a pep talk that I worry is equal parts out of love and of wanting to be famous by association. But either way she does seem genuinely proud of Emily. Later, after hearing Sue speak highly of Sam's wife Mary, Emily sits down to write a letter to her, only to find herself imagining hooking up with Sam, which had very "do I want to be him or be with him" energy if I do say so myself.