Down in the basement, Obvious Plot Device is armed and dangerous. He attacks Betty mid-pickle fetching and I gasped and freaked out a lot at the prospect of him hurting her. Betty is a fucking BEAST though, and wrestles the poker away from him so she can stab him with it. Moral of this story: do not get between Betty McRae and her girl's pickles. Now Betty's got a stabbed Pet Nazi and some issues to solve.
Pet Nazi starts speaking in German, and Betty understands him. He confronts her and she immediately denies that she is German, telling him to speak in English. Oh, I see. This is like that time I kissed a girl as a teenager and we both immediately denied that we were gay. Got it.
Dr. Ned has to run because he is doing important doctor things like saving people, not getting drunk in girls' boarding house, just being a generally upstanding dude who maybe any parent would want with their daughter? Lorna is mostly scarred by the fact he doesn't eat beef. Looks like no one has eaten yet because Lorna insists on Gene returning home. Sorry, but it appears Captain Douchnozzle is too busy being a piece of shit pie.
Lorna and Sheila are fighting in the kitchen because Sheila would just like to remind her mother that she is one of her children and also brought a nice dude to dinner and everyone treated him like shit. In Part Two of the Corbett Family Smacking People in the Face, Lorna smacks Sheila in the face.
Downstairs, Betty is treating the soldier's wound because no one is gonna let her keep her new pet Nazi if they see she's not a responsible pet owner. Pet Nazi tells her that she is hiding part of herself away. Clearly he has already happened upon her secret basement DVD collection with every season of The L Word. Unfortunately he is also still a traitorous Nazi and tries to kill her. She starts speaking in German (!!!) and kicks him off.
Turns out that Betty McRae is actually Betty Something German, and her family had to hide their German heritage during World War I as people were being attacked or rounded up in camps. As a result, she learned German from her grandmother along with a recipe for onion cake which I believe is the same thing as tarte flambée, which is what my people call Look We Made A Superior Version of Pizza.
Back at Sudden Party, Gene is enough of a skeezebag that he opens his flirtations with Gladys by saying that he ALREADY KNOWS SHE HAS A FIANCE and he is gonna try to get in there anyway. Seriously Lieutenant Shitballs, could you be a worse person? There is a fucking Nazi in the basement and I am actually enjoying his screentime more than yours. Kate stumbles on this situation and believes some actual shit is going down rather than Gladys rejecting the gigantic dildo. Kate just desperately wants to be normal, and it breaks my heart that this seemed like part of that journey to her.
Mr. Akins' wife gets more plastered than a sophomore at a rugby social and this allows the remaining Corbetts to laugh away their troubles. Thank goddess, because those kids are in dire need of laughter and sunshine.
Gladys and Kate have a talk, and it rips my heart out a little bit. Gladys tells her that her father is gone, and there's nothing left to fear. But it's so much more complicated than that, because Kate is a survivor of abuse, which means that every day will be a little bit more of a struggle, and every decision will be that much harder, and everything she wants to forget will haunt her that much longer.
So what are you afraid of?

Everything.
Betty tells Pet Nazi he can go but then she tricks him because Betty is not about that shit. Gene comes out with his balls waving around and beats the shit out of Pet Nazi. This is the first time he's ever seen his enemy up close, and it has an "important impact" on him. Betty tells the German that he's wrong and she is not like him. Swoon, Betty Something German, you are such a magnificent champion of lesbians. Kate runs up to Betty and asks her what happens and in easily the best line of this entire series, Betty literally brushes the fucking dirt off her shoulders and says "I didn't get pickles."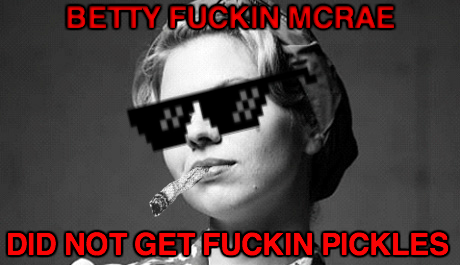 I would also like to just say that while General Fuckwit and Gladys were processing things, this was going on in the background: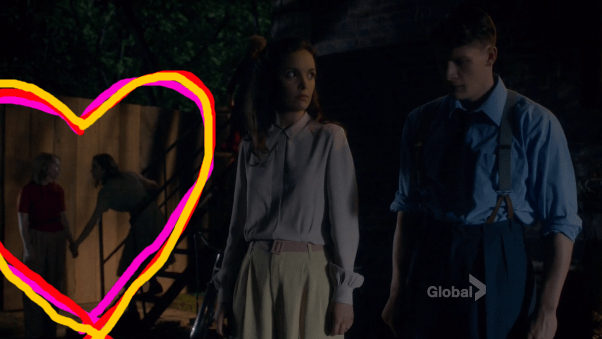 Upstairs, they make some incredibly intense faces and Ali Liebert let me just remind you that you are ON WATCH for this behavior.
He told me none of us can hide forever.

We do what we have to…to survive.

When we're finally safe, it's okay to stop fighting.
Now we get our end montage showing everyone getting their shit back together, including Gladys dealing with her Gay Boyfriend Feelings, Gene feeling dark and tortured about how shitty he is, and Kate singing in the choir, bless her beautiful Disney soul. Until next time, babes who drop bombs!
Pages: 1 2 3See entire article on one page