This week on Bomb Girls and arguably the best episode of the show thus far, we discover that Betty did not, in fact, get pickles, and Gladys can sing, too? Petition to change the direction of this show to a Josie and the Pussycats-esque dramedy, with Kate and Gladys doing vocals, Vera on bass, Betty on drums, and Lorna as beleaguered manager/tambourine player.
Gene is back and has brought with him yet another haircut for me to covet. Seriously, I don't need any more excuses to go back to my barber and keep asking her to make me look like an early 20th century gangster. Lorna wants to give Gene the VIP treatment but he just wants to dance around in his underwear. They overhear that three German prisoners have escaped near Toronto and are on the lamm. Lamm is the German word for lamb. It took me about ten minutes to realize that German does not have feminine/masculine nouns.
Over at Ye Olde Ladies' Locker Roome, Gladys is bummed that her man is gallivanting in London and not gallivanting in her pants. Betty is bummed because she has to make like me every time I go out in public in the Greater Philadelphia Area and hope she doesn't run into her burnt-to-a-crisp ex, Ivan. Kate is bummed because everyone is complaining about their vagina issues and she is so not getting any in the history of ever.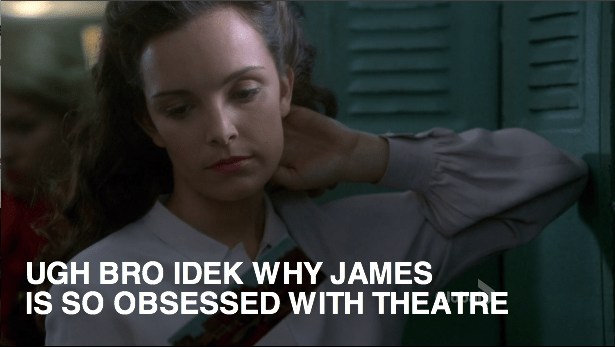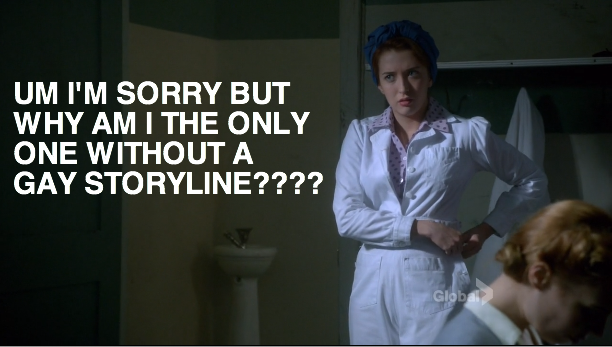 Kate storms off and Betty gives a longing look in her direction that is capable of ripping hearts out of chests and then smashing them with hammers. You know what? I am putting Ali Liebert on watch. Because her face situation has done too much damage to my heart, and I'm done. I am going to start keeping track of the moments in which my body physically hurts from the way she looks at Kate, and those are going to start adding up. It's for the good of all of our hearts, okay? I would rate that last look as an "oh god."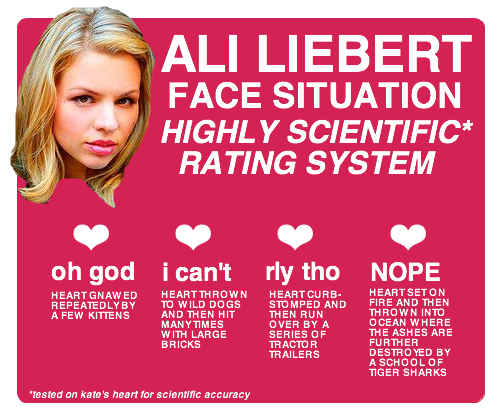 Vera wrote an article on Veronica Lake because Vera is just really awesome and continually the wisest person on this show. Gladys' Minion, or the Secretary Formerly Known As Carol, is being a super bitch about the article because she is the editor of the school newspaper and VicMu High is not the kind of school where nobodies get to become somebodies through choreographed dance numbers and tokenism!
Gene comes to give a talk to the ladies because Lorna is one of those moms who really likes to show off her kid. $20 says that if they'd had bumper stickers in the 1940s, Lorna would have had a "My Son Can Shoot The Nazi Kneecaps Off Your Honor Student" on her minivan. Mostly Gene talks about how he went to a burlesque show and they dropped a bomb on the square and he thought the girls should finish the show first. Gene is kind of a dickhole. Betty rolls her eyes so hard that the movement could be seen from the space station. Betty's continued level of unimpressed with anything any male does on this show is EPIC.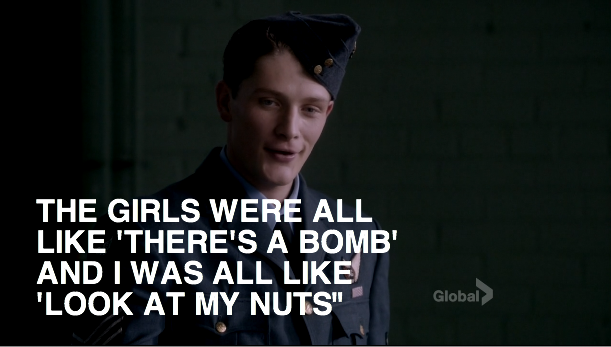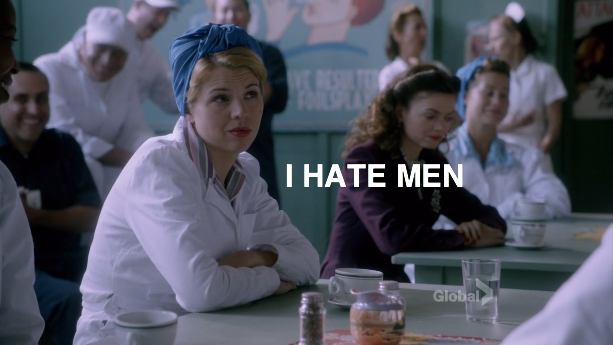 Gladys thinks he's an asshat,  but Kate is already singing "Someday My Prince Will Come" with a pair of talking birds. It's okay, Kate. We all go through these confused stages where we think we're supposed to want what society tells us to want, but then we realize that our prince has boobs. Maybe Kate is just reacting to the note from Leon that told her she should show at his choir practice, since she is in Rebellious Mode.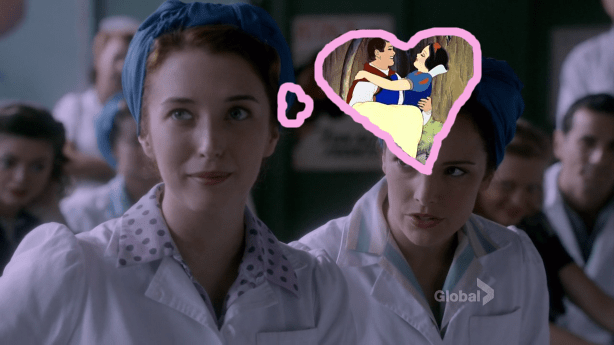 Marco introduces himself to Gene as That Guy Who Knocked Up Your Mom. Kidding! But Lorna's face looks like Marco just challenged Gene to a Penis Sword Fight. That's a thing people with penises do, right? I mean, that's a thing I'd do if I had a penis.
Kate goes over to talk to Gene, and maybe flirts with him, but it's hard to tell because Disney Princesses don't flirt so much as sing their feelings while accompanied by woodland creatures. The reactions of the other girls to this flirting is priceless, especially Betty's silent death wish upon seeing the love of her life try to hit on a dude.
The Secretary Formerly Known As Carol needs Gladys to help with the soldier relief party she is putting together, but Gladys is having poker night with the broskies and the brewskies. Vera says she'll help, and Gladys said she forgot to mention it's for Popular Girls Only. Vera is like, honey, let's just say I'm popular with the boys.
Every time I see Carol, I just want to say: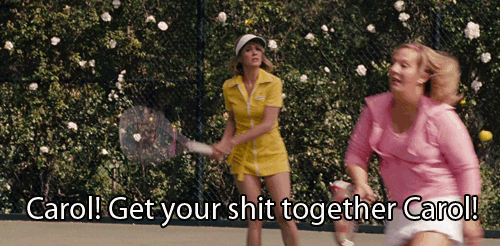 Lorna is putting on an extremely intense dinner for Gene, but Gene doesn't really seem to care. Gene, I can already tell you are a Grade A Buttface. Bob thinks maybe Lorna is going overboard but 1940s Version of a Helicopter Mom, okay? Also their neighbor Ellie is incredible and needs her own spinoff.
Vera shows up to the Popular Girls Relief Effort Party, which is being run by a MRS. BEAVERTON. You cannot make that shit up. If that was a shoutout for the lesbians in the audience: thank you, we got the message loud and clear, carry on.
Betty and Gladys are about to sit down to Bro Poker Night, but it's probably about as freezing in their house as it is my house right now. I'll give you a hint. I am wearing an electric blanket as a poncho and can see my breath when I'm in the kitchen.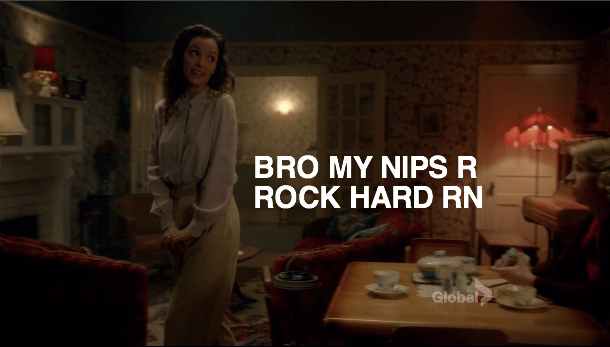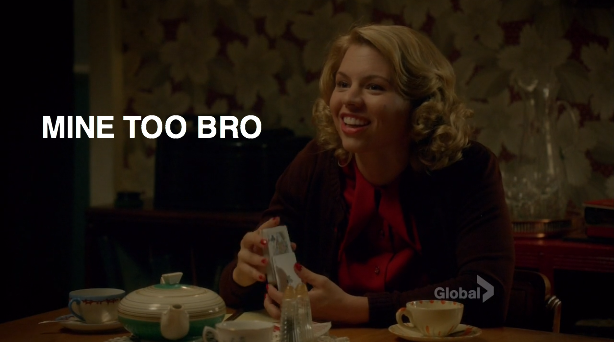 Sheila brings her date to the dinner and surprise, it's Dr. Ned Patel! Lorna is like, really, you brought the only other man who has seen my vagina.
Pages: 1 2 3See entire article on one page