WoopWoop! It's the popo! Nope, it's the Juggaloes. Nope, it's a black-out drill because the escaped Nazis have reached the city. Betty's outside stoking the furnace and getting her butch on but this noise does not bode well, especially because she's being spied on by a Fairly Obvious Plot Device!
Over at Club Hot Mess, Gene is being a massive asshole in front of the guests. No one is really sure how to react to his bullshit, but I feel like Bob punching him in the face would really help. Gene says he's gonna go check the streets for the guests who haven't arrived yet. Riiiiiiiiiiiiiight.
Leon's playing piano when Kate walks in. Leon thinks that having the choir would be really good for Kate, but Kate is using other routes to face her PTSD. Kate, your perfect Disney face continues to break my heart, and Bomb Girls Powers-That-Be, high five for handling a PTSD storyline so well. Leon tells her to be careful. Leon, you're a really good guy.
Over at the Popular Girls' Table, Vera says that the system they've established is a "cock-up." Everyone goes silent because these are fancy ladies who do not have such vulgar vocabulary. Mrs. Beaverton also thinks they've got a lot of cock on their hands, and as someone with a name like Beaverton, she is all about removing as much cock from the situation as possible. She thinks Vera's idea is just swell and Vera gives Carol the ol' Suck It Bitch grin.
Betty and Gladys are in the middle of Bro Poker Night when they are disturbed by Giganticus Assholus, aka Gene, whose face I want to pummel into a cement wall. Turns out that not only did he ditch the dinner Lorna threw for him, but Kate invited him to crash Bro Poker Night. This guy is literally everything I hated about every single male I encountered during college parties.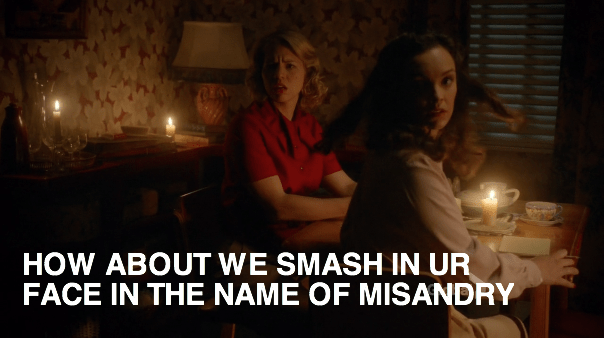 Goddess bless you, Betty McRae, VicMu Resident Man-Hating Lesbian.
Back at Club Hot Mess, everyone is like "I wonder where Gene went" and then everyone is like "I wonder where all the whiskey went" and then everyone is like "I wonder if Gene and the whiskey went to the same place." Sheila briefly reminds her mother that a) her brother is a Grade A Piece O' Shit and b) in case no one has noticed, they haven't fed her boyfriend yet.
Carol makes some classist remarks and Vera realizes she has way better things to do than listen to the popular girls bitch about how bad they are at stuffing things into bags. Beaverton, as her name noble would suggest, is a fair and sympathetic lady who thinks Carol is being a total shit.
Back at the Sudden Party, Kate is getting cozy with Dipshit Enormous. Betty and Gladys are in the corner guarding the throne, neither amused nor impressed. Betty in particular is making some faces that I would rate at an "oh god" level.
I wouldn't have imagined those two together.

You and me both.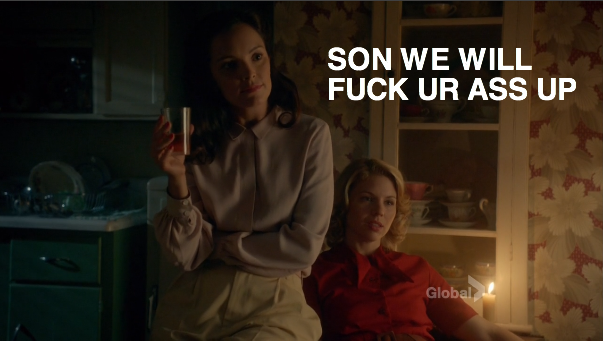 But then Kate asks Betty to go get some pickles and we all know what happens when Kate asks Betty to do something. You know, I make a lot of sad faces, cry at the laptop screen, all that stuff. Sargent Dickhole asks Kate to sing a duet with him, and when she has trouble singing because it's a complex and serious issue, he's like "haha rusty pipes." Gladys' face looks like she has a rusty pipe she'd like to bury somewhere in his face, but she quickly joins in to cover for Kate. To all of this I simply say: IS EVERYONE IN THE CAST THIS MULTITALENTED AND WHY HAS THERE NOT BEEN A MUSICAL EPISODE YET?
Pages: 1 2 3See entire article on one page