Today is Celebrate Bisexuality Day, and a group of passionate teenagers are taking to Twitter to make sure everyone knows it.
Join the #ILoveBIself Twitter Chat on #CelebrateBisexualityDay at 7 pm ET! #BiWeek pic.twitter.com/Fzb19qfrRH

— GLSEN (@GLSEN) September 20, 2016
GLSEN and five members of the National Student Council launched a Twitter campaign called #ILoveBiSelf that will culminate tonight in a live chat at 7 p.m. E.T. These five bi high schoolers will be talking about what it's like to be bi at school, what schools and communities can do to support bisexual young people, and a lot more. This chat led by youth is so important, because they are the authorities on their own experiences. They were kind enough to chat with Autostraddle as well.
"I advocate for bisexual youth via social media and do my best to help empower those like me," said Ellie Peña, a high school senior in Houston. "I feel like people are becoming more comfortable with themselves, as acceptance of the LGBTQIA+ community has been growing larger. The rise of self-love within our communities that I have seen in both real life and social media is incredibly remarkable."
They said they never knew about bisexuality while growing up in a conservative Latino family and they hope to help other young people avoid that feeling of isolation.
These young people are proud to be bi, and they have deep understanding of bisexual history and activism. Katie Regittko, a junior in Raleigh, NC, said they struggled with identifying as bisexual because they, like many people, grew up with the idea that bisexual means an attraction to exactly two, binary genders. Once they learned that historic and contemporary bisexual communities have proudly claimed a gender-expansive understanding of bisexuality, the label was a perfect fit.
"Using the term bisexual to describe myself felt like coming home to an identity that genuinely fit my feelings, which was a really freeing experience," Katie said. "Identifying as bisexual is also liberating in the sense that we're reclaiming a term that was wrongly used to describe our identity as a mental illness in the DSM III. Today I use the terms bisexual and queer to identify my sexuality."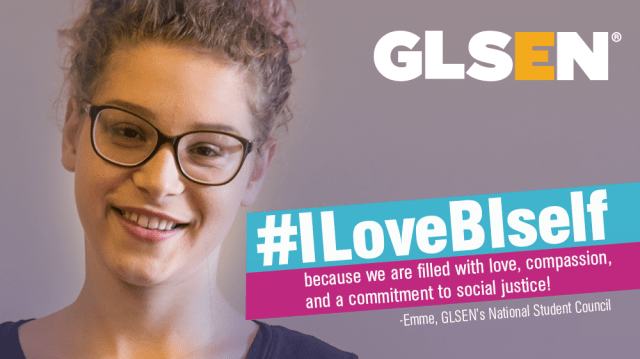 In addition to hosting groundbreaking Twitter chats, these five teenagers are all involved in activism with their schools and communities. And they all agreed that social media and the internet are a key part of activism for Generation Z.
"I am a co-leader of my GSA at school, and I participate in leadership classes and programs through local organizations. My work is focused on advocacy for transgender people, for gay and bisexual people, against structural racism, and for the abolition of prisons," said Emme Goldman, a trans woman in 10th grade in Madison, WI. "The use of technology and social media as tools to speak to personal experiences and injustices has been one of the most empowering things in the progress and propulsion of social movements."
According to a survey from the J Walter Thompson Innovation Group, more than half of teenagers today identify as something other than heterosexual, which is substantially higher than any other generation — millenials clock in at 35 percent according to the same data. But even as queer teens are coming out in droves, they face many challenges. Whether it's parents and teachers who don't believe bisexuality is real or peers making harassing comments in the hallways, it may seem like life for queer teens hasn't changed much in the last 10 years.
But there is at least one huge difference: now, more than ever, queer teens are naming themselves and seeing each other. That feels especially poignant on Bi Visibility Day.
"I feel that it's important to spread awareness about my experiences as a bisexual teen because I think that a lot of bi teens share similar experiences. We're often the easiest targets of biphobic comments like "pick a side" or "it's just a phase" from our peers, teachers, and families," said Madison Mizsewski, a senior in Danville, CA. "The only way to make living as a bi person easier is to educate those around us, and sharing my experience is one way I can add to the collective educative voice of the bisexual community.  GLSEN has helped me spread awareness about what it's like to live as a queer kid by not only giving me a platform with which to share my story, but giving me a supportive community of peers and superiors to lean on when I need to."
There's still a lot of work to do, which is why GLSEN is so adamant about supporting bisexual teens as they advocate for themselves and their community. In fact, the Bi Awareness Week campaign was their idea, and Autostraddle writer Gabby Rivera, the Youth Programs Manager at GLSEN, stepped up to help make it happen.
Gabby said she had to unlearn a lot of tired stereotypes about bi women and hopes to help stop those ideas in their tracks for the next generation of LGBT folks.
"If amplifying #ILoveBIself, using the talent and energy of GLSEN staff to create graphics and hosting a Twitter chat can help bisexual youth spread their messages of acceptance and love for each other while smashing absurd and ignorant misconceptions about their identity: I am here for it. GLSEN is here for it. Punto," she said. "I hope this campaign galvanizes LGBTQ youth everywhere to continue speaking up and out for what they believe in and the issues that important to their physical and spiritual well-being. You are the driving force of our movement and all LGBTQ adults should be doing everything we can to act in allyship with all of you and rise in solidarity together."
This may be the very most exciting thing about this Twitter chat. Y'all, these teens have so much love for their community, which is also more broadly our community. Baltimore senior Bexx Robinson has some simple wisdom for every teen who may be struggling to come out or experiencing harm as an out queer or bi young person:
"There are people here to help and listen to you. People like me and other members of the
NSC
 [National Student Council] have been where you are. We are still fighting our own battles, but it's not impossible. You're not by default greedy, confused, or dishonest. Self love and acceptance should come first. There's nothing wrong with being bi."
To hear more from these awesome young people and to join the conversation, head to Twitter at 7 p.m. E.T. to follow along with
GLSEN
 and join
#ILoveBIself
. Let's celebrate Celebrate Bisexuality Day aka Bi Visibility Day aka the best day of the year with some self love, encouragement and brilliance from these youth. See you there!