Feature image via imgur.com
---
About a month ago, give or take depending on your region, a whole new crop of young queers set off to college with visions of newfound freedoms, mind-expanding classes, and probably exciting new sexcapades (but stay safe, kids). Now that some time has passed the brutal realities of soul-crushing exam schedules, wacky roommates, and dubious cafeteria food are starting to set in, but have no fear younglings. We're here to help (with the food, anyway).
The worst insult of cafeteria foods to me was that my budget meal plan only covered about two-thirds of my meals. I had to fend for myself the rest of the time.That in itself would have been fine except living in the dorms I had little more than a microwave, a couple of bowls and utensils, and a mini-fridge to work with. Breakfast is easy: cereal, milk, microwave oatmeal, maybe some yogurt and granola if you're feeling continental; but sometimes you have classes stacked on top of each other and you can't make it to the other side of campus for lunch, or you've spent an evening so deeply enmeshed in lesbian drama that the cafeteria has already closed and you haven't had supper, and sometimes it will be two in the morning and for any number of reasons you are like starving, man. Well, have no fear, here are some meals anyone can make with only the most basic tools.
Bread Hummus
So hummus is great, right? It's healthy, vegan, tasty, and filling. But if you don't have a food processor, it's a total pain to make yourself. Unless of course you make bread hummus, which really just takes emptying a few cans and some stirring. Sure, obviously you can just buy hummus, but I mean, that's not very punk rock of you (also the DIY version is like a quarter the price).
Ingredients:
1 can chickpeas, drained and rinsed
2-3 Tbsp tahini
1 Tbsp olive oil, plus more for garnish
Juice of half a lemon
1/2 tsp salt
1/2 tsp cumin
1/2-1 tsp garlic paste (you can find this in tubes in the produce section, usually near packaged herbs)
Pinch paprika
Combine tahini, olive oil, lemon juice, salt, cumin, and garlic in a bowl. Stir with a fork until combined into a smooth sauce. Taste, it should taste basically like hummus, but about three times as strong as you want it. Stir in the chickpeas, garnish with paprika and drizzle a little extra olive oil over it. It can be eaten immediately or left to marinate a few hours before serving. Use it as a dip with tortilla chips or pita triangles and vegetables, or a yummy filling for a veggie wrap (or whatever else you can come up with).
---
Baked Potatoes
Obvious, maybe, but a good potato is a great cheap and easy meal. You don't really need a recipe. Clean the potato, stab it to death with a fork like it's Caesar and you're a senator of Rome, then push the "potato" button on your microwave (that's about five to six minutes on high if you don't have a potato button), turning it once halfway through cooking. So this isn't a recipe, these are filling suggestions:
Either cream cheese and smoked salmon, or if that's too expensive, smoked salmon flavored cream cheese, with chives or green onions.
You know those "Tasty Bites" or other vacuum sealed Indian entrees? Make them stretch to several meals by using them as a baked potato filling (the bean or lentil ones are the best for this, ones that already have potato in them are a bit weird).
Chopped (heated) frozen broccoli, sour cream, and really strong grated cheddar cheese.
Virtually any combination of savory cream cheese + cold cut + herb (some baking shops and Amish groceries sell the "everything" topping for everything bagels and this is really good).
---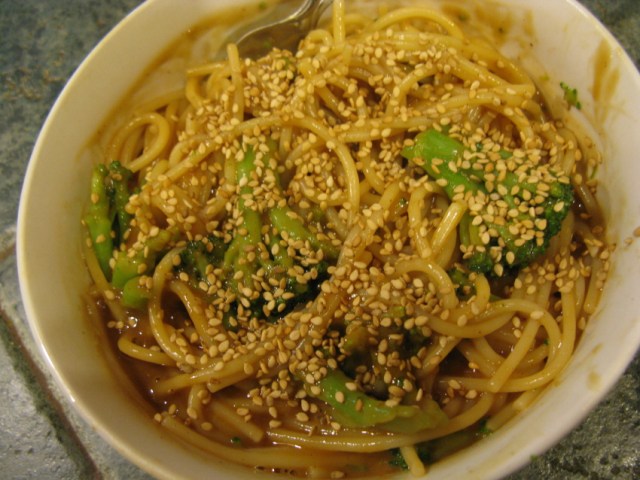 Peanut Noodles
I used to be so addicted to the Cold Peanut Noodles from this chinese place down the street that the only way my budget was going to survive would be if I learned to recreate them. It didn't turn out to be that hard. In fact this recipe became a dietary staple of every roommate I had after I invented them. Peanut butter is already a major dietary staple of the poor college student, so that makes sense. The recipe is infinitely variable, so experiment with quantities and taste as you go. The first time I measured any of the ingredients, after making it for nearly a decade, was when I was writing this recipe. You can serve this sauce over nearly any noodle you want. Some good choices for the dorm (since they can be made easily in a microwave) include: rice vermicelli, ramen (you can buy large amounts of just the noodles in packets in the asian section of most groceries), or fresh noodles.
Ingredients:
3-4 Tbsp Peanut Butter
2-3 Tbsp Brown Sugar
1 Tbsp soy sauce or tamari
1-2 tsp fresh grated ginger
1/2 tsp sriracha sauce (optional)
One serving of preferred noodles
Frozen vegetables such as broccoli, snow peas, or "stir-fry mix", heated in microwave
Sesame seeds
While noodles are cooking, stir first five ingredients together with a fork in a bowl. Before draining the water from your noodles, siphon off about ¼-½ a cup and stir into sauce until it is a smooth consistency of about the same thickness as sour cream. Add more or less water as needed to get the thickness right. Stir in noodles and vegetables, then sprinkle on sesame seeds to garnish. I like them hot, actually, but you can let them cool and eat later. They make a really nice packed lunch.
---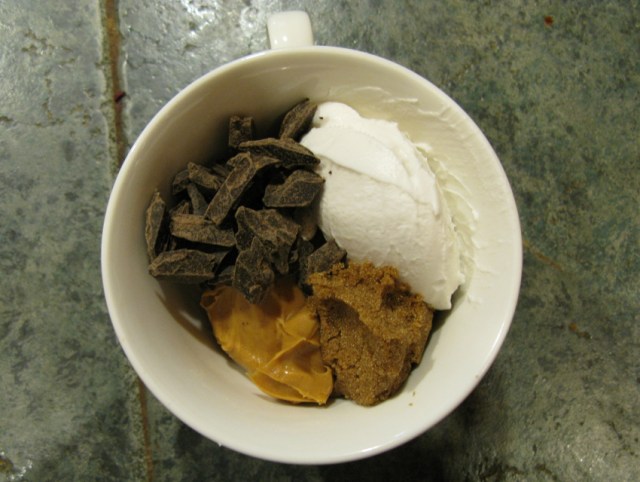 Late Night Pudding
I mentioned peanut butter as a dietary staple, but it's important to remember that it also happens to be magic! It helps thicken this 1-minute cheap, delicious, vegan pudding. I suppose I should also mention it's dangerously addictive pudding, but meh. You won't mind in the end. I'm giving the recipe as a ratio, because that really is how it works, just go by how hungry you are. A decent serving probably has:
1 tablespoon as 1 part
2 parts peanut butter
2 parts chocolate chips
2 parts coconut milk or 1 part dairy cream
1 part brown sugar
Put all the ingredients in a bowl and microwave on high for 30 seconds. Stir well, until chocolate chips melt and everything is smoothly combined. You might need to put it back in for another 15 seconds if the chips aren't melted, but if you overheat it the oils in the peanut butter and coconut milk will separate and that is pretty yuck. You can eat it immediately or stash it in the fridge. It solidifies to a really thick custard (almost cheesecake-like) consistency as it cools. I like it cooled for only about 15 minutes to half an hour best.