By Carolyn & Riese
Feature via Refinery 29.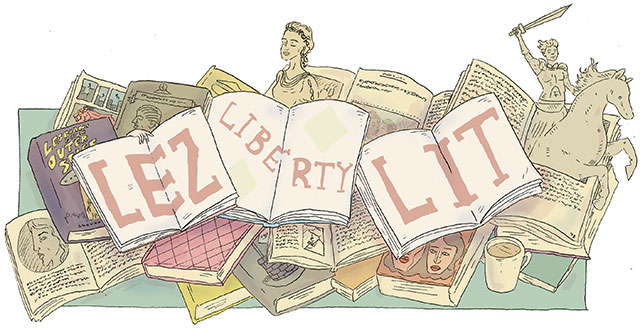 Roxane Gay discussed violence and fairytales at Bitch, saying in regard to An Untamed State:
"How do you overcome this, physically, emotionally, spiritually? What happens next? That's the truly difficult thing and I would like to see more people focus on that. There are no happy endings. There are happier endings. I think there's hope even at the end of this book. There are two kinds of traditional fairy tales: there's the original Grimm fairy tales that are dark and ugly and maybe there's something hopeful at the end, but it takes a lot to get there. Then there are the Disneyfied versions where the happy ending is guaranteed and Prince Charming takes you and whisks you away. I definitely wanted to complicate that in this novel, to show the way that fairy tales could be shattered."
Anne Helen Petersen, academic turned blogger, author of Scandals of Classic Hollywood, literary crush and aspirational figure, gave an interview at the Hairpin about media literacy and celebrity culture and how straight white men can get away with almost anything. She also talked to Jezebel.
Daphne de Maurier's Rebecca is fascinating.
This non-monosexual reading list by Casey the Canadian Lesbrarian includes The Last Nude by Avery Ellis, Marbles: Mania, Depression, Michelangelo, and Me by Ellen Forney, The Salt Roads by Nalo Hopkinson and more.
If you are curious about Lena Dunham's new book but don't want to actually read it Maria Popova has you covered.
Having your books banned sucks, especially if it's because you write about teenage lesbians/queers. Though it also probably sucks if it's because of "jumper-fumbling."
But it's also really interesting to hear about things from the censors' side, especially if they were a censor in 1930s New England.
Gender equality in non-fiction: myth or reality?
The Toast is launching the Butter and Roxane Gay is in charge and it's probably going to be the fucking best.
At the Rumpus, Anisse Gross reviewed Women in Clothes, edited by Sheila Heti, Heidi Julavits and Leanne Shapton, writing, "What makes the book so powerful is that we are given not only a new way of seeing fashion through the lives of women, but also a new way of seeing the lives of women through fashion. We hear from voices not normally featured in the world of fashion writing. We hear tips and tricks, vulnerable admissions, and compliments from women to other women. Several times in the book I thought, Oh yes, I want to try that, or oh right, that's not me." Heiti also recently talked to the LARB.
This reading speed test is fun if you're competitive, anxious, or otherwise high-strung about literacy.
Emily Gould has some fall books you should read.
At Lambda Literary, BookGeek reviewed Kicker's Journey by Lois Cloarec. Cathy Camper reviewed Queer and Trans Artists of Color: Stories of Some of Our Lives by Nia King. Julie R. Enszer reviewed A Cup of Water Under My Bed by Daisy Hernández. William Johnson interviewed Saeed Jones. Cathy Camper reviewed Tomboy by Liz Prince.
At the Lesbrary, Rachel reviewed Ask the Passengers by A.S. King. Danielle Ferriola reviewed The Breaking Point by Catrina Wolfe. Danika reviewed Sweet and Rough by Sinclair Sexsmith. Abigail reviewed Out at the Inn by K'Anne Meinel. TB reviewed Exception to the Ruleby Cindy Rizzo.
Recently on Autostraddle: Mey wrote about the latest issue of Lumberjanes and created Autostraddle's first comic and sequential art awards. The Speakeasy is reading Sister Outsider. Carmen wrote about mapping power, privilege, and oppression.
Events To Watch Out For:
San Francisco, October 6: DIane di Prima is launching The Poetry Deal at the San Francisco Public Library (100 Larkin Street), 6:30 p.m.
New York, October 7: Contributors to Pen & Ink will be reading from the anthology at Housing Works Bookstore Cafe (126 Crosby St.), 7 p.m.
Santa Fe, October 25: The 1st Annual Lambda Literary Authors Series will host a conversation between Ana Castillo, Andrew Holleran, and Justin Torres (The Armory for The Arts Theater, 1050 Old Pecos Trail), 7 p.m.
Know of a queer event with literary merit? Send it to us! The Liberty Lit is bi-weekly.
---
Books! They are really great. You just won't believe how great they are. You may think that the Internet's great, but that's just peanuts compared to books. In Lez Liberty Lit, we talk about literary shit that's happening that you should probably care about.
The name "Liberty Lit" was inspired by the short-lived literary journal produced by Angela Chase at Liberty High School in 1994.