Hey you little bat-shaped marshmallows, it's getting closer to the most wonderful time of the year: Halloween, the only day out of the whole year where it's acceptable to dress my cat up in costumes and Instagram to my heart's content. Last Halloween, I managed to realize my dream of publicly pressuring my friends Carly and Robin into dressing up as Gomez and Morticia Addams via a very successful Change.org petition — proof that dreams really can come true. Halloween is also amazing because there will be so many horror movie marathons, and I intend to absorb as many of them as possible.
In the last A+ Autostraddle Insider, you may have read a staff-wide discussion about the sexual predilections of many monsters and assorted fantasy creatures, which led me to really investigate the origins and theories behind the characters and movies I've loved my whole life. Who knew there was so much psychology behind Fay Wray's legendary relationship with King Kong, or feminist theory related to the way women interact with the supernatural? Without further ado, let's delve in.
Vampires
It's theorized that in early Gothic novels, it was too taboo to address homosexual issues directly, so many authors turned to tales of horror. The trope of the lesbian vampire dates back to the 1871 Joseph Le Fanu Gothic novella Carmilla, which predates Bram Stoker's Dracula by nearly 30 years. In the story, two young girls who initially meet in their dreams are heavily attracted to each other through forces that the narrator Laura doesn't entirely understand — only to learn later that the object of her desire is actually a vampire countess named Mircalla.
The mythology of vampires changes depending on who's telling the story, but one detail remains consistent: vampires are in general a pretty seductive bunch, driven by bloodlust and lust in general. Your basic Dracula type is an insatiable blood addict, and the more successful vampires appear to have perfected the heady eye contact and homoerotic sexual magnetism involved to draw in one's potential victims. There's certainly no shortage of (often terrible) depictions of lesbians in vampire movies and TV shows, from Vampyros Lesbos to Jesus Christ Vampire Hunter to We Are The Night. The vampires on True Blood were pretty much bisexual across the board, the vampires in Twilight were the clingiest, poutiest lesbians in the Pacific Northwest, and damn, Catherine Deneuve's beautiful vampire in The Hunger makes out with Susan Sarandon all over the place.
In lieu of a clip of any of the movies mentioned above, please enjoy this trailer for Dracula's Daughter, the 1936 sequel to Bela Lugosi's classic Dracula which is widely regarded as the first mainstream example of heavy lesbian undertones in a vampire film. Countess Zaleska's obvious attraction to her female prey was exploited in the movie's advertising, which offered the taglines "Save the women of London from Dracula's Daughter!" or the more playful "She gives you that weird feeling."
---
Werewolves
If vampires represent the taboo side of human sexual desire, werewolves represent the more violent side of the id, pure animalistic rage. It's tough enough to find quality female representations of werewolves (let's not even talk about lesbian something-or-other Jack and Diane, where the werewolves exist only as a heavy-handed emotional metaphor), but my favourite by far is the tongue-in-cheek Canadian cult flick Ginger Snaps. Ginger Snaps follows the plight of a pair of teenage sisters who are totally over adolescence, until the older sister Ginger is attacked in the night by some kind of mysterious animal. Before long, Ginger's gotten her first period, and shortly thereafter she becomes moody and sullen, starts growing hair in places she never noticed it before and finds herself rabidly interested in sex. When she tries to talk to adults about her concerns, she's assured over and over again that it's all a natural part of becoming a woman, while it remains glaringly obvious to her sister Brigitte that Ginger's transformation is turning her into something much more menacing. Admittedly, it's not the queerest film we'll be discussing today, but it's worth mentioning that up until the very very end of the film where she starts looking like a wolf for real, Ginger makes the whole fangs-and-a-tail thing look really appealing:
There's some queer content in the 2006 werewolf flick The Feeding, but it's all between victims and not the monsters. Bummer. I guess this means there's room for literally any of you to break the mold and create your own lesbian werewolf movie.
---
Frankenstein
If you're looking for a creepy movie about a monster put together from pieces of assorted corpses featuring occasional lesbian undertones, look no further than May. Angela Bettis plays May, a lonely veterinary assistant who finds herself attracted to little bits and pieces of people, but often finds herself disappointed by the total package… til she figures out a creative solution. Noted here for Anna Faris' ridiculous turn as May's lecherous lesbian coworker Polly, who seems more like a letter to Penthouse than a real person (but nobody watches horror movies for the nuanced character development, I guess).
Otherwise, the best lesbian Frankenstein I can think of is the one Liz Lemon stole her shoes from.
---
Swamp Thing
In addition to being green and covered in algae or whatever, Swamp Thing is also apparently some kind of feminist superhero? Apparently there's a whole (kinda problematic) issue of the Swamp Thing comic book dealing with patriarchal oppression? I don't know, I'm only including Swamp Thing because she's such a fierce hard femme: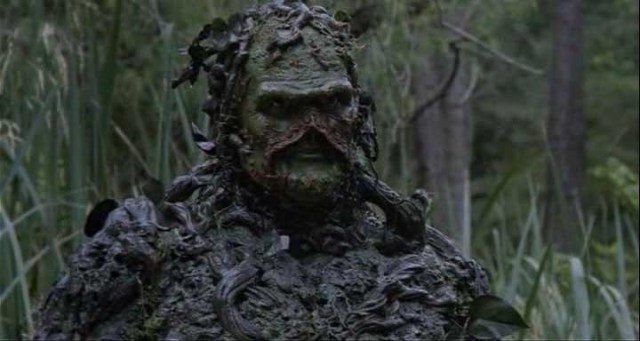 ---
Very Large Maybe Angry Animals
Oh no! A very large and confused animal is somewhere it shouldn't be (like a city or a beach resort) and it's eating everyone/knocking things over/getting really scared/chewing on your boat/maybe a prehistoric relic/maybe an alien/knocking over helicopters/carrying blonde ladies around! Probably the only thing to do is kill it. Women are rarely heroes in these kinds of movies, and Godzilla, Jaws, King Kong, Mothra, Cloverfield and assorted Loch Ness Monster-esque creatures are almost always assumed to be male.
Still, in "When The Woman Looks," Linda Williams theorizes that "the power and potency of the monster body in many classic horror films — Nosferatu, The Phantom of the Opera, Vampyr, Dracula, Freaks, Dr. Jekyll and Mr. Hyde, King Kong, Beauty and the Beast — should not be interpreted as an eruption of the normally repressed animal sexuality of the civilized male (the monster as double for the male viewer and characters in the film), but as the feared power and potency of a different kind of sexuality (the monster as double for the women)." She believes that the monsters and the women who love (or at least, don't especially revile them) become symbols of Freudian mommy issues, played out on the big screen.
That said, I still don't understand why we couldn't we have a giant lesbian caterpillar crawling around Tokyo once in a while.
Pro tip, if you google "lesbian monster," you will find Charlize Theron.
---
Zombies
Unless you're Tina from Bob's Burgers, zombies aren't the most sexual creatures in the monster menagerie. Mostly they shuffle about, feeding upon the living and appearing for all intents and purposes pretty indifferent to more intangible matters of the heart. The exceptions of course are porny exploitation pictures like Lesbian Zombies From Outer Space, whose plot synopsis explains that "the only way to stop the apocalypse is to destroy the Space Queen, and the only way to destroy the Space Queen is to, uhm, make love to her and remind her why God created Man and Woman," so uh, I declined to review that film for this article.
For what it's worth, I did find Grace, a movie about Intern Grace stumbling around, groaning and eating raw flesh a zombie baby who is delivered by a person who is a lesbian. There's also Contracted, an iffy low-budget thriller about a woman of ambiguous sexual orientation who is date raped by a strange man at a party and later turns into a zombie. The message of this movie is clear:
On the plus side, Troma apparently released this 1989 gem called Chopper Chicks In Zombietown, about a motorcycle gang who battle the undead while wearing hot leather jackets. It stars Hal Sparks and Billy Bob Thornton and looks amazing:
---
Ghosts
Truthfully, is there anything more stereotypically lesbian than a ghost? Life basically breaks up with you, and then you spend the rest of eternity haunting some house, moping around, listening to "You Oughta Know" and rattling chains until some living being notices how miserable you are. Yeah, we get it, ghost. You're sad.
If you're looking for a compelling study of the relationships women have with ghosts in these sorts of pictures, I'd recommend a chapter called "Female Spectator, Lesbian Spectre" from Uninvited: Classical Hollywood Cinema and Lesbian Representability by Patricia White. In it, White notes that some of the most acclaimed films of the genre also boast noticeable lesbian undertones. She makes special note of the 1963 film The Haunting, which features one definitively lesbian character (Theo, played by Claire Bloom) and one female character who's openly intrigued by her, cuddles in bed with her, banters about affectionate nicknames with her (Eleanor, played by Julie Harris). Although five characters are stuck inside a haunted house, it's only the women who seem to have any sort of connection with the paranormal forces held within. The Haunting's handling of Eleanor's… curiosities are so heavy-handed that the movie ends up being sort of unintentionally hilarious, but it's still a pretty decent thriller.
I'm also told that one time, Tegan and Sara walked with a ghost. It was okay.
---
White Guys With Knives
Yeah, I see you, Randy.
A good slasher flick plays by a very specific set of rules, and as Randy lays out in Wes Craven's classic Scream, it's pretty easy to tell who'll survive the killer's rampage. Traditionally, women with active sex lives are the most likely to be murdered, and often the amount of sexual confidence displayed will be directly proportional to the level of violence leveraged against the victim. The archetypal virgin has the best chance at survival (at least to the sequel), but any character shown having any degree of sexual interaction will almost always be a goner. The killers are almost always male, the primary victims almost always female, and Freud would have a goddamn field day with these movies.
A lot of people recommended High Tension as an example of a lesbian slasher movie, but I can't really explain why without spoiling the entire plot of the movie, so let's just say it's a movie about two very nice girls who go to a farmhouse in France or something, and there's a lot of corn… and murder. I'd love to find more really great slasher pictures where female sexuality isn't punished just for its very existence, where queer characters could exist without being slaughtered by virtue of being queer, or where lesbian attraction wasn't considered sick and deranged in some way. I'm not sure High Tension is exactly that movie — I didn't love it. Are we still friends?
For what it's worth, Quentin Tarantino's Death Proof is a pretty great non-traditional feminist horror film that highlights female friendship, girl power, etc, although I'm not sure it belongs in this category.
---
Murderous Animate Dolls
Let's not even play like Chucky and his Bride aren't like, the ultimate butch/femme couples Halloween costume.
---
Witches
"What are some lesbian witch movies?" I asked the Autostraddle staff email thread. "Wait, aren't all witch movies lesbian movies?" Carolyn replied, and she's not far from wrong. Although I had difficulty finding explicitly lesbian movies about witchcraft, I think we can all agree that we were all heavily influenced as young future queermos by the young ladies in The Craft:
Really, why are we all so drawn to The Craft? Is it a 90s thing? Is it a social outcast thing? Is it Fairuza Balk? Is it the dramatic appeal of a jukebox that plays nothing but Connie Francis? Yahoo! Answers has no satisfying conclusions.
I've seen some arguments that Practical Magic is some kind of lesbian metaphor, and possibly The Witches of Eastwick? Still, none of these movies are officially queer, none of the characters identify in any sort of way, and although the women are empowered and awesomely anti-establishment, the drama is often about a man (or, you know, about a virgin lighting the black flame candle, who's to say?).
As far as I can figure, lesbians love witch movies because we're all just pawns of Satan, flying around on hybrid brooms, eating hummus out of cauldrons, collecting black cats, sucking the lives out of little children and dating everybody in our covens.
---
Centaurs
According to extensive research I've done by skimming through a few minutes of Fantasia, 100% of centaurs are just really, really gay. If you don't believe me, just watch the clip below, which was basically borrowed shot-for-shot by the makers of Orange is the New Black for Piper's first prison shower scene.
---
Demons
Despite their formulaic nature, I love a good demon possession movie, and will willingly trek to theatres to see every increasingly terrible issue of the Paranormal Activity franchise (What's that in the pool?!?! IT'S THE POOL CLEANER AGAIN!!). Still, even when the demon is doing innocuous things like opening cabinets and scaring the family dog, it's almost always a male-identified demon seeking out and latching onto a young girl. It's always a young girl, isn't it?!
The book The Exorcist is based on actually describes the possession of a little boy, but the makers of the 1973 film thought the movie would hit harder if its victim were female. In an excellent IndieWire piece called "The Horror of Little Girls and Social Anxiety About Women," Leigh Kolb explains that "What (Regan's) mother and her culture are embracing —atheism, working women, reproductive rights, sexual aggressiveness — can be seen as the "demons" that overcome the innocent girl and kill men (and traditional religion)."
Demon movies don't necessarily have to involve homosexual acts to paint young girls' budding sexualities as something dangerous and terrifying. Ever since sweet little Regan shoved a crucifix into her vagina, demons in movies seem to love nothing more than finding a pious, god-fearing, innocent little girl and turning her into a blaspheming, hyper-sexualized tool of the devil incarnate (See also: Nell/Abalam in The Last Exorcism, charmingly asking Reverend Cotton if he'd like "a blowing job.").
In the end, Jennifer's Body does a pretty alright job of giving us a sexually-charged demon who does kiss a girl at one point and boasts of "going both ways," though it's not terribly scary.
---
Vagina Dentata
I'd be remiss if we did not at least mention the fanged vaginal hero of Teeth, the ultimate revenge horror fantasy. For Dawn, the movie's fresh-faced heroine, every man who wrongs her meets a chompy demise at the hands(?!) of her ladyparts. If nothing else, vagina dentata is the horror genre's most transparent example of men finding female sexuality and vaginas completely terrifying, so even if the movie's bad (which it is, and gloriously so), it's still fun to watch.
Share your favourite queer-centric horror movies in the comments!