Hey guess what! The Speakeasy is hosting a book club, and you're all invited to join us!
As you may know, the Speakeasy is a group of Straddlers who identify as people of color. We first got together in a closed space during last A-camp, and have been going strong on Facebook since.
One of the things I love about our group's conversations is how much I've been learning. Because even though I'm mixed race, it doesn't mean that I was born knowing everything about race and racism. I just sort of have a lot of nebulous feelings that are hard to put into words — but listening to and engaging with other invested people helps with that, a lot. I feel like the Speakeasy is a place where it's okay to put things out there and learn together. My hope for this book club is that we'll be able to carry some of that over here, because I love this queer community and I want us all to do better and be better. Especially on race.
So! We picked out our first book already, and it's…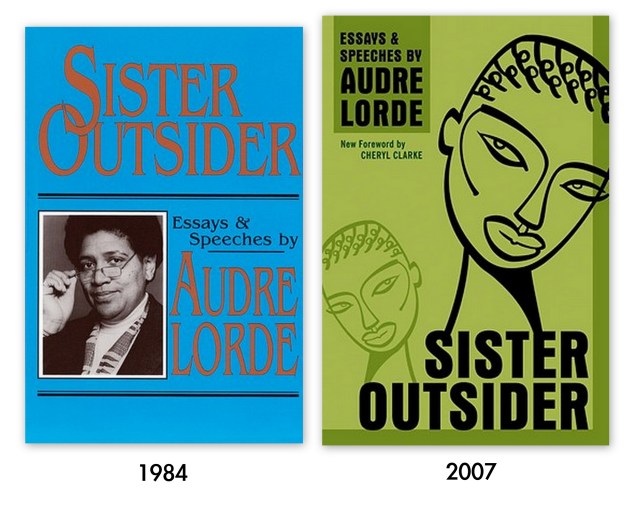 Sister Outsider by Audre Lorde! Get pumped!
As Riese has previously explained,
Audre Lorde is a mega-important feminist and activist who was at the forefront of a new group of politically active women of all colors challenging the white middle-class hegemony and subsequent ethnocentric goals of 1960s feminism. Lorde pioneered the concept that racism, sexism and homophobia were linked in that they stemmed from people's inability to recognize or tolerate difference.
Sister Outsider is a collection of essays and speeches. It includes the frequently quoted essay, "The Master's Tools Will Never Dismantle The Master's House," a critique of the white feminist intellectual as activist in academia. It also includes "Uses of the Erotic: The Erotic as Power," a groundbreaking essay that considers lesbian consciousness as a point of departure for other ways of knowing. Sister Outsider is widely regarded as a feminist classic, and is one of Lorde's most popularly read books.
This is my second time reading Sister Outsider, and I can tell you from my first reading that it's a) quick to read, and b) very thought-provoking. I feel like reading this book made me smarter. Or at least, better prepared to think critically about race and talk about feminism. And who among us doesn't want that, right?
Here are some things other people have said about Sister Outsider and Audre Lorde!
As someone who thoroughly identifies as a queer (and all intersections therein) theory nerd, I've read countless essays by white lady feminist scholars, written in ways a fresh college student could barely wrap their head around. My eyes were tired, my brain was deep fried for far too long, and I sought something else, not necessarily better, but I guess, yes, better. And no, I'm not putting down queer pioneers like Judith Butler, or Gayle Rubin, or Eve Sedgwick (etc. etc. etc.), I'm just saying that there's only so much of that you can handle before you get overwhelmed and end up looking for videos of kittens on YouTube instead. Coming across Lorde's work in my second semester of college was more than a breath of fresh air. Accessible, but so profound, beautifully and tenderly written, yet incredibly strong and intense in her messages, I devoured Lorde's work; I let her words guide my studies, and haunt the art I create.
-Devyn Manibo for Bitch Magazine: Adventures in Feministory: Audre Lorde

The important part of this book to me was her voice, this incredible, powerful voice on page after page after page. It was really the first time I read that the lives of women of color matter and poetry was not something extra for our lives—that it was actually necessary. And I took poetry to include all of the arts, so that book deeply inspired me. She taught me that writing could both be an investigation of the self and the community and a call to action at the same time.
-Daisy Hernández for Colorlines: 8 Books That Shaped 'A Cup of Water Under My Bed' Author Daisy Hernández

Lorde continues to matter today precisely because her consciousness — always so deeply rooted in her multiple intersecting identities—rendered her brand of feminism applicable to anyone who, like her, is determined to fearlessly speak truth to power and walk the path of self-liberation for equality.
-Gina Athena Ulysse for Ms: How Audre Lorde Made Queer History
Are you convinced you need to read this book yet?
Also consider: Sarah Schulman and Ali Liebegott both included Sister Outsider on their short lists of required LGBT reading. Melissa Harris-Perry included it on her Black Feminism Syllabus. And here at Autostraddle, we've previously  recommended it for your reading pleasure, notified you that reading this book will make you a better womyn, and listed it among the 100 Best Lesbian Fiction & Memoir Books Of All Time.
Plus, I really want to talk about this book with you. See above. It's fine if you don't want that too, but I will probably cry. No pressure.
You can get Sister Outsider at a used or new bookstore, on Amazon, or probably even at your library. (This book has been out for almost three decades, so it shouldn't be hard to track down.)
Now go get your copy and come back here on October 22 so we can talk about it!