This week on The Real World: Ex-Plosion, the house came together for the first time ever. Ari Fitz didn't have far to go, since she's a Bay Area native, but she did show up to the house in camo, so there's that. The cast includes three girls – Jenny, Jamie, Ashley – and four dudes – Corey, Brian, Jay, and Thomas. Ari kept her cool the entire episode like a total pro.
Ari patiently entertains people asking to touch her hair, calmly explains that she's queer to six strangers at separate times, and otherwise maintains her dignity in the middle of what soon becomes the biggest shitshow to ever hit television (paging Ashley, who has already had a drink at every bar in San Francisco but still can't hold her liquor).
When the first house fight breaks out and Ashley is caught walking the streets of San Francisco in a bra and underwear, Ari is just calm and cool in the kitchen. The next morning, she lookin' fly and everyone else goes planking in the billiard room.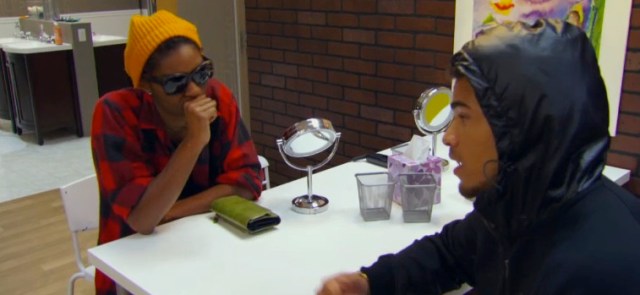 When another night out and another glimpse at Ashley's ass lead to Jenny pointing her foot at people in the hot tub after some dude followed her home, Ari's eating potato chips.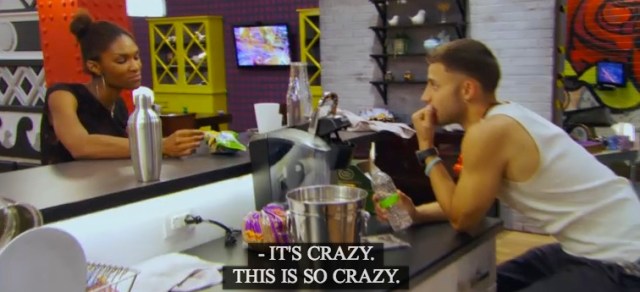 And when Ashley throws hot oil directly into Ari's face, she's just kind of like, "Oh, shit. That was rude."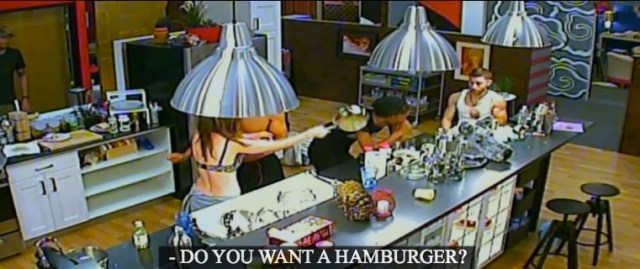 Here's the questions you had for Ari Keepin' It Cool Fitz this week.
This Week's #AutoAri Q&A
On San Francisco
@itsarifitz #autoari you had to be a lil pissed when you heard it was in San Fran right?

— Andrew Kirk (@CSUGradAkirk) January 9, 2014
A little! I mean, I want to travel for free! But I was working on my second film and so staying worked out. Also, it was fun to show the roommates my city.
@itsarifitz how come you haven't mentioned your Bay Area roots yet? I mean we've heard @MTVASHLEYBROOKE ruin our reputation enough #autoari

— Real World SF (@RealWorldSF) January 9, 2014
Ha! Great question! I wasn't around when she said all of that. Plus, true Bay Area cats don't need to assert it's their city, they embody it. I am San Francisco, period.
On the Show
https://twitter.com/kickzster/status/421163153238392832
Yes, boo! They did, and that's why I'm addicted now.
https://twitter.com/bp755/status/421169325618515968
He was such a cutie about it. Wasn't he? Honestly, he's one of my best friends in the house and one of the truest most authentic people I've ever met.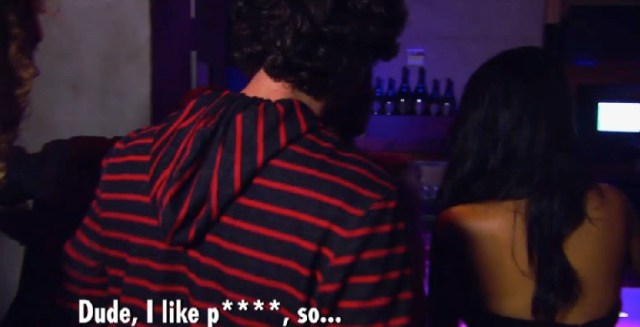 https://twitter.com/bgc_alltheway/status/421098139316412416
Tough, but I typically only have eyes for just one. Plus, the girls in the house were too much like sisters to be into like that.
as a filmmaker how do u feel about all this 4th wall smashin! is it weird seeing yourself on camera when the camera's n the shot 2? #autoari

— Lauren Jacobs (@Franzmo) January 9, 2014
OMG! Can I just say I love it!!! I think the world understands it's a show and sometimes it's awkward to experience events and then remember there's a camera crew documenting it. I love that Real World acknowledged this and had fun with it. Definitely inspired.
#autoari as per jenny's confession about not having had sex in a bear suit, where do you stand on having sex in animal-themed onesies

— thusspokejenny (@thusspokejenny) January 9, 2014
I feel some kinda way about sex in animal-themed onesies! I love that Cory and Jenny had some fun and just lived their lives, and weren't afraid to get kinky. I mean, why not?!
@itsarifitz how does it feel being on RW? #AutoAri

— Lisa Caldwell (@DTBH1FANLISA) January 9, 2014
It's the most surreal experience EVER. It definitely was an emotional rollercoaster for me and everyone else, but I grew so much and I learned so much about myself. At the end of the day, I moved into the house to build an audience for my work, and it's exciting to see it already start to happen.
@itsarifitz @RWExplosion @MTV how crazy was that first night? #autoari

— Brittani (@bcraft21) January 9, 2014
It was SO INSANE. It's funny because the first 24 hours were literally what you'd expect from being on a show like this: drunken fights, rando makeouts and life times 1000… All of this without anything except seven crazy people.
@itsarifitz is it possible to stay out of drama on the show? Just be an observer of the craziness? #autoari 

— ohhaaaaiiiii (@oopspoopsies) January 9, 2014
Funniest thing is the easiest way to stay out of drama on the show is to not avoid it by being fake. I made damn good friends in the house because I was 100% Ari.
@itsarifitz #AutoAri how much did it take to hold back when you had fuckin hot oil thrown in your face?! Props girl.

— Liss (@itsmeliss) January 9, 2014
Took a lot of patience, dear. A lot. Here's the thing, at that point I felt sorry for Ashley and I knew it was just another ploy for attention. It wasn't worth my time and honestly, I wanted to help her in the morning.
https://twitter.com/bp755/status/421161494412140544
I'm not THAT nice.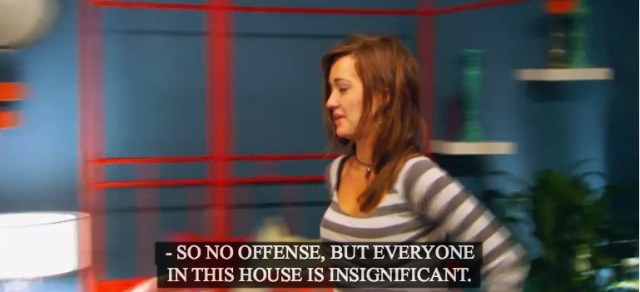 https://twitter.com/letitiagaspard/status/421162397701644288
Haha! See now that one I wanna save just so it's more interesting to watch, but I'll say it's one of the prettiest girls I've ever met.
On Ari
#autoari Are we twins?

— Naomi Defensor (@NaomiMTV) January 9, 2014
We are style twinsies and bring new swag to Real World, but you already know that.
RT @kondyke: What is your daily hair regimen? #autoari

— Dr. Carrie Kholi-Murchison (@khoLi) January 9, 2014
I braid my hair every night and I do conditioner washes every two to three weeks. My conditioner is Seed by Akimi.
can you mentor me? #AutoAri @itsarifitz

— hefe (@LordMilton_III) January 9, 2014
Ha sure! I need a mentee, but I gotta hear what you're trying to do first.
How old are you? #autoari @itsarifitz

— Cassidy❤⚓ (@RoseGoldDipped) January 9, 2014
24 years young.
How tall are you? #AutoAri

— big poppa doc. (@AhtAhPeriodPooh) January 9, 2014
5'10 and lovin' it! Tall girls unite.
@itsarifitz what's the ink on your chest? #AutoAri #Realworldexplosion

— AF (@ArlynFernandez) January 9, 2014
Three lines below my collarbone. I have a ton of shapes and lines everywhere, actually. Maybe you'll see them when watching? For me, everything good in my life has happened in series of threes, so it's an important number to me. Shapes and lines signify moving towards perfection.
Our Winner
Every week, Ari will pick her fave question out of the bunch and we will reward them with lavish prizes. This week's winner, @bcraft21, will be getting "You Do You" stickers!
Get Into It!
Each week, you can tune in to new episodes of The Real World and tweet your questions for Ari Fitz, raging queer, using the hashtag #AutoAri. ( We can only guarantee that tweets sent during the initial screenings of each episode will be included (10PM EST/PST and 9PM CST) in each week's roundup.) Whether you're curious about her films, what she's eating in the fifth scene, the music that hot tub montage was set to, or how she gets her hair to look damn good, feel free to dig in and pop a question. Within 48 hours of the episode, Ari will answer every single one here on Autostraddle.
In the meantime, you can follow Ari and Autostraddle on Twitter. (And me!)