With just a few days into the new year, lawmakers in six states have already introduced new bathroom bills they're calling "privacy acts" and ensuring we have a long year of battles ahead of us. Republicans in Alabama, Missouri, South Carolina, Virginia, Texas and Washington are fueling an anti-trans agenda that has gained momentum over the last couple of years and contributing to a long history of stifling the rights of trans people. Most of the bills are similar to each other and to North Carolina's HB2, save for a few with different amendments and exceptions and coded in different language, but all in all it's the same ole' anti-trans bullshit. Here's a breakdown of what each bill is about.
Texas, SB6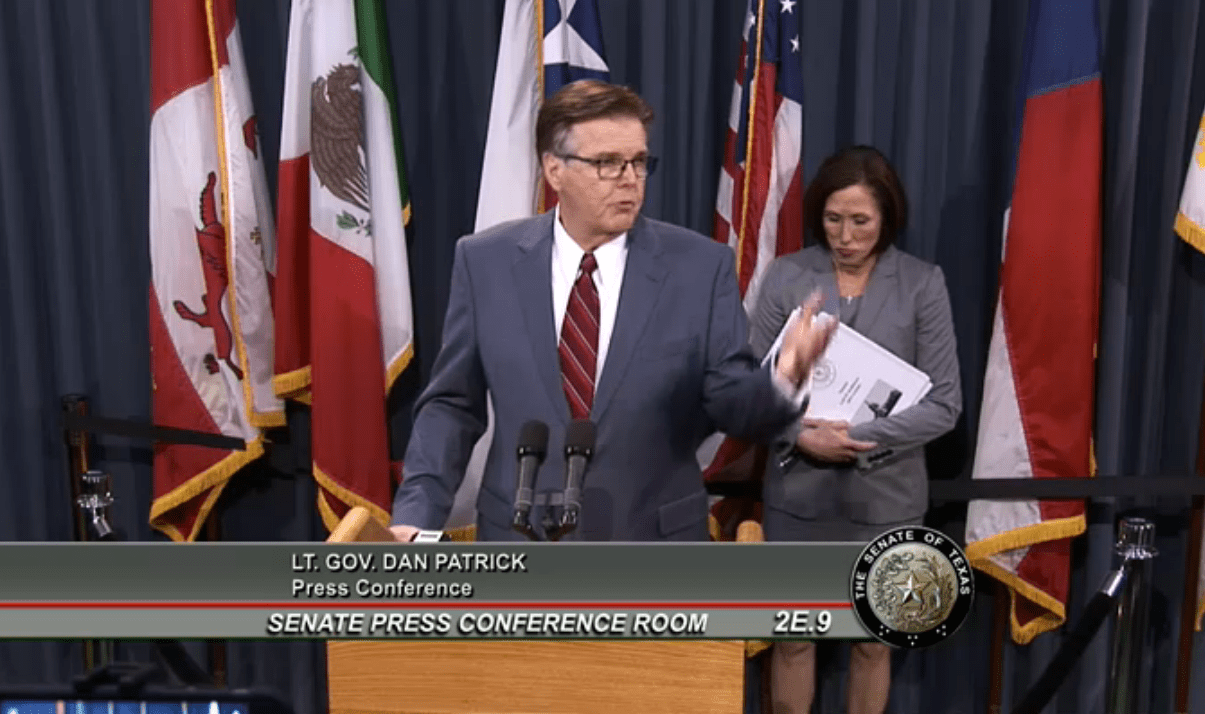 On Thursday during a press conference, Texas Lt. Gov. Dan Patrick and Republican Sen. Lois Kolkhorst introduced the Senate Bill 6, aka the Texas Privacy Act. Patrick started off the press conference by prefacing the bill as having support from the "overwhelming majority" including "Hispanics, African Americans, Anglos, men and women." Patrick also condemned the media's unfavorable coverage of the bill, saying they were spreading "misinformation" and called it "fake news." Patrick revealed he had been working on the legislation since September 1st and said he had several senators supporting it, including Kolkhorst. Kolkhorst introduced the bill and said it was "not to start a controversy but to end one." As Kolkhorst introduced SB6, boos erupted outside the press conference room from folks against the bill.
Scene outside Senate chamber, folks booing loudly were heard during unveiling of TX "bathroom bill" #txlege pic.twitter.com/oWlsglMYbJ

— Alexa Ura (@alexazura) January 5, 2017
+ It requires people to use bathrooms in government building, public schools and universities based on "biological sex." Schools would be able to make accommodations, including single-stall bathrooms and changing rooms, for transgender students.
+ It would overturn local government non-discrimination ordinances that protect trans people like the ones already found in Dallas, Fort Worth and Austin and would allow each business to form its own policies.
+ It would enhance criminal penalties for crimes committed in public bathrooms, locker rooms or changing facilities.
When asked during the press conference how they would enforce the bill, Kolkhorst said they wouldn't have a "bathroom police" and instead the bill would allow for people who feel "uncomfortable" in a bathroom to report it. She also said if schools or cities violate the bill, people can file a complaint with the attorney general to penalize the schools or cities. According to the Austin American-Statesman, "Civil penalties would be $1,000 to $1,500 for a first violation, rising to $10,000 to $10,500 for each additional day of violation."
The Texas legislative session officially starts on Tuesday, January 10 and it's uncertain how this bill will play out during the session. The bill has strong support from Patrick and the Senate, where Republicans outnumber Democrats. However, Republican House Speaker, Joe Strauss has different priorities this session that may derail the bill, according to the Statesman. The Texas Association of Business, a major business lobby group that usually supports conservative measures, have spoken against anti-LGBT legislation like SB6, saying it would negatively impact the state. They published a report late last year that estimates Texas could lose between $964 million and $8.5 billion and more than 100,000 jobs if the state passes discriminatory bills like SB6. Patrick dismissed their data and research as "misinformation."
Virginia, HB1612
In Virginia, House Delegate Robert G. Marshall filed a bill to monitor transgender people's use of restrooms in schools, government buildings and even rest stops. According to Marshall, his Physical Privacy Act is about student safety and he says he fears men and boys will try to enter women and girls' bathrooms and changing rooms.
"Some guys will use anything to make a move on some teenage girls or women," he said. "Mere separation of the sexes should not be considered discrimination."
What's different about this bill is it requires school principals to out trans students to their parents by notifying them when they ask to use a different bathroom and want to go by a different name or pronoun.
It's possible that the bill won't be passed. Even if the Republican controlled General Assembly passed it, Democratic Gov. Terry McAuliffe has"been clear that he will veto any bill that restricts the rights of Virginians based on sexual orientation or gender identity," according to a spokesperson.
Alabama, SB1
Alabama Sen. Phil Williams from — get this — RAINBOW CITY, prefiled SB1, called the Alabama Privacy Act, before the holidays. It's the same bathroom bullshit that other states have proposed, which is premised as a bill that "ensures the privacy of each individual making use of the restroom, bathroom, or changing facilities." The kicker in Alabama's law is that it would require an attendant outside any multi-sex restrooms in order to "to monitor the appropriate use of the restroom and answer any questions or concerns posed by users." People who fail to follow the law would be fined least $2,000 for the first violation and at least $3,500 for each additional violation.
"But my legislation is designed to provide security to the public at large, and this bill could just as easily protect a transgender user of a public facility from being harmed as well," Williams wrote in an op-ed back in May when the Obama administration released its trans bathroom directive. "The bottom line is that we have a right to privacy in place now; and liberals should not for a second think that Alabamians will simply stand by and allow the exceptions to throw out the rule."
Washington, HB1011
As one of the most progressive states regarding LGBT rights, it's something of a surprise to see Washington on this list. It was one of the first to enact marriage equality and has had a nondiscrimination law that includes sexual orientation and gender identity since 2006. Republican representatives in Washington prefiled a bill that would amend the Washington Law Against Discrimination in order to limit trans people's access to bathrooms and similar facilities unless they've had genital surgery. The bill reads:
"Nothing in this chapter prohibits a public or private entity from limiting access to a private facility segregated by gender, such as a bathroom, restroom, toilet, shower, locker room, or sauna, to a person if the person is preoperative, nonoperative, or otherwise has genitalia of a different gender from that for which the facility is segregated. Nothing in this chapter grants any right to a person to access a private facility segregated by gender, such as a bathroom, restroom, toilet, shower, locker room, or sauna, of a public or private entity if the person is preoperative, nonoperative, or otherwise has genitalia of a different gender from that for which the facility is segregated."
According to Rewire's Legislative Tracker: "The bill is in response to new rules enacted by the Human Rights Commission in 2015 which allows trans people to use bathrooms based on their gender identity or gender expression."
Missouri, SB98
Missouri's "Student Physical Privacy Bill," or SB98, was filed earlier this week and defines "biological sex" to mean whatever gender is on the student's birth certificate and determined by chromosomes and anatomy. It bans trans students from using school restrooms, locker rooms, and shower rooms that correspond to their gender, and segregates trans students by only allowing them to use single-stall or unisex restrooms. This is the second time Senator Ed Emery has sponsored the bill, even though the first time the bill didn't go very far during last year's session.
South Carolina, H3012
Just like its sister state, South Carolina is trying again to pass an anti-trans bathroom bill. The bill, which was prefiled in December, would require people to use public restrooms or changing facilities according to their assigned gender at birth. It also prevents local governments from creating ordinances allowing trans people to use public bathrooms in accordance with their gender. The bill also tries to cover itself and says that the law isn't discriminating against anyone. "A law or ordinance that requires a person to use such a facility designated for their biological sex would not constitute discrimination."