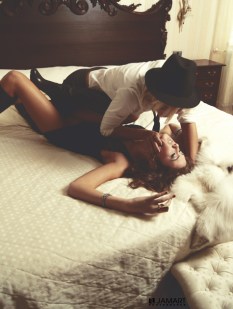 Yes fine homosexuals of Sodom, it's me again here to inform you that New York Magazine's sex diaries feature a lady-loving lady this week: The Queer Woman Who Sneaks Into the Fitting Room With Her Partner! This particular woman has actual sex. Like a lot of actual sex. New York Magazine only had to go all the way to San Francisco to find her, but they did.
For example:
 I love looking up at T's breasts from between her legs; they frame her face so nicely. I love how she starts to shake as she comes in my mouth. "I shouldn't give you my tongue so quickly. It turns you into a puddle," I tell her. Of course, I don't really mean this — the part about keeping my tongue from her. My tongue is directly connected to my ego, and my ego likes the feel of come dripping on it.
The diary comes complete with butch bra shopping, Daddy play, shaving, near-fisting and bossy bottoms. Commenters are confused about whether or not fisting actually feels good and are actively debating the merits of removing or not removing one's pubic hair as if nobody's ever conversed on the topic before.
To be honest, sometimes witnessing these intimacies dissected by commenters on the website — the sex diaries commenters are a prolific gang of regulars — feels strange, like we're giving them our secrets. Due to the horrible representations of "lesbian sex" in straight porn, there's a lot of misconceptions about what lesbians actually do in bed, and for some reason that often makes our sex feel more special. But here we are on the internet, with 98% of somebody's fist all up inside us! Ta-da.