Over the last few years, sex toy companies and stores have asked us to review their toys in exchange for, you know, their toys. Today we're reviewing (and comparing) the Zumio X and Zumio S!
Material: Silicone / ABS Plastic
Color: Purple
Power Source: Rechargeable / USB
Length: 7 inches
Diameter: 1.04 inches
The Zumio is a unique sex toy in that it recalls, for me, not a traditional vibrator so much as the Squiggle Wiggle Writer of my youth. It's actually a pretty close comparison; Zumio describes their product as a "paintbrush of pleasure," with a teeny tiny pinpoint tip that "whirls around in tiny circles so you can pinpoint unique stimulation" rather than vibrating, per se. It's an offering for people who know what they like: intense, highly pinpointed stimulation. If this is you, then the Zumio might be your dream come true.
Babeland was kind enough to send me the entire small Zumio family to compare in performance. The Zumio X is the original flagship product, with a very small and very rigid bulbous tip and a lot of intensity. In comparison, the Zumio S is a response to users who were into the concept of the Zumio X but found it a bit overwhelming — it has a larger, softer tip with a squishy silicone outer layer, and its intensity range dips a bit lower than the Zumio X, as this helpful diagram explains.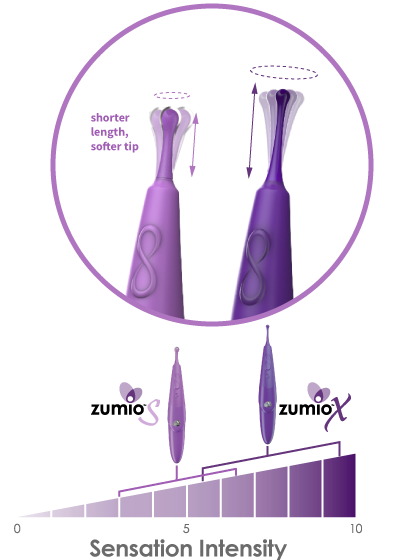 Using either of the Zumios is different enough from the wand vibrator experience, if that's your touchstone, that it takes a bit of getting used to. (The closest comparison in terms of sensation is probably the Eroscillator.) Particularly with the X, the head of the toy is so small that moving it even a centimeter is a radically different sensation. As another reviewer wrote, "the Zumio's tiny tip makes my clit suddenly feel foreign to me. It's almost as if it has suddenly doubled in size, with acres of new, unexplored territory for me to navigate." If you're used to using wand-ish vibrators, with which you can honestly just kind of jam them up against yourself however and let nature take its course, this is an adjustment in that it requires a lot more attention and mindfulness. But the adjustment is a positive one, I think; it's fascinating and rewarding to spend some time playing around with how different and good things can feel if you angle the toy slightly differently, or move it a millimeter to the left, or try laying flat against your body instead of holding it upright like a pen.
This experience is definitely more pronounced with the Zumio X; when you try them back to back in comparison, the S model definitely feels more like a "traditional" vibrator experience. The larger, softer head means precision matters less, and there's less of a range of possibilities for how to use it — the length of the stylus part of the X is significantly longer, and the length of it can be a source for sensation as much as the tip — it can be flattened against the body, in between labia folds, against the outer labia (Epiphora's review gave this technique an enthusiastic thumbs up), the world is your very small, intensely oscillating oyster. The S doesn't offer as much versatility — it has a shorter, rounder stylus, but is more approachable for the same reason. Although it's supposed to have a lower baseline intensity level than the X, the different tip makes the vibrations of the S feel inarguably… bigger? Neither toy is rumbly or gives "deep" vibrations, per se, but the sensation of the X is definitely more focused while it feels like the oscillation of the S is wider, although I have no idea whether that's actually true.
One of the more unique selling points of the Zumio is its "sixty-second challenge," which gives you some pretty specific instructions to use the tip of the toy on its lowest intensity on your "outer zone" for 20 seconds, then switch to the tip and stem combined for another 20 seconds before another 20 seconds of direct clitoral stimulation for a "60-second quickie." I was fully prepared to try it for the sake of thoroughness and then report back on what a silly idea it is, except it… kind of worked? Granted, I have certainly had better orgasms than that timed one-minute one — with the Zumio, even, which I feel like makes more sense as a toy to settle in and play around with; I'd rather use a Magic Wand for a super-quickie — but if for some reason a high-stakes race against time is what you are interested in with this toy, I can report your dreams are within reach. It's odd to me that the marketing would rely on such a limited and specific gimmick, though, when the Zumio is a really strong product overall, and a solid contender for a go-to all-purpose vibrator for anyone who's down for intense sensation.
Both the Zumio offerings, but especially the X, are very much designed to do only one thing – provide laserlike focused clit stimulation – which can feel limiting when a lot of sex toy trends right now seem to be focused on multi-use toys with a lot of flexibility. The Zumio has applications outside of clits, and can feel great on nipples or other sensitive areas; CaraSutra's review confirms it can feel great for penises too. It isn't a good fit for penetrative play, as you can probably guess by looking at it, but it bears repeating! I found myself preferring the X option the more I used both; the range of sensation options that the smaller tip provides really grew on me, but I can see the S being more of a crowd favorite; it's more similar to the experience of other vibrators, and also a really powerful intensity. If you know you like oscillation and fairly high intensity options, there's a good chance one of the Zumios could be your new fave vibe!