Over the last few years, sex toy companies and stores have asked us to review their toys in exchange for, you know, their toys. Today we're reviewing the Cookie Vibrator!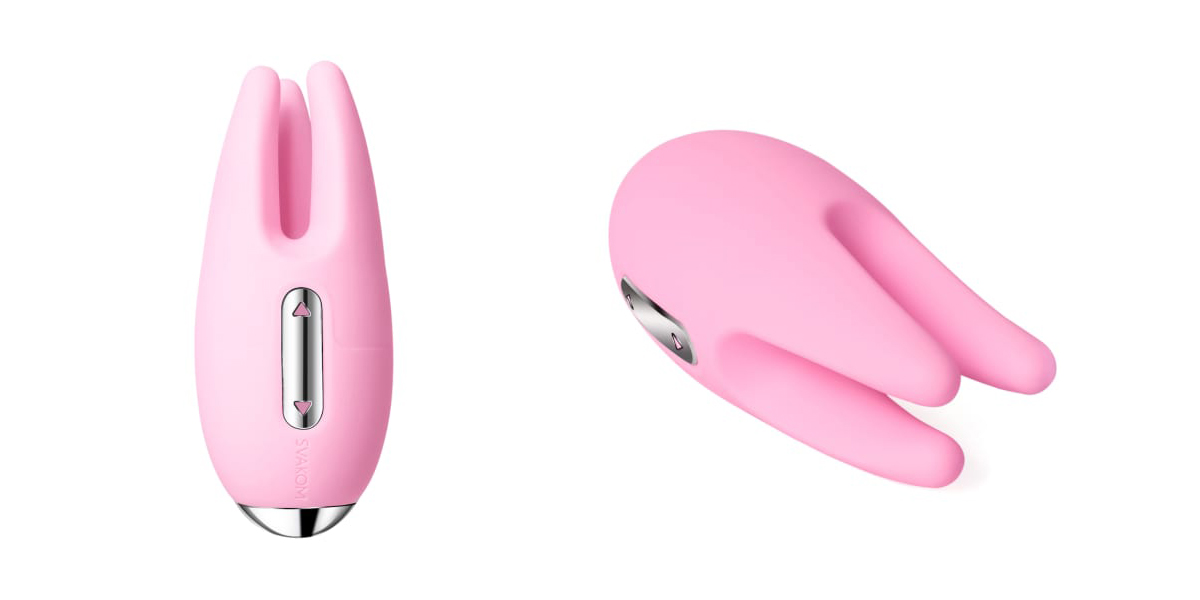 Material: Silicone / ABS Plastic
Color: Pink
Power Source: USB Rechargable
Length: 3.5 inches
I like fucking that involves teasing.
You know the kind, kissing in the car before you get home where hands are grazing shirts and nipples are getting hard. Where you could fuck as soon as you walk in the door but instead, your tongue plays in her mouth and your hands take off her pants. Where you can see how much she wants you when you make it to the couch because of how she arches her back and how easily your thighs can part her legs. The teasing where your nails on her skin make her say "please" and she can see how much you want her because the evidence is on the crotch of the panties you still have on.
That teasing is how this toy made me feel. It's so hard to be able to tease yourself during solo sex, especially with a toy. For me, I go manually for foreplay when I'm masturbating. I tend to think of others when I'm at the start and that combined with my imagination gets me going. I've tried to use toys to enhance solo foreplay at the start but I always end up cutting it short and diving right into fucking myself.
The Cookie by Svakom was a different experience though. The shape of it is similar to how your fingers look when you're doing a bit of twisting and nipple play; there are three prongs, it's made from soft silicone, and feels really good to the skin. The "fingers" are a bit bendy which I love because I don't like it when external parts of a toy are hardened; feels off for me for some reason.
It has three vibe settings that go from your average slow-and-light vibe to a more powerful (but not intensely so) faster vibe. It mimics fingers quite well so when it was on my nipples or lips of my pussy and on the middle setting, it made for a nice teasing moment. The toy says because it's so smooth and realistic you don't need lube because it encourages your body to react so well, which is just a fancy way of saying it's going to make you so wet your lube will be unnecessary.
It is true that when I stopped trying to use this toy as the main course and instead started using it as the appetizer it is intended to be, I got really turned on and very wet. This doesn't mean that you can't use lube too if you need/want. Keep in mind this is a silicone-based toy, so use a water-based lube. My favorite is from Lola, I've heard good things about Necessaire and a great stand by and starter lube is überlube (although it's not water-based)!
Some of the drawbacks for me are the size and a little bit of the shape. It's pretty small and things can get slippery so maybe I should have taken that as a sign to stop teasing and get going, but it did slip out my hand a few times. The shape made it kind of hard to grip; I think that's mostly to do with me having acrylics but they never usually get in the way. The combo of its petite size and rounded shape took some getting used to for pussy play but was no problem when it came to my nipples.
Speaking off, my nipples can be shy, you need to do some work to coax them out and it was the same when it came to The Cookie. When they did come out, the toy combined with some lubrication made for a nice little time.
The Cookie was overall pretty dope, it enhanced my solo foreplay but I'm more excited to use it in partnered play. Plus, I love the name and any toy that is a soft pink and makes me smile gets added to my collection with the swiftness :)