Over the last few years, sex toy companies and stores have asked us to review their toys in exchange for, you know, their toys. This week, one of our anonymous reviewers tried out the Oh My G! g-spot massager from Adam & Eve.
Size: 6 inches long, 1.5 inches wide at the insertable end
Materials: silicone and ABS plastic
Color: purple
Price: $59.95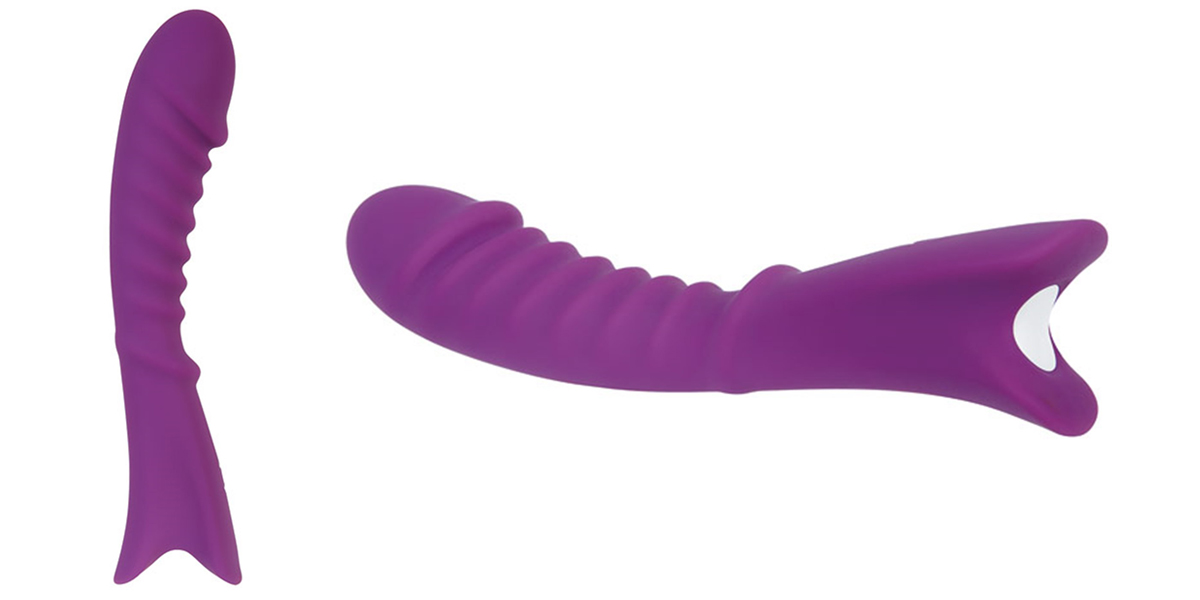 Finding the right g-spot toy can be like Goldilocks and the Three Bears. How much pressure? How much vibration? How much texture? How much girth? Personally, I like a significant curve and a shaft firm enough to really hit my g-spot (my go-to is the NJoy Pure Wand) — which is why the Oh My G! caught my eye when I first came across it at a display table of sex toys at a queer event. It had a noticeable curve, and when I picked it up it felt stiff enough that I trusted it would provide g-spot pressure I could actually feel. The silicone coating was smooth without being sticky or feeling like it would collect dust. And vibration, too? Easily rechargeable with a USB cord and waterproof? Sounds like a ball.
Upon trying it out, the Oh My G! was a lot of what I'd been hoping for. The shape was firm enough to give some nice g-spot sensation, and the ridges along the shaft felt interesting, too (although the ridge around the head of the toy is… very prominent). The vibration intensity is nothing to sneeze at; even the beginning vibration setting was plenty for me, and I was pleasantly surprised to find that it's a more than serviceable clit vibrator as well; the vibration is centered in the tip of the toy rather than being distributed throughout it, making it easy to use externally. The vibration was intense enough that, at least for me, this toy was a winner when left to vibrate internally without any thrusting while I used my hands elsewhere, a nice option to have.
I often find the patterned settings on toys that boast lots of vibration patterns (the Oh My G has seven vibration settings that you can cycle through by pressing one button once it's turned on) to be less than necessary, at least one of the pre-programmed patterns was worth using for me; on most vibrating toys I don't use that feature at all. Unfortunately, the patterned vibration settings also came with a beeping/chiming sound that I can only describe as being reminiscent of a miniature arcade; it was very distracting and I had to turn on music to drown it out.
The head of the Oh My G! is roughly 1.5 inches in girth, but the rest of the toy tapers down after that, so if a feeling of overall fullness is something you're after in a toy this might not be a good fit for you. The ridges down the length of the toy are raised enough to provide some real sensation, but they're the same hard plastic as the body of the toy rather than silicone, so they may feel more rigid or intense than is desirable for some. The slightly flared base of the toy seems designed for gripping with one hand to thrust with, although the design is maybe a little more successful in that respect if a partner is using the toy rather than the same person it's inserted in. If you wanted to use this toy for anal penetration — which would probably feel great for people with prostates! — you'd want to use a stabilizer ring or something similar, as the base isn't flared enough for safe anal use otherwise.
The Oh My G! earns its spot in your toy arsenal if you're looking for firm, focused pressure and vibration on the g-spot rather than internal vibration diffused throughout an internal toy, and if stiffness in a g-spot toy is something that makes you perk up instead of wince. If you know what you like with internal stimulation and intensity is it, then the Oh My G! may be the right toy for you.