It looks like the People Who Get to Donate Blood Club is opening up to include a few more queers. On July 1, China lifted its 1998 ban on lesbians, finally welcoming lady-loving-ladies and all of their fluids. Canadian Blood Services is hoping to submit a policy to Health Canada this fall that would remedy the self-confessed "archaic laws" preventing gay men from joining up. In light of a national shortage, the FDA is finally reevaluating its stance on gay male exclusion.
Hey guess what Autostraddlers? Applications are still open for you to join the People That Get to Donate Blood Club! The fact is, donor numbers are dwindling across the board, so why not step in and help? It isn't that hard or that scary! There are people who can't donate — either for valid reasons or ignorant ones — but that doesn't mean you shouldn't try. So roll up your sleeves and learn how to pop your blood donor cherry. Let's get started!
The Prep
Just like an academic test, there's a little bit of homework. Start by calling your blood donor organization to make an appointment with a clinic or mobile blood-drive.
Eat properly (including iron rich foods) in the days leading up to your appointment. If you're an omnivore, keep it up! Meat is rich in heme iron, a form of iron that your body readily absorbs. If you're more of a herbivore, you're still covered! Lentils, beans and dark leafy greens will raise your hemoglobin levels when eaten in large enough quantities. You won't get pumped like Popeye by gulping spinach, but did you know you can more out of your greens by munching them with vitamin C and saving your tea for dessert?
Drink a lot of fluids before you go. The more fluids you drink, the greater your blood volume will be. Your veins will be easier to find and your blood will be collected more readily.
Oh and get a good night's sleep.
The Registration
Start registering by presenting your ID and contact info to the receptionist. If you become a pufferfish by simply touching latex (or rubber or anything else in a clinical environment) talk that shit out.
At this point the receptionist will clip your identification to all of your paperwork. You will promptly forget this. Then, when anyone asks for your ID, you will freak out and imagine you lost it. You will start to give yourself a full body pat-down as the nurse calmly unclips your card. This dance will happen during 99% of your donations.
The Screening
Canadian Blood Services, Hema-Quebec and the American Red Cross diverge a bit when it comes to the screening steps. If you're in America, you get to proceed straight to a one-on-one interview with a nurse. If you're in Canada, you get to partially fill out a questionnaire all by your lonesome. Just like in middle school, they will give you as much information on proper bubble form filling technique as possible.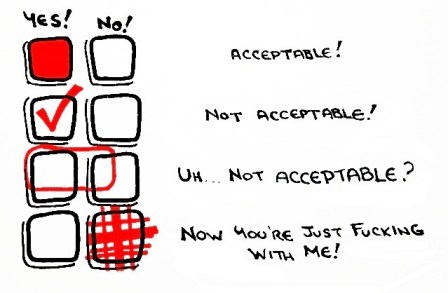 When you go to the private nurse's office, try to remember that you aren't in elementary school anymore. Resist the urge to rifle through the drawers looking for lollipops since you'll get your treats later.
Easy stuff first! He or she checks your arms for lesions and takes your blood pressure, pulse, and temperature. The worst this gets is squeezey.
Discomfort Level: Anaconda hug from your uncle.
Testing your iron levels is neat. The nurse draws a sample by poking your finger with a spring-loaded needle (read: it will be over instantly) and checks if its a sinker or a swimmer (in a graduated cylinder of copper sulfate) or runs it through a magical machine called a mini photometer. This would be a great time to nerd out.
Discomfort Level: Rifling through a drawer of pushpins
When you pass with flying colours, you move on to the intimate conversation round. Rowr. If you've ever spoken to a new fling about the state of your lady bits, this'll be easy by comparison. The nurse walks you through your medical history. If your memory sucks like mine, pack your planner. The questionnaire covers your history in terms of family, travel, sex and drugs. Oh and whether you've ever had a work relationship with a monkey. Do not freak out. Learning about you and your health is important! Certain diseases are hamfistedly screened against to try to protect the recipient. In some cases having a common background may help the transfusion. Plus, if any new issues emerge, they can track the blood from the recipient to the donation and back to you (winwin!). If you still feel uncomfortable, speak up!
Discomfort Level: Comparing your Number with your girlfriend's Number.
The Donation
The nurse leads you to a chair and narrates every single thing that's being done. (It's kind of like being tucked in with a bedtime story. Yeah, think of it like that.) The nurses will see if you have an arm preference then begin the search for Your Best Vein. Once its found, they'll make a light-hearted joke and proceed to tape and tourniquet your arm. A nurse will swab your inner elbow with sanitizer for what seems like a century.
Discomfort Level: Being licked incessantly by a dog with a cold tongue.
Okay so there are needles. (Did I mention there are needles?) Find your happy place! If you're afraid, let the nurse know. If you can't bear to look, turn away. If you feel like running and jumping, resist the urge since you're attached to a lot of medical doodads. If it's way too real and you can't deal with it, that's okay too.
When the needle goes in, you may get a hit of adrenaline that makes the room wobbly and shit. Do the in-and-out lung thing and lay back. The spinning should stop. The pain should be bearable. If this really isn't working, let the nurse know that you want off the ride.
Discomfort Level: Variable! Unfortunately I can't give advice here. If you've gotten a body mod before, you can handle it. One friend described it as, "a bee sting without all of the anaphylactic choking fun times." I think it feels like a cat sharpening its claws on my leg — which I'm okay with since it happens far too often.
So now you have a metal arm accessory. Ask someone to cover the site if you can't stand the sight. A few samples will be drawn off for testing, then the nurse will leave you alone. Or not. If you need the company and feel like whining, they'll listen. Would a blanket make you feel more comfortable? Do you want your feet elevated? Do you feel thirsty? Are you bored? The nurses will help you within reason and probably have stories about someone that freaked out way more than you did. (If you're getting antsy or competitive, wiggle your fingers to increase circulation and speed up the process. Ask for a rubber ball or a glove filled with warm water and massage that shit.)
Discomfort Level: Waiting for a bus that just won't come when your arms are loaded with groceries (and the bags are cutting into your inner elbows).
Once they've drawn your pint you can shed the needles and tubing! You will be told to press a cotton ball on your booboo. Now would not be the time to rebel and show how tough you are since pressure stops your arm from turning purple. After a brief rest, the nurse will apply a band-aid (hopefully with a smiley face) and ask if you're feeling well enough to stand up and shove your face full of food.
Discomfort Level: Standing up too fast and banging your arm on a table.
It's juice and cookie time! A volunteer monitors you for about ten minutes and fulfills your need for OJ and sugary pucks of happiness. Munch that shit. If you have a dietary restriction that prevents you from eating Free Cookies, eat the snack you brought instead. If your earlier discomfort hasn't subsided, let the volunteer know. Otherwise, you're done!
Discomfort Level: Eating cookies.(Maybe you aren't into that?)
The Aftermath
So now you're no longer a blood donor virgin, what should you do?
The Feelings and Doubts
If at any point you felt like you shouldn't be giving blood, you can stop! Whether it's before you've made it to the clinic, when you're sitting with a nurse or a week later when you've come down with a cold, it's okay to say no! Things happen and memories kick in. You may suddenly feel sick. You may remember that one night stand. You may realize that your tattoo was in fact five months ago, not six. Talk to your organization and tell them you don't think you should continue and that your blood shouldn't be used. Don't feel bad! The operator/receptionist/nurse/doctor will appreciate that you are a responsible human.
At some point along this process, you may be temporarily deferred. You may have any number of feelings when you learn that you aren't "healthy" enough for the donation. Rejection sucks, and we know how to deal with that right? So start processing.
Being scared or worried is okay. No one likes to learn that they aren't healthy. This may be a blessing in disguise. Talk to your family doctor and figure out a game plan to become a better you. For all you know, you'll discover a way to improve your health.
You may be angry or disappointed. It may seem like you just wasted an afternoon, but you know what? Unlike a lot of people, at least you tried. Don't give up. If you were rejected this time, you can still try again in 56 days.
The Ban?
Unfortunately, your deferral may be permanent. You will feel offended. It's weird to think you'll be permanently deferred by being too well travelled. It's upsetting to think you'll be permanently deferred because you have had sex with a man who's had sex with a man after 1977 when you were born in the 90s. It sucks when you're rejected for something you can't control.
Be angry. Then channel that energy and refocus — people still need blood. Volunteer your time as another way of giving. Encourage others to donate by organizing a blood drive. Tell others they have the option.
Or make a big change. Groups like Carleton University's student association are debating the need for political action as well as an individual's need for blood. Look into petitions that are trying to change unfair laws to accept more donors. That's how China got to join the club.
For more information on blood donation visit Canadian Blood Services, Héma-Québec or the American Red Cross.