Hello, all-stars! This week my little brother graduated from high school! Here's the news we missed while I was trying to get "Pomp and Circumstance" out of my head.
---
Sometimes the Supreme Court Does Good Things, Too
+ The US Supreme Court upheld a California law banning "conversion therapy" for LGBT minors.
"The Supreme Court has cement shut any possible opening to allow further psychological child abuse in California," state Sen. Ted Lieu, the law's sponsor, said Monday. "The Court's refusal to accept the appeal of extreme ideological therapists who practice the quackery of gay conversion therapy is a victory for child welfare, science and basic humane principles."
+ It's been a year since SCOTUS struck down part of the Defense of Marriage Act. This ruling is paving the way for more changes in the fight for marriage equality.
By striking down Section 3, the Supreme Court in effect gave gay spouses legal standing, but stopped short of legalizing same-sex marriage. This set off a flurry of lawsuits across the nation as partners fought against states' same-sex marriage bans or pushed to have their marriages recognized in states where same-sex marriage is illegal. Other legal battles have involved family issues such as adoption.
+ Are you still having all of the Hobby Lobby feels? Me too. But at least there's this awesome video of Ginsburg's dissent made into a song!
---
Get Schooled
+ Even 45 years after the Stonewall riots, LGBT history is still sorely underrepresented  in school curricula.
The omission of LGBT history from the nation's classrooms is a serious problem for a number of reasons, first and foremost of which is that a democracy requires tolerance, fairness and an informed citizenry. This gap in history textbooks sends the message that our story is one of inferiority. Today's youth are growing up in a world where LGBT issues are constantly in the news and discussed around the dinner table. Moreover, LGBT rights are a worldwide struggle now, and students need to understand that to be prepared for global citizenship.
+ The Vancouver School Board is allowing students to use the pronouns xe, xem, and xyr, in addition to referring to all students by their preferred names and pronouns.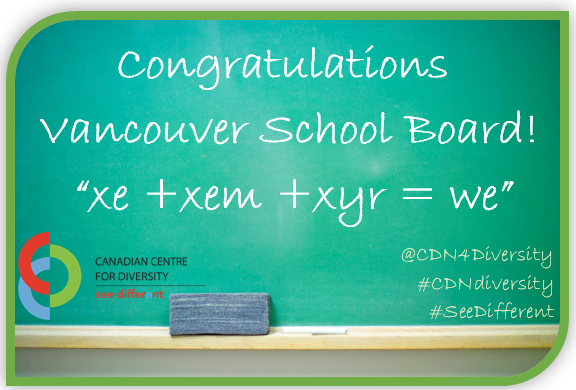 + The Nation is featuring first person updates on student movements and power building worldwide, and there's some pretty incredible stuff happening.
From June 19 to 22, more than 200 students from Canada, the US and Mexico, and as far as France and Hong Kong, converged at the Montréal Student Movement Convention. As young people in the US face an ever-worsening debt and tuition crisis, students looked to Québec, where the student strike in 2012 mobilized more than 300,000 students and blocked the Liberal Party's plans to hike tuition. The convention, more than a year in the making, was organized by local student associations in Québec, as well as budding student unions in the US, including Portland, Ohio, Michigan, California, Florida, Chicago, North Carolina, Virginia, New Jersey and New York. The weekend blended nuts and bolts organizing with workshops and small breakouts and culminated in a general assembly fusing American and Québec-style direct democracy. Students departed ready to continue expanding international solidarity and vowing to spend the coming year organizing an even bigger conference with an even more diverse attendance next year.
+ College women are kicking butt, taking names, and winning student elections, with the help of the AAUW's Elect Her trainings.
---
Gay Stories, Lives, and Politics
+ The LGBT community in Cuba still faces many challenges. This is especially so for those who identify as socialists, although people are mobilizing and working together to question the government's policies.
Attitudes toward the Cuban regime have traditionally been very polarized — split neatly between a right-leaning opposition and leftist supporters. But a new generation is changing that. Diaz represents a class of young socialists that is also highly critical of the government.

Diaz is a member of the group Observatorio Critico, or Critical Observatory, a network of collectives seeking a place in the Cuban political landscape. They have a blog, which they publish via email since Internet access is limited in Cuba. The activists aren't really able to see the final product, or the comments, but still like to have an online voice.
+ Vice President Biden spoke out in favor of gay rights.
Earlier Tuesday, White House National Security Adviser Susan Rice cast the protection of gays from global discrimination, abuse and even death as one of the most challenging international human rights issue facing the United States. Biden called gay rights "the civil rights issue of our day."

"To achieve lasting global change, we need everyone's shoulder at the wheel," she said. "With more voices to enrich and amplify the message — the message that gay rights are straight-up human rights — we can open more minds."
+ While same-sex marriage continues to be a hot button issue, it turns out that nearly half of LGBT Americans live in a state where they can legally marry.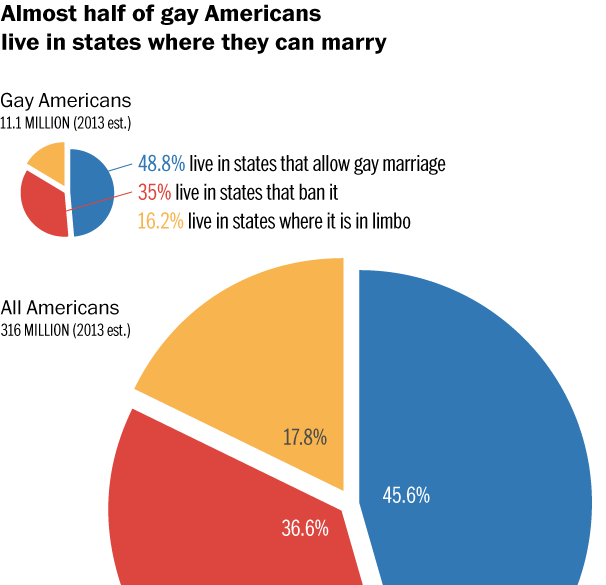 ---
LGBTQ Candidates Gain Prominence in Elections
+ Mike Michaud is in the running to become governor of Maine, and potentially the first openly gay governor elected in the US.
+ In Maryland, openly gay incumbent senator Richard Madaleno is being challenged by openly gay and openly trans candidate Dana Beyer.
Madaleno was the first gay elected official to serve in the state's senate, and Beyer – if she were to win – would be Maryland's first transgender state senator. There is no Republican running in this year's race to represent the district, so the winner of today's primary will likely go directly to the senate.
+ Also in Maryland, Heather Mizeur recently lost the gubernatorial primary, but she's still totally awesome.
"[W]e awakened a sleeping giant — the progressive movement of Maryland," wrote Mizeur, who, if elected, would have been Maryland's first female governor and the nation's first openly gay elected governor. "Our campaign is being universally touted as the smartest, best grassroots campaign Maryland has ever seen. Thank you for your part in this historic effort."
---
A Call for Submissions!
+ The Pride Photo Award is seeking submissions now through July 13th!
Pride Photo Award is an annual international contest for photos about sexual (LGBT) and gender diversity. We are looking for top quality photography on the following topics:

non-stereotypical images of gender, masculinity and femininity
the diversity of the LGBT community
You can submit your work through the contest website.