Happy Wednesday! I'm going to work for the next seven days in a row la la la. Here's the stories we missed this week while I was eating string cheese for breakfast. (Geneva calls them 'cheese strings.' Isn't that crazy.)
Identity Politics
+ Kiese Laymon tackles female characters, Octavia Young, and all the characters in his universe.
+ Salon asks: "does anyone care about black women?" Don't ask Russell Simmons.
+ Why Zinnia Jones keeps records of her transition:
The fact is that, for 23 years of my life, I did have a body with male-typical features, and I still have a few of them even after transitioning. Being reminded that I "was once a male"? I call that "looking down". Photos and records pale in significance next to the experience of living in this body.

I've been in it my whole life, through all of its different stages. Trying to erase photos seems futile – more than just photos, I have memories, experiences, feelings. Whether there's an old photo of me out there or not… I still remember who I was. So having to see old pictures of myself is quite a minor concern – either way, I'll still have the memories of being that person, which are much more vivid, thorough, and full of emotion than a simple photo.

And I don't want to forget who I was. That phase of my life is an enormous part of my history. It constitutes the majority of my existence up until now. Yes, there were difficult times, and things I've done my best to forget and move on from.

But I don't feel my life up until now is disposable. This wasn't some bad dream that I only recently woke up from. It was real, and I can't deny that. As hard as it might have been, it was not devoid of any value. I was still a human being. I was making the most of my life, just as I am now. And even in those times, there was much worth remembering.
+ Michelle Tea is definitely my kind of cool mom. She talked to Bitch about her new site, Mutha Magazine, which is about the "full spectrum" of parenting.
What's wrong specifically with the branding and culture on the mothering sites you're reading?  

I mean, you know, they're fine, they're just not for me. As somebody who has a really defined aesthetic, going into sites with a bunch of ladies who are trying to have kids who I otherwise would have nothing in common with—I go in there, get information, and leave. It's not a place I would hang out. I know if I feel that way, there must be a million other women that feel this way.  I think alternative experiences are finally being recognized—motherhood, parenting, and fertility shouldn't be that foreign.  I think there are a lot of women who get pregnant and have babies but they're not part of this cultural traditional ideas of what it means to be a mom and they're not interested in the media that's already out there.
In The Courts And Elsewhere
+ In Kentucky, a gay Mayor is advocating for LGBT equality.
But the instructive lesson captured by the Colbert broadcast's focus on Vicco's mayor and its townspeople is the fundamental role of relationships in changing people's attitudes and values. Person after person spoke glowingly about Cummings's effectiveness in improving their community. The police officer in the segment referred to the mayor as being "like a brother" to him. Clearly, Johnny Cummings has become in the eyes of his community not a "gay man" or a "gay mayor," but a man and a mayor who happens to be gay.

And once individuals exist outside the categories (or closets) of our predetermined notions, once they define themselves on their own terms, there is no going back. The uniqueness of individual complexity looms too large to fit into a stereotype.

So maybe, in their willingness to support their mayor on the basis of his merits and in their open-minded acceptance of people who are different, maybe the people Vicco are "destroying" a piece of America, after all. And maybe they are replacing that piece with something better.
+ Proposed legislation in Puerto Rico to support same-sex adoption and LGBT rights educational curricula are causing quite a stir.
You Should Go
Lesbian speed dating at the Lesbian Herstory Archives sounds like a nerdy dream come true in all the best ways. I'm deeply invested in you going to this so that if we ever meet you can describe it to me in great detail.
Obligatory Russia Roundup
+ LGBT Russian folks are looking to the US for aslyum, probably since the homophobia there – if you haven't heard – is fucking terrifying and awful.
+ Is this the most dangerous lesbian kiss in recent history? I'm not really sure but I can't really presume life is exactly pleasant for these two dissenting Russian athletes atm.
Two female Russian athletes kissed on the winners podium to protest Russia's anti-gay propaganda law, reports Sky News. Kseniya Ryzhova and Tatyana Firova kissed after they helped their team win the 4 x 400 meter relay at the World Athletics Championship in Moscow on Saturday. While Sky News seems certain that the kiss was a political statement, others aren't so sure. Gay Star News says it is "unclear" whether the kiss was merely a sign of affection or whether the athletes were "blatantly defying Russia's 'gay propaganda' laws since neither of the athletes have released a statement." Regardless, the kiss could land the athletes in legal trouble considering it expressly goes against the much-criticized law that bans anything that may be seen as a promotion of homosexuality.
+ Should the Metropolitan Opera be worried about gay people? In light of Russia, people seem to think so.
#LoveIsLove
+ Congratulations to New Zealanders – they not only have marriage equality now, but they also live in like, the coolest place on Earth.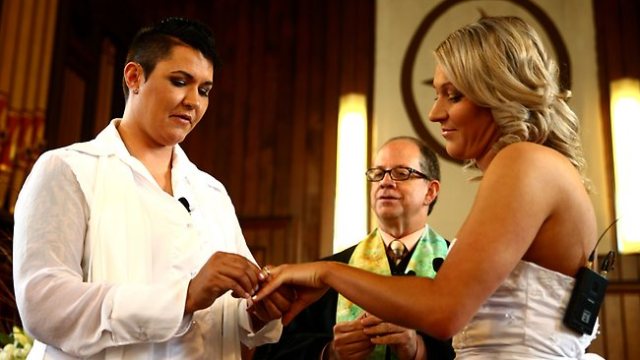 + Gay marriage is finally set to hit the courts in New Jersey. Oh, and Chris Christie? Fuck you. 
+ Your OB/GYN supports you. Thank god, 'cause that shit was already awkward enough.
The American College of Obstetricians and Gynecologists (The College) today voices its endorsement of marriage equality for same-sex couples. In applauding the recent Supreme Court ruling providing equal treatment for legally married same-sex couples, The College says that legalizing gay marriage benefits women's health.

"As ob-gyns, we must be strong advocates for all of our patients' health and well-being," said Jeanne A. Conry, MD, PhD, president of The College. "We know that access to health care and the health of women and their families is tied to financial security. Marriage helps provide this financial security for many women, regardless of sexual orientation…As a society, we have made enormous progress, but we won't have full marriage equality until same-sex marriage is legal in every state."
+ Same-sex military spouses will begin to receive the same Department of Defense benefits as their (yawn) heterosexual counterparts no later than September 3, which is great for all the military wife hopefuls in the crowd.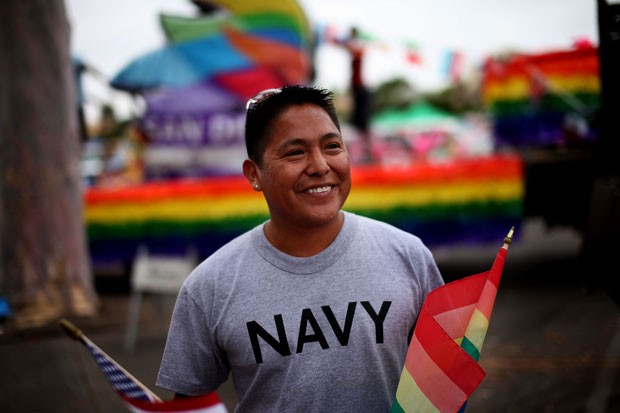 The Guest Verse As Social Justice, Or: The Lil Carmen Story
Yo, Kendrick, I'mma let you finish, but Nicki Minaj fucking invented the guest verse. And she's baaaaack.
Nicki, of course, rapped her ass off employing those same tactics for half of Roman Reloaded, a fact that might have gotten glossed over in the "what-about-the-pop" reaction cycle to the album. But now she's consistently hopping on more traditional rap songs with everyone's favorite rappers, and she's also consistently outshining them. It's been awesome to watch: she's taking back her rap credits by lyrical force.

Back in April, in response to a question about whether she feels pressure in the lead-up to her third album, rumored to be titled The Pinkprint, Nicki told MTV, "I care less about the acceptance and more about me being the lyrical, ill bitch that I am, knowing that I am lyrically better than most of the male rappers out there—yes, I'm gonna say it. I don't get the credit that I deserve… I've put in my work lyrically, and people act like it doesn't exist." Kendrick should've heard her. She's adamant, and very vocal, about the fact that the requirement to prove herself has to do with her gender. She's right, and it's a grim reality—but the better Nicki gets, the closer she gets to inverting it.
You've Got To Be Fucking Kiding Me
In Kansas, anti-choice fuckers are citing themselves as nuisances in an effort to get a clinic shut down. Welcome to the realm of pro-life politics, where nothing makes sense and noboody knows how to calmly speak to anyone else.  
OINTB: They're Taking Over, I Like It
This week, Lea DeLaria tackled the Week In Gay (minus Brittani though, which is a huge letdown)…
…While Natasha Lyonne's "important and funny" "teen comedy" hit Vancouver's film festival circuit.
LezBuzz
+ Ellen and Lorelei are making a show. I never liked or watched Gilmore Girls but Ellen is my girl. So.
+ Blue Is The Warmest Color or something.