IT'S SO FUCKING HOT OUT HERE YOU GUYS! Here's the stories we missed while I was listening to Sugar Ray and scouting out dandelions with Eli this week.
Is Rap Ready for Anybody?
Snoop Lion thinks rap isn't ready for a gay MC, and would like to add that Frank Ocean is indeed not one.
"Frank Ocean ain't no rapper," he tells The Guardian. "He's a singer. It's acceptable in the singing world, but in the rap world I don't know if it will ever be acceptable because rap is so masculine." […]

"I don't have a problem with gay people," he explains. "I got some gay homies. Yeah, for real. People who were gay used to get beat up. It was cool to beat up on gay people back then. But in the 90s and 2000s, gay is a way of life. Just regular people with jobs. Now they are accepted, not classified. They just went through the same things we went through as black."
New York Magazine doesn't know if rap is ready for Awkwafina either, what with her being like, a woman and Asian and stuff.
Lum began by dabbling in rap at 17, seven years ago, producing her own tracks quietly and messing around with the program GarageBand (she has since moved on to Ableton, a less amateur option). After leaving a corporate publicity job, she became obsessed: Sometimes she'll sit for 72 hours straight working on one song — messing with different beats, writing lyrics, putting it all together. Lum's aural choices are sometimes delicately tinny, sometimes grungily thumping. Her lyrics have a provocative showiness and enough wit that her occasionally droll delivery has been categorized as Daria-like.
Awkwafina has also been compared to Kreayshawn, but maybe that's just because there's few new female rappers out there to reference. She doesn't have Kreayshawn's danceable, cartoonish femme style or Nicki Minaj's almost-alien diva attitude or Azealia Banks's deliciously dirty mouth or Iggy Azalea's slow-moving swagger. In fact, in herSeinfeld-ian commentary on some of life's more mundane details (flu shots, Ikea, turning red when she drinks), she more closely resembles Childish Gambino — Donald Glover's rap alter ego — in terms of lyrical content and quick, smart turns of phrase. You could call her a thinking person's rapper, one who takes herself just seriously enough to produce something that stands out for being funny. Take, for example, her recent video of "NYC Bitche$": It features her reading Joan Didion (The White Album, one of her favorite books), hugging an inflatable penis (a gift from a friend for her 16th birthday), and referencing Alanis Morissette's "Ironicwp_postsvideo (the car scenes).
You Should Go, You Should Give
+ Let's talk sexism in politics!
Sexist media coverage has been damaging the campaigns and careers of women candidates for years. For far too long political advisors have been telling their women candidates to ignore sexist attacks. That advice is wrong. Name It. Change It.'s groundbreaking research proves beyond a shadow of a doubt that all sexism damages a woman candidate's standing with voters, whether it's heightened scrutiny of her appearance, sexism masked as a compliment, or sexism that uses gendered language to attack the candidate. Furthermore, this damage affects women of all racial and ethnic backgrounds. Name It. Change It.'s research clearly shows, however, that when women candidates and third-party validators openly respond to sexist attacks, they can repair the damage done to their campaigns—and can even gather more support than they had before.

Join this session to hear from prominent women leaders of color who will explain the research's massive ramifications for all women candidates and offer a personal response to the report's findings.
+ Go to the Dalloway for the best book club ever, it's super meta:
"What a thrill, what a shock, to be alive on a morning in June, prosperous, almost scandalously privileged, with a simple errand to run.wp_postsWell, your simple errand is to join us on Monday, April 22nd at The Dalloway, with
special guest  Michael Cunningham, Pulitzer Prize-winning author of  The Hours, as we discuss Mrs. Dalloway!

*Monday, April 22nd:*
6:30 PM – 7 PM Arrival and Check-in
7:00 PM – Michael Cunningham kicks off our book club meeting on Mrs. Dalloway (with Q&A)
9:00 PM – After Hours Mixer

Discounted LIMITED Tickets: $40 – includes snacks (cheese plates and flatbreads, sliders, grilled cheese), 2 drink tickets, tax and gratuity.
+ Table Manners was rescheduled to September 14.
+ Support FBI Pride!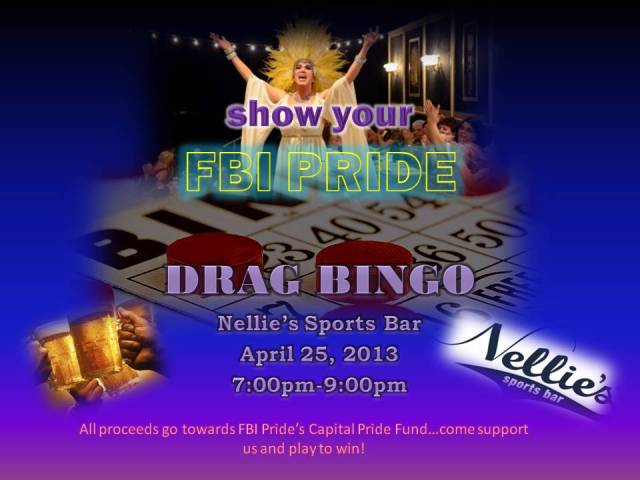 Lucky for you, helping a good cause is easy and fun! Just come play bingo with us at Nellie's on 4/25 from 6:30-9pm, and drink all the Nellie's beer you possibly can – FBI Pride will get $1 for every Nellie's Beer sold that night. And tell all your friends! We cannot advertise for this using government emails, so we need all the help we can get. There's a sexy flyer attached to help spread the word.

The Basics:

FBI Pride drag bingo fundraiser

Nellie's Sports Bar, 9th & U St NW

April 25th, 6:30pm
+ Janet Mock, anyone?
Next week, Stanford is hosting the most famous transgender journalist in the world, Janet Mock, as part of Transgender Awareness Week. Seeking to expand the society's limited portrait of womanhood, Mock will be speaking on the importance of trans- inclusivity in social movements.

Other notable speakers during the week will include Miss Major, a trans- elder who will be speaking about her experience at Stonewall (Tues 4.16 @ 7p re: TGI Justice Project), and Micah of 

Neutrois Nonsense

 taking part in a (Mon 4.15 @ 6p @ LGBT-CRC) larger panel on trans*/ace-/poc/*queer perspectives.

All events are open to the public.
+ Go to the Global Fund for Women's 25th Anniversary Gala.
+ See Eileen Myles at the MoMa – TODAY.
Artists Experiment is a new initiative in the Department of Education that brings together contemporary artists in dialogue with MoMA educators to conceptualize ideas for developing innovative and experimental public interactions. Learn more

Eileen Myles reads "dog poems" in front of Picasso's Three Musicians (1921).

Uncontested Spaces: Guerilla Readings in the MoMA Galleries
As part of Kenneth Goldsmith's "Poet Laureate" program, he invites renowned writers to choose works in MoMA's collection, develop a response, and then select a space in the Museum galleries where they will perform the resulting readings and texts on Wednesdays. On selected Fridays, Goldsmith himself will contribute readings in the galleries. Visitors can meet the writers directly in their selected gallery.
+ The Oakland, California community performances of the Vagina Monologues will probably be off the chain. Daniela told me so.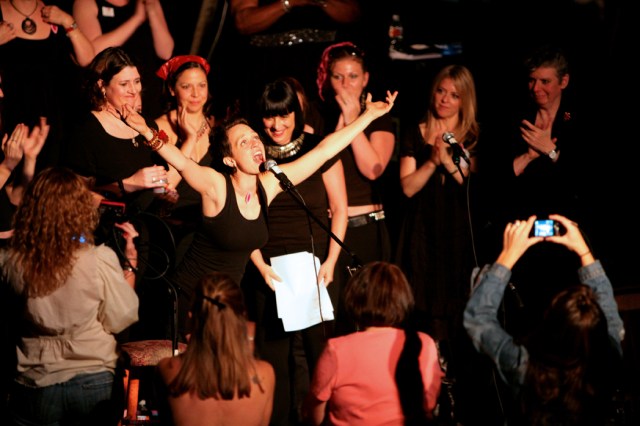 Ye Olde Gay Marriage Roundup
+ Marriage is good for your wallet.
+ Patti Davis, Ronald Reagan's daughter, said even though she never spoke to him about gay marriage she knows he would have supported it just because. All she knows, after all, is the heart of her father – which is a lot more than we peasant Americans ever truly knew about one of the shadiest and shittiest presidents of all time.
+ Glenn Beck followed in Bill O'Reilly's footsteps and talked himself through gay marriage this week:

Speaking for the conservative opposition to gay marriage, Beck admitted, "we have been so foolish.wp_postsHe said the argument is "not about gays, it's not about marriage, it's not about any of that.wp_postsBeck went on to explain that "the reason why they've won is because they made it about freedom.wp_posts[…]

Taking on the guise of someone who wants to marry a partner of the same sex for a moment, Beck asked, "Who are you to tell me what I can and cannot do?wp_posts[…] Beck described [the position of anti-gay activists] as simply "saying 'because it always is.'wp_postsAnd if that's all you can say against an argument of "freedom,wp_poststhen "you've lost."

"That's why they've won,wp_postsBeck concluded, "because the principle of it is right."
+ Gigi Chao, whose father offered millions to the man who wanted to marry his (gay) daughter, is finally speaking out. In other news, she's still happily married to a woman and has an insane dad.
Heather Morris is Preggo
Queering Seder
Just in case this is, you know, relevant.
"The seder table is the ideal place to bring multiple identities together in that the struggles for those identities as individuals and as communities are so integral to one another. We do not remove one identity to dawn another: we are all of our identities at all times. Just as we read of our past and the Jewish struggle for redemption, we relate our modern GLBTQA struggle for recognition, freedom, and acceptance. The seder is not something separate from GLBTQA identities, but something strongly integrated – that speaks to us as whole, multifaceted people, in a celebratory and safe environment."

"The struggle for all people who consider themselves GLBTQ is a multifaceted struggle, reflecting not the external power dynamic of oppressor and slave, but the internal dynamic. All GLBTQ people must face a struggle within themselves, in addition to the struggle between themselves and God, their families, their communities, and their worlds"

"When Hillel combines bitter herbs, haroset, and matzah into what is referred to as the "Hillel Sandwhich,wp_postshe merges the bitterness of slavery the sweetness of self-realization, and the promise of redemption. He emphasizes the individual's and the community's abilities to forge identity from painful experience. By repeating the seder each year, we grow as indivduals [sic] and as a people, always from a new perspective and always in our search for true freedom."
Lesbian Mom Bloggers Are Taking Over
Two words: lesbian dads.
After exploring various parental titles, Pagenhart decided on the title "baba,wp_poststhe diminutive for "fatherwp_postsin Frankfurter, a German dialect. The more she researched the term, the more she discovered that it had meanings in many cultures denoting a warm, loving caregiver or protector. She claimed the title and never looked back. Now, eight years later, she is the proud "babawp_postsof two children as well as the author of Lesbian Dad, a parenting blog about her experiences navigating the murky territory between motherhood and fatherhood.
The only thing better than one mom is two! Which might explain the success of Mombian.com.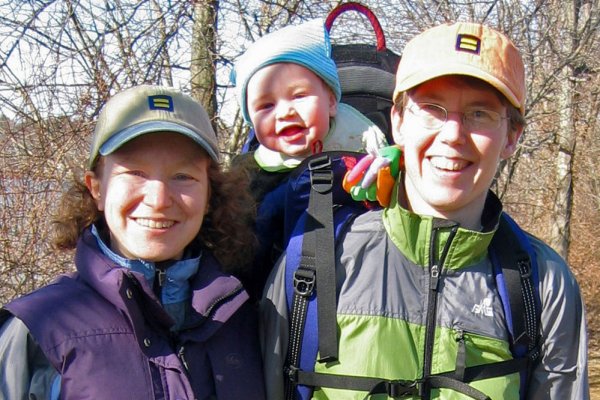 Do you ever feel like there's additional pressure on you as a parent to "representwp_postsyour community? Like, do you get stared at in the supermarket, or things like that?
Sometimes people look at us, but I don't mind it. I personally try to use it as an education opportunity. But sometimes I feel pressure to be perfect because we feel like we're representing all of LGBT parenthood. Like, "Oh my gosh, if I lose my temper with our child people are going to say LGBT people shouldn't be parents!wp_postsWe're not perfect, but we're no more or less perfect than straight parents. It's more important not to pressure our children to be perfect representatives of LGBT families. Our kids are going to have ups and downs of growing up and puberty and hormones, just like everyone else's kids. We just try to show our son he has parents who love him, and that's the most important thing. We also have to remember not to take ourselves too seriously.
#GayAtWorkProblems
The Texas Senate is considering a non-discrimination bill for people who are out at work. Meanwhile, in Wisconsin, an Applebee's employee accuses his coworker's husband of attacking him just for being a gay dude.
Le sigh.
11 Important Photos
One baby. Three dogs. Countless rays of sunshine.