Hello beautiful, and welcome to How To Own It, where store-bought fashion meets DIY crafts.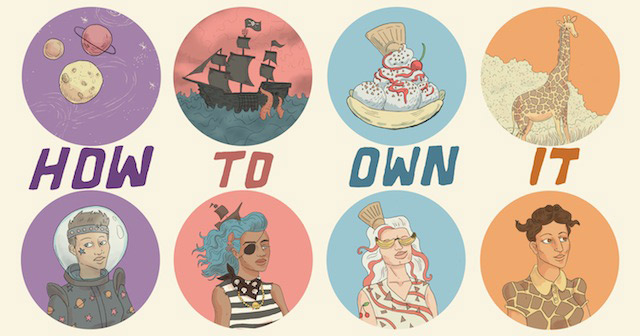 ---
I'm sitting on my couch drinking coffee and I can hear birds. Birds, you guys! They came back! You know what that means? Soon it will be warm enough for dresses and shorts and bare legs. However, earlier this morning, a quick walk with the dog baby quickly revealed that I actually still need my puffer jacket. I guess the Northeast will be easing into warm weather attire after all (instead of plunging into it, like I keep trying to do). So, instead of bare legs, I'm thinking cropped pants and dresses with sheer tights. You know what those two things have in common? They let you show a little ankle.
Ankles! I forgot I even had ankles because they were stuffed in my boots all winter. Ankles deserve  a little attention, don't you think? A little attention in the form of… oh I don't know, something lacy and ruffly and sweet, maybe even on your socks?
Ruffle socks are so cute that when I first saw them made for grownup feet at Topshop I actually laughed a little bit. They look super adorable with oxford flats, peeking out of boots, and even with heels, in my opinion. Look at all of these options! I've never been so excited to talk about socks, can you tell?
DIY Lace Ruffle Socks
You will need:
Socks
Lace trim
Cardboard
Sewing stuff
1. You can obviously choose whatever kind of sock you want, depending on what kind of shoe you're envisioning wearing it with. I went with ankle socks. The first thing you need to do is put the sock of your choice around something that is going to stretch its opening all the way, like a piece of cardboard or a book. Now pin the lace around the top of the sock. I did two layers of trim, but you should do as many as you want. Sew it down once you're satisfied with the quantity of trim you've pinned.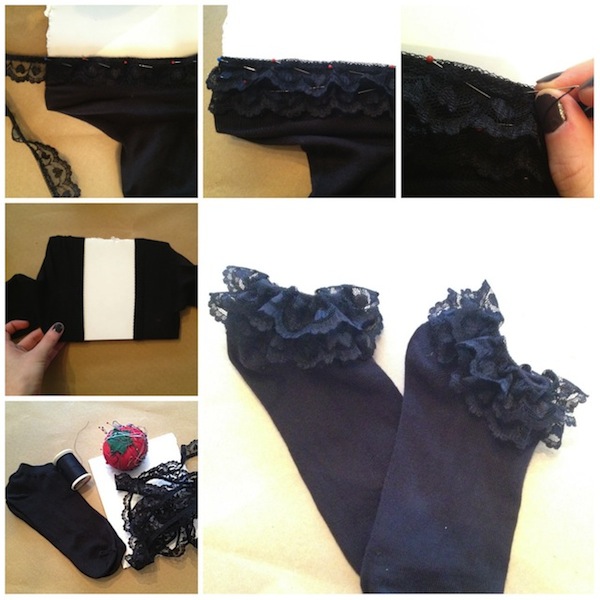 2. When you take the socks off of the cardboard, the lace should ruffle up with the elastic band of the sock. Now go put your cute shoes on and prance around.