Welcome to Almost Famous, a weekly segment where we ask up-and-coming queer musicians some not so hard-hitting questions about music and life and maybe even convince them to share photos of their pets. Get to know intimate details about your new favorite artist or band before they hit the Big Time and become too famous for us to interview for real.
Header by Rory Midhani

---
 *~~
Denton, TX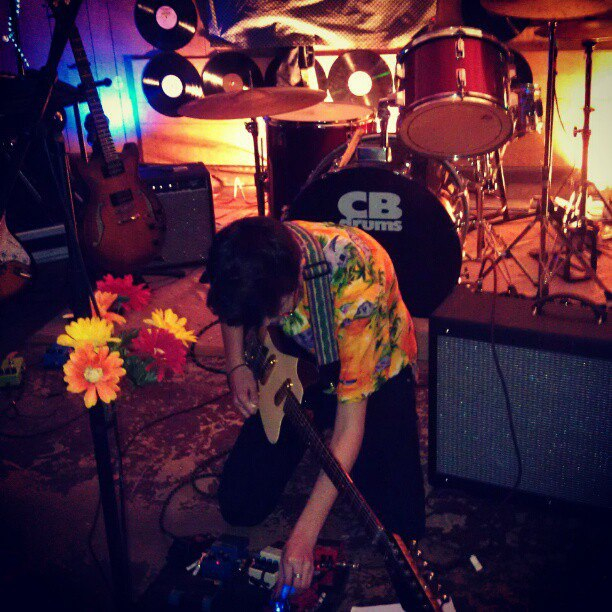 Hello, welcome to an episode of Almost Famous in which we hear from a Texas based artist who I find fascinating. Note: I have chosen to cut-paste the following artist biography because I don't feel confident that I can summarise *~~ as well as the artist can.
*~~ is the name under which Jen Hill chooses to make music. She works in a variety of genres from "folk" to "shoe gaze" to "electronic noise" to "experimental intermedia". She is based in Denton, TX, where she is working towards her Bachelor of Music in Composition. She likes to play house shows where her friends live. You can download her first and most recent album Desolation Wilderness for free via Bandcamp and hear her recent compositions via Soundcloud.
How would you describe your music?
"Talking about music is like dancing about architecture"
-Martin Mull (maybe, this quote has been attributed to many people)
I usually bring that one out when I'm avoiding answering that question, but that being said, my songwriting is an expression of frustration, boredom, and misery. I draw from noise, punk, drone, funk, shoegaze, and music that people dance to at beach parties. I'm also studying classical composition at the University of North Texas and I put equal focus into that side of my music as well, which draws from similar influences in a slightly different context. Both sides of my musical language fall comfortably into more experimental realms.
What instrument/s do you play?
I've been playing classical cello since I was 10, and I'm still in orchestra at my university. I started fiddling around with guitar when I was 14, but I still don't really consider myself a guitarist. I really like playing toy instruments in either super conservative or super radical contexts. I used a lot of electronics in both my songs and my compositions, namely a software program called Max/MSP, which is my favorite thing ever and is almost limitless in what it can do.
How do you pronounce *~~?
I usually say either 'asterisk tilde tilde' or 'star squiggle squiggle'.
Which song would you most like everyone to hear? 
I feel the need to include both "~grass~" (song) and "//still here//" (composition), because both are mutually exclusive and mutually vital to understanding my musical language.
I wrote ~grass~ when I was 15 and have been playing/re-recording it ever since and it's radically different every time.
[soundcloud url="http://api.soundcloud.com/tracks/60599378″ params="" width=" 100%" height="166″ iframe="true" /]
I composed //still here// for cello and fixed electronics in fall of 2012 and it was premiered on Feb 5 2013 in Denton, TX.
[soundcloud url="http://api.soundcloud.com/tracks/70296837″ params="" width=" 100%" height="166″ iframe="true" /]
What was the last book you read?
Eeeee Eee Eeee, by Tao Lin and I loved it.
How did you come up with your the name *~~?
I perform solo most of the time, and I didn't want to use my human name because (a) I think it's boring and I wanted a way to draw listeners attention to myself, and (b) I wanted to piss people off a little bit by having a name that no one would know what to do with. I'm also interested in performing under always changing variations of *~~ including, but not limited to, *~ swinton and asstrick~~. It keeps audiences on their toes and keeps them asking questions, which is good.
Describe the environment that you write your songs in.
I'm the only person awake in my house. I've had a couple drinks and I can begin to feel my ears filling with blood and tension. Then I play spider solitaire on my laptop for at least an hour while I let myself imagine scenarios in which I am happy and surrounded by people who like me, and then I try to write poems and then I give up and write a song. Maybe it's a bleak outlook on the creative process, but it seems to work!
Composing is easier because I approach it like I have a book that's already been written and I'm just transcribing the text. The ideas all already exist somewhere in my head and it's my job to find them and write them down so that audiences can hear them. In other words, the environment always involves copious amounts of caffeine and staring at my computer screen for hours at a time!
Would you ever date someone whose favorite artist/band was your least favorite?
The only case in which I wouldn't is the case in which her favorite composer is Eric Whitacre, because his music is the most insulting and uninteresting music I've ever listened to. I have very strong feelings about this.
What were the first and last records you bought?
The first CD I ever bought with my own money on my own accord was a Good Charlotte CD. I listened to the shit out of that CD and it made me feel like a such a cool kid. The most recent music I bought I think was either Ariel Pink's Haunted Graffiti's Mature Themes or Laurel Halo's Quarentine. Of course, there's been a lot of music that I haven't bought, but rather borrowed from friends and stuff. Not stolen.
What inspires you to write?
The constant reminder that I can't do anything else very well.
Describe a perfect day.
1. PAYDAY
2. Eat breakfast tacos
3. Watch Clueless on Netflix
4. Eat some mac n cheese
5. Play with someone's adorable dogs
6. 80 degrees outside with only a few clouds hanging around
7. Have a good hair day
Do you have any pets?
No, but I wish I had this cat.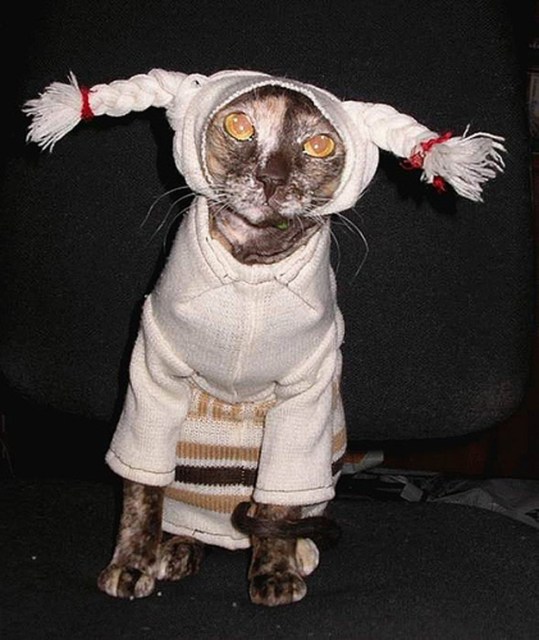 ---
If you are, or know of, a queer artist or band that should be featured in Almost Famous, drop me the details via crystal [at] autostraddle [dot] com. Please write 'Almost Famous' in the subject line.