Welcome to Almost Famous, a weekly segment where we ask up-and-coming queer musicians some hard-hitting questions about music and life and maybe even convince them to show us photos of their pets. Get to know intimate details about your new favorite artist or band before they hit the Big Time and become too famous for us to interview for real.
Header by Rory Midhani

---
Stacy Kovacs // BatalaNYC
New York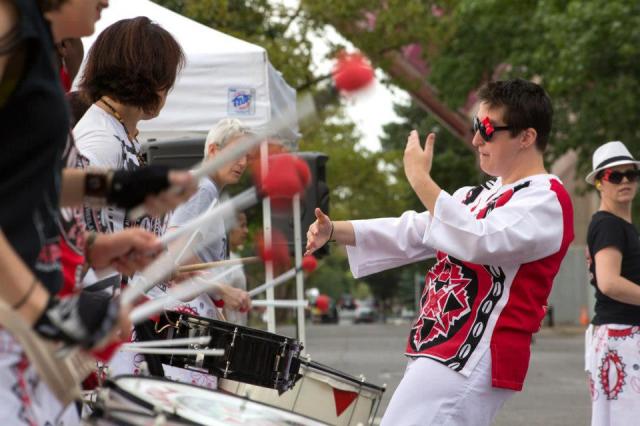 Stacy Kovacs is a self-proclaimed marching band dork and the musical director of BatalaNYC, an all-women's AfroBrazilian Samba Reggae drumming band. BatalaNYC have garnered a lot of interest since forming one year ago; they play New York street fairs and shows on the regular and have even opened for the Rolling Stones.
Tell us a little about Batala and BatalaNYC?
BatalaNYC is an AfroBrazilian Drum Band. Batala is the name of a larger global arts project. There are now 30+ cities with a Batala band. The music is Samba Reggae, typically heard in Bahia, a northern state in Brazil, with its roots in West African drumming. It's not "samba," and we are not a "samba band." All Batala bands wear the same style of clothing and use the same drums, all of which are hand made in Salvador de Bahia, Brazil. The drums are recognizable as they all have the same painted patterns and the clothes have similar designs. All Batala bands play the same arrangements and communicate via the same hand signals.
BatalaNYC began in my head after seeing a group of Batala members from around the world play at the 2011 Brasilian Day in NYC. They were being directed by the founder of Batala, Giba Goncalves. His mere presence got me addicted to the music and the band. After many long Skype conversations with Solange, the founder of Batala Washington DC, and Paulo, the director of Batala Brasilia, Batala NYC was formed officially in January 2012.
Can any woman join?
Yes, any woman can join regardless of musical experience or drumming experience. We will teach her to drum. It's fun!
What is your music background?
I started playing piano when I was 6 or 7, then drums at age 8. I also started trombone at age 14. I have a very musical family, and am grateful for my parents for letting me play drums in school, and practice at home. Not many parents would tolerate that, and I had a pretty cool band teacher who let girls play whatever instruments they wanted. I went to Big Ten University to be a dork– a marching band dork! I have been involved in American marching bands since age 10. When I moved to NYC in 2006 I found the Lesbian and Gay Big Apple Corps and the Rude Mechanical Orchestra and played trombone. I missed drums and started going to Dr. Galinsky's samba drumming classes in 2010. I then got involved with Manhattan Samba and Maracatu NY.
Right now I teach 4 instruments in the Brazilian repertoire: surdo, the bass drums; dobra, the drum of syncopation in samba reggae; repique, the drum that plays the patterns and calls; and snare drum. I have been playing these drums for only a few years, but the technique is more or less the same as other types of drums. I can play other hand drums, and marching band snare/bass/quads, however, for some reason I am not coordinated enough to play drum set! I am really bad at drum set!
What song or performance would you most like everyone to see or hear?
I think they should come see an entire show! Our music is designed in a way that it all flows together. We have "songs," but they are ever changing and flowing in a way that they may not sound the same each time we play them. My current favorite is the song we call "Boing." It's a mix of samba reggae and Afoxe.
https://www.youtube.com/watch?v=CEQXZ1sTg3U&feature=player_embedded
Who are some of your favorite percussionists?
I think my favorite, the guy I grew up listening to, was Sandy Nelson. His music was kind of surfer stuff in the 60's. Also, Gene Krupa. I love Kim Thompson as well. Also, that female Taiko group, Cobu. They rock.
What were the first and last records you bought?
The first record I bought was a tape- Michael Jackson's Thriller. The last I bought was a download of "Gangnam Style." I admit it. So there.
What has been the most memorable moment of your music career to date?
Well, BatalaNYC had the honor of opening for The Rolling Stones on their most recent tour – their final tour. We didn't play our own music, but we played along with a track overhead to "Sympathy for the Devil." It was quite incredible to march through the aisles on the floor and welcome the Stones to the stage. There's so many other amazing memories, thinking about them makes me feel overwhelmed with joy and I can't type…
What inspires you to write?
I don't really write music. I teach it as I hear it. But, the times I have written music, it's been due to some break up or some new exciting person I have met.
Would you ever date someone whose favorite artist/band was your least favorite?
Yeah. I don't care about that stuff – it's what makes relationships fun!
What do you get up to when you're not making music?
I am a surgical physician assistant. I cut you open and take stuff out and put you back together.
Have you ever had to work a terrible job to pursue your music career?
Yes. I work as a physician assistant in surgery to make money for myself to be able to do everything in my music life.
If you could share a line-up with any two other artists, which ones would you choose?
Madonna and Michael Jackson. However, he is dead. So, the lesbian in me chooses Ani DiFranco.
When you're super famous what will be the name of your autobiography?
"You Can't Make This Shit Up."
What was the last book you read?
What is the best concert you've ever been to?
Margareth Menezes in Salvador de Bahia, Brazil. She rocks.
Do you have any pets?
Yes, Max and Bella.
If you'd like know more about BatalaNYC (or want to join!), visit their website or see them live in action at their 1st birthday party, to be held on 21 April at Littlefield, Brooklyn. The night will feature birthday cake, obviously, as well as performances by Pitch Blak Brass Band and the Dance Cartel.
---
Editor's Note: Since this article was first published BatalaNYC has disbanded. The members have formed a new all women drumming group called FogoAzul NYC. Check them out on Instagram and Facebook.
---
If you are, or know of, a queer artist or band that should be featured in Almost Famous, drop me the details via crystal [at] autostraddle [dot] com. Please write 'Almost Famous' in the subject line!