Welcome to Almost Famous, a weekly segment where we ask up-and-coming queer musicians some not so hard-hitting questions about music and life and maybe even convince them to share photos of their pets. Get to know intimate details about your new favorite artist or band before they hit the Big Time and become too famous for us to interview for real.
Header by Rory Midhani

---
 Meg Duffy, Hand Habits
Upstate New York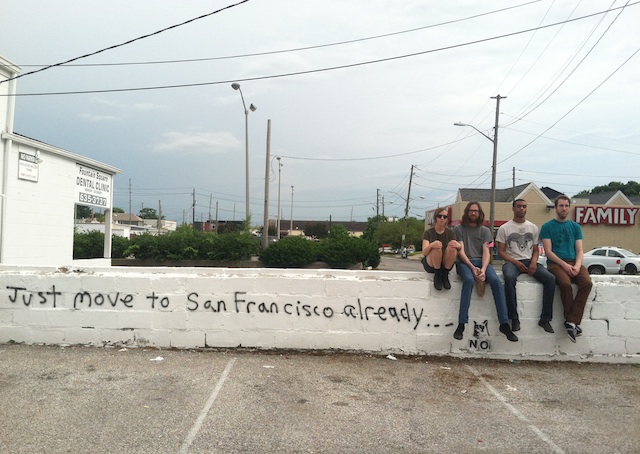 Meg Duffy is the lead vocalist and guitarist of Hand Habits, a four-piece psychedelic rock band from Upstate New York that also includes Craig Dutra (guitar/vox), Stan Francois (drums/vox) and Mike Cox (bass/vox). Hand Habits was formed in January of this year and the band has just released its first recording, the super dreamy four-track Nameless Lust EP. A full-length album is underway for a Fall 2013 release.
How would you describe your music?
Psychedelic pop/dream rock/pretty and sad and melodic, lots of reverb, guitar freak outs with simple but meaningful structure.
Which song would you most like everyone to hear?
"It Doesn't Matter," from the Nameless Lust EP.
https://soundcloud.com/handhabits/it-doesnt-matter
Tell us about the new EP.
The EP is our first full band recording, and it's titled Nameless Lust. It's half a nod to Anne Sexton and half a nod to how much of a hopeless romantic I am, haha. I'm always too nostalgic or wanting something (aren't we all?) and 'nameless' makes it seem anonymous and irrelevant, that one specific person doesn't matter and it's an umbrella kind of feeling, but I think lot of the songs give me away.
What is the first and last record you bought?
The first was probably Led Zeppelin IV. The last one was this collaboration project between Liz Harris (Grouper) and Jesy Fortino (Tiny Vipers) titled Mirroring. The album is called Foreign Body. I'm listening to it right now.
What inspires you when writing?
Dreams, people I love, people who don't love me anymore, death, other musicians, poetry.
What are the best and worst parts of touring?
Best thing has to be playing shows every night and making people feel things, and meeting those people. Bonding with the boys too. Seeing new places and feeling hopeful about playing music.
Worst part could be not showering, but whatever. Playing to an empty room can be exhausting but it can turn into a really fun set. Worst part is coming home and not being on tour.
When you're legit famous what your autobiography be called?
Haha. C'mon Guys, because the boys make fun of me for saying "c'mon" too much and complaining about things like the sun. Or More Reverb, Please.
What's the best piece of advice you've received?
Be honest. Stay humble.
If you could be on a line-up with any two bands?
Tough question! Probably Wilco and Tame Impala. Or Land of Talk and Grizzly Bear.
Do you have any pets?
This is Craig's dog, Wilco the Dog.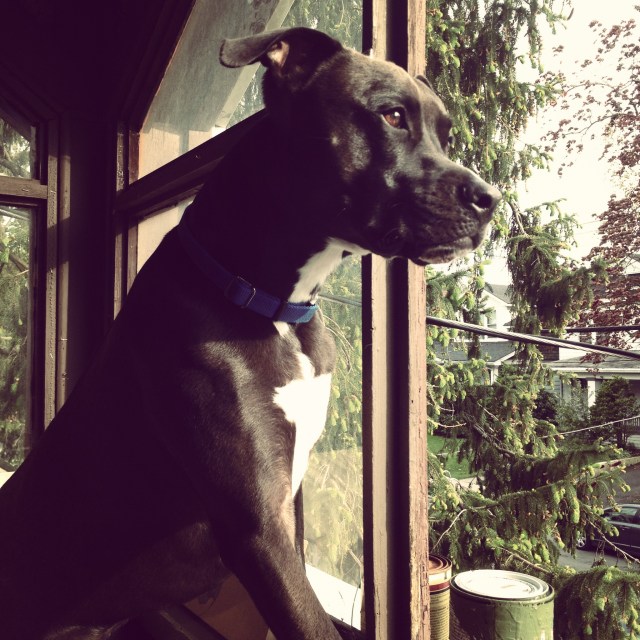 For more on Meg and Hand Habits, check out the Facebook and Soundcloud pages. Their new EP, Nameless Lust, is available via Bandcamp.
---
If you are, or know of, a queer artist or band that should be featured in Almost Famous, drop me the details via crystal [at] autostraddle [dot] com. Please write 'Almost Famous' in the subject line!