Welcome to Almost Famous, a weekly segment where we ask up-and-coming queer musicians some not so hard-hitting questions about music and life and maybe even convince them to share photos of their pets. Get to know intimate details about your new favorite artist or band before they hit the Big Time and become too famous for us to interview for real.
Header by Rory Midhani


---
C808 of Going Green with Freekstile
Brooklyn, NY
C808 is a kick-ass self-taught drummer hailing from Brooklyn, New York. With an eclectic taste in music and beats, over the years she's played in numerous bands with styles ranging from punk to doo-wop to hip-hop.
C808 currently plays with a bunch of sweaty dudes in the reggae/ska/hip-hop band, Going Green with Freekstile. The band's been gaining some momentum off the back of their recently released single and music video, "She Could Get It (Tho)". Check it out below. Up next, the band will head to the studio to record a new EP that'll make you wanna dance.
How would you describe Going Green's music?
I would describe it as taking the styles of reggae, hip hop, ska, and pop, and throwing them into a musical blender to party with each other and come out as a tasty fun party smoothie. That makes sense right?
What instrument/s do you play?
Alright, so guitars and bass guitars have always been in my house and so I played with those growing up. I've played the clarinet for about 13 years although there has been some off time in there. I got my first set of drums about 7 years ago. The drums have a similar story as the guitars except I didn't have a drum set in my house growing up, but there were drum sticks! I would spend a lot of time "drumming" on basketballs and mouse pads while looking into instructional books to see how a drum set worked.
Which Going Green song would you most like everyone to hear?
Sit back and relax while listening to the sweet tune of "She Can Get it (Tho)".
What inspires you to write?
When it comes to melodies and lyrics, it's usually just a feeling, as basic as that sounds. Sometimes I'll hear a song in a dream and remember it well enough to figure out in real life though, it's the weirdest thing but also so cool! When it comes to drum pieces, I can usually hear what the drums should sound like before I start writing the part, and then once I've got that down, I'll hear where the piece is lacking and where something should be added or taken away.
What is the best and worst thing about touring?
The best thing is definitely meeting loads of people and hanging out with some of your best friends. The worst is being in a car full of sweaty dudes. Doesn't smell great.
What's your 'guilty pleasure' music?
I used to think I wasn't ashamed of anything I listened to. That was until I was driving with my family in my parents' new car. I got excited about all the cool new features and plugged in my iPod to charge it and it began playing "Amapola" by the Glenn Miller Band. I'm not sure I've ever felt so embarrassed.
Have you ever had to work a terrible job to support your music career?
I was once a telemarketer. Need I say more?
Do you have any pre-show rituals?
You bet. I think I pee at least twice before getting on stage.
If you could share a line-up with any two other artists?
Here's an easter egg for you: I'd like to play with Mosey Jones and The Loneliers.
What's your favorite thing about living in Brooklyn?
Hm, I have so many favorite things about living here. It used to be that you got a lot of street cred but times are changin'. I guess besides it being where I was born and raised, I'll have to go with the fact that everything you could possibly need is right here.
Do you have any pets?
I used to have fishies (RIP). Now I guess you could say I have an elaborate garden for my pet rock… look, how cute! Haha.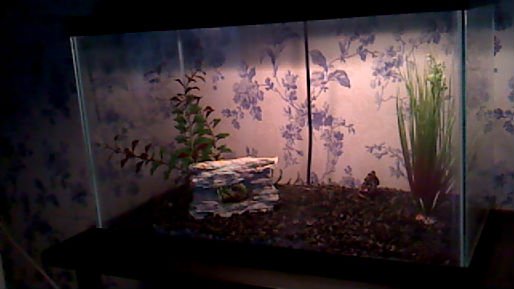 If you're interested in helping Going Green with Freekstile to record their new EP, check out their IndieGoGo campaign page and make a donation. Everything else you want to know about band can be found on their website, Facebook page and Twitter page.
---
If you are, or know of, a queer artist or band that should be featured in Almost Famous, drop me the details via crystal [at] autostraddle [dot] com. Please write 'Almost Famous' in the subject line!