Hello Squirrel friends! Guess who?
Wrong! It's not your regularly-scheduled Tuesday Televisionary who says things like 'squirrel friends.' It's Autostraddle's Senior Designer Extraordinaire, Alex! Hi, nice to meet you all. This week, because Carlytron is running from the law in Tijiuana, I've hijacked the Tuesday Televisionary — much like Robin did last week (except I don't have a cool picture to prove it).
The truth is, I only watch The History Channel and The Food Network so I can't actually write about teevee unless you want to hear about the lost pyramid of Egypt. So I've called upon the Team and Intern Army to contribute in order to make this a Tuesday Televisionary of Epic Proportions. So this was truly a collaborative effort — I really don't know how the 'Tron does this all on her own every week! She must really like teevee or something.
Anyway! Drum roll please!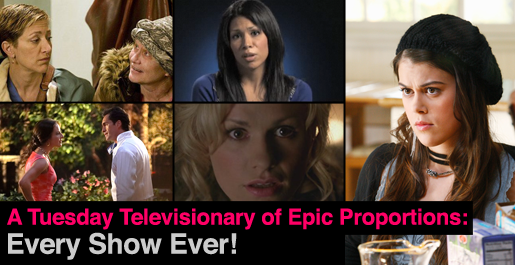 Highlights from last week include Lafayette humping furniture and dancing around his living room, and this little gem from Jessica by way of the glamoured limo driver: "Becky Eubanks is a stuck-up whore who let Jace finger her in the church!"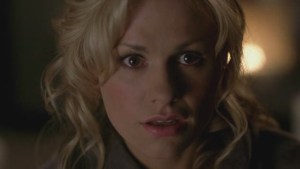 This week we learned that Daphne is a shape-shifter, too, which made me sort of yawn all over myself because I really, really dislike/distrust her character YAWN I mean she can't even wait tables at a 10-top bar YAWN and Sam doesn't seem the least bit curious about what in the world happened to her back? YAWN why am I still talking about this?
Jessica is all bored in Dallas, so she calls Hoyt back in Bon Temps and he answers the phone with, "You're talkin' to The Man!" I love them! They make such an adorable couple and I can't wait for Hoyt's mother to find out that he's dating a vampire.
Sookie meets another telepath, Barry, who is totally uninterested in being friends or having normal conversations or probably even cookies. He's gone by the end of the episode. This is annoying because the addition of Barry was kind of the only interesting thing that happened to Sookie this week. Wait, that bandanna-themed dress was sort of interesting. Also, Sookie might want to look into purchasing a vibrator. She seems… needy.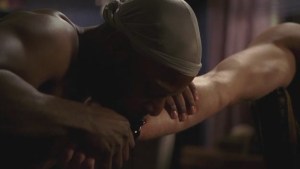 Which brings us to Tara and the Number 1 Question on Everyone's Mind: What the hell is Maryann? This is moving along at a snail's pace! Lay your cards on the table, Giant Pig Lady. And stop screwing up Tara's life! That meltdown scene at Merlotte's was crazy-upsetting, right? Reminded me of going home for Christmas.
Godric is Eric's maker! Sarah gave Jason a handjob in the bathtub! Lafayette looked pretty in his headscarf! One of the Dallas vamps tipped off the Fellowship of the Sun! I love Jessica!
(by Laneia)

In this week's episode of The Kathy G. Sitcom/Variety Hour, Kathy decides that her palatial, 7-bathroom, Hollywood Hills home is feeling a bit crowded so she heads to Miami to check out real estate on the infamous Star Island. I've personally never been to Miami and judging by the humidity effect on Kathy's naturally wavy hair I'm a bit nervous to embark on a trip anytime soon. But!, Kathy BFFs Rosie O'Donnell and Gloria Estefan are there to help her house hunt and provide the LOLs.
This was Rosie's 3rd appearance on the D-List and she didn't disappoint. Talking directly to the camera – check. Mooning Kathy & Gloria as they boat up to her house – check. Refusing to wear make-up on TV – check. My favorite segment was the girl's night in, where they just shot the shit for a few minutes and Kathy talks about her past celeb hookups. In the end, spoiler alert!, the owners shockingly do not accept her $1.25M cash offer on a $17 million home. Obvs all the hijinks are scripted to a certain degree but it's still more entertaining than nearly everything else on TV.
(by Intern Jess)

You're probably not watching 10 Things I Hate About You because you know that nothing—NOTHING —will live up to the movie and you don't want to have to throw things at your teevee. I understand completely. However, have you seen Lindsey Shaw lately? Maybe you remember her from Ned's Declassified. In my professional opinion, she is the shining star of awesome in this show. Also beaming brightly is Nicholas Braun (Sky High), who plays the adorkable Cameron James.
L. Shaw does a great job as Kat Stratford, with her supercute scowl and feminist bad-assery. I'm undecided/unimpressed with Ethan Peck as Patrick Verona, but the poor dear's only had about 5 lines in the first two episodes, so I remain hopeful and open-minded. Obviously no one can top Heath Ledger's Verona, but let's not dwell.
Bianca: "You've ruined my chances at becoming popular!"
Kat: "I'm sorry, but that girl sucks. She's a teenaged Kim Jong Il!"
Bianca: "Speak ENGLISH you show-off!"
The first two episodes are available on abcfamily.com so go watch them! Episode 2 left us with what I consider to be a very exciting cliffhanger involving Mandella and Kat that I really hope ends well. And is it just me, or is Bianca more lovable here than in the movie?
(by Laneia)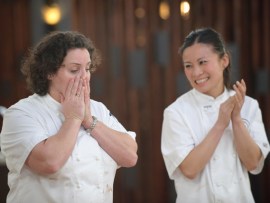 The big TV event for me this week was the all-female grand finale of Masterchef Australia, in which amateur chefs Julie and Poh cooked their hearts out for $100,000 and a publishing deal. The verdict? Julie's homestyle cuisine reigned supreme. Some critics are complaining because Poh is technically a better chef than Julie. But Poh knew it, and that was her downfall. Poh was ambitious and oozed self-confidence. Julie, on the other hand, was the lovable underdog, she was humble, gracious, and slightly insecure enough to make Australia share in her tears of joy each time she succeeded in the face of adversity. I sure did. In summary, I'm happy that Julie won. You're all getting her cookbook for Christmas.

(by Crystal)

July 13th's intervention wasn't so much like watching a train wreck as it was like watching someone die slowly of natural causes except by "natural causes" I mean "alcoholism." There were no vodka-swigging naked girls ranting about Jesus, no lost souls prostituting themselves in the Baltimore slums for heroin and no-one inhaled computer duster/walked on sunshine.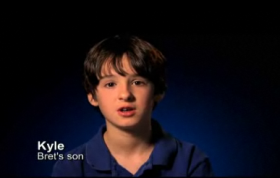 Instead, last week's Intervention was about fifteen shots of DEPRESSING FAMILY SAGA starring middle-aged alcoholic-of-10-years Bret, his ex-wife and his two agonizingly adorable children. Kyle, Bret's cute-as-a-button nine-year-old son, was so particularly heartbreaking that this episode prompted Jezebel to ask "Should young people be involved in their parents' intervention?" Bret's personality wasn't too memorable and he began drinking 'cause of the pressure to make more money, which doesn't hold a candle to gang rape. Actually I'm not sure how well I paid attention.
I've known people with fathers like Bret, which is probably why I voluntarily tuned out, I can only handle so much genuine emotion in one night.
After a lot of scenes of Bret sitting quietly in a bar drinking himself to death and listening to his children say how much they miss him, Bret storms out of his intervention and when they chase him home, tells his kids he'd rather lose them than give up drinking. Apparently they convince him to go to rehab off-camera by threatening legal action.
Ultimately, Bret himself was never did anything too dramatic/ridiculous on camera (read: nothing I could make fun of afterward) until the end when after 100-something days of sobriety he DIED of esophageal cancer! THAT'S RIGHT HE FUCKING DIED!
+ + +
The moral of July 20's episode of Intervention is "straight people cannot handle their shit" and "Aaron, your wife is hot, pay her some R-E-S-P-E-C-T." Oh and per ushe, "addiction is one hell of a disease."
Every episode we see young heterosexual addicts or about-to-be-addicts give birth (multiple times!) and get married to people who's lives they eventually ruin because of their illness. And many of these addicts trace the start of their addiction to their parents' divorce. Straight marriage kills, America!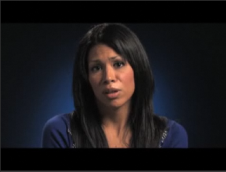 AARON: One thing that's tough about Intervention is that if you try to do other stuff at the same time, you'll miss something written on the screen and be totally lost. Good thing I didn't miss "While on crystal meth, Aaron would masturbate for 10 to 12 hours." That's nothing though—Aaron has been in 1,200 pornographic films, which he got into 'cause of his fighting career. Aaron is a hot hunk of man and his wife, who he met when she was also in porn films, IS SMOKIN' HOT. Meanwhile Aaron is on crystal meth.
"I'd like to get back into fighting … but I'd much rather do crystal meth than fight." (Aaron)
ANDREA: Andrea's pants are falling off, she drinks all day but needs a shot of Caffeine-Free Diet Pepsi afterwards. Like many female interventionees, Andrea was raped as a child and her mother (have you noticed that the mothers are almost always obese on this show? Just a sidenote) did not deal with it then and is therefore taking care of her now.
THE END: Both of our lovely addicts agree to treatment. Hurrah! Andrea also gets a makeover I think and looks super-cute with her new haircut and clear skin. We're told at the end that Aaron relapses but says he's going back to treatment, which is always a lie and also very sad. Vanessa – call us!
(by Riese)



Next: Gimme Sugar, Weeds, The 7 PM Project, Nurse Jackie and So You Think You Can Dance …
Pages: 1 2See entire article on one page