Gimme Sugar
Episode 4 of the luscious lesbian drama starts out with some dirty dancing. Except Devonee doesn't like the hot dancers at the try outs because watching them dance is apparently "like watching cheap porn." That's so weird 'cause I like the dancers… coincidentally…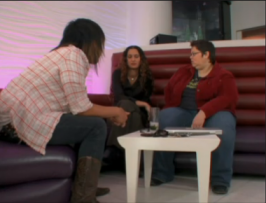 Someone calls and tells Charlene that she should go confront this lesbian promoter-girl Alison, cause she is P to the ISSED about Charlene plugging 'Truck Stop' on her turf. It's all about building the community y'all. Lesbian visibility! Lets not compete, let's heal the world!
Charlene is kind of like David and Alison is Goliath. OK, history lesson: who wins? Right.
Then this really effin' cute thing happens where Char is all sad and misses her friends and stuff. And then surprise! Erin* shows up to cheer her up! (*a girl that Charlene went on a date with last episode.) Erin "like, heard from the grapevine, that you were, like, down, like, dude, why don't I just come over, and be like, 'surprise!'"
As you know, girls have feelings and it isn't long before someone is sharing them. In this case, it's Erin:
"I feel like… um, I try to… [holding back tears] be there for other people but… when am I gonna be there for myself? [tears now] And um, it's really hard,"
Cheer up Charlene Fail. Way to go, Erin.
The morning after that, Charlene's bf Alex shows up to surprise her. (Aaaand I just noticed that she's VERY cute.) It's, like, time to go crazy and be high on life and high on energy and like party time! JK, the big bosses back in LA want to video conference to tell Charlene that she's not doing a good job and they're pulling the event. They're all like "Sorz! Game over, Char!" …or IS it?! Stay tuned next week to find out!
Total times someone says 'drama': 3
(I should really be counting how many times these girls say 'like' instead.)
(by A;ex)

The 7pm Project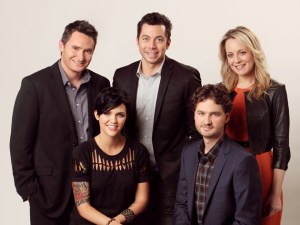 Last night I was excited about the premier of The 7pm Project, a program that delivers the daily news via Australia's top comedians and tv personalities. Although at times it seemed as if they let the work experience kid hold the camera, overall it was entertaining and very well done. Just one of the positive aspects of this show is the way it features an out lesbian, MTV VJ Ruby Rose, in a popular family timeslot; a small step to increasing the visibility of 'the gays' in Australia's media and homes. And she kicked goals last night, not only by demonstrating her talent and credibility as a presenter but also by projecting sapphic quips about Sienna Miller into living rooms across the nation. Ruby Rose, I tip my hat to you.
(by Crystal)

The Weeds Awards for 'Weeds'!
We pick up 6 months after Shane & Nancy arrive at Esteban's mansion and Andy is left heartbroken. This is obviously a necessary way to speed up Nancy's pregnancy and to apparently avoid seeing what are assumed to be happy and stress-free months for Nancy. The episode opens with a shot of my future backyard and then a scene with Nancy in the shower with her TOTALLY realistic pregnant belly, while Esteban reads What NOT to name your baby.
The 11 things to happen this week:
1. Esteban tells Nancy they will get married, gives her a hideous purple ring. But he is just such a funny guy because that wasn't the real ring or proposal, his real proposal tells her to give herself to him while he is nude on the bed and pulls a ring out of I don't want to know where.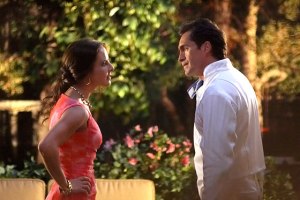 2. Ignacio and Shane are partners in crime, and ditch school. Shane is over it before the day is done.
3. Silas is trying to run a legitimate business while a cop extorts money from him.
4. Andy has something that is supposed to resemble a beard growing on his face and plays Ms. Pac Man all day.. He still lives at Nancy's former home along with Silas, Doug, Isabelle and Celia.
5. Celia is a disgruntled worker at "Sneaker World", but sticks it to the man by wearing couture heels until she gets to work. She gets picked up by some Mary Kay type make up saleswoman at a bus stop- who knows where that is going.
6. Nancy shows up at Andy's to tell him about the engagement. Instead she talks to his voicemail while standing back to back. Any other character I would not feel bad for, yet somehow I do feel for her.
7. Doug wants to be George Hamilton, starting with the tan. He has Isabelle apply the tan since apparently she is the only one in the house who he thinks won't get turned on, ya know, because she's the token lesbian of the house.
8. Nancy very unnecessarily goes and visits Guillermo in jail to rub the engagement in his face and tells him he won't be leaving for a long time
9. Doug thinks George Hamilton can get away with anything, so he picks a fight with the cop, cop ends up knocked out on the ground at the Medicinal Marajuana shop and now they are screwed.
10. Andy goes to Esteban & Nancy's. He has a kind of fencing duel with Esteban. Then he tells Nancy that she will soon be three-times a widow and he won't be there, but he'll send a note. Ouch.
11. Enter mystery Mexican lady. She speaks Spanish. I don't, therefore, can't help ya there. I'm sure it has been translated by now somewhere on the interwebs though. I feel as though her being his ex-wife would be way too obvious of a move though.. Thoughts?
(by Intern Nicole)

So You Think You Can Dance
When I first saw Mary Murphy on the teevee, I thought "Hm, Marie Osmond has gained a little weight, what a cutie." Then she opened her mouth and I knew it was not Marie Osmond, it was the most ANNOYING WOMAN ON EARTH. This is the first year I've watched So You Think You Can Dance and I'm baffled about her existence. Anyhow!
My Number One Memory this week is of Evan really being put through the wringer! A hopelessly white kid who can't be taller than 5'5, is partnered with the tallest female contestant Kristy for a fancy dance that involves lots of lifts and spins, and then at the end Evan is the only white kid doing the traditional African dance in gigantic pantalones. BTW, they f*ckin' KILLED THAT DANCE.
I am sad that the gay dude Kupono got eliminated, he was so good.
(by Riese)

Nurse Jackie
Best Guest Star of the Week Award!
The first time I heard Edie Falco would be starring in a new show on Showtime, I had no doubts that it would be anything less than amazing because I just could not see her taking just any part offered to her.. So far, I have been proven right on this assumption, and this episode shows it keeps getting better.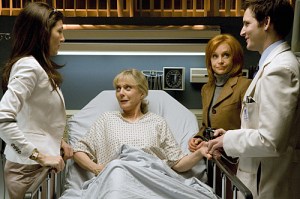 This week a former nurse/friend of Jackie comes to the hospital in the end stages of lung cancer. She is looking to have her friends help her end her life sooner with morphine. There were some funny Jackie/Zoey/Dr. O'Hara moments in this episode. Also, the dying friend, Paula, was offensive, mean, rude but overall, hilarious. She was especially mean to Akalitus which was awesome.
We also see a new side of Eddie and Jackie. First with Jackie showing signs of jealousy when she finds out about Eddie having given percocets to Paula in the past, then a more assertive and harsh side of Eddie while he is talking to Zoey about the nurses plan to help Paula die.
The nurses gather around Paula, and she gives a toast: "Heres to you, and heres to me, and if we disagree then fuck you, heres to me." Paula wants a priest, so Jackie gets her a priest. Akalitus bursts in to break up the moment after Paula passes.
Oh and guess who has two mommies? Coop does! Swoosie Kurtz is "other mom" and Blythe Danner is "vagina mom" (Dr. O'Hara's words) – as Blythe is the one who gave birth to Coop. We also find out that Coop was teased growing up for his tourettes, OCD and the lesbian moms thing, so I guess the tourettes is real. Also, Coop picks favorites with his moms, that's not nice. I wouldn't mind seeing both of them in future episodes. (Sidenote: Is it just me or is Swoosie Kurtz popping up like everywhere the last few months? L&O SVU, Desperate Housewives, Pushing Daisies, Autostraddle Top 10 Lesbionic Theatre Experiences.. just saying)
(by Intern Nicole)

Team OUT!
Pages: 1 2See entire article on one page