A Prairie Homo Companion is a regular column that celebrates the Canadian prairies, canola fields and big skies, and the paradoxes of being a fine-ass lady prairie homo.
Header by Rory Midhani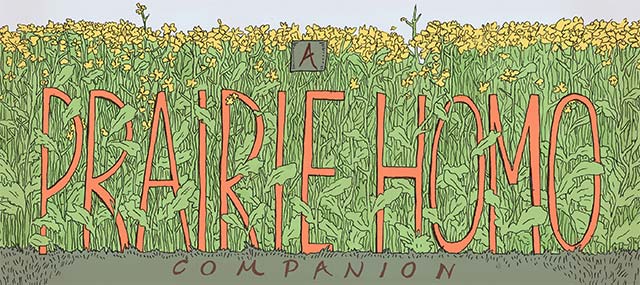 ---
There is a place where the sidewalk ends
And before the street begins,
And there the grass grows soft and white,
And there the sun burns crimson bright,
And there the moon-bird rests from his flight
To cool in the peppermint wind.
-Shel Silverstein, from Where the Sidewalk Ends
In Edmonton, the sidewalks are always ending. When describing Edmonton to a non-Edmontonian, a friend said, "Sometimes you're walking along and the sidewalk just ends. It's so annoying; it's like, what the fuck am I supposed to do/where am I supposed to go now?"
What you're supposed to do is get into an SUV and drive because Edmonton, like most Western Canadian cities, is not made for walking, which is unfortunate because I am a walker. I like to be able to walk to school, to work, to dance parties, and once at my destination, I like to walk some more. When I worked an office job I was over-hydrated and my bladder was always empty because I enjoyed the walk to the bathroom and to the water cooler. The first thing I do when I visit another city is walk. The first thing I do when I wake up is walk – to the shower, to the kitchen. You may find yourself saying, "Me too! Me too!" which wouldn't be surprising because you're a human and humans are made to walk; but in these Western Canadian cities mapped out for big cars and trucks, walking feels radical and even lonely.
Last Christmas I was feeling a little bored, a little full of stuffing, a little out of sorts, so I decided to clear my head by walking around my city. I walked fifteen minutes from my house, through downtown, and to the LRT train. I didn't pass a single person. I had an entire train car to myself and when I got off the train I had to walk for another good half and hour past closed-for-Christmas shops before I saw another human being doing this natural, but apparently rare-in-these parts activity of walking. I felt like the world had ended a year early and someone had forgotten to tell me. I could do anything – yell, run naked through the streets and get frostbite. Who would see me? Who would care?
The feeling of freedom, of being alone and unwatched was an illusion though. My younger brother, dark-skinned, over 6 feet tall, had the following conversation with a police officer while walking to work one morning:
Officer (pulled over in a car): Hey! Hey! You! What are you doing?
Brother: I'm walking.
Officer: Where d'you think you're going this time of morning?
Brother: To work.
Officer: Why aren't you driving?
Brother: Because I like to walk.
Officer: Why?
Brother: Believe it or not walking is good for you and I like to be healthy.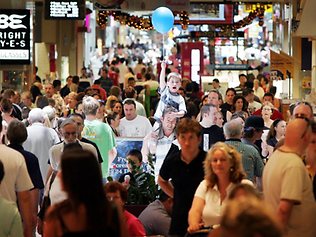 Of course, if you go to a mall the week before Christmas, everyone is walking and nobody finds it suspicious. Here in the West, it seems the community is only encouraged to get together and walk when it's to consume. And when you're busy being overwhelmed with "BUY TWO GET ONE FREE. FIFTY PERCENT OFF. ONLY A WEEK LEFT OF SHOPPING," you're too stressed to think critically about the fact that in this day and age, in this part of the country, walking and sidewalks, or a lack thereof, has become a metaphor for so many things that are wrong with our society.
"What were they thinking, those mid-century designers who divided up the world on so many scales as if fearful of mingling, whether it's the mingling of public and private, work and home, rich and poor, or old and young? Who privileged the car so much that the parking lot, driveway, and garage have almost replaced human-scale architectural facades; who let cars eat up public space and public life?"
-Rebecca Solnit, from "Nonconforming Uses: Teddy Cruz on Both Sides of the Border"
The more distance you can put between yourself and other people has become a marker of class. If you can afford to live in the suburbs or drive to work every day instead of being forced to, God forbid, SIT BESIDE OTHER PEOPLE on transit or WALK BESIDE THEM on the sidewalk – the more rich and successful you are. No wonder my brother was stopped by the police. The act of walking coupled with being a person of colour marked him, in the eyes of the police, as low class and therefore up to no good.
An interesting article points to how sidewalks in America can predict voting patterns. If you live in a place that has sidewalks that people actually use, you're more likely to vote Democrat. Of course, there are many factors at play in determining how liberal or conservative you are, but I find it interesting that major cities in Eastern Canada have far more usable sidewalks than big cities here in the West, where in Alberta that Conservative party has won a sweeping majority for over the past 40 years. Maybe this is because right wing politics favour an every man for himself mentality whereas on the left where I like to stroll along, the general attitude is about helping other people for the common good of the community. Other people. Common good. Community. These are all things you realize you're a part of if you live in a city where people walk. But a city built for cars and not walkers is one built to be used and consumed, not lived in. The long distance between the suburbs and the office mirrors the distance many Westerners are able to allow between their ethics: at home you're a loving parent and responsible spouse; at the office you do the paperwork for a big oil company; but it's difficult to connect your work to things like global warming and harming the future of the children you work so hard for when you live in a culture that isn't built to encourage connections. Work is just something you get through just like the city is something you drive through.
This lack of engagement fostered by a lack of sidewalks is dangerous for democracy. I don't think it's surprising that the largest student protests Canada has ever seen happened in Montreal. Montreal is a great city to walk in. Montreal has lots of sidewalks. In Montreal on the same street you can pass a businessman, a homeless person, a strip club, a grocery store. The city of Montreal is built in a way to encourage desire for the common good, which includes low tuition.
One of the first things I noticed while living in Montreal and in Europe, staring at maps and trying to figure out how to get around, was that Montreal, and many European cities are, well, circular. While roads in the Canadian prairies follow a grid-locked, square pattern, roads in London, Paris, Lille, Montreal, Oxford twist and wind and loop around themselves so sometimes you feel like you're walking in circles; you feel like you've been somewhere before – which you have because you're a human which means you not only walk, but you have a history. You don't get that same sense of history and connection in the West, where we tear down old buildings and no one notices because when you drive you don't notice details like that. But in Paris, in Montreal, in London, people and the government remember that not only are they part of a community now, but they've been part of a community for a long time – a community that, instead of sitting silent, has been walking to protest and get shit done for generations.
Whenever I come back to Edmonton after being in a place where people walk, I feel sad and alone for a while. Not having sidewalks for me to walk on becomes a metaphor for all the ways in which the city, with its Conservative politics and big oil businesses is not built for a queer woman of colour who likes to do things like walk! And write! In a city grid-locked by highways, I'm literally off the grid.
What I'm trying to realize though, is that being off the grid is a pretty powerful position to be in. I may not have an SUV, a mortgage, a husband, and a job with Big Oil Company; but at least I have a perspective that allows me to think critically and to question. When you grow up liking girls in a society that tells you you're supposed to like guys, questioning authority becomes innate.
If the people who made the grids and the SUVs and the suburbs were wrong about something as powerful as who you want to have sex with, maybe they're wrong about other things too. Maybe there are possibilities beyond the mortgage and the SUV and the Big Oil Company. Maybe you'll walk along past where the sidewalk ends and discover those possibilities for yourself.
"Yes we'll walk with a walk that is measured and slow,
And we'll go where the chalk-white arrows go,
For the children, they mark, and the children, they know
The place where the sidewalk ends."
-Shel Silverstein, from Where the Sidewalk Ends
Where the sidewalk ends can be a site of magic and possibilities of connection to the past, to your childhood, to your imagination. And if the prairies are going to get better for queer people, for people of colour, for people who WALK, we're going to need imagination to realize there are so many different ways of doing things where the sidewalk ends.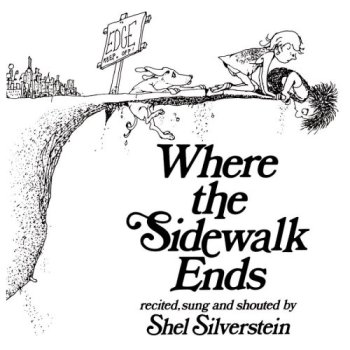 ---
Special Note: Autostraddle's "First Person" personal essays do not necessarily reflect the ideals of Autostraddle or its editors, nor do any First Person writers intend to speak on behalf of anyone other than themselves. First Person writers are simply speaking honestly from their own hearts.