In My Top 8, various members of Team Autostraddle tell you which writers made us who we are today and invite you to like all the same things we like. Today, Contributing Editor Vanessa talks about eight women and zero men whose words helped shape her brain. 
---
THISBE NISSEN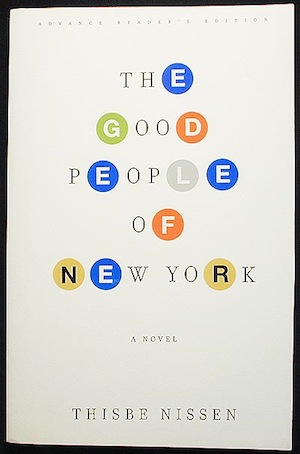 Books Read: Out of the Girls' Room and Into the Night (1999), The Good People of New York (2001)
Books I Haven't Read Yet: Osprey Island (2005)
Favorite: The Good People of New York
Thisbe Nissen is the reason I moved to New York. That's slightly dramatic, but really only slightly. I read The Good People of New York by chance in middle school and fell in love with the main character, Miranda, and her world that Nissen had constructed. For the past ten years when I've had to make any major life decisions, I've thought to myself, What would Miranda do?
It's unsurprising that a writer who could create such meaningful characters is my favorite; people are everything to me, and the people Nissen writes about are as real as can be. When I discovered Nissen I didn't know how much I would grow to love creative non-fiction as a genre, but I think it's fitting that my favorite fiction provides complex characters and narratives that feel just as real — if not more real — as some of the best non-fiction.
As Rachel wrote, Out of the Girls Room and Into the Night is also fantastic, and I'd argue that several of the stories have lesbian themes, or at least queer themes, or at the very least that hint of love between two girl friends that could be a tiny bit more than friendship even if that's all it ever is, you know? I believe the stories in that book helped me realize my own identity, and when I wrote a short story about lesbians my junior year of high school (four years before I even had a hunch that the story I was writing was my own) I used Nissen as my guide, right down to her description of "teeth like porcelain, like licking the bottom of a cereal bowl."
NICOLE KRAUSS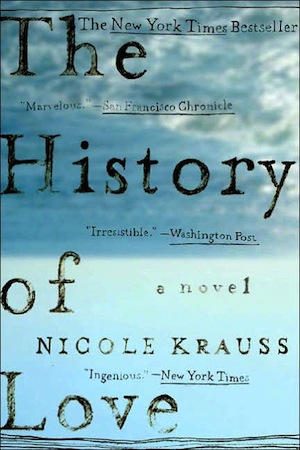 Books Read: The History of Love (2005), Great House (2010)
Books I Haven't Read Yet: Man Walks Into a Room (2002)
Favorite: The History of Love
I bought my girlfriend Rachel The History of Love really early on in our relationship. We were living in Israel at the time and it was sort of difficult to track down an English copy of the book, plus we had only been dating for a week, so the whole thing seemed kind of insane but also very very reasonable, as things tend to feel during the first weeks of Falling In Love For The First Time. I had a feeling Rachel was going to be a Big Deal and it just seemed as though anyone who was going to Mean A Lot To Me absolutely had to read The History of Love as soon as possible, because how else could she possibly understand me? I don't know, in retrospect maybe the whole thing actually made no sense, but I feel like this story exemplifies how much Nicole Krauss's words mean to me.
Krauss writes really impressive stories that are layered and woven into one another and by the end of her books you're like, Holy fuck, I can't believe she made every single strand connect, what even just happened, I think I need to reread the whole thing over again to make sure I understand exactly what I just read. So you do, and the amazement never ceases. At least, mine doesn't. Krauss also writes about a lot of subjects that hit close to my heart — what it means to love, what it means to be alone, immigration, Israel, the relationship between parents and their children, the relationship between children and their parents — which makes her books feel like special messages written just for me.
Also, she's married to Jonathan Safran Foer and I like to imagine what they talk about over breakfast and dinner and the spaces in between.
EMILY GOULD
Books Read: And the Heart Says Whatever (2010)
Books I Haven't Read Yet: Hex Education (2007)
Favorite: And the Heart Says Whatever
Since the summer of 2008 I have spent an inordinate amount of time thinking about Emily Gould. I've read her words on her blog and on Gawker and in her book, I've interviewed her, I've thought about her role in the clusterfuck that is "Media in New York in the Age Of The Internet," and I've compared our lives.
We're not very much alike, not really, but somehow she speaks my ugly truths. She wrote the best passage on being twentysomething in New York and feeling jealous of everyone because you haven't figured out what you're meant to be doing yet so everyone poses a threat. Emily Gould writes honestly about the things I don't really like admitting to anyone — not even myself — that I think and feel. Because I feel close to her — albeit through arguably artificial means, like her tumblr and her twitter and her instagram, and then a few chance interactions like running into each other on a train heading back from rural Massachusetts to bustling Grand Central and then onward to different neighborhoods in Brooklyn — it's hard to tell if I admire Emily the Writer or Emily the Idea, but I actually think they're similar and it's okay for the lines to be blurred.
FRANCESCA LIA BLOCK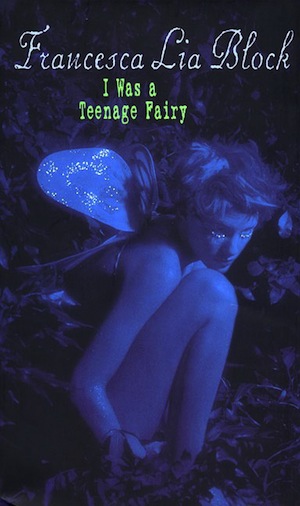 Books Read: Weetzie Bat (1989), Witch Baby (1991), Cherokee Bat and the Goat Guys (1992), Missing Angel Juan (1993), The Hanged Man (1994), Baby Be-Bop (1995), Girl Goddess #9: Nine Stories (1996), I Was A Teenage Fairy (1998), Violet and Claire (1999), The Rose and the Beast: Fairy Tales Retold (2000)
Books I Haven't Read Yet: Moon Harvest: Poems (1978), Season of Green: Poems (1979), Ecstasia (1993), Primavera (1994), Echo (2001), Wasteland (2003), Nymph: Nine Erotic Stories (2003), Necklace of Kisses (2005), Ruby (2006), Psyche In A Dress (2006), Blood Roses (2008), Quakeland (2008), How to (Un)cage a Girl (2008), Open Letter to Quiet Light (2009), The Waters and the Wild (2009), Pretty Dead (2009), The Frenzy (2010), House of Dolls (2010), Fairy Tales in Electri-City (2011), Pink Smog (Prequel) (2012), Love Magick (2012), Elementals (2013)
Favorite: I Was A Teenage Fairy
Francesca Lia Block makes me nostalgic for a life I did not lead. I read I Was A Teenage Fairy when I was 10, and it spoke to me in a grown-up way about things grown-ups would have said I was too young to understand. I reread it about once a year, and 14 years later it still speaks to me.
The world Block wove had nothing to do with my own upbringing: I was always safe, always loved, cocooned in the suburbs, surrounded by overprotective parents and over programmed children, but I wanted to know more about other worlds and Block painted such a vivid picture of the San Fernando Valley, of Los Angeles, of New York, of The World I was certain I would one day be a part of, that I treated her words like a textbook for the future.
The characters in Block's books are always a little bit sad and a little bit broken, but they rely on each other and on magic and on love and somehow everything turns out okay, or at least sort of alright, which I think is actually a fairly realistic representation of the world. I like to think of Block's stories as fairytales for grown ups. All of her texts are also strong feminist narratives and many of her characters are very queer, and I feel like she is one of many tiny factors that planted the seeds for my brain and my body to grow into the things they are today, even though I consumed her words before I identified strongly as either feminist or queer.
JOAN DIDION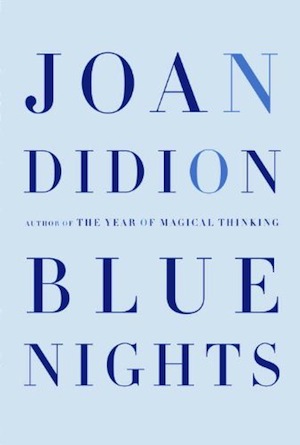 Books Read: Slouching Towards Bethlehem (1968), Play It As It Lays (1970), The White Album (1979), The Year of Magical Thinking (2006), Blue Nights (2011)
Books I Haven't Read Yet: Run River (1963), A Book Of Common Prayer (1977), Salvador (1983), Democracy (1984), Miami (1987), After Henry (1992), The Last Thing He Wanted (1996), Political Fictions (2001), Where I Was From (2003)
Favorite: Slouching Towards Bethlehem
Oh my god what can you even say about Joan Didion? As the oldest writer on my list, she's produced the most, but the volume of her work is not what makes her great. I think if the only thing by Didion I had ever read was "Goodbye To All That" I would still have had to include her in my Top 8 because she just has a way of taking feelings and putting them into words and sentences and paragraphs that are succinct and sharp but fat with emotion all at the same time. I read "Goodbye To All That" at a time when I really did want to leave New York, and there's nothing like reading an essay that feels as though it was pulled from your very own brain but then written much, much better than you could have ever articulated any of your thoughts to make you fall in love with a writer. I fell in love with Didion as I fell out of love with New York, and while I eventually came back to Manhattan — as so many of us do, as Didion herself did — my feelings for Didion never wavered.
Didion represents a sort of Old School Journalism that I often fantasize about, possibly because she is the oldest writer on my list but more probably because she is just very very good. Learning that she was actually paid by various upscale publications to travel to exotic locations for the express purpose of writing about them blew my mind, and one of my favorite things she has written is her never-changing packing list for her seemingly endless journalistic travels. I went to see Didion speak about Blue Nights at the 92Y on the Upper West Side last summer, and I loved how reserved she was, sort of like her writing: intimate but cold, distant. She didn't indulge inane audience questions. She refused to talk about certain things. It was the complete opposite of the "overshare" mentality I'm super guilty of participating in, and while I find nothing wrong with oversharing (on the internet or otherwise) it's kind of wonderful to interact with a writer that doesn't do that.
ANNE CARSON
Books Read: Glass, Irony and God (1995), Autobiography of Red (1998), If Not, Winter: Fragments of Sappho (translator) (2002)
Books I Haven't Read Yet: Goddesses And Wise Women (1992), Plainwater: Essays and Poetry (1996), Eros the Bittersweet (1998), Poetry; Economy of the Unlost (1999), The Beauty of the Husband: A Fictional Essay in 29 Tangos (2001), Decreation (2005), Nox (2010)
Favorite: Autobiography of Red
I was first introduced to Anne Carson's words (via Rachel DeWoskin!) through her poetry, but my favorite thing she has ever written is Autobiography of Red, her novel in verse. She does that thing poets do where she knows exactly the right words to use, and she doesn't use too many like I always do. She writes about history and perception and the people we love who are deeply flawed and who hurt us but we love them anyway, and she writes about humanity and existing and what that means and how it doesn't mean the same thing to all of us, and her words reference the past and our history but they also have a distinct way of making my heart feel present in my chest and my brain alert in my head and my soul alive in my body.
RACHEL DEWOSKIN
Books Read: Foreign Babes in Beijing (2005), Repeat After Me (2009), Big Girl Small (2011)
Books I Haven't Read Yet: n/a
Favorite: Foreign Babes in Beijing
I had the most trouble articulating why Rachel DeWoskin is on my list, probably because I know her and I just love her so much it's really difficult to objectively talk about her writing, though it is engaging and funny and even if I didn't know Rachel personally, I would still find her words worthy of this list. Anyway. Rachel DeWoskin was my creative non-fiction writing professor for two semesters during my undergrad studies at NYU, and I promise I am not exaggerating when I tell you she changed my life.
Rachel, through her writing, her teaching, and her friendship, made me feel okay about being a writer in New York. She moved to Chicago with her family a few years ago but while she was my professor she was a person who was making a living writing and teaching in this city, and her mere existence assured me that my own dreams might be possible. Rachel has had a very interesting life so far and she chronicles it hilariously in Foreign Babes, a memoir about the time she spent in China after being accidentally cast in a soap opera portraying wild sexy American girls. I took her book with me when I moved to Israel for a year, and her words so captured the experience of being a foreigner in a land that is not ones own that I'd find myself typing up chunks of the book to email to my friends at home. This is how I feel, I'd write. PS, go buy this book.
To speak strictly of her writing, and not at all about how she profoundly impacted my life in the short time she taught me: DeWoskin's turn of phrase is impeccable and her stories are lively and full and she is particularly good at doing this thing she taught us in class: taking A material (the personal narrative) and taking B material (the outside facts, the research) and weaving them together to create what every writer aims for, which is C material (the Truth). I guess that's the best way to sum it all up, why I adore Rachel the Writer and Rachel the Teacher and Rachel the Human: she is exceptionally good at digging up the Truth.
SUSAN ORLEAN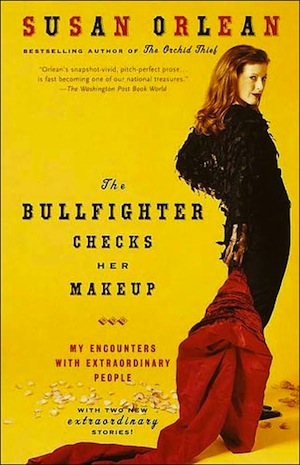 Books Read: The Orchid Thief (1998), The Bullfighter Checks Her Makeup: My Encounters with Extraordinary People (2001), My Kind of Place: Travel Stories from a Woman Who's Been Everywhere (2004)
Books I Haven't Read Yet: Red Sox and Bluefish (1987), Saturday Night (1997), Lazy Little Loafers (2006), Rin Tin Tin: The Life and the Legend (2011)
Favorite: The Bullfighter Checks Her Makeup: My Encounters with Extraordinary People
Susan Orlean took David Sedaris's spot on my list, and I only realized she belonged here because while I was trying to write about why Sedaris is so amazing (and he is, make no mistake about that) I found myself writing all about Orlean instead, and justifying Sedaris's spot on my list over her, and finally I realized that I actually just wanted to give this spot to Orlean, so I did.
Orlean and Sedaris are linked in my brain because the same teacher — Mr. Baron — introduced me to both of them in my AP Journalism class during my senior year of high school. At the time I was very intent on being a journalist (maybe I still am?) and Orlean's "The American Male, Age 10" changed the way I thought about writing about people. Her attention to detail is astonishing, but it is her ability to find the details that readers will most care about that impresses me most. If you asked me if I cared about a random ten year old boy I would probably say no, but Orlean makes the reader care. I am invested in everyone she has ever written about, and that investment is because of Orlean and her words, not because of the subjects themselves.
I think if you want to be a journalist you need to read Orlean, and if you want to be a more observant human being you probably should read Orlean.