Now that we're not allowed to leave our homes, celebrating Halloween is more fun than ever! Lesbians and other queer folks can finally enjoy all the fun parts of Halloween (getting to eat candy so fast that you pass out) while skipping all the bad parts (having to go outside and interact with other people). And just because you live alone doesn't mean you can't rock an amazing Halloween costume for your Zoom Halloween party or Insta story. Here are seven easy solo costumes for lesbians in quarantine that will help make this Halloween the best one yet* (*this will not be the case)!!!!
Miss Trunchbull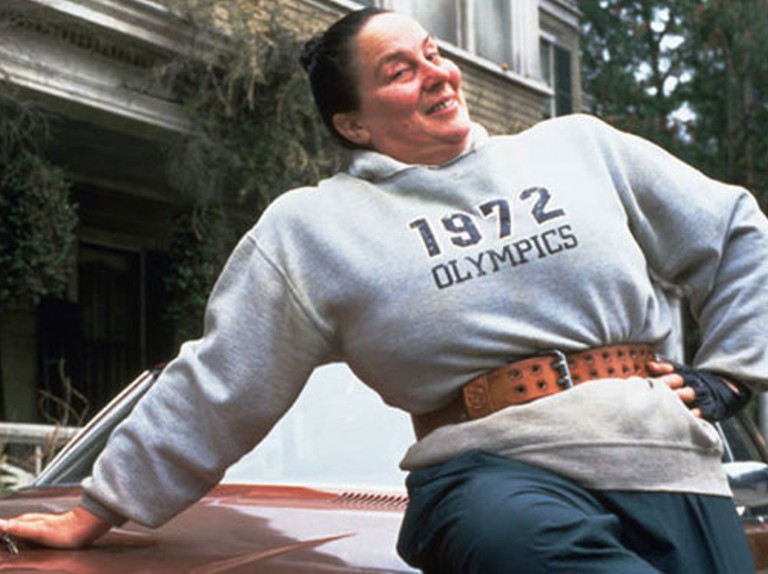 Look down at your body. Are you wearing sweatpants and a sweatshirt right now? Are your feet comfortably nestled in big, strong boots? Are you wearing a fucking enormous belt over your sweatshirt for no reason at all other than to intimidate the children in your neighborhood? Is your hair pulled back so tightly that your lips hurt? Congratulations! You're already in costume as Miss Trunchbull, secret lesbian hero of the film Matilda. "No,wp_postsyou cry out, your topknot cutting off circulation to your brain, "Miss Trunchbull is the villain of the movie!wp_postsWhatever!! I'm not a scientist. This is a good costume for people who are fucking DONE with puzzles and are ready to start amateur-javelin-hurling their way through the next few months of quarantine. We're not all cut out for scrapbooking, Cousin Beth!
Ursula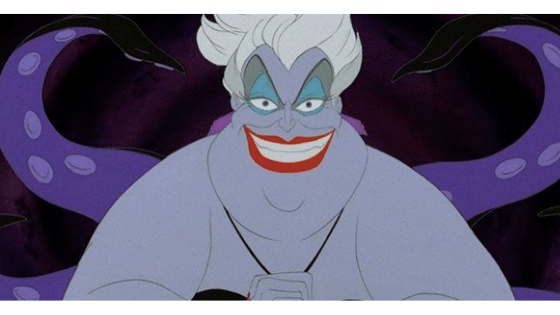 Ursula is one of the coolest, gayest sea monsters around. She found a straight girl brushing her hair with a fork and used contract law to steal her larynx! An easy trick to nailing Ursula's makeup is: don't wear makeup for seven months, and then try to put on a casual, everyday look. By the time you're done, you will look exactly like Ursula. Finish the costume by throwing on something black and strapless, and you're good to go! If you really want to commit to being Ursula, go kidnap a couple of eels and train them to follow you around as your lackeys. (And please stop asking me "How do I steal an eel?wp_postsYou are an adult!! Maybe start at THE AQUARIUM??? Honestly!)
Carla Gugino in The Haunting of Bly Manor
Sure, Dani or Jamie would be the obvious choice for a solo lesbian costume, but what's gayer than hijacking someone's wedding rehearsal dinner to tell a nine-hour ghost story? For this costume, you'll need to wear a dress over a shirt, like an absolute maniac, and if anyone asks who you're dressed as, just swirl your brandy and say, "I've got a story about thatwp_postsand then do NOT let them stop you from telling them a VERY long and detailed story where you do all the voices, even if they say "Stop doing that!wp_postsor "Wait, why is this part relevant?wp_postsor "That's not what an Irish accent sounds like!!!wp_postsYou can't mute me on Zoom, Cousin Beth!! It's part of MY COSTUME!
Literally Any Riverdale Character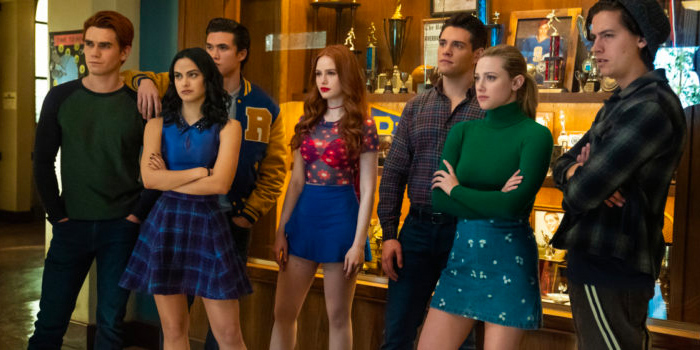 For this one you'll need to wear an outfit that is too complicated and scary for a real high-schooler to wear (both because Real Teens are self-conscious and also because it's hard to change out of fishnets and into gym shorts), but mostly you'll just need to periodically shout insane things at other people over Zoom. "What do YOU know, Mom? It's YOUR fault I have the serial killer gene!wp_postsGold. "This Milky Way is sweet, but not as sweet as when the cult leader who wanted to harvest my organs put on an Evel Knievel jumpsuit and tried to fly off in his homemade rocket.wp_postsPerfect! "I know you're trying to talk about your daughter's engagement, Cousin Beth, but I feel like we need to focus on the fact that my 17-year-old boyfriend went to prison and ended up in a teen prison fight club.wp_postsThere you go! Fishnets and yelling? That's what I call a Halloween costume!
Sarah Paulson
This is an easy one. Start by wearing whatever the hell you want. Then, while you're on your Zoom call, discreetly check your phone every few minutes, occasionally flashing an enigmatic smile. "Oh, it's nothing,wp_postsyou'll say when your friends and family ask what's going on. "Well, if you must know, Ryan Murphy wants to make a Netflix show where I play a '70's housewife who murders drifters and turns them into coats.wp_postsTake a long, sinister sip of your martini. "And how are you doing, Cousin Beth?"
Angry WNBA Fan
Put on your favorite WNBA jersey, lace up your basketball shorts, and spin a ball around on your finger! Then, once your friends have all had a few minutes to admire your cool gay basketball costume, hit them with the cold, hard facts: "Women's basketball is unfairly overlooked in favor of men's basketball.wp_posts"The highest-paid WNBA player in 2019 earned $127,500, while the highest-paid NBA player earned $40 million.wp_posts"Air Bud is more famous than most WNBA players.wp_postsLet that sink in for a bit, and then tell everyone that if they don't start watching women's basketball, you're going to hit Air Bud with your car. Halloween is fun!
The Computer From San Junipero
You could dress up as Kelly… you could dress up as Yorkie… or you could dress up as the computer inside which their consciousnesses will live forever! Nothing says "I'm alone, so terribly, terribly, alonewp_postslike dressing up as the eternal computer prison of your favorite fictional lesbian couple. Start by wearing computer clothes (all gray, with buttons) and "beep boopwp_postsyour way through Cousin Beth's description of her favorite fall recipes. You didn't invent stew, Beth! Periodically "freezewp_postsand "need to be restartedwp_postswhen your brain starts thinking about the extent to which the American government mishandled this pandemic and inflicted years of psychological trauma upon all of us. Beep boop! You are a computer! Lesbians live inside your brain! Happy Halloween!