I spent the day in New York City with LGBTQ fashion/lifestyle/activist staple Anita Dolce Vita. You might recognize her as owner and Editor in Chief of dapperQ or from her writing around the internet. You might have seen her speak on numerous panels on queer style or attended an event she produced, including some of the largest queer fashion shows. She's also a consultant within the community as well as maintaining a full time day job as a research nurse.
We talked about running a queer site, taking on the world, and maintaining a full time job.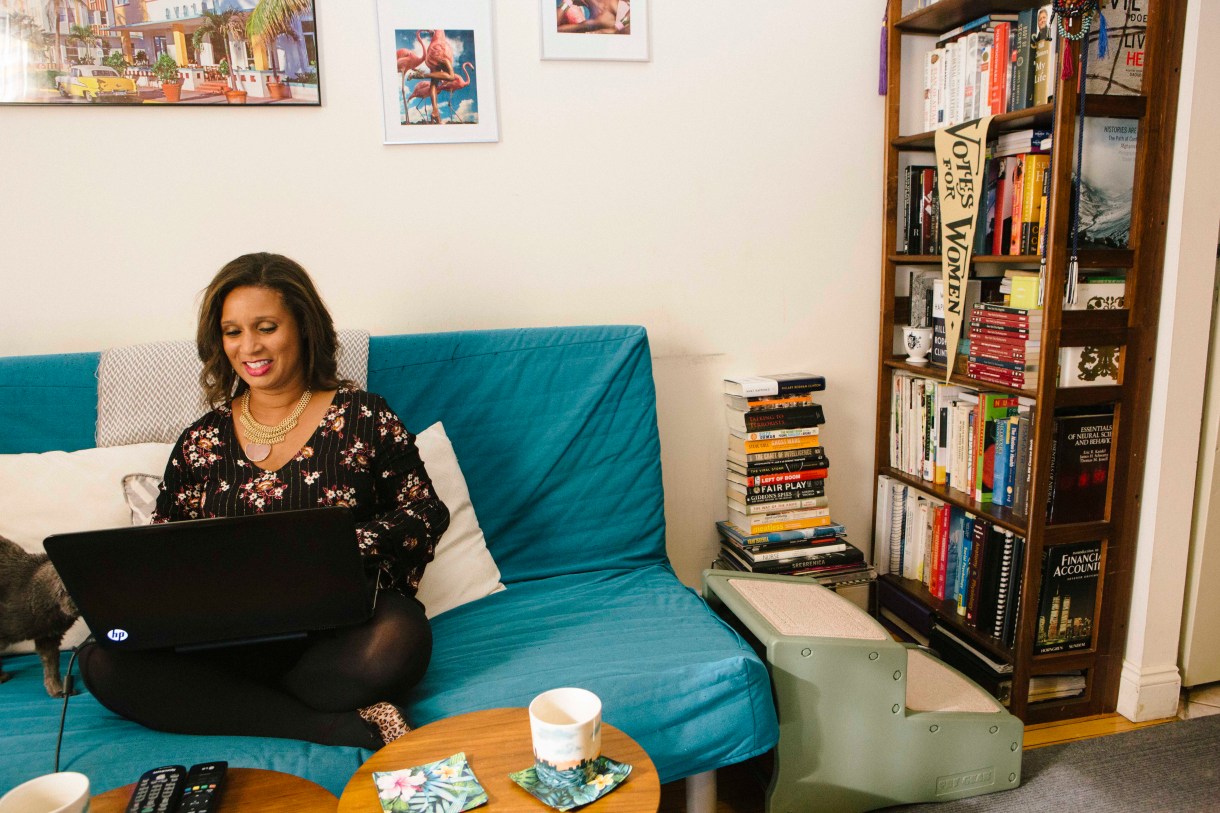 M: What's a typical day like for you?
A: What most people don't know is that I'm a full-time Research Nurse. Monday through Friday, my day starts as early as 7am, coordinating investigator initiated and pharmaceutical clinical trials and working with a team of researchers and clinicians to identify cutting edge treatments for chronic illnesses and ensuring patients receive ethical, relationship-centered care. I've worked in areas of oncology, venous thromboembolic disease, and HIV/AIDS to help develop innovative treatment of tomorrow.
After 5pm on weekdays and pretty much all day on weekends, I work on dapperQ; writing new articles, editing contributor submissions, authoring event proposals, planning and overseeing the production of large scale fashion events, identifying potential revenue sources to ensure that dapperQ can continue delivering original content and producing events all over the country, organizing video and photoshoots, answering reader questions, managing dapperQ's social media, etc. Mind you, the work I do for dapperQ is all on a volunteer basis!
While there doesn't seem to be much connection between my day and night jobs, there's actually quite a bit of overlap. I authored a piece on Disruptive Women in Healthcare examining the intersection of fashion and health. For example, we know that clothing is a language and that we make assumptions about people based on what they wear. And, we see how this phenomenon can result in poor health. But, to take it a step further, a new scientific field known as embodied cognition has been looking at how our clothing impacts our cognitive processes. Research shows that our clothing can affect how well we perform on certain tasks.  These findings are very relevant to our readers, many of whom express major anxiety when they feel forced to dress in a manner that does not affirm their gender identity.
I also write for HuffPost, Curve, and even Autostraddle when my schedule permits, because my nursing duties don't end when I get home on a typical work day. I care for two sick cats: Baby Kitty (20) and Abby (age approximately 7). I've had Baby Kitty her entire life. She was diagnosed with mast cell cancer almost five years ago. The vet gave her six weeks to live on an experimental oral chemo agent, but like the good research nurse I am, I followed her treatment protocol to the letter and she has been in remission. However, now she has developed some expected chronic illnesses due to aging, including kidney disease, which I manage by administering subcutaneous fluids every night. It doesn't hurt her. In fact, she hates her pills more than her shot. My girlfriend and I adopted Abby, who was a donor cat at the Animal Medical Center. Donor cats are strays that are brought in, socialized, given top medical care, and donate lifesaving blood to other cats. After their service, the center finds them a forever home. And who couldn't resist adopting a cat who saved another cat's life? However, Abby has kidney stones, so we have to give her medication as well.
M: When did you become involved with dapperQ?
A: dapperQ was launched in 2009 as a personal blog by a butch woman who wanted to move on to other projects. I saw the potential for dapperQ to not only tell the story of queer style through one narrative and on one platform but to take a broader intersectional and resistance-based approach to style on a multi-platform network, including live shows and panels. I soon took the website over and began curating other platforms, including social media, runway events, speaking engagements, and collaborations across other queer media. And, more recently, I launched a sibling project, Hi Femme!, to provide space and visibility for femmes at the queer fashion table.
At dapperQ, we recognized that there was as serious dearth of fashion and lifestyle magazines that reflected and affirmed the identities of our specific readership while simultaneously offering comprehensive style coverage – from fashion week analysis to style advice to editorial shoots to stylish travel tips – similar to the platforms of GQ and Vogue.
Ultimately, dapperQ's mission extends far beyond simply being just a fashion magazine. The site exists to expand visibility; dismantle stereotypes; improve access to a style of dress that is traditionally off limits to our readers; decrease stress, anxiety, and stigma; improve our readers' self-esteems; advance diversity; and provide a safe space.
We are often one of a few resources where independent queer designers can connect with their target audience in robust numbers, and even gain access to world renowned platforms and press during New York Fashion Week, which would otherwise be inaccessible to them.
M: What are some problems working for and running a queer media outlet (and s/o to y'all right now supporting queer media by reading this article)?
A: The biggest problem is lack of resources! Many potential sponsors or investors don't fully understand the spending power of our readers. In fact, that's why you won't see a lot of media or fashion houses that focus on the queer style market more generally. In turn, our all-volunteer team is physically and economically limited in what we are able to produce. For example, the first SXSW panel I was invited to curate wasn't as diverse as I wanted it to be because SXSW does not pay speakers, does not offer flights or accommodations, and yet still makes profit from badge sales and sponsors. Some people we invited to speak simply couldn't afford to make the trip. Other people we invited refused to speak because they did not want SXSW to make a profit off of their labor, and rightfully so. And, yet others wanted to speak because it was an opportunity of a lifetime to network and put a major conference on their resume. Moreover, we are only given three speaker slots, not including the moderator, so you can't possibly represent every demographic in our communities with three speakers. Ultimately, I have to weigh these types of dilemmas. Do we participate at all if it's impossible to include everyone? Do I turn down the opportunity and, thus, close the opportunity for others who depend on dapperQ to leverage our brand for entry? If we had fiscal sponsors, we could fly a more diverse group out, especially those with voices who often cannot afford a platform to speak! But it's not just money. Some people want to consume the final product without contributing anything but criticism. And, while criticism is always welcome, there are certain things we cannot overcome unless we have more volunteers!
On this particular day, she had a brunch hosted by Danielle Cooper of She's a Gent, and posed for some blog photos for a car partnership with the influencer.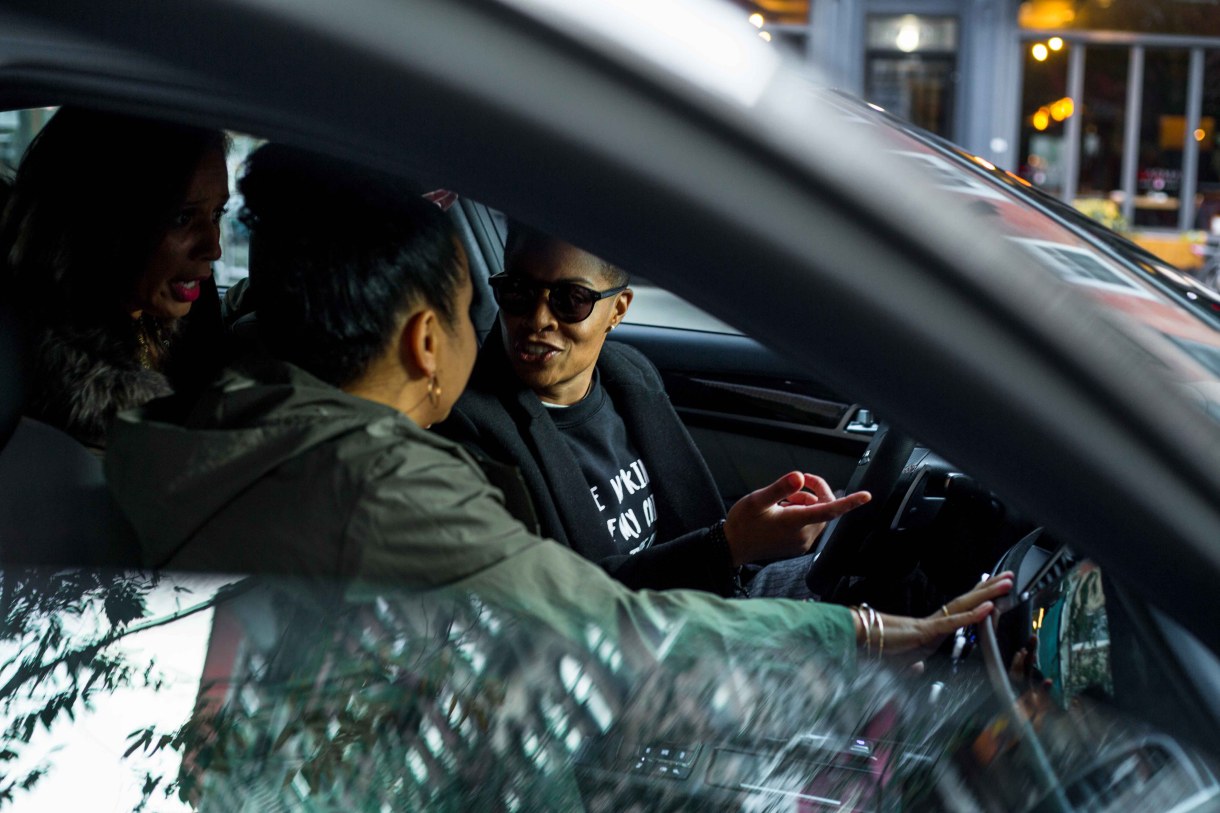 M: What inspired you to launch a NYFW event?
A: I've always been into fashion. When I moved to NYC in 1999, I was that girl trying to get into all the exclusive NYFW events and parties. But, after decade, I adopted a true New Yorker bitterness about elites who turn our city upside down for weeks and keep residents out of the mix. How was it that all these places all over the city that belong to us mere mortals all year long become overrun with people who couldn't stand the sight of us, who thought of us as unworthy, who wouldn't let you in if you weren't on a list? Forget that! Mainstream media and designers have been co-opting our art and designs forever, and then showing them on their runways we're not invited to, and then selling them for massive profit without so much as a credit or reinvestment into the communities from which the art originated. One need not look further than Madonna's "Vogue."
We need our own space. We needed to celebrate us! We needed to show the media that what we are doing first before it is scooped up by big retailers. We needed to tell our own stories. And, it doesn't matter that we can't sit with you, because we don't want to. We're all at Brooklyn Museum!
M: How are you constantly adapting? Any anecdotes?
A: I live by the motto, "Say yes now and figure it out later.wp_postsIt really has helped me overcome a lot of my fears and insecurities about not being able to pull something off.
I'm nervous and want to say no.
I say yes.
I'm a person of my word.
I figure it out.
I adapt.
I deliver.
I debrief.
Another woman mentor said this is the best motto to live by because women always question whether they are good enough for a job or task or project, even when they are overqualified, whereas men will overestimate their abilities but still feel confident accepting the challenge. I say, accept the challenge. Then, go do it! You got this!
M: Something everyone should know about you?
A: I am painfully shy. It's brutal. I'm a learned extrovert. Even when I spend time with people who I love and trust, I need to go home and be with my cats and just recharge because managing my social anxiety is exhausting. If you see me sitting calm and cool and collected at a table full of my popular arty friends, just peek under the table – I'll be picking at my nails incessantly trying to keep it together.
You can stay updated on all her undertakings on instagram and through her website!