On Saturday in New York, LGBTIQ+ activists from around the world gathered to discuss the challenges and the solutions from the frontlines around the world at OutSummit. It comes on the heels of "Advocacy Week," organized by OutRight Action International, where LGBTIQ activists from around the world meet with UN officials to discuss their priorities and demand accountability.
This is a very brief summary of a day filled with super important conversations — I strongly encourage you to look into these amazing humans, follow them, and learn more about the international fight for humanity.
Because I certainly can't say it better than the 250 beautiful international changemakers, here's a full dose of inspiration and fuel for your fire.
On why we do the work:
"People who weren't like me [were] telling my story — I had to be in control of my narrative, my story."
— Karamo Brown, American activist, television producer and host (catch him on the new Queer Eye coming to Netflix), and co-founder of 6in10.org on why he left a career in social work and psychotherapy.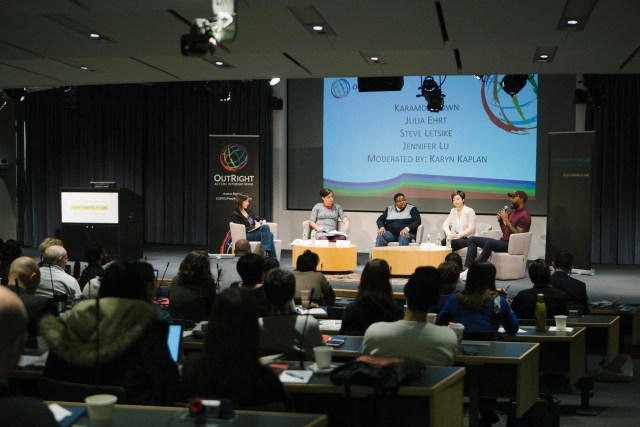 "The day I put on a skirt I vanished" – Julia Ehrt
"The day I put on a skirt I vanished — people like me were not anymore seen on TV. I grew up believing I was a white heterosexual male and sitting here today you can see how wrong you can be — and the day I came out I realized trans people are not in the news. They are not politicians, they're nowhere to be seen.

I thought, well I am still the same person. I am still as smart and as dumb as I was before. The day I changed my gender it changed my life dramatically and I thought that was inappropriate. That's why I started organizing"
— Julia Ehrt, Germany-based trans activist, human rights advocate, and Executive Director of Transgender Europe on why she has devoted her life to the fight
"Part of organizing [is] when you leave your township, when you leave your village, and come across many people that have gone through the same, you share that experience and you realize there is a problem and … that's when when you start to unpack and say, 'how do we address that?'"
– Steve Letsike, South African activist, feminist, leader, mentor, and human rights advocate, co-chairperson of the South African National AIDS Council, co-chair of the National Task Team established by the South African Department of Justice and Constitutional Development to address hate crimes and gender-based violence affecting LGBTI people, and Founding Director of Access Chapter 2 
"I love my country. I don't want to leave my country. I want to live in my country with full equal rights."
— Jennifer Lu, Taiwanese social worker, activist, writer, and political worker, Main Coordinator or Marriage Equality Coalition Taiwan, Senior Research Fellow at Taiwan Tongzhi (LGBTQI+) Hotline Association. She also ran for a seat in the Taiwan Parliament as Social Democrat candidate and raised the visibility of LGBT issues on the campaign trail in her fight to live in a country with full equal rights.
"Tolerance is not the same as acceptance. And tolerance is not enough." 👏🏽👏🏽👏🏽
-Vice Mayor Joy Belmont of Quezon City, Philippines at @OutRightIntl's #OutSummit

— Voices 4 (@voices4_) December 9, 2017
Vice Mayor Joy Belmont of Quezon City, Philippines shows what local governments can do. Her flagship programs includes a Protection Center for Women, Children, and LGBT at the Quezon City Hospital and she helped Quezon City approve a "Gender-Fair City" ordinance which protects LGBT rights.
On the roles business plays in the fight for justice:
"Diversity and Inclusion are actually separate. Diversity is about inviting someone to the party. Inclusion is inviting them to dance. The company invites people to the party. The employees invite them to dance." #OutSummit #Biz4LGBTI

— Jason Fluegge (@jasaries) December 9, 2017
An important conversation was that of corporate pink washing — we in westernized countries have to remember that while we often raise a fight with corporate money, to many people fighting the good fight in developing countries these donations are the only lifeline to continue their programs. Nothing is entirely evil or entirely good.
"That is the irony of the work — you need money, there is no answer, there is no silver bullet there."
— Aalap Shah, Member of the OutRight Action International Board of Directors, Senior Mobile Product Manager for Capitol One's Digital and Innovation Lab. Shah has spent his career committed to social justice, financial inclusion, and public-private partnership specializing in marginalized communities' access to income, markets, and technology.
On the media:
"Until the lion learns to write, every story will glorify the hunter." Keynote on the #persecution of #LGBTQI people worldwide. #OutSummit

— Jason Fluegge (@jasaries) December 9, 2017
"The reason why I keep on speaking is because I need the support of the media most importantly because people are familiar with things that are spoken about everyday and Intersex people are not shown on media platforms. I can barely recognize one person that stands as an intersex person who is shown as just a normal human being."
— Tatenda Ngwaru, Zimbabwean Intersex Activist, Founder and former Director of the True Identity, the first intersex and transgender organization in Zimbabwe. She is now based in New York as an asylum seeker hoping to one day return to Zimbabwe and continue her work.
"We are all architects of a narrative and we can dismantle or challenge the dominate narrative" – @jpbrammer talking about media, representation and integrity at #OutSummit @OutRightIntl

— Adam Eli (@aewerner) December 9, 2017
On backlash and how to keep going:
"For every time there is success, for every time LBGTQI+ issues become a little more visible… when there is progress… when all these things happen there is backlash."
— Grace Poore, Malaysian writer, documentary filmmaker, and Regional Program Coordinator for Asia and the Pacific Islands at Outright Action International where she oversees multi-country documentation and advocacy projects, conducts trainings on human rights documentation, and facilitates LGBT engagement with UN mechanisms.
"If there is backlash it means we are doing something right." – Eric Gitari, human rights lawyer, queer activist, writer, Founder and Executive Director of the Kenyan LGBTI rights organization, the National Gay and Lesbian Human Rights Commission
If we're not inclusive of the L, G, B, & T within our own community, those outside certainly will, intentionally or not, virtually erase entire groups. We've got to do better.

YES, @KaramoBrown, on visibility & inclusion. @OutRightIntl #OutSummit #OutSummit2017 #LGBT #LGBTIQ

— TJ Rogers (@tkriii) December 9, 2017
"The reality is such, in the Pacific, we may be drowning, literally too, our islands are sinking but girl we're fighting. That's the reality — we're constantly fighting. That's why we go where the power is.
We're there to remind our governments that there is an intersectionality of climate justice and gender. We're there wherever conversations are taking place… We are there to present any form of manifestos or whatever we can to start this conversation. We may be angry, we may be pissed off because these conversations are quite f***-ed up but that's the reality — we have to go where these powers are.
We need to systematically re-strategize our plans as we move forward — and coming into spaces like this where we can also find each other and hold each other's hands and also hold each other."
— Miki Wali, Fijian Trans and youth feminist activist, human rights defender, gender advocate, co-founder and Programme Support Officer of the Haus of Khalemeon, (the youngest) board member of the Pacific Sexual Diversity Network, former Executive Board member of the Fiji National Youth Council and the St. Piers Catholic Youth Wing, member of the UN Working Group on Youth and Children, first Trans activist from Fiji to attend the Commission on the Status of Women.