Saturday Night After Dark
Night Block A: Deanne Smith's Stand-up Spectacular (Deanne Smith, obvs)
Night Block B: Faggity Feud (Julie & Brandy) // Board Games (Crystal & Ali)
Night Block C: A Walk on The Spooky Side: Curated X-Files Screening (Rachel & Stef) // Klub Deer (Klub Kids)
Brittani: I hadn't seen DeAnne Smith perform stand-up live prior to A-Camp. There's something about live comedy that doesn't come across in a YouTube video so I was psyched when I found out she'd be doing an hour specially catered to the A-Camp audience. Going to an hour long show for someone you've never seen before can be a gamble but her set was remarkable.
Gabby: My favorite thing about this crazy ass lesbo is that she laughs like a motherfucker. Deanne isn't one of those comedians who think they're the only funny person in the room. Me and Deanne cracked jokes all over Mount Feelings and like i love her. I keep picturing someone slapping her vulva and laughing to myself like a crazy person on the subway.
Brittani: The show reached a level of hilarity and excitement only attainable when everyone in the room is on board. Just when I thought I'd be done laughing at a joke, I'd turn around and see Ali snort laughing then I'd see Taylor trying not to laugh at Ali and I'd go into a fit of laughter all over again. It's going to be pretty hard to have more fun at a comedy show than I did at that one.
Cara: Listening to a comedy set that was full of jokes that didn't just happen to speak to my experience, but were actually written in order to speak to my experience, I felt like I really "got" A-Camp for the first time. I also realized I could probably never explain the feeling to a lot of people I care about. Bittersweet for sure, but luckily Deanne was so hilarious that I forgot about the bitter part.
Daniela: DeAnne Smith's geeky pick up lines song spoke directly to my heart.
Sophia: DeAnne Smith killed it. It's really hard to choose between any activity and DeAnne's stand up because that was such a treat. She really knew the audience and OMG SHE SLAPPED MY VULVA I couldn't handle it. I also couldn't handle the laughs in the audience, the perfect hiccups of laughter, the nonstop wheezing, folks were BENT OVER, I heart Ali's snorts from across the room, I thought some asthma attacks were happening but it was just the perfect comedy.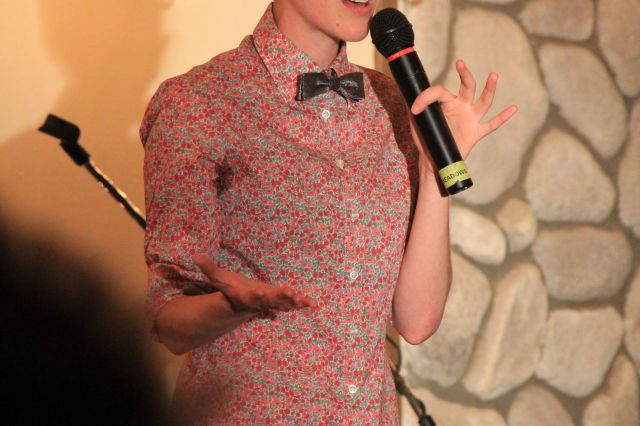 DeAnne Smith: Julie and Brandy polled 50 Autostraddlers-on-a-mountain for Faggity Feud and the results were hilarious. I wish I could remember more specifics about how and why, exactly, this night was so fun but I was drunk on bourbon (I'm starting to sense a theme here…). The show's a blur of watching Carly and Grace hold down the tech requirements like total bosses, Julie's delivery, Brandy's salaciousness, wet, white clothing and the image of Marni dating all y'all's moms.
Deanne: The show felt wild in a way that hundreds of queers on a mountain should feel wild. Riotous, but with statistics.
Brandy: Faggity Feud is always one of my personal favorite events at camp (and not just because I co-invented it, co-write it, and co-host it), but because of all the glorious, wet BOOBS!!!
Laneia: One of the things I love about Faggity Feud is how the contestants get super into it. I mean they get into it — wearing underpants chosen specifically for being sprayed with a water gun, cheating with their buzzers — and it's just for us, for the rest of camp. They're not getting a cash prize or a toaster. It's all for the glory of rainbow war points and the honor of being the fruition of Brandy Howard's water soaked, breast filled dreams. That's dedication, you know? It's a beautiful thing. Almost as beautiful as Julie Goldman in a vintage tuxedo situation. Almost.
Riese: I come for the Julie/Brandy banter and the always-unpredictable camper contestants (confession: I'm not really obsessed with boobs like how everybody else is, idk) and both were out in full force this time!
Carmen: I was proud of Cameron, resident Inferno representative working hard on behalf of the red team to help us sweep away Faggity Feud for the Nichols team and see a lot of boobs at the same time. But I was even prouder that I was selected as the number three answer for the question "who on staff would you fix up with your mom if your mom was gay" by 50 random weirdos on the mountain. I began scouting out hot moms to date as soon as the game ended, but not before I gave myself a standing o.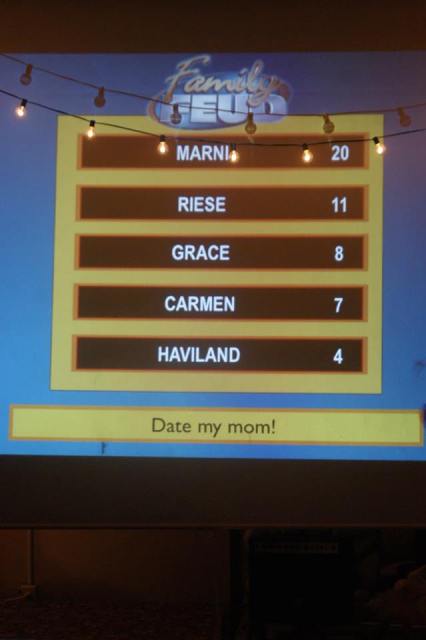 Carly: Oh my god, I just love all of OUR TALENT. Intern Somer — by far the best intern on the mountain — and a brilliant musician to boot. DeAnne Smith — I was crying from laughing so hard during her standup and is the reason I find myself saying "nailed it" constantly. And Julie and Brandy, my precious snowflakes who hosted a crazy awesome pool party and hosted Faggity Feud, which I had the honor of producing with them. I am still crushed that no A-Campers want me to date their mom, but I'll dry my tears with the knowledge that you want to have a threesome with my wife and… Alex. <3 <3 <3
Crystal: While Faggity Feud was happening, Ali and I were in Deer Lodge playing card and board games. Ali participated in a really complicated card game involving historical events with campers who have a far greater attention span than I do. In the other corner, camper Celia taught us how to play Scattegories and then hosted an epic game of Cards Against Humanity.
---
After After Dark
Laneia: OMG Rachel dressed as Scully. I didn't even know I gave two fucks about The X-Files, but after Rachel put on the Scully wig and the blazer, I was a believer. I mean I knew the truth was out there, is what I'm saying.
Kristen: Cara drank a lot of rum and then had three hours of Hair Feelings. I think about appearances and attraction all the time, but I hadn't had the opportunity to do a Real Life Queer Survey about how one's outward appearance affects their probability of getting laid with a specific subset of human beings. We had a highly academic discussion with acclaimed hair experts Katrina, Sara Medd, Hansen, Liz, Cee, Jill and anyone else that happened to be sitting in Wolf Lodge. What are your follicular options when your hair's curly, your jaw's strong and your style icon's Jack White? If you feel like having an emotional hair-centric awakening, I would highly recommend doing so in Wolf Lodge with a handle of rum and 300+ sounding boards. Note, she may not remember much of this.
Riese: The last two camps were total nightmares w/r/t my overall health because drinking and humans and "having a Block A activity every day" but I was doing really good this time… until Saturday when I stayed up 'til 5AM talking about feelings with The Runaways and The Blackhearts. NO REGRETS — I wanna hear everybody's everything forever and all night, these bright shining stargirls who come here from so many different places (geographically, but emotionally too).
---
Klub Deer
Tomorrow's recap will contain additional profound testimonials about the coolest club on the mountain, Klub Deer.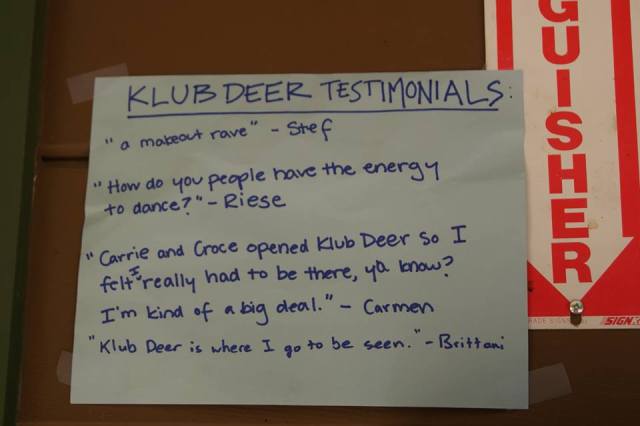 Meredydd: I love that something that started as a silly one-off thing has become an actual part of the A-Camp schedule. Klub Deer is ridiculous and fun and obviously the best club in the San Bernadino National forest.
Jill, Wild Things Counselor: Bouncing for Klub Deer this year was a hoot. Thanks everyone for bearing with me as I learned how to properly tie wristbands and apply a super smokin' hot Klub Deer stamp. All my hard work was worth it though, because I got to use my bouncer intimidation skills to gain voyeuristic access to many cute animal smartphone pics. My favorites included a turtle eating a large piece of broccoli and a pic of Rachel Kincaid's cats caught in…um…a compromising position. Also it never got old confusing drunk campers about the "no cover before 2 am, no cover after 2 am" situation.
Daniela: I never lasted more than 15 minutes at Klub Deer. I was ready to shower and jump into bed at the end of every single day and the charm of Klub Deer is that you could go for about half a song a still feel like you partied it up -everybody who is there is dancing, so you can trust that even if you stay for one song you'll have the coolest, most loving dance buddies you'll ever find at any party again. Repeat for three more nights.
Hansen, Contributing Editor & Scissor Sisters Counselor: I have to mention how awesome Klub Deer was. What a safe, inclusive space. I mean, if you could get past the tough bouncers, that is. There was a stripper pole in the middle of the room kind of randomly (Veterinarian Jill performed a pole dance, be jealous if you missed it), and everyone was super comfortable and welcoming and you could dance with strangers or friends or alone and no one looked at you like you were weird. I consider myself a terrible dancer, so this was huge for me. Also, glancing around and seeing people full-on making out wasn't even disconcerting to me. I just considered it to be just another way that A-Camp is a super safe space for sexuality as well as really bad dance moves.
Meredydd: Carmen should also be commended for her dedication to the role of official dancer – I never knew you could dance while sleeping.
---
NEXT TIME: The last full day of camp — with feelings!
Registration for October camp, which will take place October 9th-13th, will open on Monday June 24th.
Pages: 1 2 3 4See entire article on one page