I'm wearing my slippers and yesterday our heater came on. IT IS TIME, Y'ALL. Fall is my favorite season, but alas, the heater isn't on today. Fall is still sputtering on like a half-burnt lightbulb. So it's not hot cocktail time yet (I'm hoping it'll finally be time next month).
I've returned to my love of Campari, specifically to a cocktail that I don't think gets nearly enough love: the Boulevardier. I looked up some history of the Boulevardier and apparently it actually predates the Negroni by a good twenty years, so calling it a Negroni with bourbon in place of gin is false. The ratio is also off — it's not equal parts. But it is equally delicious. Here's how you make it.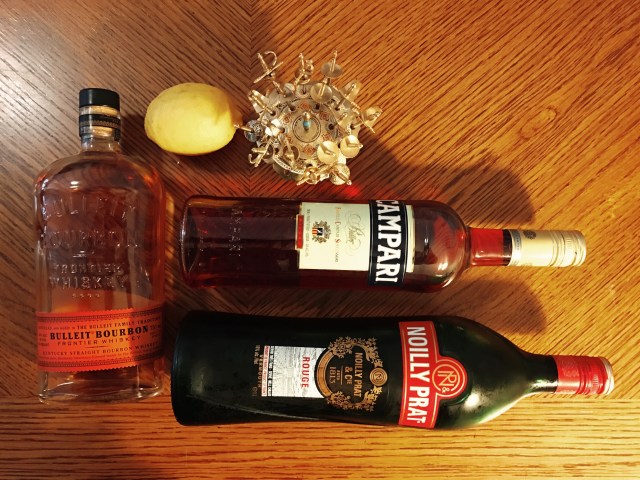 What you need:
1.5 oz bourbon
1 oz Campari
1 oz sweet vermouth
a lemon to garnish
A note on the garnish first, actually — there are several totally valid ways to garnish a Boulevardier. Lemon, orange and cherry are all good choices. I like lemon because it gives you just a hint of zing, and because finding the right cherries (my real fave) is hard sometimes. I don't just get any ole cherries.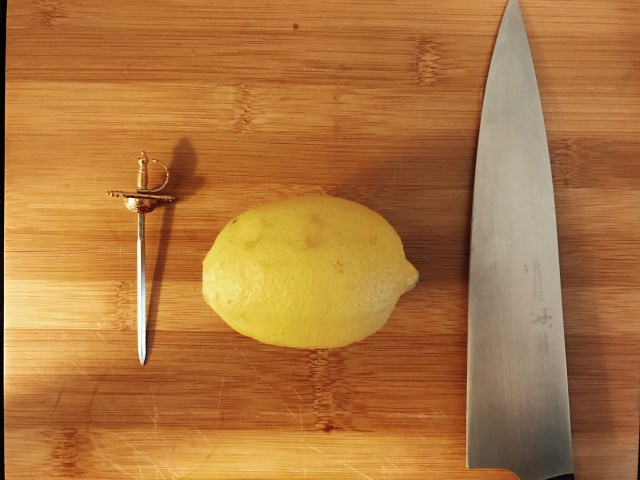 You might also notice a new accessory I'm using — my fiancée got me vintage cocktail sabres a couple months back because I loved the ones that Stef shared with us way back in 2014. I put them away and my last few cocktails wouldn't have called for them. But this one, this one can! Return of ga-ARRRR-nish!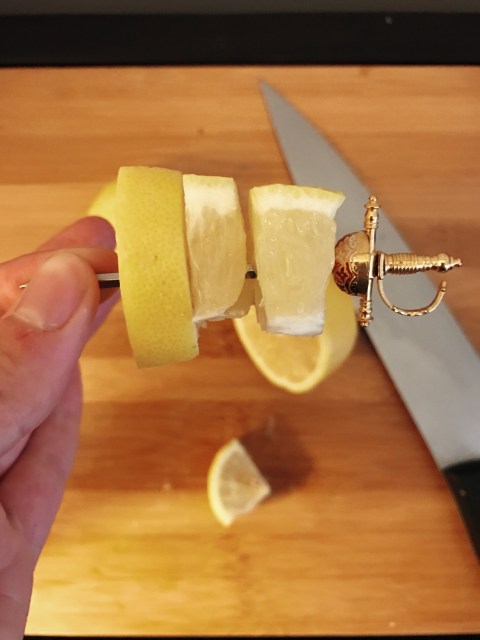 I suggest preparing the garnish first, actually, because it's the most time-consuming step in this very easy drink. Slice your lemon 'round the middle and cut a coin out. Then cut the coin into four quarters and spear them on the sword. This lets SOME of the delicious lemon juice run into your cocktail, but not enough that it dominates. Balance is key, and using something as a wash or garnish is one way to achieve that balance.
Anyhow, once you've got your garnish ready to go, ice your glass. Now some might say to build this drink in a mixing glass and strain it so your ice doesn't water it down. But that's now how I usually make it for some reason, even though that's probably the more technically correct way. I just build it in a glass with the ice in it — so throw your bourbon, Campari and sweet vermouth all in there. It makes this three-ingredient wonder even easier to throw together for unexpected company or much-needed relaxation time.
Give it a stir and add your garnish. Then parade it around your house to photograph it. Oh wait, no, that's just me.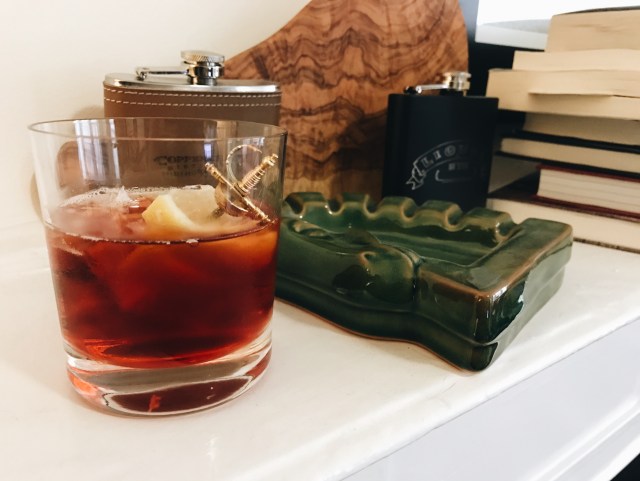 Another thing of note — a Boulevardier is a good cocktail to barrel age, and the holidays are coming up. This is true because the bourbon really picks up the oak flavor if you're using a kit with a stave or a small barrel, and the sharpness of the Campari really calms down and melds with the rest of the ingredients. Definitely recommend giving it a try.