Autostraddle Readers: you are a mighty army. Let us be strong in defending our position, and we do so in the name of Autostraddle.com, A(wo)men.
You're going to give all of your time and means to Autostraddle and in exchange you'll live your afterlife on your very own planet, where you'll have many spirit wives. Also you will be blessed with casseroles, infinite otters, microbrews, leather wristcuffs, Julie Goldman & Brandy Howard on-demand, no menstruation and the ability to grow your own organic, free-range, gender-neutral spirit babies, because these are all things that lesbians love and need.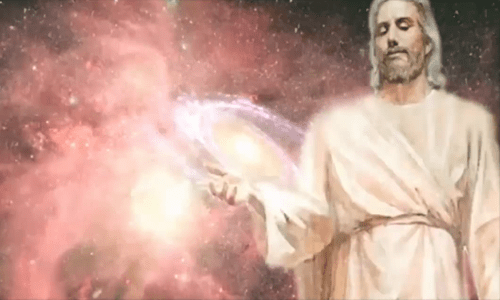 Get the word out. Many of you will text message, blog, make phone calls. You twitter. You update your profile and you write on your walls. It is our hope that you will go "viral", but not in an unsafe sex way, you know? So go ahead and give Autostraddle.com all of your money and when the storm comes, we'll make sure you have ponchos and rain boots and whatever else you need.
Paypal is easiest, thanks: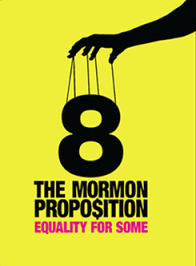 Would a speech like this work on any of you assholes? Probably not. (If it did though please let us know, because we could really use the $30 billion the Mormon Church made as of 1997 and the $5.6 billion annual gross that would place it above Nike and Gap Inc on The Fortune 500) But a terrifyingly similar one did work when it was given by M. Russell Ballard and two other "living prophets," then beamed into the homes of a bajillion Mormons in the '90s.
This is how 8: The Mormon Proposition, a documentary from Wolfe Releasing begins. This is one of those documentaries I normally avoid because I know it's going to freak me out or piss me off and just as I expected, it was terrifying. Narrated by Dustin Lance Black, an ex-Mormon himself, the film analyzes the role of the Mormon Church in the passing of Proposition 8 in California, which denied LGBT citizens the right to marry.
We were going to present you with a whole review of this documentary, but it turned out super boring. I don't want you to think this movie was boring; it was actually fascinating and actually required watching for every gay person everywhere! YOU NEED TO SEE THIS MOVIE! If you have Netflix you can watch it right now!
You can watch the preview here if you haven't done so already.
So in the interest of our Internet-shortened attention spans, here's a top 10 list for you instead of a review! But obviously there are 8, not 10.
Top 8 Moments
+
1. Most Shocking
The Mormon Church is even more fucked up and shady than you'd even imagined. Think of something really, really fucked up and shady. Now imagine something MORE fucked up and or shady than that thing. THE MORMON CHURCH IS EVEN WORSE THAN WHAT YOU'RE IMAGINING IN THIS MOMENT.
2. Most Gratifying
The main gay couple interviewed in the movie? One of them is the direct descendant of the founder of the Mormon Church. That was a great reveal.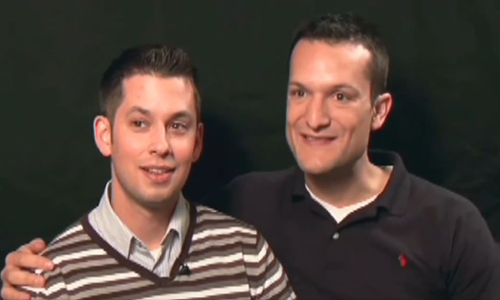 3. Favorite Quote
"Jesus doesn't judge people! What the hell are you doing?!" Obvs yelled at some asshole by a cute girl who believes in both equality and irony.
4. Saddest
At a protest in San Francisco, the mother of one half of the main gay couple is trying to reason with the hateful protestors who'd been bused in from all over the country. She eventually gives up and resorts to a chant of her own, with tears streaming down her face. It summed up exactly what it feels like to go head-to-head with people who hate you for no reason: you're left sort of talking to yourself, without much hope.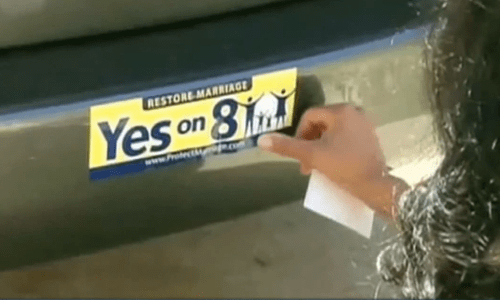 5. Most Traumatizing
BYU graduate, Bruce Barton, recounting how gay students were treated while he was attending the university. After being accused of homosexual behavior, Barton was brought in by administrators, forced to disrobe and watch porn that was being projected onto a wall. He was given two-times an adult dose of ipecac syrup, which induces vomiting. In subsequent visits, electrodes were attached to Barton's wrists, chest and genitals, while projected images of nude men flashed across the wall. He was ordered to press a button that would send electricity through his body whenever he saw something that was either sinful or something he wanted to do.
What. The. Fuck. World.
6. Most Fucked Up Quote From a Normal-Looking Human
This is a tie between, "I don't want my kids to grow up in a genderless society," and, "It makes me feel like an American!" Both of these statements were made by Mormon or Mormon-influenced young women with huge smiles on their faces. The latter was in reference to her support of Prop 8.
Then Alex, the one who makes stuff pretty around here said, "This is not what I thought the world was going to be like when I was learning about it," and I think we can all relate to that feeling.
7. Did You Know
There's such a thing as Mormon training videos. Like, several of them.
8. Did You Also Know
Utah has the highest suicide rate of any other state in the country and, of course, a disproportionate amount of those suicides are by young gay people who've been ostracized from their church, home and community.