Hello tigers. You know how Riese is always pleading with you to read a f*cking book? Now it's our turn! Audiostraddle wants you to listen to a goddamn record. Please.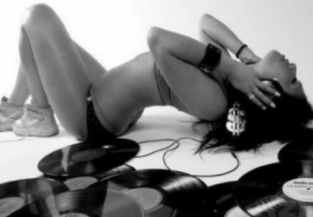 We're starting up an Audiostraddle Record Club, and we want you. How it'll work is pretty standard: Every month or so we'll pick a recent(ish) record and a week or two later, I'll lead us in what will hopefully be some stimulating yet light-hearted conversation about the songs, the artist/s behind them and maybe even their hairstyles and dress sense and cover art. Maybe I'll be joined by other Autostraddlers or readers, really anything is possible.
Honestly I have no idea if our club will be a success or not, but I do know this — without your input it's not gonna have a fighting chance. 'Cause then it would just be an album review, right? So I do hope some of you will get involved. You don't need to be a musicologist to join in, honestly all you'll need is two ears and a heart. And a legal copy of the record we'll be discussing.
Here are a few suggestions of what our first record could be:
Junior
— Kaki King
The ArchAndroid
— Janelle Monáe
Nobody's Daughter
— Hole
Animal
— Ke$ha
Brothers
— The Black Keys
Lessons from the Late Night
— Hunter Valentine
High Violet
— The National
The Twilight Saga: Eclipse Soundtrack
soundtrack
Would you like to talk about one of these records? Do you have a better suggestion? Most importantly, WHO'S IN? Leave your suggestions/comments below.