In the first month of 2019 Ask Your Friendly Neighborhood Lesbrarian is tackling this email question:
Hi Casey,
Thanks for your great column. I was wondering if you knew of any fantasy or sci-fi books with a queer bent that include polyamory? I've heard that Diane Duane [start with The Door Into Fire] has an unfinished book trilogy that includes a polyamorous marriage (which I haven't checked out yet) but I'm curious if there's anything else out there!
Thanks, Jess
When I initially received this question, I was like, oh yay, it'll be a fun challenge to find that representation in those genres. And then while researching I discovered there were at least as many and maybe more queer poly characters in speculative fiction than realist fiction. While this is fantastic, I do hope that authors continue to write queer poly characters into contemporary and historical stories, cause queer poly people exist in the 'real' world too you know!
If you're also looking for disability representation, you'll be happy to know more than one of these books also features disabled characters. Okay, eight great queer women-focused poly SF/F books coming right up!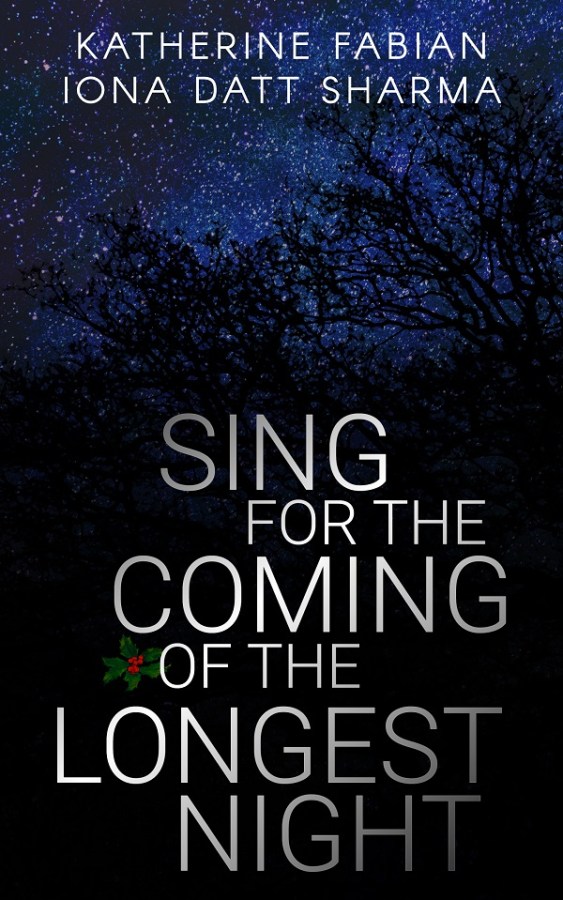 Who doesn't love a good narrative structure that puts two people who don't like each other in a situation where they have to work together? This novella Sing for the Coming of the Longest Night is a perfect example. Sensible bisexual lady pathologist Layla and non-binary blue-haired composer Nat don't have anything in common — except their enigmatic magician boyfriend Meraud and their deep mutual dislike. When Meraud goes missing after a magical experiment that doesn't go as planned, Layla and Nat are going to have to work together to return him to the world. Although this involves navigating wild magic and a winter solstice deadline after which Meraud will be lost forever, the most difficult part for these two metamours will undoubtedly be overcoming their differences.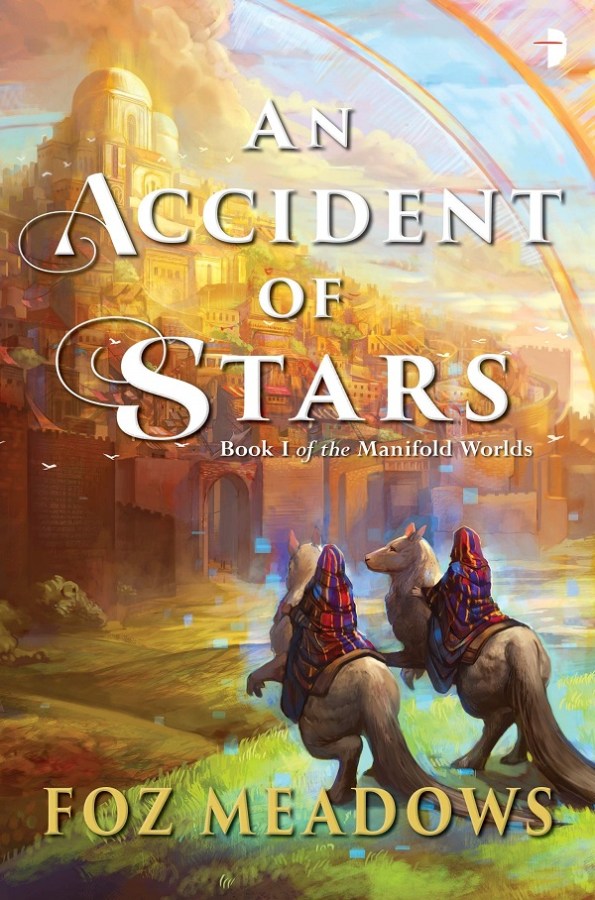 This book is for fans of traditional epic fantasy a la Game of Thrones but who want it women-centred, queer, and poly. The setting is Kena, a magical world on the brink of civil war that Saffron Coulter accidentally stumbles into via portal. There she meets three key women — including an older poly aromantic woman named Gwen — who are caught up in Kena's complex political situation. Pursued by the malicious King Leoden, Saffron and the rebels flee to a neighboring matriarchy. Saffron finds herself in the thick of the action, increasingly bound to her new friends by magic and blood. But is she, a mere worldwalker from Earth who is in Kena only by chance, the key to saving this world?
Chameleon Moon is a dystopian story, but don't let that fool you into thinking it's not a tale full of hope and healing. Parole is an eternally-burning city whose population has been quarantined from the rest of the world. The only thing keeping the city alive is the cast of humans with superpowers. Regan, an asexual dragon-scale-skinned guy with anxiety, turns away from a life choice that would have led him down a dark path. Instead, he connects with a group of polyamorous married women (Evelyn, Rose, and Danae), their child, and friends Zilch and Finn. Alone, none of them would survive; together, they just might make it. Many of the people in this story are also disabled in addition to queer and poly! Try this especially if you like your SF/F very character-driven.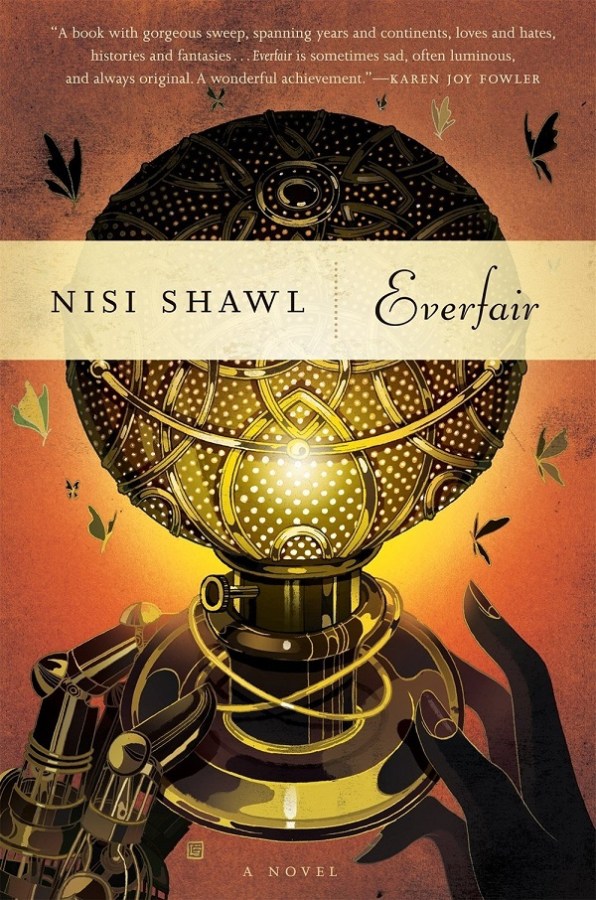 Everfair is an ambitious steampunk alternative history novel that imagines what might have happened if the native populations of the Congo had learned about steam technology amidst the country's horrific colonization by Belgium. Socialists from Great Britain and African American missionaries band together to purchase land from the Congo's 'owner,' — the king of Belgium — which they work to turn into a utopia both for people from the Congo and escaped slaves from the US. Taking a wide scope, the book covers decades of time, different continents, and many characters with vastly different stories, including some queer poly women. Political intrigue, romantic and familial relationships, espionage, war, and more make up the complex plot. It's a welcome Black, queer, anti-colonialist re-imagining of the overwhelmingly white and imperialist steampunk genre.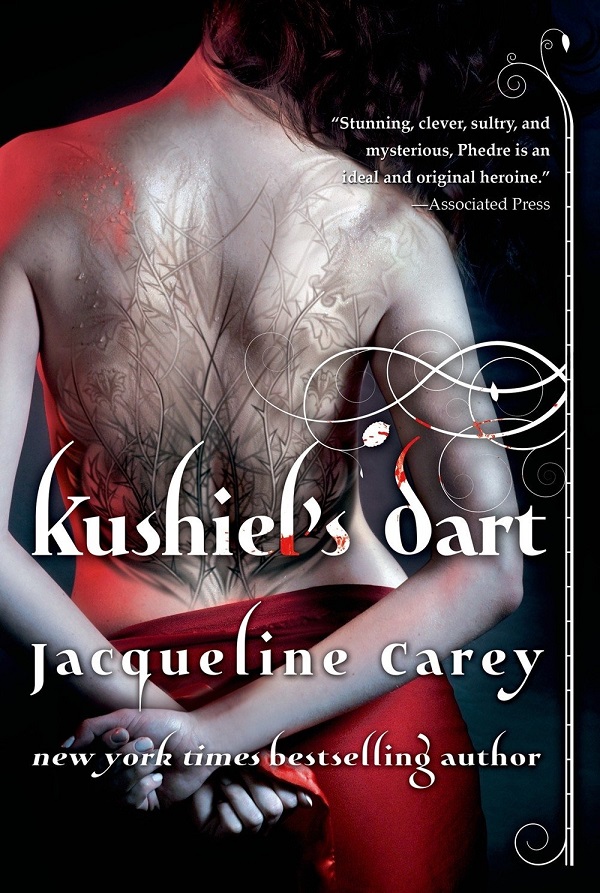 No list of queer poly SF/F would be complete with the now-classic queer feminist poly fantasy Kushiel's Dart! The first book in the Phèdre's Trilogy, this lengthy 1000-page novel is epic in many senses of the word. Phèdre is a sex worker equally trained in the arts of the bedroom and the kingdom's court. She has been pricked by Kushiel's Dart, which means she is fated to experience pleasure and pain as one. When her gifts as a spy lead her to uncover a plot that threatens her homeland, Phèdre finds herself deeply embedded in a world of "cunning poets, deadly courtiers, heroic traitors, and a truly Machiavellian villainess." Also, she finds herself in a variety of queer, kinky, poly relationships, including with Melisande, a true antagonist to Phèdre's heroism, and Joscelin, a priest.
Ascension by Jacqueline Koyanagi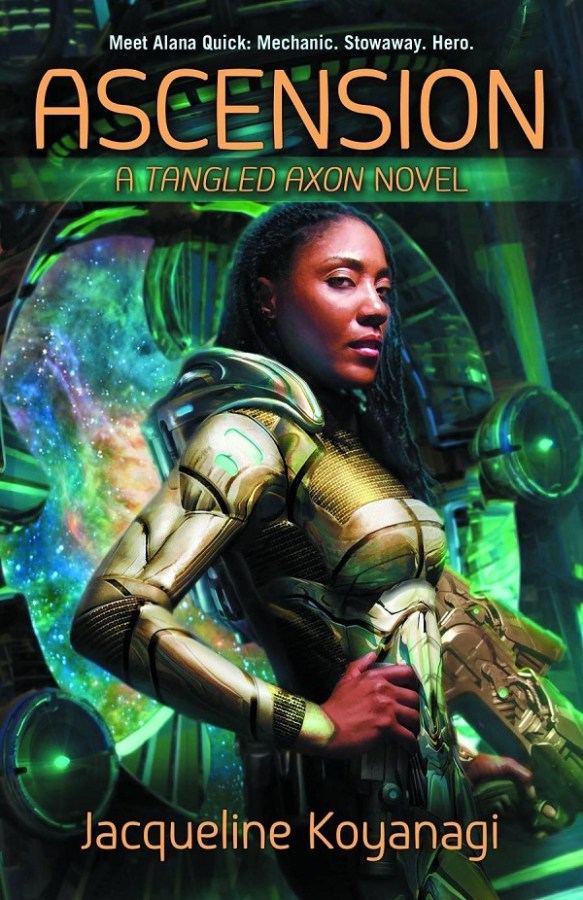 Ascension is truly a one-of-a-kind book, which is certainly a compliment to it and its author. But the fact that it's so unique is also a cry for more science fictional depictions of Black lesbians with chronic illnesses exploring polyamorous relationships! Alana Quick is the protagonist: a sky surgeon, aka space ship engineer, who stows away on a ship in a desperate attempt to procure work in bad economic times. My favorite part of this novel is how Koyanagi describes Alana's deep affections for spaceships in just the same way as she describes her love for beautiful human women. Alana is introduced to polyamorous relationships when she falls in love with her ship's captain, which as a relationship style makes perfect sense for the place ships already hold in her heart! This novel also has fantastic, inventive, exciting storytelling in addition to the wonderfully diverse representation.
This #ownvoices space diplomacy science fiction story features a bisexual autistic character named Xandri Corelel. Xandri is one of the only neurodivergent people in the universe, leaving her with an uphill battle in many areas of her life. She's fought her way to the position of head of Xeno-Liaisons — aka negotiations with alien species — aboard a first-contact ship. The Anmerilli, an uncommunicative and xenophobic species who have just created a very powerful space warfare weapon, are going to be her biggest challenge yet. Xandri finds herself dealing with sabotage, assassination, and other complex intergalactic political forces at the same time as she is developing romantic feelings for two different people. If you love this book, you'll be happy to know it currently has a sequel, Tone of Voice and a prequel, Testing Pandora.
This YA fantasy novel is the dark, spooky, witchy, queer, poly book you've been waiting for. Three friends — Mairwen, Rhun, and Arthur — live in a village that long ago made a pact with the devil. In exchange for prosperity, when the "Slaughter Moon" rises the town annually sacrifices a young man into the Devil's Forest. This year, the moon has risen early. Mairwen, Arthur, and Rhun — a witch, an outcast, and an "expected saint" — will all have key roles to play as the devil insists on a body. But the devil turns out to be other than what they expected and as they uncover lies upon lies they're not sure who to trust. All three are queer of some variety — bi/pan and/or non-binary — and are also embarking on a triad poly relationship together. It's so exciting to see more poly representation in YA!
---
Want more queer science fiction and fantasy? Check out some past columns, including 8 Queer High Fantasy Books for Your Epic Sword-Wielding Needs, 8 Urban Fantasy Books that Feature Queer Women, and 8 Queer Science Fiction Books to Read Right Now.
Share your recommendations for science fiction and fantasy with queer poly characters below! And if you've got a lesbrarian question for me, send an email to stepaniukcasey [at] gmail.com or leave your question in the comments below.