About a month ago we solicited your participation in a survey about the way top / bottom / switch terminology is used (or not!) within queer women & trans folks' sexual lives and communities. There were plenty of opportunities within the survey for you to share not only your choice-from-multiple options, but also your open-ended answers.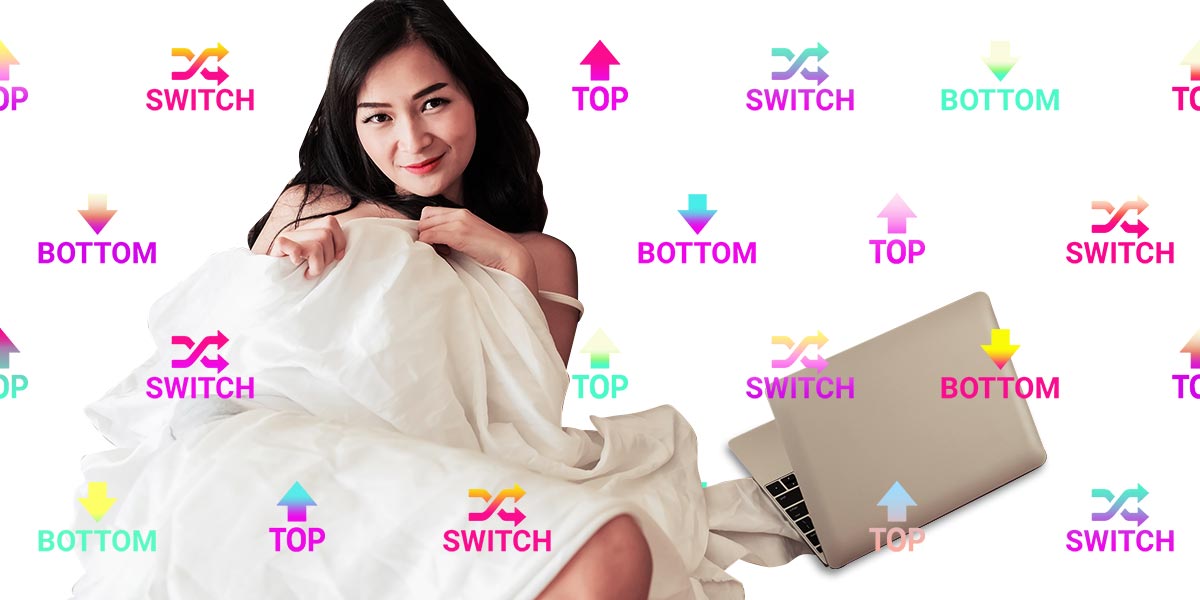 For example, you were free to tell me what your identification as Top, Bottom, Switch or "None of the Above" meant to you. I asked "anything else you wanna tell us about how you have sex" on page three, and at the end of the survey I asked "anything else you wanna tell us?" Mostly you told us that you love Autostraddle, which, thank you so much; or reminded me that St. Paul erasure is a problem that I was perpetuating by writing Minneapolis instead of "Minneapolis/St.Paul" and you know what, thank you so much, I did not know that! (And for the record, I'm from the Midwest, so.)
So, the sentences below were ripped mercilessly out of context from your open-ended answers to questions about your sexual behavior and identity as well as questions about how you would define various sexual terms. I have turned fragments into complete sentences and made spelling corrections when it felt like the right thing to do. Please note that the inclusion of an idea on this list is not an endorsement of that idea. 
---
1. I think we should bring back the term 'Kiki' for switch 'cause it's cute
2. I am a Gemini who can't keep their mouth shut even during oral
3. My ex really wanted ass stuff done to her, that's why she's my ex
4. A former sub of mine once described me as "Xena the Warrior English Teacher."
5. YES I've been dying to tell someone about how my partner and I finally found a name for our new dildo and it's Antoni
6. I'm so happy I'm a lesbian.
7. I'm married now and my wife would say I am a bottom. In fact, when we wrap up our leftover pizza, she always puts mine on the bottom for this reason.
8. I didn't realize how boring my wife and I are so….thanks? STONEWALL WAS A RIOT
9. in this hell timeline, have as much queer sex as possible. anything to make life worse for mike pence and better for us <3
10. If I don't focus and mentally force myself to come, I can't. Doesn't matter how much stimulation I'm receiving or how good it is, if the conscious decision isn't there, I just don't orgasm. Believe me, plenty of past partners have taken that as a challenge. Need someone's ego deflated? Your ex thinks they're god's gift to sex? I am now taking commissions!!
11. Its always better when Beyonce is playing. (Self titled album of course, I'm not a monster)
12. Also I misread "pain switch" as "pain witch", so i identify as that, now, obviously.
14. Being a top means that I don't wear pants
15. pillow princesses are braver than the US marines
16. I love my tiny top girlfriend!
17. "i am a bottom and also an alpha which means i don't mind getting dunked on as long as you recognize i jump higher than you." @hellenorosevelt said it first.
[ed. note: please note that our dear friend hellen added "@hellenorosevelt said it first" to her own open-ended response, that was not an editorial addition.]
18. I'm a big angry femme top really into shy butch bottoms
19. I mommy domme more often these days. I think my subs are looking for a place of comfort in this terrible time.
20. Oh god, I don't know what any of these words mean! I'm about to turn 30, is it happening? Am I becoming one of these endearing old gay men trying to understand the words the young gays are using?
21. I LITERALLY DONT UNDERSTAND WHAT THESE TERMS MEAN IN THE CONTEXT OF LADIES GETTING IT ON. PLEASE HELP ME!!!!!
22. … the sex we have is just the sex we have, you know? So I'm kind of taking a stab in the dark with all of these questions. I guess it's a survey and that's kind of the point but I can't help but feel like I'm going to be graded! F ON GAY LINGO, I WILL NEVER GET MY LESBIAN DEGREE NOW. That said, I guess I'm a top.
23. You know that episode of the L Word when they are on the cruise, and Shane and that author sneak away to hook up, but then realize they are both tops and decide to not actually hook up, but just tell everyone they did? That's happened to me a few times.
24. The L Word taught me queer relationships are all switchy did they lead me astray?
25. I love making my partner feel good but sometimes my jaw / wrist / face aches HELP
26. Once I was receiving a glorious fisting, and I was being so vocal that the dogs figured out how to open the bedroom door to check that I was okay.
27. one of my cats likes to lay right next to my partner and i while we get it on. she just stares at us and purrs. cats are weird and also kinda creepy huh?
28. A month ago, a cis guy I had been dating for 3 months broke up with me via text SPELLING MY NAME WRONG and that sex was great, but WOW I'm I glad to be fucking within my standard queer group of "women and nonbinary folks (regardless of genitalia)" now
29. Most of the time I feel like a top but sometimes I want an Amazon to throw me over her shoulder and carry me back to her place.
30. The way I have sex is like a tornado in a bottle, analogously intense and all-consuming but without the destruction and death
31. Lately we keep having sex after watching movies with lesbians. This was started after we watched Carol. It's quite an enjoyable trend.
32. I've had a moment where every ex I've dated in my town was in the same room talking to each other. Don't date in a small town.
33. God I miss women and I have no idea what I'm doing with my life.
34. My arms are WEAK and I get TIRED on top
35. Sometimes I do her, sometimes she does me, sometimes we do each other at the same time….and sometimes we just drink a beer and cuddle because that's awesome too
36. Be gay, do crimes!
37. No butt stuff
38. Spring comes around and it has to be EVERYDAY
39. Sex is usually something people delude themselves into believing is for mutual care when it is more often about inflicting mutual suffering, exploiting another person to participate in petty and pointless psychosexual dramas. And too many are iffy on the mutual part.
40. I want murder
41. Well!
42. I am 100% switchy for life. My wife is a bottom. This sometimes causes tantrums
43. My gf and I are both bottoms so it's a CONVERSATION.
44. My girlfriend and I have made a few jokes recently about what counts as topping and about what either of us are because for the first two months of us being sexually active, we each thought of ourselves as tops and the other one as bottoms
45. Wasn't on the list above but to be clear we don't scissor. We tried it once and it DID NOT work for us.
46. I love to scissor, I can't believe you didn't include anything humping related on this survey. Sometimes when I grind up on my girlfriend's thigh I think "thank god I'm a lesbian"
47. In response to "How would you define "switch"?"
"You know the Will Smith song "Switch" from 2005? It's like that"
48. In response to "How would you define "top"?
"It's a me, Mario"
49. My girlfriend is so attractive that I still get nervous and don't initiate sex as much as I would like to
51. Autostraddle makes my heart go mushy and I have crushes on like 90% of your writers
52. Filling out the rest of this survey was weird enough for me, my catholic upbringing is cringing at seeing this all on paper. This is how much I love you guys. You're welcome.
53. I would define "bottom" as the person "receiving"? Maybe? Honestly I wondered if I should Google, but didnt want that search on my work internet server
54. now I'm distracted thinking about sex and can't focus on my work THX GUYS
55. I can't really think of any specific other terms I use to describe how I have sex. But I'm sure I'll think of several as soon as I submit the survey.