feature image via shutterstock
So you've been on the lookout for your next partner/fuckbud/roommate-in-quotation-marks/sexy-third-wheel and you've accepted the fact that it's just not gonna happen IRL.
Only problem is, the current app-mosphere is light on compativailable (yes I just made those words up) ladies & heavy on the hetero cis couples looking for a unicorn. So, where's a lesbilady to find true love & lust these days? Here's the truth: Specificity is key, and holy shit do these new arrivals get specific.
Take a look at these five new super queer-friendly dating apps and download the one that most floats your boat.
---
1. ExNay

Ever meet Ms. Right Now only to find out that she just destroyed your ex's life (silver lining)? ExNay is the VERY first dating app to exclusively match you with people who haven't already dated anyone that ripped your heart out of your chest! The plusses? A beautiful interface and integration with Twitter, Facebook, and Instagram. The negative? A 99.9% chance you'll end up with 0 matches.
Score: 5/5 for matching me with a very sweet lady in Antarctica.
---
2. Dandr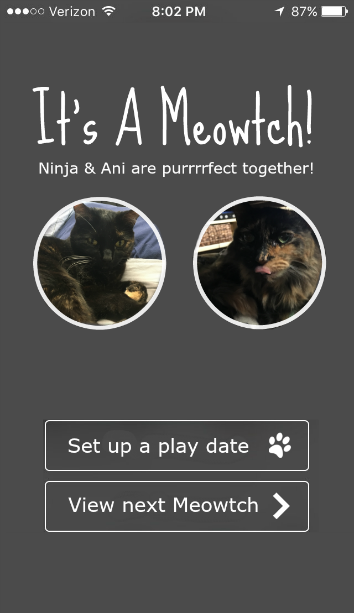 Cat people unite! Let's face it, if a potential match doesn't like Fuzzface McFluffkins (or vice versa), you're not gonna be together for long. Dandr has taken this cold hard fact to the next logical step by removing the human component from the app completely. You start by uploading clear face and full-body photos of your feline life partner. Next comes a detailed personality profile including dislikes, quirks, catnip preference, and most importantly, whether they like to scratch all the toilet paper off the roll with the flap facing outward or inward. Once your meowster's profile is complete, it automatically gets cross-checked for compatibility with other cats within your preferred distance radius. When the matches start rolling in you can decide whose humans you really knead to know a litter more about!
Score: 5/5 for the dozens of kittens I've gotten to roll around on hardwood floors with.
---
3. OutCat

If you're one of those weirdos who says they're "not a cat person" or "is allergic to cats," there's still hope with OutCat, designed exclusively for people who have never known the joy of having their chest walked on the middle of the night! You can spend your first date reciting the daily affirmations you read to your plants in the apartment you'll definitely get your security deposit back from, or for dog people sharing adorable stories about how you can never pee alone and constantly have to provide emotional affirmation for the drooling, dramatic furbaby in your life.
Score: 0/5 because I don't believe cat allergies are a thing and I don't need that kind of negativity in my life.
---
4. MyPie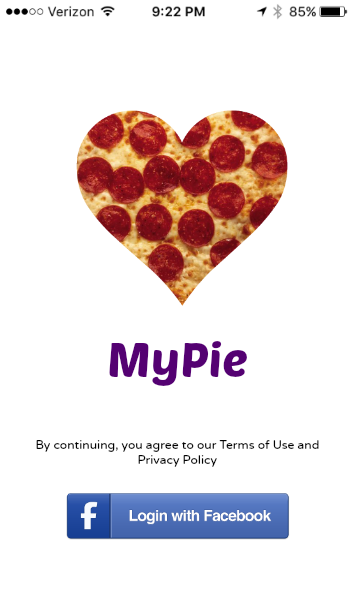 Who hasn't almost ended a friendship/relationship/family line over pizza toppings? When they said "opposites" attract, they definitely didn't mean a gluten-free square-cut vegan and a meaty deep-dish super bacon-lovers supreme. MyPie allows you to build your ideal pizza then matches you with the beautiful souls in your city who share your pie desires to a tee. Your list of matches will include the option to schedule a discounted lunch date at a nearby partnering 'za joint. Plus, even if the date sucks, you know the food won't! The best part about this app? NO PINEAPPLE ALLOWED. IT'S LIKE IT DOESN'T EVEN EXIST.
Score: 6/5! Even the dates that were terrible ended with a tasty pie.
---
5. BullyMatch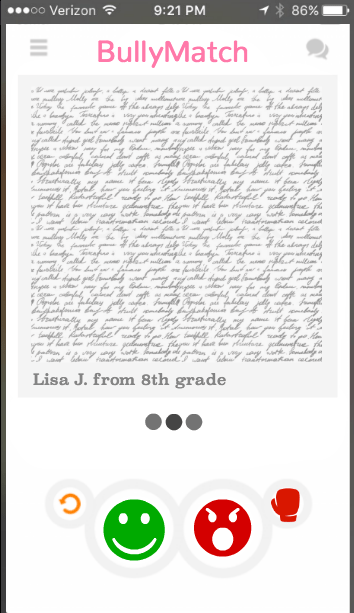 How many times have you received an apologetic DM from a now side-mulleted, flannel sportin' classmate who you'd just managed to finally repress all memories of? BullyMatch allows you to connect with arch-frenemies from your teen years, with a twist:
As a Classmate, you simply fill out your profile, add date and gift preferences, then wait! As a Bully, you can reach out to your old closet crush with a request to make up that includes a profuse handwritten apology, which must be painstakingly scanned into the app. BullyMatch even allows users to have both a Classmate and a Bully profile, because they know adolescence was as complicated as the meaning behind the Twilight poster in your locker!
If a Bully's apology is accepted, it's a match and they get to pay for the date… if it's rejected they can still send money or a gift as long as it's accompanied by a legally binding promise to disappear forever! Classmates can upgrade to premium and have a single drone, outfitted with a monogrammed boxing glove, automatically dispatched to a rejected bully's home address to punch them in the face and shower them with glitter.
Score: 4/5 for not being able to choose the color of the boxing glove, though the drone did provide same day delivery.