Some of y'all are really ahead of the game. I've been off Tinder for like two years because I'm happily, monogamously, coupled. But from what I remember of Tinder I'm not surprised.
I feel so conflicted about big hands/finger length discourse! Because… I have big hands! So, hooray for me! But also I'm trans, and "man hands" has been an insult forever. There was even a Seinfeld episode about it. To be honest, I feel like smaller hands would be a good thing – more versatile, if you know what I mean. And you can always like, use toys and tools to make your hands bigger, but not to make them smaller? Or maybe we all just want what we don't/can't have.
And THEN Malic reminded us all that having long fingers essentially means you're gay, if you're AFAB at least (the "science" is out on AMAB folks), and apparently testosterone in the womb is involved, and why do scientists want to find out if they can tell we're queer in utero so bad? I have my conspiracy theories, but I won't get into it here.
Have you measured your finger length and/or fist circumference? Do you mention it on dates or in dating apps? Have you dated a big hand person or a small hand person and have a story to share about why of course big/small hands are better?
Let us know in the comments. And, you know, if you want… you can drop your stats in there too
---
Abeni: Ok are y'all really out here wilding or is this fake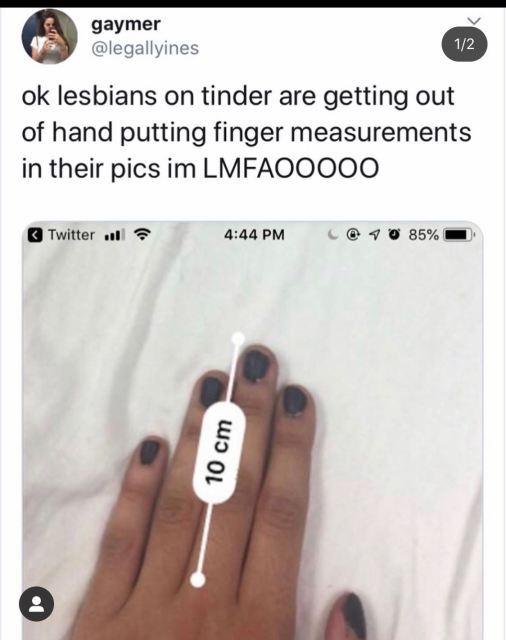 Dani: Omg let this be real
Valerie: !!
Dani: Let me be out here straight flexin with these arachnodactyl fingers
Christina: Oh my godddddddddd
I have never seen this but I would RESPECT it if I did
Shelli: If this isn't real I'll be highly upset
Jehan:

Carolyn: @ me when people start doing this with fists
Malic: I'm just over here shamefully remembering all the times I've mentioned that I have weirdly big hands on dates.
Vanessa: Honestly people who have big hands ALWAYS mention it
It's not even your fault
I figured it was like a biological thing where if you have big hands and you're queer you have to mention it, your brain like forces you to
Riese: i have big hands
just wanted to mention it
Bailey: Let's be real; big is subjective! If we're measuring length we should be measuring girth

KaeLyn: I have freakishly small hands, which have their own benefits, IMO
Sarah:

Carolyn: same and whenever someone on a date tells me they've never been fisted before I'm always like CHALLENGE ACCEPTED
the real challenge is finding small enough nitrile gloves
Shelli: This is the absolute best dialogue I have had this week
I have tiny hands but dates get weird/go wild about my acrylics
Abeni: ok i wasn't going to chime in but i guess my hands are big bc i've never been able to get more than 3 fingers into a partner without pain? maybe I'm just doing it wrong though lol. also sorry if that's TMI
Reneice: Omg same
Riese: i've had similar struggles!!
Christina: look I would be lying if I said I don't want to measure my hands now
according to my mother when I born the doctor said I had long fingers so I feel like I was destined for a life of homosexuality
Valerie: my dad says my grandmother used to say i had "piano fingers" because they were long so same
Malic: That is exactly what my grandmother says about me!
Reneice: I have big hands and I posted a picture holding a little beer tasting mug and I've never blushed as much as I did reading my DMs that day.
Dani: #showmeyourhands
Riese: everybody used to tell me i had piano fingers too valerie! or they'd ask if i played basketball. and i'd be like "i'm actually really bad at both but i'd make a great lesbian" and now here i am… a lesbian
Christina: I was…so bad at basketball wow
my height is DECEPTIVE
Riese: how tall are you!!
Christina: I am 5'10, which I think is like NOT even that tall
but my hair does add…a significant amount of height to my whole deal
Riese: hahaha
i'm 5'10 also
Christina: Are you 5'10 with long fingers? You just might be a lesbian, and entitled to compensation.