Your votes are in and you've chosen your favorite comics in seventeen different categories celebrating not just the best in comics, but also the best in positive representation for queer women and non-binary people and feminist themes. Thousands of you voted for the second year in a row and now it's time to unveil the winners!
I want to thank everyone who voted. Recognizing, supporting and celebrating the creators who make these comics is extremely important, especially if we want to see more comics and creators like this. These comics are the best out there today, they're the not only great comics, but they're leading the way in providing positive representation. They know that women and girls and queer people read comics and make comics and love comics, and they want to be a part of that.
Again, please, check out all the comics that were nominated, not just those that won. They all deserve your attention and support.
---
Favorite All-Ages Comic: Lumberjanes
Lumberjanes by Shannon Watters, Kat Leyh, Carey Pietsch Ayme Sotuyo, Maarta Laiho and Aubrey Aiese
Lumberjanes continued to show why it's one of the most important all-ages comics of all time by bringing in Barney, a non-binary camper who uses they/them pronouns as the newest Lumberjane. It also continued to show that comics about girls and their friendship are a vitally important thing in the world of comics and in the world overall.
---
Favorite Big Two Book: Ms. Marvel
Ms. Marvel by G. Willow Wilson, Adrian Alphona, Takeshi Miyazawa, Ian Herring, Irma Kniivila and Joe Caramagna
Ms. Marvel is back for a third straight year in this category, something that's only happened in one other category. No longer just a phenom, Ms. Marvel is now one of the brightest stars in the Marvel universe and she continues to be a character that teen girls, Muslims, Pakistani-Americans, and people of color can all look up to.
---
Favorite Indie Book: Bitch Planet
Bitch Planet by Kelly Sue DeConnick, Valentine De Landro, Kelly Fitzpatrick and Claton Cowles
For the second year in a row, the feminist opus Bitch Planet wins here. DeConnick keeps on writing this comic in better and more feminist ways, and it shows no sign of slowing down in it's march toward taking down the comics patriarchy.
---
Favorite Single Issue: Bitch Planet #8
Bitch Planet #8 by Kelly Sue DeConnick, Valentine De Landro, Kelly Fitzpatrick and Claton Cowles
Bitch Planet was already one of the most intersectionally feminist comics in the world. And then with this issue, they introduced trans women into their world, and did so wonderfully. Full disclosure, I was one of the consultants on this issue, but the fact that I was one of three trans women consulted is just another reason why it deserves this award.
---
Favorite Webcomic – Serial: Strong Female Protagonist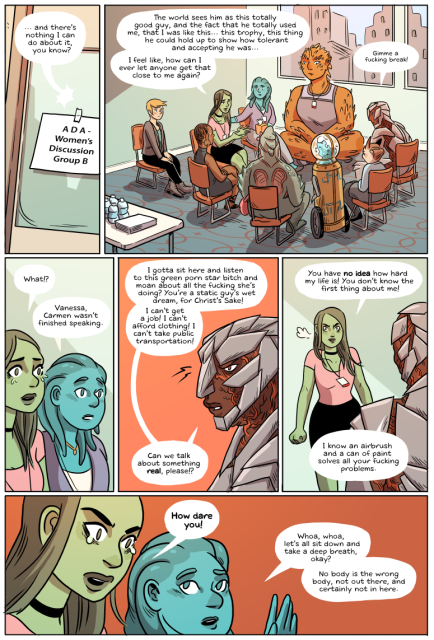 For the second year in a row, this brilliant, brilliant comic about a young woman with Superman-level powers who quits being a superhero and tries to figure out other ways to contribute to society got your votes in this category. Strong Female Protagonist regularly pushes against the constraints of the superhero comic genre, tackling complex issues of life, feminism and philosophy in a superpowered world with grace, intelligence, poise and always gorgeous and distinctive art.
---
Favorite Webcomic – Episodic: Hark! A Vagrant

Kate Beaton is pretty much a legend in the comics world by now, so I'm happy to be able to recognize her for her contributions to feminist comics. For years Hark! A Vagrant has been shining a light on often forgotten feminist heroes of the real life past and fictional literature.
---
Favorite Webcomic – Single Story: Lady of the Shard

Gigi D.G., who also does the terrific webcomic Cucumber Quest, wins here, with her lovely, sometimes terribly intense, and always stunningly beautiful story about a space goddess and the acolyte who loves her. One thing, apart from the beautiful art and wonderful characters and storytelling, that makes this comic stand out is it's different take on the webcomic format, resulting in a story that truly flows and seems like an epic tale written down on a tapestry.
---
Favorite Graphic Novel/Book: Honor Girl
Honor Girl by Maggie Thrash
Thrash very deservedly wins this category for her overwhelmingly relatable coming-of-age memoir of her time at an all-girls camp. This is my second favorite book of the last two years (after SuperMutant Magic Academy) and it looks like it's a lot of your favorites as well. Summer camp, discovering yourself, drag performances of Backstreet Boys songs, first crushes; this book has it all.
---
Favorite Anthology: Chain Mail Bikini
Chainmail Bikini ed. by Hazel Newlevant
Chainmail Bikini is one of my favorite comic anthologies of all-time, and you agree, giving it this award. Just like these awards look to celebrate women in comics, Chainmail Bikini was all about celebrating women gamers. A wide variety of contributors made this book have something for everyone.
I also want to give special recognition to the Beyond Anthology which came in second place by literally just one vote. Both of these anthologies are terrific and deserve recognition.
---
Favorite Writer: Kate Leth
Kate Leth – Patsy Walker, AKA Hellcat, Power Up, Vampirella
Kate Leth has long been one of my favorite writers, and now she runs away with this category. Her comic Patsy Walker, AKA Hellcat, is really a standout, and is, in my opinion, the best comic at Marvel or DC right now. It's got a queer writer/artist team, and Leth writes it in a way that every issue is pretty much dripping with great queer content. If you're looking for writing that's filled with wonderful female and queer characters and that approaches every story from an extremely queernormative place, Kate Leth is your woman.
---
Favorite Artist: Molly Ostertag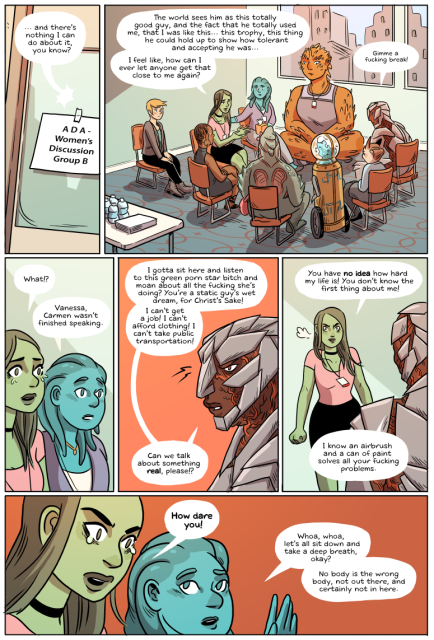 Molly Ostertag – Strong Female Protagonist
Not content with just recognizing SFP in the Favorite Webcomic category, you voted Ostertag in for your favorite artist. The way Ostertag brings life to her characters is just brilliant. In a genre (superheroes) known for a lack of diversity when it comes to character designs, Ostertag fills her world up with wonderful characters of all ethnicities, sizes, shapes, abilities and kinds. I've said it before, no one is as good at making me fall in love with cute comic characters as Molly Ostertag.
---
Favorite Colorist: Jordie Bellaire
Jordie Bellaire – Pretty Deadly, Captain Marvel
Bellaire is simply one of the best color artists of all-time. Her work elevates any book she works on to a level where you can't take your eyes off the page and you don't want to.
---
Favorite Letterer: Paulina Ganucheau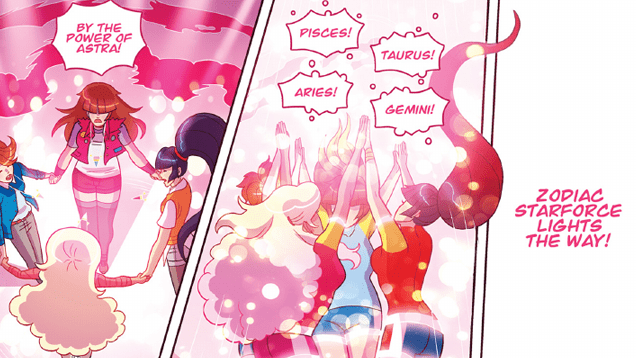 Paulina Ganucheau – Zodiac Starforce
Zodiac Starforce was nominated in a ton of categories this year, and so I'm happy to see Ganucheau, who also did the wonderful art in the book, get recognition here. Letterers are often ignored when we talk about comics, but without them, our comics wouldn't be anywhere close to the wonderful things they are.
---
Favorite Cartoonist: Melanie Gillman
Gillman, who works with colored pencils, is absolutely one of the best artists working in comics today and writes young characters better than maybe anyone. This webcomic, about two young queer girls at a Christian summer camp in the mountains is just simply brilliant. Gillman is a singularly talented artist and writer whose work deserves this award and dozens of others.
---
Favorite Queer Character: Batwoman from DC Comics Bombshells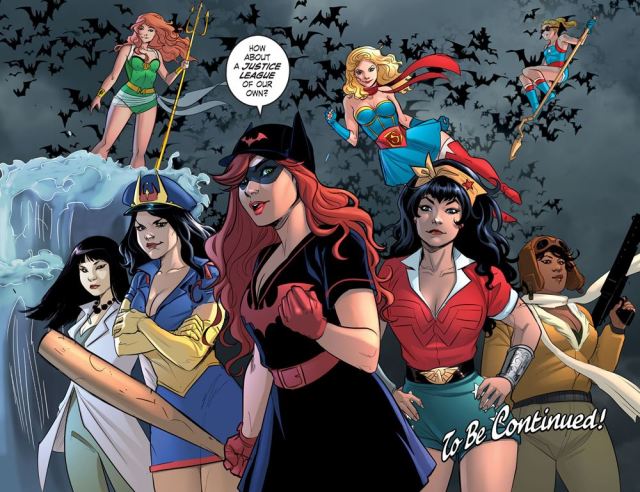 Batwoman from DC Comics Bombshells
Batwoman's been missing from the regular DC universe for a while now, but she's been super queer and super amazing over in Marguerite Bennett's DC Comics Bombshells. Bennett has written her into a character whose queerness and Jewishness are vital to her story in a way that we haven't seen since J.H. Williams III and W. Haden Blackman left back in 2013. Batwoman is one of the most important queer characters in comics history, so it's really really terrific to see her get her due like this.
---
Favorite Queer Comic Couple: Mal and Molly
Mal and Molly from Lumberjanes
One of the cutest couples in comics is this cute young couple from one of the queerest comics around. No matter who's on the Lumberjanes creative team, these two just keep getting more and more adorable. Mal and Molly have won this award every year so far and I wouldn't be surprised to see them win it again in the future.
---
Favorite Overall Comic: Bitch Planet
Bitch Planet by Kelly Sue DeConnick, Valentine De Landro, Kelly Fitzpatrick and Claton Cowles
Bitch Planet is just a brilliant comic that's all about intersectional feminism and giving positive representation and strong role models for women of color, queer women and all other women who are considered Non-Compliant. In short, it's exactly the kind of comic we look to celebrate with these awards. Last year DeConnick won the Favorite Writer award, and this book is her at her absolute best, working with a brilliant team that makes her terrific work so much better. Bitch Planet is going to go down in history as one of the best, most important and most revolutionary comics of all time.
New Releases (September 28)
Wonder Woman: A Celebration of 75 Years HC
Wonder Woman: The True Amazon HC
All-New, All-Different Avengers Vol 2 Family Business TP
Moon Girl and Devil Dinosaur #11
Over The Garden Wall Ongoing #6
---
Welcome to Drawn to Comics! From diary comics to superheroes, from webcomics to graphic novels – this is where we'll be taking a look at comics by, featuring and for queer ladies. So whether you love to look at detailed personal accounts of other people's lives, explore new and creative worlds, or you just love to see hot ladies in spandex, we've got something for you.
If you have a comic that you'd like to see me review, you can email me at mey [at] autostraddle [dot] com.