photo in feature image by Autumn Goodman
---
We already knew that queer women masturbate more often than straight women and, in that post I just linked, we have quite a few theories regarding why that is. The results of the most recent Lesbian Stereotypes Survey suggest that not only do we masturbate more often than straight women, we also started masturbating earlier than straight women. This is a very general "we," by the way, I personally was a very late bloomer w/r/t masturbation, which surely I have discussed before on this website where I store all my secrets. Anyhow, here's how you all turned out: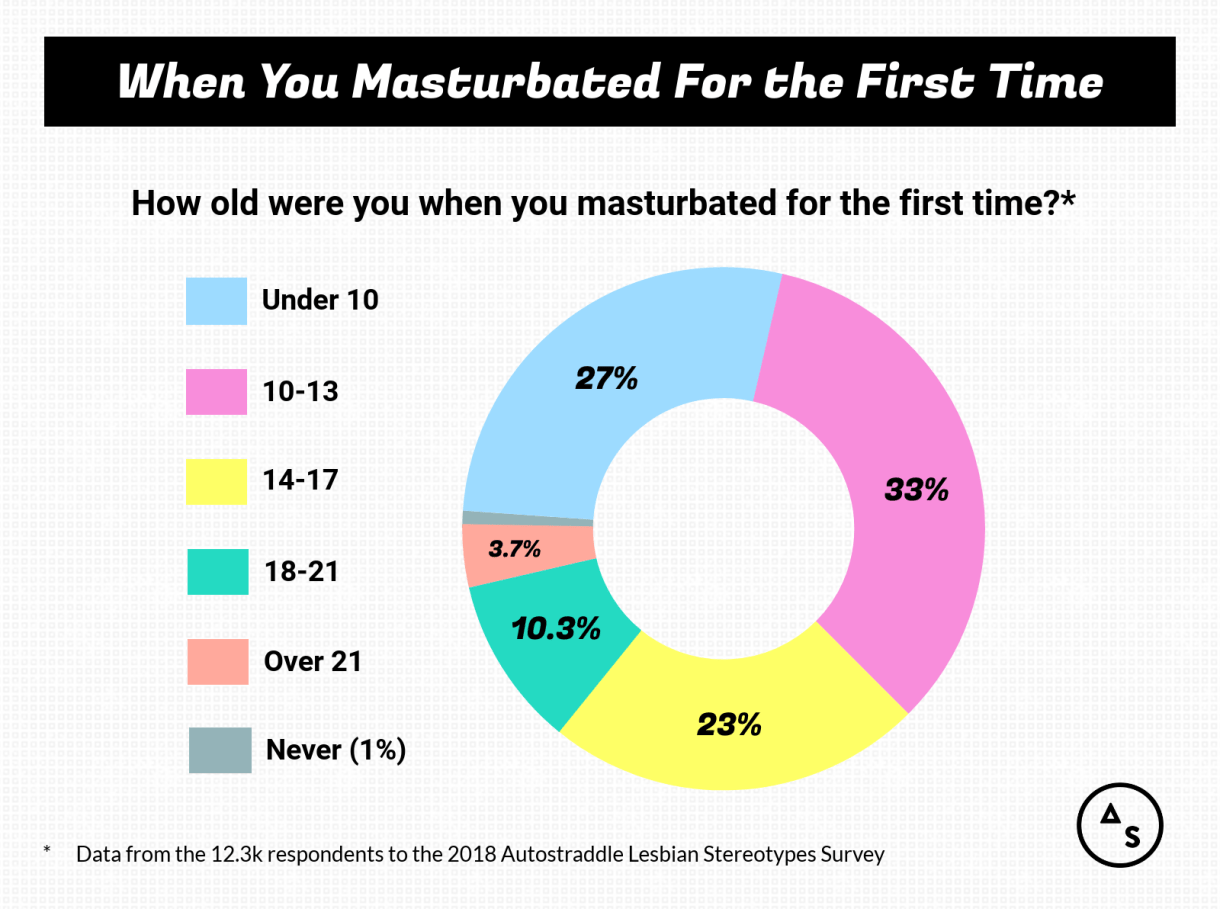 According to the University of Michigan, around 25% of girls and 100% of boys have masturbated to orgasm by the age of 15. Other research shows 95% of males doing it by age 20, compared to 60% of women. We didn't ask about orgasm but I think the above chart strongly suggests we were getting down to it earlier than the masses.
Anyhow, there was a "comments" section under this multiple choice question, and boy did you ever comment! For example, I got a lot of comments about Catholic guilt. Let's get into your stories of your first masturbation experiences, ripped mercilessly out of context and presented here for educational and entertainment purposes.

33 Queer Women & Non-Binary People On Their Seminal Masturbation Experiences
1. Probs I got started in the womb
2. oops and it was because i was attracted to barbie's sister skipper
3. …at that point, after a long period of occasional embarrassed Google searches to figure where exactly everything is down there (thanks, Catholic sex ed), it was a revelation, let me tell you.
4. I was afraid to, but once I discovered it, justifying it would help me someday know how to have sex, I had a new hobby
5. June 15th 2014 what a day!
6. …and it was to thoughts of Wonder Woman
7. I also didn't watch lesbian porn until my freshman year of college because I felt like I was intruding ?? On the women?? Idk, catholic guilt is weird!!
8. i thought that the clit was the vagina oof
9. I honestly had never considered that women could just masturbate with their HANDS.
10. I was 19, on Valentine's Day lol
11. It was mind blowing and I had no idea what was happening and couldn't believe no one would have told me about this if they had known it existed
12. I was 14, it was shortly after I got my first period and felt my body had betrayed me. I learned about the existence of masturbation from a Focus on the Family Dr. James Dobson book, "Preparing for Adolescence", and promptly got down to business trying to figure it out. AHAH. Don't think the intention of the book was to introduce teen girls to their first orgasms. But in a roundabout way, it did.
13. My mom had a Hitachi I think? My older sister and I both admitted to each other that we used it when we were both very young.
14. I started regularly visiting AOL chat rooms where sexual role playing was occurring — often involving people in hot tubs? wtf I don't even know why
15. Good ol' electric toothbrush
16. Keen wanker 4 lyfe!
17. I used to spend a lot of time engaged in elaborate kidnapping fantasies
18. Shoutout to being a late bloomer and to Barbarella.
19. Later I watched the british show Sugar Rush and saw the main character using an electric toothbrush… and now I have a penguin vibrator.
20. Only after reading "It's Perfectly Normal" did I realize that the thing I'd been doing was called masturbating.
21. pool water jets are my root
22. Harry Potter erotica fan fiction…
23. learned thanks to f/f fanfic
24. Probably accidentally at childrens' gymnastics when we climbed poles
25. I remember being little and climbing up one of those poles in a playground and it feeling really good but not understanding why so i just kept climbing up the pole and sliding back down and later realized i was actually masturbating.
26. I was 15 and I didn't realise it was a thing until I read it on the PostSecret forums
27. I had no idea how people with vaginas masturbated. I asked a guy friend and he said they stuck two fingers in their vagina. That didn't do anything for me so I'm like "fuck this" and never tried again. Come one night when I was 21 I had a dream where I came. And that's how I finally discovered my own clitoris. Sex Ed people.
28. i think i used a tampon? lol.
29. I had to read about it in a book! Probably good ol' Judy Blume.
30. I was so inexperienced about sex that I broke my own hymen with a tube of toothpaste, trying to masturbate because I thought it was a thing you did. It was… a thing.
31. I surely do not remember, but it was a while ago. My "prefer not to say" answer just means "I don't remember and I'm amazed that other people can." You know what first I can't remember that I'd like to? First pizza. That would be really something.
32. I first masturbated after watching Black Swan because it was the first time I saw it depicted and felt like if Natalie could do it, I could do it. wow, this survey is helping me get some stuff off my chest. you're welcome.
33. I masturbated to a Girls Gone Wild infomercial on Comedy Central at like 3 in the morning when I was 11. I'm so sorry.