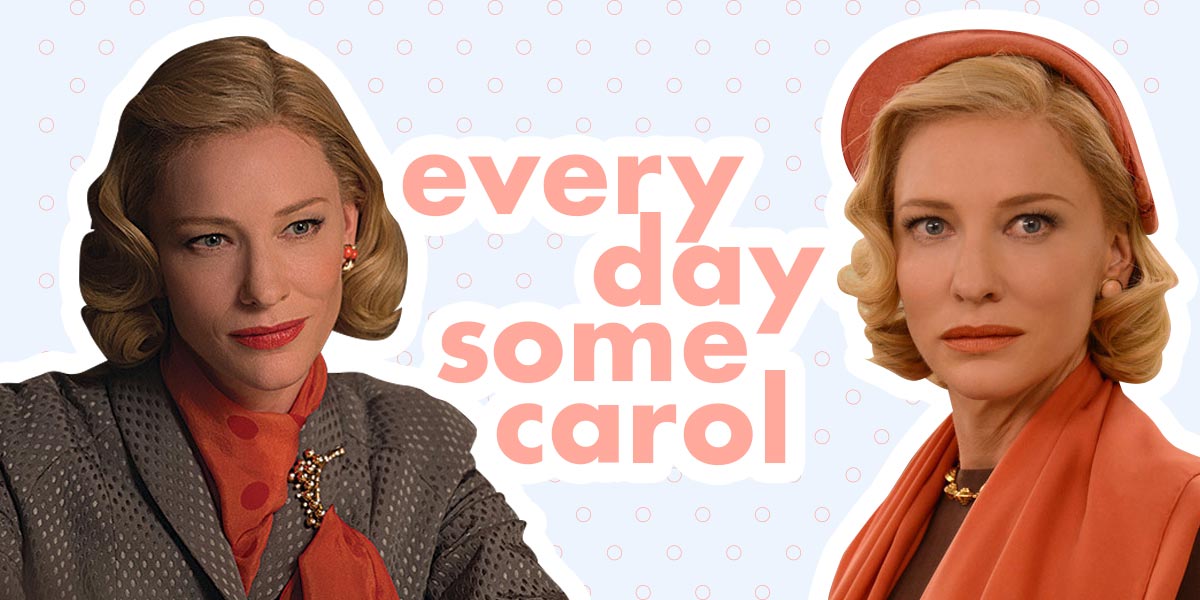 When I posted the first three pages of Carol: Tokyo Drift, the immediate and main concern was that I investigate what happened in the hotel room where Carol and Therese camped out for two days. My approach of leaving things to the imagination was given a thanks, but no thanks. "Loved this, but also what if you didn't talk any more about the stuff that's been happening, like at all, and go back to those two days. It would be cool if we knew what happened, since you've now mentioned both hotels and hotel damage security deposits. Just one thought as a reader." – ALL OF YOU.
Your thirst for erotica was noted. Honestly? I love that about you. However, I'm not about to write erotica, so I've instead collected the subjectively best Carol fanfic lines I could find on the internet. Please enjoy.
---
"OW!" [Therese] shrieked. "That hurts."
Carol looked up, and this time registered how tight Therese was. Two fingers barely fit and caused pain…
"My sweet girl," she said and kissed her. Then Carol grabbed Therese's hand, fingers still inside her and said, "You're doing wonderfully. Please, don't stop."
…
Suddenly, Carol's body seized and shook — her lips on Therese's right cheek where she let out a moan in a pitch Therese had never heard before. A tone so beautiful, Therese thought she might as well have been listening to a full string quartet.
"I never told you, but I sometimes pictured you as a hot nurse coming into the room and taking care of an old lady like myself. This was so amazing, I love you so much darling."
Therese blushed when she heard those sexy words being whispered in her ear with that incredibly velvety voice of her lover. Just a few dirty words were always enough for the brunette to get incredibly turned on and horny. She did have some positions in mind that they didn't use very often but that she always enjoyed to the maximum.
…
(Therese in a nurse's outfit) "Mrs. [Aird], I'm so glad to see you. I heard from my colleague that you've been a bit ill the past few days, and I'll be taking good care of you." Carol couldn't speak, she was stunned at the boldness of the younger girl. She had been feeling a bit under the weather lately, and she was happy to let Therese take care of her. She could only nod in response, and swallowed hard as the younger girl walked up to her.
"Follow me, please." Therese whispered hotly into Carol's ear and she could feel the older woman shiver. She was completely submerged into her role now, and she wasn't going to back down. Oh, she'd take care of Carol alright.
[Carol] pounced, actually pounced on me, grinding her hips down into mine, kissing up my neck and biting on my jaw. "… And I can't wait any longer.'
"Jesus Christ."
"Oh please. Carol will do."
"Damn, baby. I'm sad that I missed being able to watch all of that masturbating."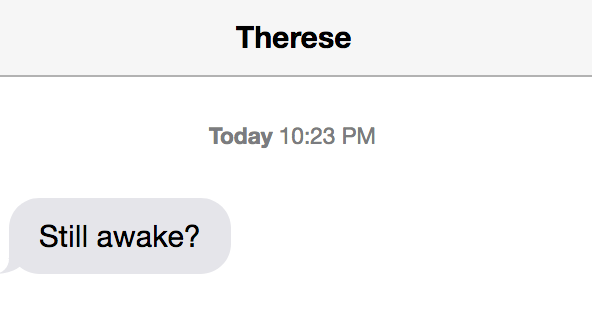 …
"I went to eat with a friend, spent most of my afternoon with her. Now I'm taking a bath."
"No wonder why you sound so relaxed." There was a pregnant pause. "Hold on, a bath or a bath?"
Carol's eyebrows furrowed in confusion until the meaning of Therese's words clicked in her brain. "Just a bath, though you can never tell with these things." Her voice had lowered to a whisper.
"Think about me if it turns into the other," she said unabashedly, nevertheless, she knew she was blushing, feeling nervous because there was still a chance, even if minimum, of rejection.
Carol bit her lower lip, feeling a pang of arousal in her belly. "I need visual stimulation, you know."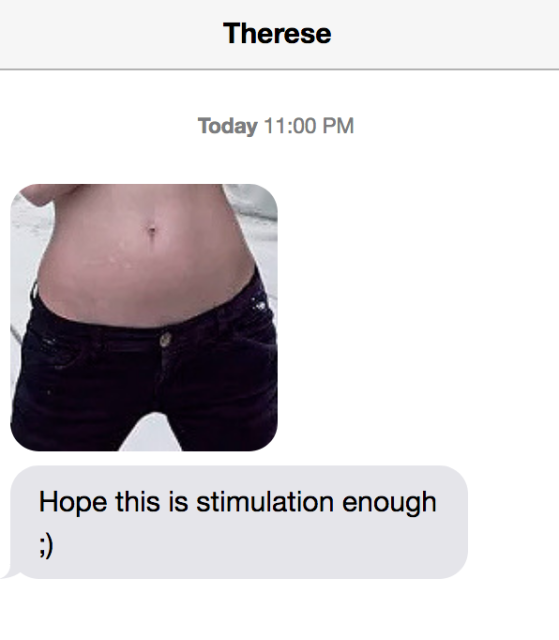 …
Throwing her head back, Carol laughed richly. A contagious laugh that made Therese laugh too. "Are you seeking for praising, angel?" she raised an eyebrow, an amused smile as the remains of her previous laugh.
"No, I don't actually need it." She kissed her. "I also have proof of that with all your moaning."
She could feel Cate's soft breathing underneath her hand as it went up her stomach and reached close to her breasts. She wanted to go even further, but she was afraid it would wake up the blonde. So, she lowered her hand but she could feel the other woman's hand covering her own suddenly. She panicked; had Cate felt her hand coming close to her breasts?
"Roons … don't stop please. It feels so good."
…
"Are you enjoying the view darling? You're in for a treat, babe." Cate winked, and then slowly pulled down her thong.
Wrapping her arms around Therese's bottom, Carol effortlessly stood and, while carrying Therese, walked to Therese's desk to sit Therese down on the desktop and position herself between Therese's legs. Carol looked up to meet Therese's eyes. "My, what a bold girl you are."
"And now, we're lovers?" Therese panted and brought her hand up to clutch at Carol's neck, to pull her pretty face down closer to her own until their foreheads touched as they rode each other and the entire world became their eyes.
"Yes, I suppose we are. Although really I think we always have been. Don't you?"
"Yes," Therese whispered and closed her eyes against the light but continued to feel it on her eyelids and even on her lips as she smiled. "I do."
Carol grinned, and was just reaching out her other hand to weave her fingers into Therese's hair when her portable phone rang. "Shhhhh…" Carol whispered, and grabbed the phone from her pocket.
"Hello? Dr. Aird here," Carol said, holding the phone with her left hand while still handling Therese's crotch with her right. Therese stared at her, stunned by her uncontrollable lust for Carol, whose fingers and thumb were still gently moving between her legs. "Mmm-hmmm, okay, so what did the resident say?" Carol continued talking as if nothing was amiss. "Alright, I'll come talk to them. Maybe we can discharge the man home for now and set up a referral. Okay, bye."
Carol put her phone back in her pocket and released her grip on Therese. "Duty calls, babe," she said casually.
Cate gently pushed her on the bed and crawled over her. She started kissing her neck and biting her jaw. Rooney was already finding it hard to breathe normally. She hadn't completely realized what was happening yet. It was like being in a dream in which you see something happen to you but you know it can't be real. But the woman moving over her was real. Her hot skin under her hands was real. Her wet lips on her mouth were real. Her wonderful perfume pervading the place was real. It was really happening. She was truly in bed with Cate Blanchett.
…
After they both reached something that was dangerously close to heaven, under the work of each other's tongue and fingers, they were lying in bed trying to catch their breath.
"My God, that was…" Rooney said stunned, slightly panting. She couldn't even find the appropriate words to describe what she had felt in those moments.
"I know…" Cate replied a bit incredulous, too. "Have you ever… I mean, before me… have you…?"
"No, never…"
"Then, my dear, you have a natural talent for this" she said smiling slyly.
Rooney smiled embarrassed.
"But tell me…" Cate added, kissing her softly "Am I a better kisser than Catherine Zeta-Jones?"