The internet is made of cats, and thank goodness, because that means we get to have approximately nine million cat fonts. That's an estimate, but I bet I'm pretty close. I rounded up 30 free cat fonts because you need them in your life, and with that many choices, you can have your pick of the litter. You're welcome.
---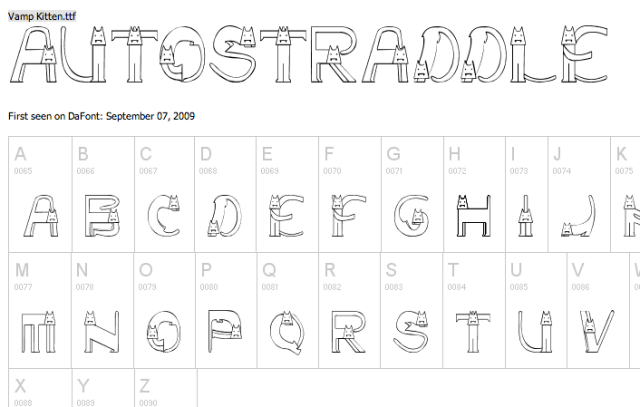 I can't say for sure why this kitten is a vampire, but she is. One of the best thing about cats is how bendy they are. I truly believe this to be a very realistic depiction.
---
Guys, "M" is two cats holding paws. Holding paws!
---
The title of this font is what you're going to get. Pretty straight-forward, there. I'm getting creepy vibes from "O," though.
---
No one can say for certain what makes this cat "bad" because he looks pretty normal to me. Eyeless, but other than that, pretty normal. If he was like, scratching the couch while maintaining eye contact, I could see the badness level, but hmm.
---
Because when you write out "the darn cat gets paw printz all over everything," not every letter is showcased?
---
Please note that this font is lower case only. How cute is that?! That makes them all kittens, right? little baby letter kittens.
---
This seems to be a pretty hit or miss font, like what is going on with "I" there? But "P" is super great, so we'll let it slide.
---
Can't argue with that logic. I do appreciate a good kitty in heels, though. Wait! Kitten… heels… DO YOU GET IT.
---
Ali let me take over her column for the weekend, so this one is special just for her.
---
I'm not sure who Addie is. Do you think La Vie Dansante just took pictures of her cat and made it an abstract font? Because that's what I think.
---
This one was a stretch but it had cats, so, here you go.
---
The cat on the head, the cat on the head! THE CAT WEDDING. This is truly the greatest of fonts.
---
Everyone is just jealous I have this font, clearly.
---
Dalmation cat. Or are they heart polkadots? Do you think that's a dead mouse hanging out of her mouth with the letters on it? Consider this.
---
8-Bit Cat Treats. I think the ones with the fuzzy side are strange, but you do you.
---

I want to say the letters are made out of Swiss cheese. Do you agree? Am I way off?
---
I see what you did there, Katz, and I heart it.
---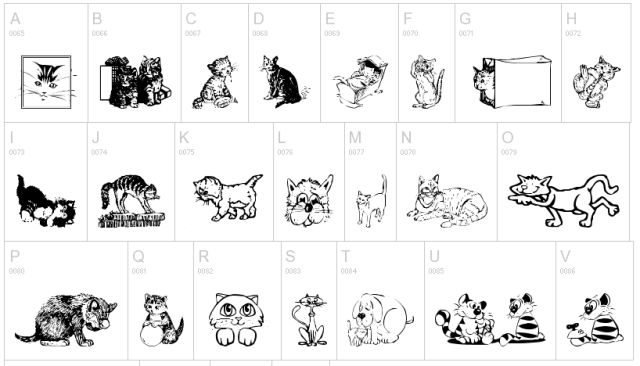 The sheer range of illustrative styles boggle my mind on this one, but look at "T." That cat and dog are best buds!
---
Perhaps it is called CatBats because all cats featured have large ears? Can't be positive here. That last cat doesn't look happy about being a font, though.
---
YOU: Whatcha up to?
ME: Oh, you know, Catstuff.
---
All the kitty faces on everything! Sometimes tails, as well. Paws? Got 'em.
---
Karen goes to great lengths to give us a broad range to work with here, including but not limited to: cats wearing clothes and a cat about to lick its own ass, for sure.
---
So many horizontally flipped choices! I'm not sure what happened to "m" and "n" but I'm worried for them.
---
For those times you just really need a leaping letter, "M" has your back. Also, I think "O" is a cat hanging out with a pillow on a fence, waiting up all night to serenade you.
---
I'm skeptical about calling this a crypt, because those cats all look pretty alive. Except "r" and maybe "M."
---
Download this one immediately, you need it.
---
In case you're wondering who wins this competition, just know that the dogs are all lowercase.
---
Gosh, I'm so glad this font allows me to use pictures of cats wearing clothes and also whatever "J" is doing there.
---

There's a cat on those there letters.
---
Any that I missed/should immediately know about and exclusively use?
This has been a special hijacked ninty-first installment of  Queer Your Tech with Fun, Autostraddle's nerdy tech column. Not everything we cover is queer per se, but we talk about customizing this awesome technology you've got. Having it our way, expressing our appy selves just like we do with our identities. Here we can talk about anything from app recommendations to choosing a wireless printer to web sites you have to favorite to any other fun shit we can do with technology. Header by Rory Midhani.