This post was originally written in 2017 and has been updated with current links for 2018.
---
If you wanna give your money to actual LGBTQ people this Pride season, have I got the thing for you: it's called THE INTERNET, and it's chock-full of queer people who have designed and produced their very own t-shirts that you could  potentially purchase for yourself and wear to a Pride celebration or really anywhere t-shirts are worn.
Unlike the big companies who are able to churn out holiday-specific gear and then dump the remainders into landfills or whatever, most independent merchants don't have the capital or the customer base to do Pride-specific apparel. But that doesn't mean they're not making t-shirts that are still very Pride-appropriate. Also, we somehow manage to come up with lots of queer and feminist merch ideas that don't involve rainbows! Imagine that.
---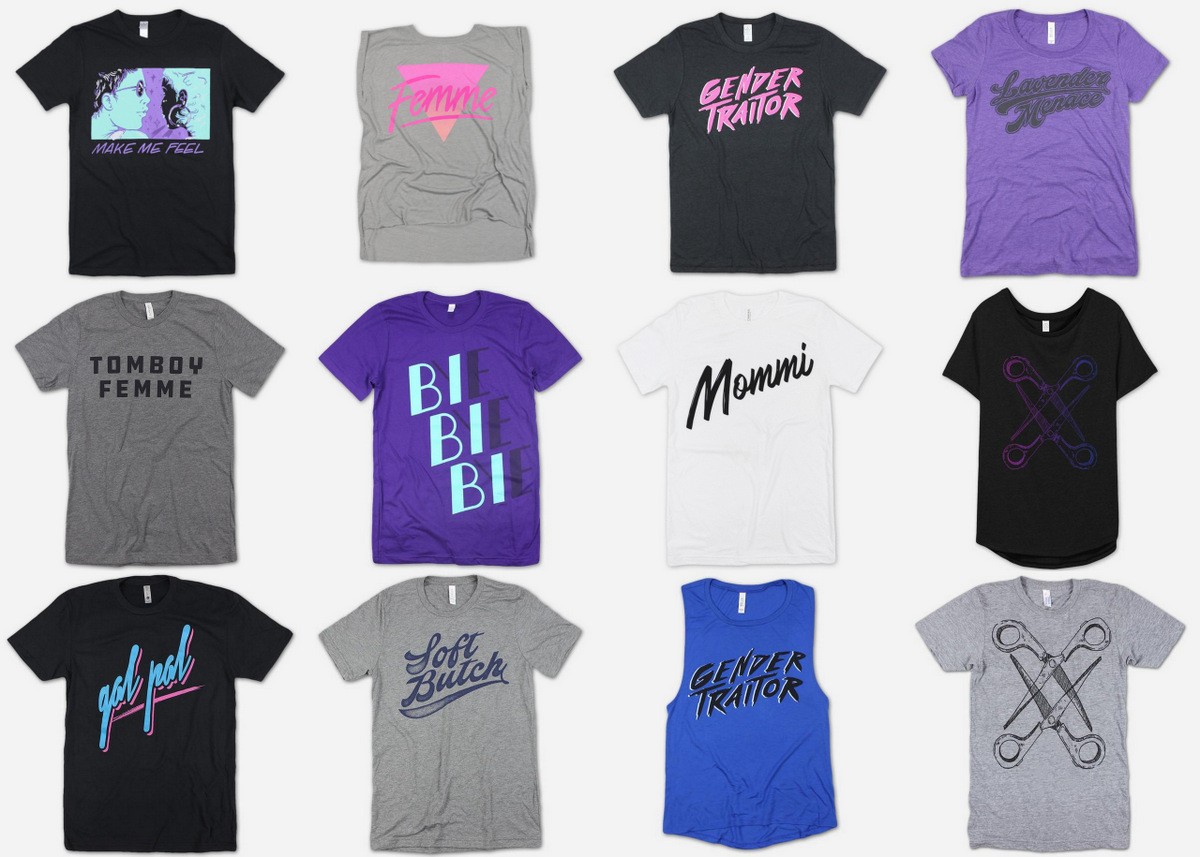 Up top is our #1 most favorite store on the entire internet. There is no other store in the world that will make you as happy as the Autostraddle store. The people who you support by shopping at the Autostraddle Store are some of the best people to have ever existed in the world! Wow, where do I begin?
We've got brand-new Make Me Feel Tees and Femme Tanks, Mommi tees and a Tomboy Femme re-design. Last summer, our Gender Traitor t-shirts and Gender Traitor tank tops FLEW OFF THE SHELVES. All these shirts look great on a body that contains a head that contains a face that is pretty bummed about Wells Fargo sponsoring Pride. We just ordered a bunch more to re-stock 'cause they've been so damn popular.
Our Lavender Menace t-shirts, which come in Unisex cut/sizing and a ladies cut/sizing, are a throwback to a time when Feminism considered lesbians to be a PROBLEM rather than THE COOLEST and therefore called us a "Lavender Menace." There are so many possibilities in the Autostraddle store, wow!
Oh and by the way if you've ever wanted to be twinsies with your #1 idols, you should get a Gal Pal t-shirt, which is frequently spotted on the torsos of superstars including Samira Wiley, Brittani Nichols and Gabby Rivera. Just saying!
I could go on and on because there are so many shirts from Autostraddle that will pop at Pride, but you can make your own choices!
---

Another great store on the internet is the store of Everyone is Gay! Now operated by Kristin Russo, who full disclosure is one of my best friends and also makes videos for Autostraddle and co-directs A-Camp, EIG works to improve the lives of Lesbian, Gay, Bisexual, Transgender, Questioning/Queer, Intersex, and Asexual (LGBTQIA) youth using a three-pronged approach: providing honest advice to these youth while keeping them laughing; talking to students in an effort to create caring, compassionate school environments; and working with families & educators of LGBTQIA kids to help foster an ongoing dialogue and deeper understanding. Buy this stuff to support this work!
---
Magic Hour sells candles and other goods including Queer Witch t-shirts from Brandie Taylor, a "light bringer and spiritual artist specializing in astrology chart readings, intuitive tarot readings, healing flower essence blends, and intentional ritual candle making."
---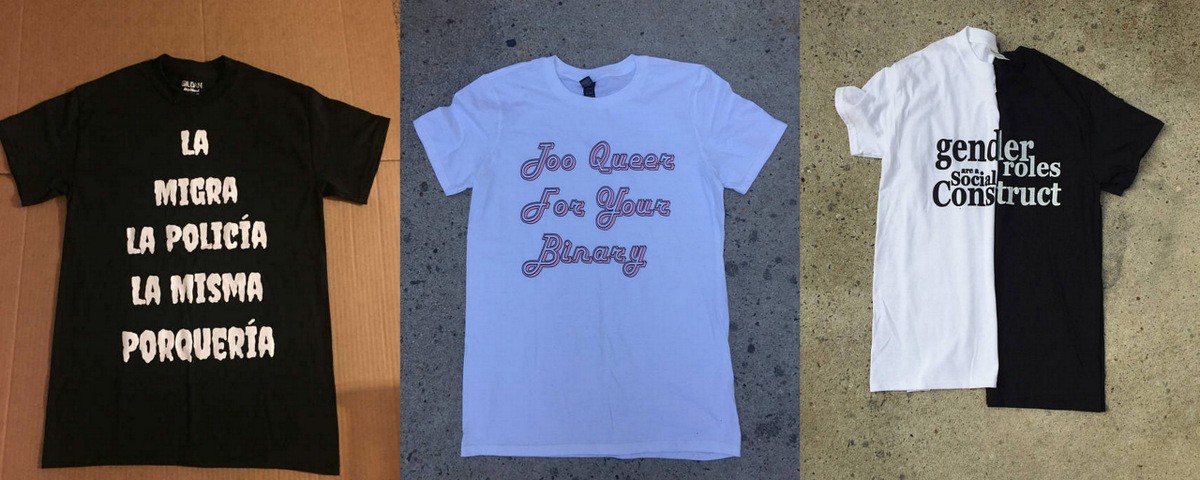 Ramiro Alexis Gonzalez, the artist behind Jotx wear, is a "butch queen addicted to clothes and coffee." They aim to "use bold, simplistic affirmations and anti-hegemonic statements [in order to] transform simple t-shirts into statement pieces that disrupt time and space; sparking critical conversations of change and education."
---
Show your devotion to lesbian jesus with this iconic tee, inspired by the viral YouTube hit "Girls Like Girls." You can also pick this sucker up as a tank top or hat.
---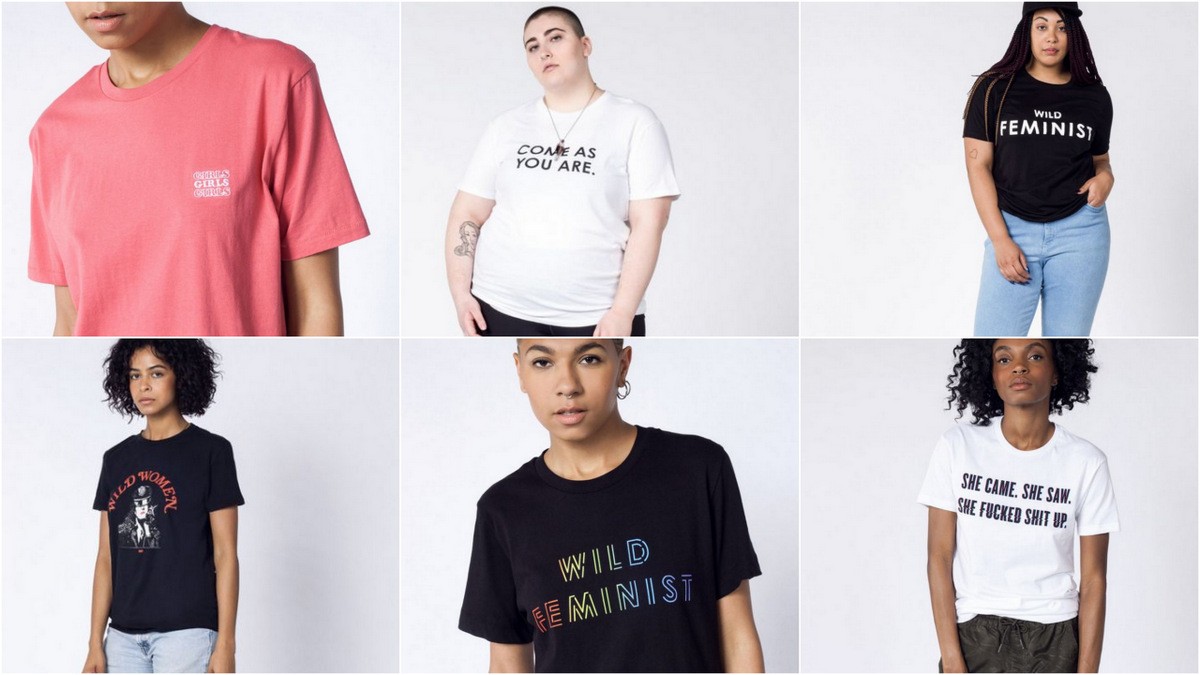 These self-described "modern-day, female Robin Hoods raiding men's closets and maniacally dispensing blazers, cardigans, wingtips and bowlers" launched their dapper-tomboy brand in early 2013.
---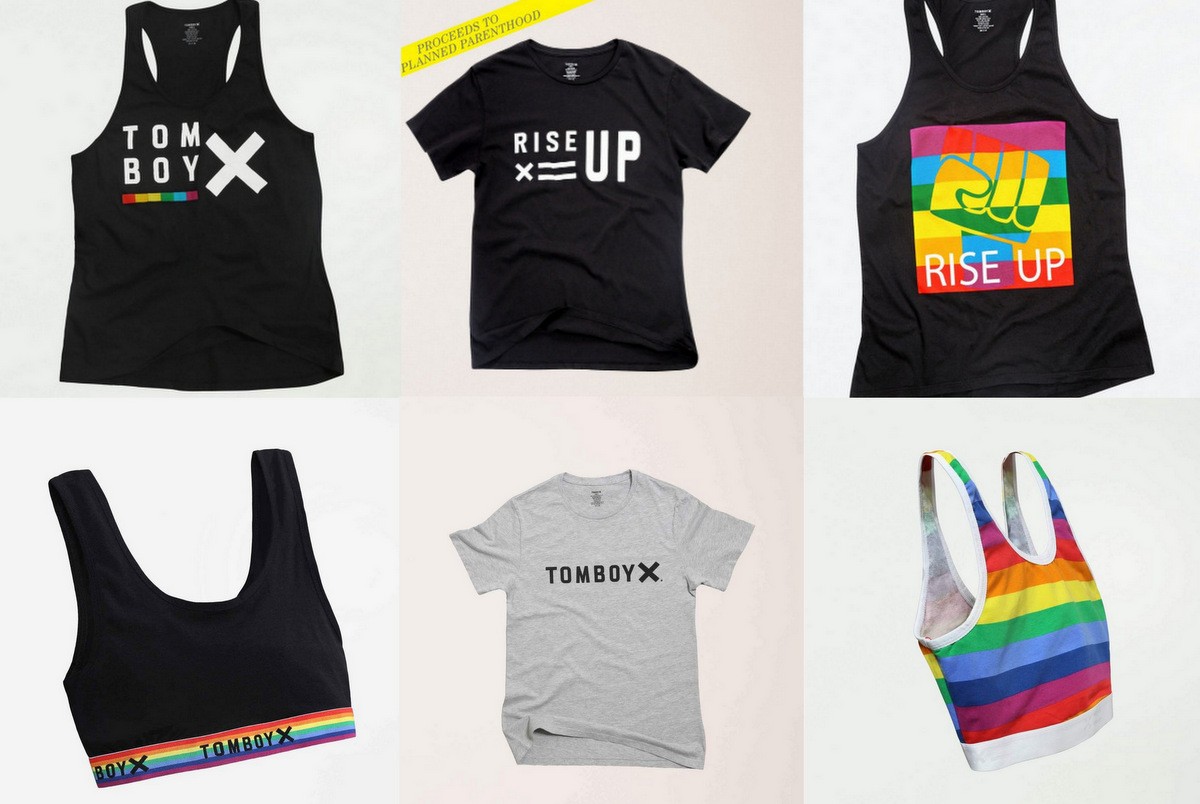 Tomboys Fran and Naomi invented TomboyX to create "men's style" underwear that fit women's bodies, and their success encouraged them to create a whole range of apparel, including these very Pride-appropriate t-shirts!
---
Between the Lines was started in Australia by "one lesbian who loved buying men's clothes." The "LESBIAN AF" tee in the collage also comes in other identites, like Bi, Trans and Queer.
---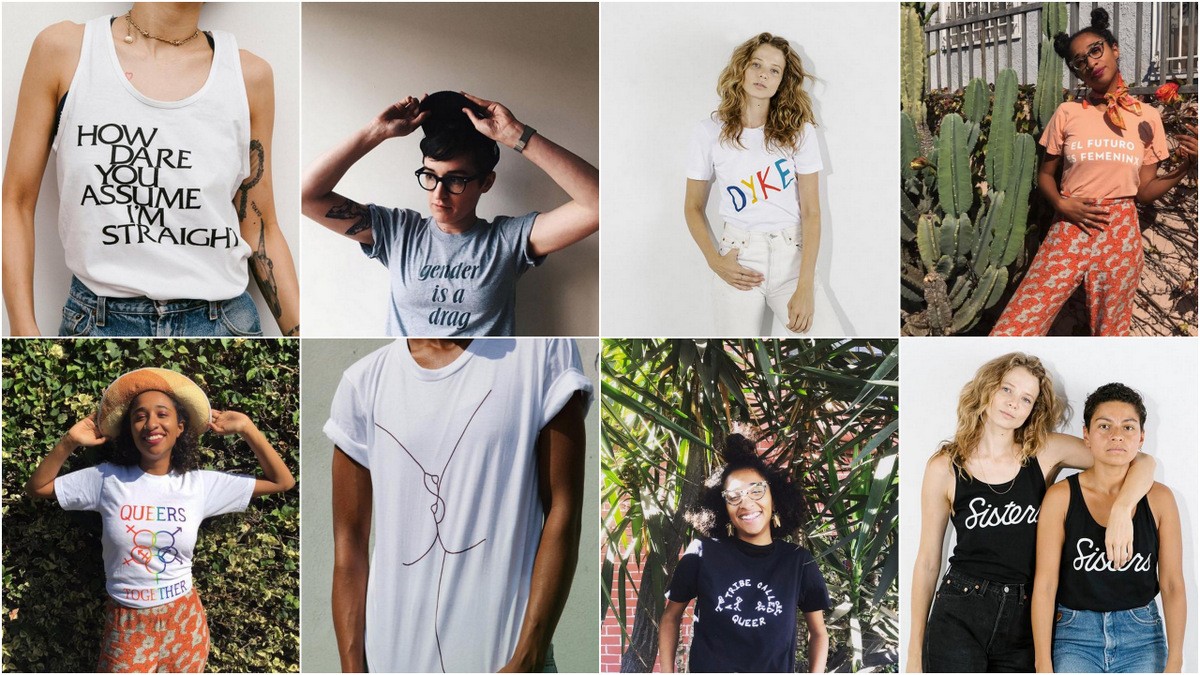 Marisa Suárez-Orozco and Rachel Berk's boutique/graphic design studio got born in Los Angeles in 2012 and opened a second location in New York in May 2016. Marisa has since left the company but Rachel continues overseeing the brand's expansion, which sells wares from over 100 indie makers in stores and online as well as offering an inclusive space for the LGBTQ community, hosting workshops, readings, and parties. "Otherwild caters to the outsiders, the ones who are out-of-the-box and living life by their own rules," wrote Fusion earlier this year. "It's a place where feminism and LGBTQ pride is celebrated, not side-eyed."
---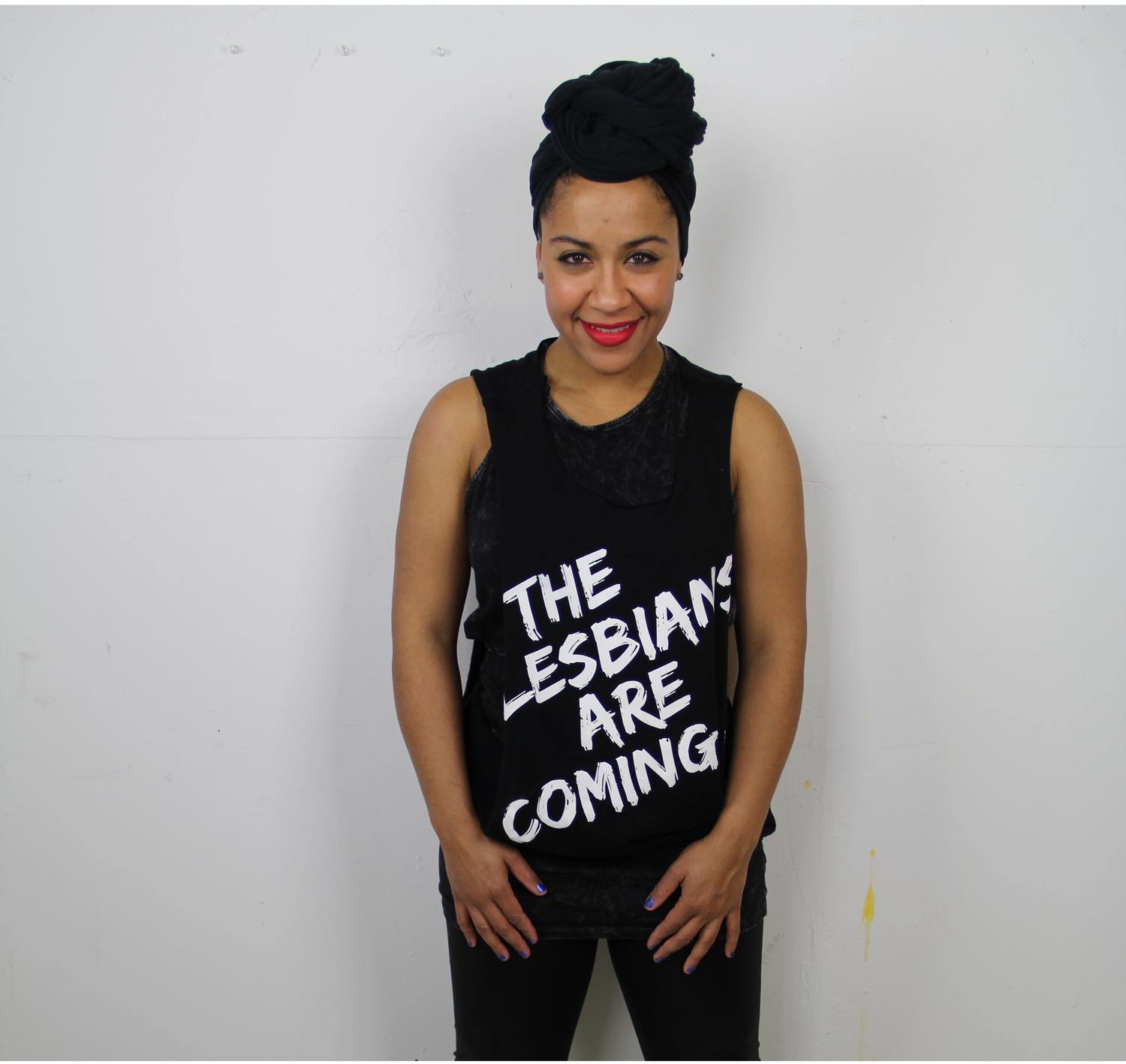 This t-shirt was designed by Jenny Cunningham, a dancer and artist and doula who lives in Brooklyn and draws a lot. She also made a really cool line of greeting cards for queer women of color you can buy for your girlfriend if you want!
---
A percentage of every sale made by trans blogger/activist QuingNorelle's apparel line goes towards Werk Those Pecs, a surgery fund for trans folks.
---
100% of the proceeds from these tees go to the Tegan & Sara foundation, which "fights for economic justice, health and representation for LGBQ girls and women."
---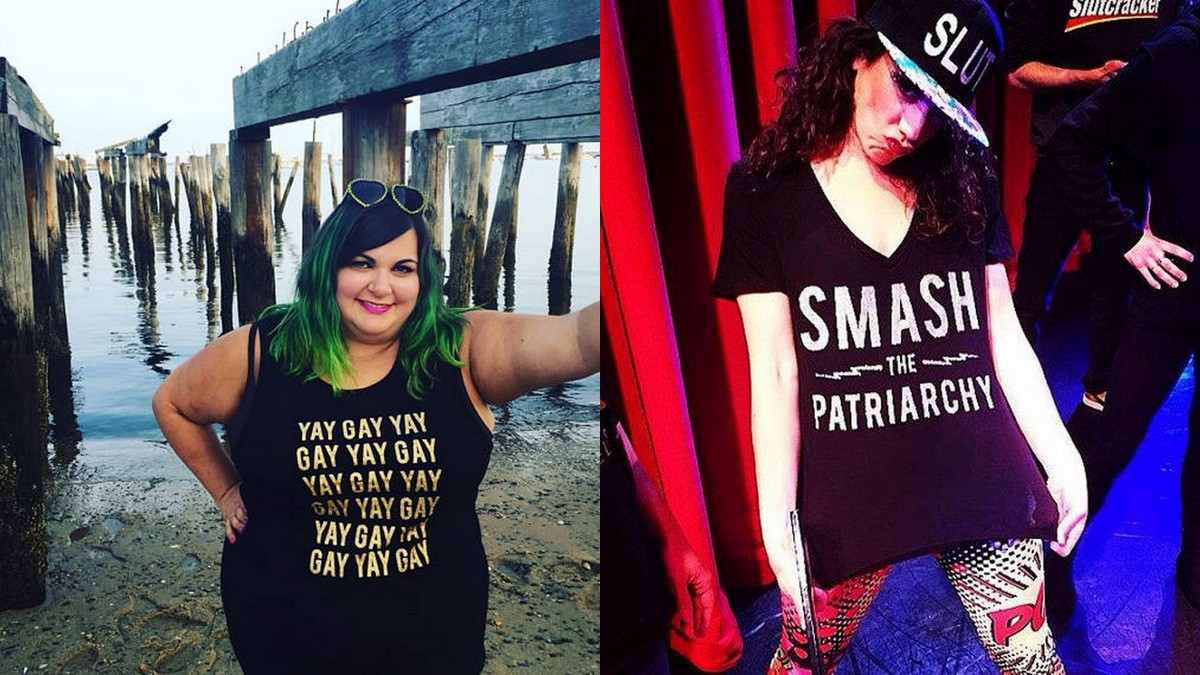 Boston-based maker Femme Brulée is a burlesque performer "known for her over-the-top costumes and props," and as the founder and coreographer of the Glitter Bombs, Boston's Premier Strip Hop Troupe. Her glittery store offers pasties and earrings as well as t-shirts.
---

Buffering the Vampire Slayer is a podcast hosted by Kristin Russo and Jenny Owen Youngs, who both are in love with Cordelia. Bonus: this shop is on Hello Merch, so you can pick up merch for Buffering as well as Autostraddle and queer musicians like the aforementioned Jenny and also Julia Nunes.
---
FTM Detroit is a community-based group made by and for transmasculine identified people in the greater Detroit area. My Mom met these guys at Ferndale Pride two years ago and they gave her t-shirts and stickers to give to me and it warmed my damn heart.
---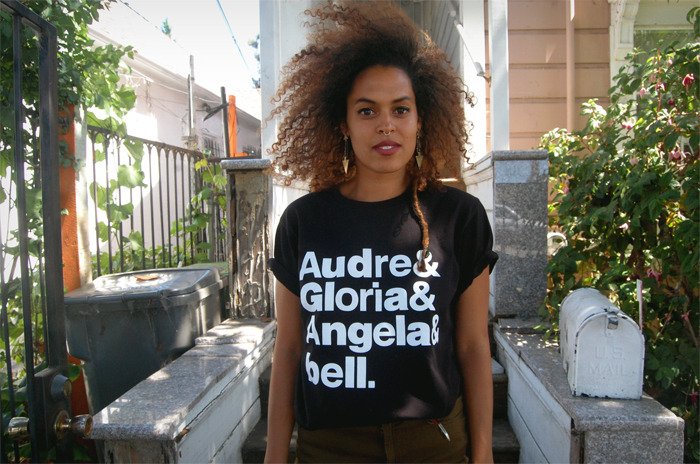 "The Goddesses" t-shirt celebrates queer icons Audre Lorde, Gloria Anzaldúa and Angela Davis as well as our other fave bell hooks. You may as well pick up a "Butch Please" hat while you're over there!
---
Demian Diné Yazhi' is a Portland-based artist and transdisciplinary warrior whose work is "an archivalization & exploration of memory formation, landscape representation, HIV/AIDS-related art & activism, gender / sexuality, & indigenous survivance." Demian is also the founder of R.I.S.E.: Radical Indigenous Survivance & Empowerment, an Indigenous artist/activist collective.
---
Revel & Riot, an LGBTQ non-profit organization, sells t-shirts with specific messages, inspirations and intentions, often in collaboration with artists like Tegan & Sara and sometimes with a portion of proceeds going towards other LGBTQ non-profits.
---
Selling "fierce dapper stud style" and "tomboy-style clothes," Haute Butch features suits, vests, watches, belts, footwear, briefs and so much more at their online store. Karen Roberts, a U.S. Navy veteran, opened her store in April 2012 with a focus on becoming "a clothing, footwear and lifestyle destination for butch women, studs, bois and transmen who prefer 'menswear' inspired finishes."
---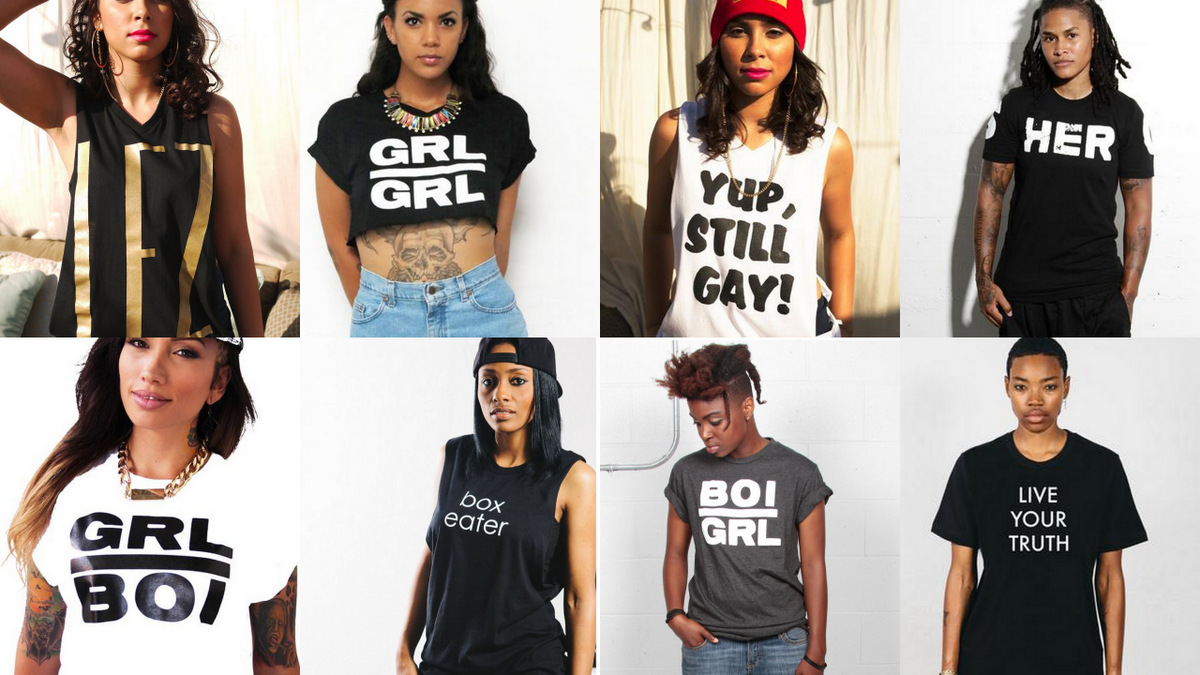 Owned by QPOC couple Stoney Michelli and Uzo Ejikeme, DapperQ describes Stuzo as "a line of androgynous, athleisure, and Cali-casual-cool style."
---
According to our very own Cecelia, "Jacob Joyce's Femme Supremacy shirt is my favorite piece of clothing and I wear it at least once a week. Also, their zines will make every queer person of color cry, laugh, and rage with feeling."
---
Kiernan Dunn is a printmaker and zinemaker based in New Orleans!
---
Queer Supply aims to "make space for marginalized people and our multifaceted identities" through its crafting, and was founded by Kit, a "queer non-binary weirdo" and Sade Petlele, a "20-something black queer femme (magic)," both living in Toronto.
SaveSave
SaveSave
SaveSave
SaveSave
SaveSave