In last week's Oscar broadcast, Seth McFarlane executed a monumentally disturbing "We Saw Your Boobs" montage which completely tore apart everything we as women hold dear about boobs. His inclusion of rape scenes, post-sexual-assault doctor visits and stolen private photographs as triumphant moments in the Showing of Boobs was a despicable example of the pervasiveness of rape culture and the perpetual public ignorance of it. That was seriously fucked up.
We feel like this would be a good moment to reclaim the Showing of Boobs. As queer women, we feel uniquely qualified to perform this task. See, nobody on the internet knows what they're talking about w/r/t boobs. Quick google searches for "best topless scenes" turn up predictable lists delighting over scenes designed specifically to titilate straight men (one list of "best topless scenes" included Schindler's List, if you can believe it) and screaming in agony over scenes that don't fit into the list-makers narrow definition of beauty, such as scenes in which women over the age of 50 dare to bare. We wanted to celebrate really kickass, empowering or super-sexy topless scenes, with an inevitable bias towards the queer scenes.
A note on the nudity in this post: Because we have this fantasy of people giving us money to advertise things on our website, we usually stick to a "no-nudity" rule on everything, but honestly placing little cartoon hearts over everybody's nipples for this post started to feel silly and sex-negative because like, who says nipples need to be censored? THE PATRIARCHY? In a post about showing boobs, we shouldn't be censoring boobs. Anyhow, we're still maintaining the fantasy of getting advertisers one day, so this will probs be the only time we show you any nip. I don't know it just happened. Lick it up, laides, lick it up.
In the past, we have celebrated ten movies we watched for the brief nudity. Today we celebrate something similar. You can share your favorite topless situations in the comments!
14 Great Moments In Boobery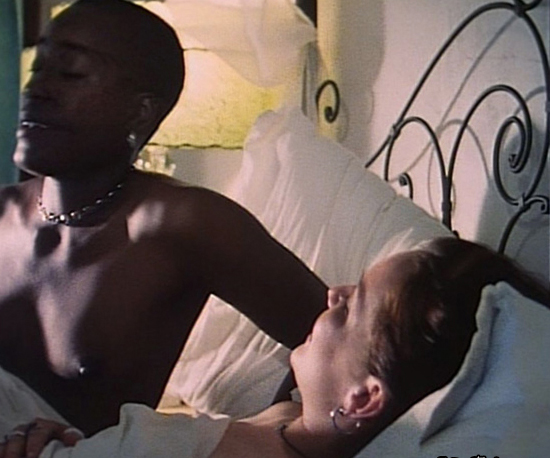 After the release of her first feature film, The Watermelon Woman, lesbian director/actress/writer told The Advocate that "it doesn't bother me to be naked on-camera. I'm buck naked in all my videos too." That's the spirit! Also, she plays a lesbian video artist determined to find out about the black actresses ignored by Hollywood history, so there's absolutely nothing not awesome about this situation.
2. Angelina Jolie in Gia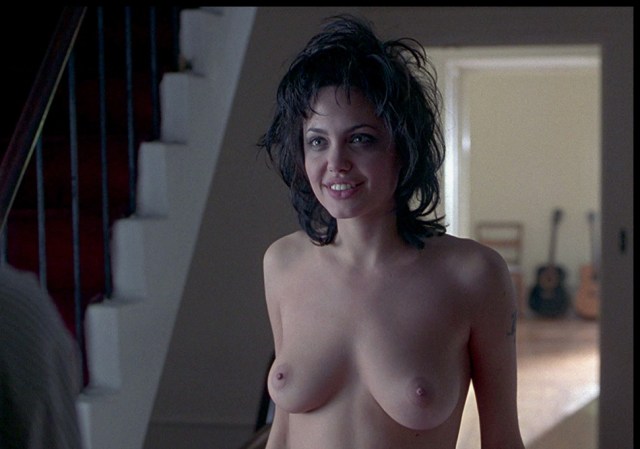 One day in the future, lesbian historians will look back on this moment as one of our early accurate representations of how shit goes down between lesbian lovers — you know, like when the girl tries to sneak out in the morning to return to her boyfriend and then somebody's in the hallway with their top off! There are lots of glorious moments for Angelina Jolie's breasts in this fantastic film, which made so many of us gay.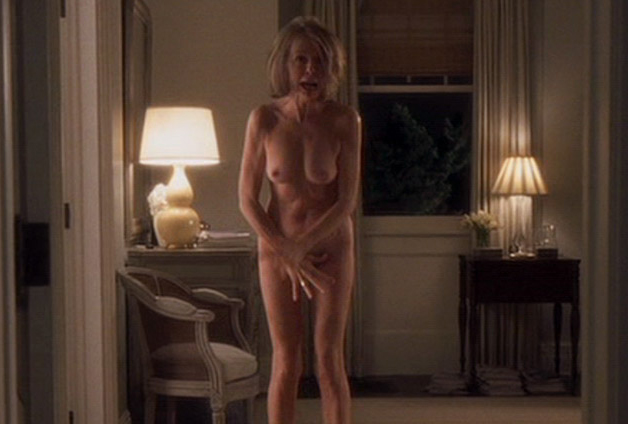 This slapsticky scene has made its way onto far too many "worst topless scenes" lists, therefore cementing its inclusion here. HOW DARE A 57-YEAR-OLD WOMAN SHOW US HER BREASTS? Because she's fucking awesome, that's why.
4. Jenny Shimizu, Angelina Jolie and Heddy Burress in Foxfire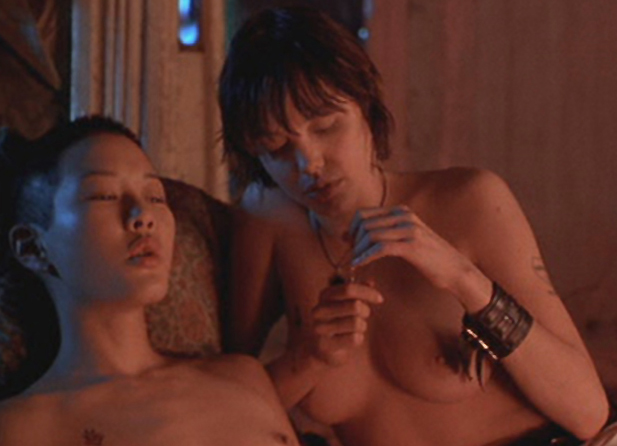 The tattoo scene is the epitome of something I thought I would never ever have: lots of girls, toplessness, tattoos, being dangerous. Like it scared the fuck out of me and made me so sad for my boring life, but I loved it obvs. NOW LOOK AT US. Tattoos, boobs, friends in weird cities.
5. Mia Kirshner in the opening credits of The L Word
Goddess bless Mia Kirshner and her fantastic breasts, which for reasons unbeknownst to us but for which we are eternally grateful, showed up in the opening credits fully naked every single week. She usually got naked in the actual episode as well, which was a nice bonus.
6. Sahara Knite w/Esme Bianco, Game Of Thrones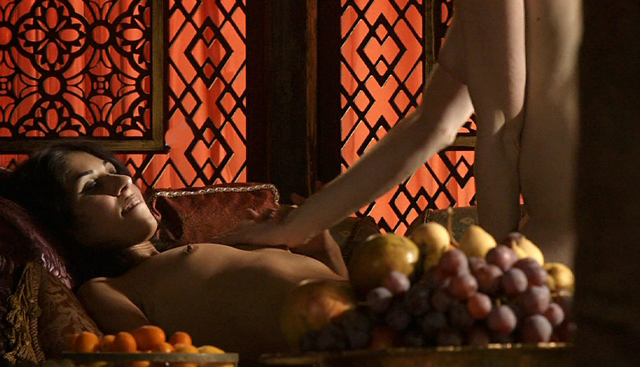 Most of the time on Game of Thrones, people are slicing each other's heads off with knives! But sometimes there are 4-minute lesbian sex scenes, like this one starring Indian actress Sahara Knite, The UK's only Muslim porn star! How about that for a cameo?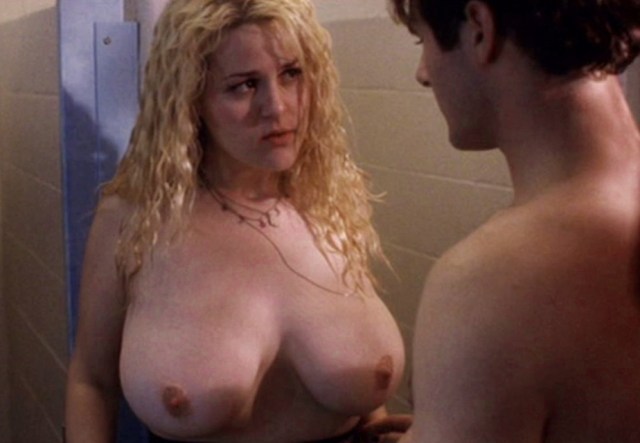 In the 90's/early 00's we were pretty much willing to watch anything that claimed to be both "indie" and regarding "coming of age." Plus it won a bunch of gay film festival prizes because Sara Rue's bestie in the movie is gay. They're both goths who flee Sandusky in search of Stevie Nicks. Oh and also, boobs.
8. Lynn Chen and Michelle Krusiec in Saving Face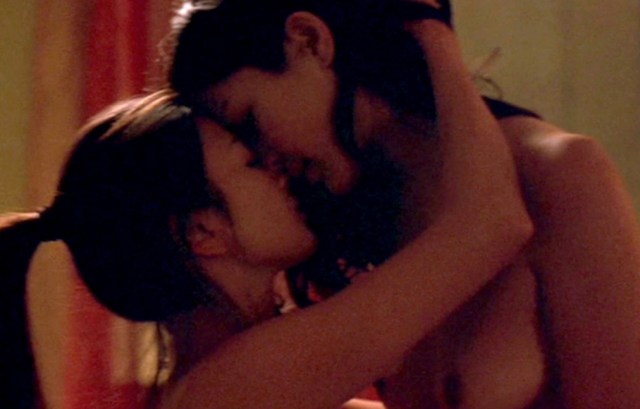 This movie, one of the best lesbian films of all time, features the most tender and lovely sex scene between its titular characters.
Josephine Baker's boobs are pretty famous, and although our memories of this 1991 HBO film are dim, and we're pretty sure it failed to properly convey Josephine Baker's bravery, tenacity and *COUGH* queerness, still, it's Lynn Whitfield as Josephine Baker, you know? In fact, Whitfield snagged a NAACP Image Award, a Golden Globe nomination and an Emmy nomination for her portrayal of Josephine Baker in this flick.
10. Lena Dunham in Girls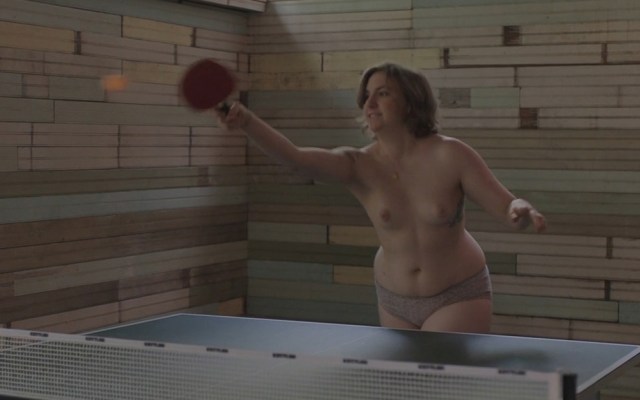 There's plenty to find problematic in Girls, but Lena Dunham's consistent nudity isn't one of them. Do you remember the moment when you realized this was the first time you'd seen somebody with an im"perfectly" proportioned body having sex on television? She's completely comfortable in her own skin and her lovers are, too, and the fact that as the writer/director, she's doing it all on her own terms, makes it especially awesome.
11. Kristen Stewart in On the Road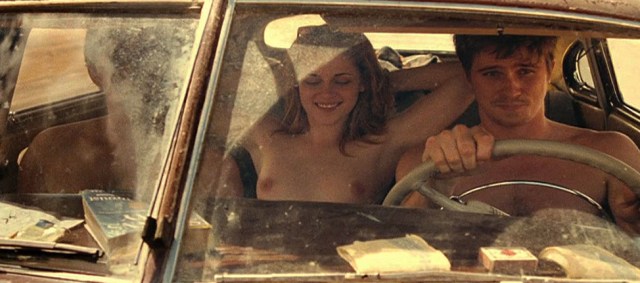 We haven't actually seen this movie yet, but definitely wanted to, and now absolutely plan to.
12. Salma Hayek and Karine Plantadit-Bageot in Frida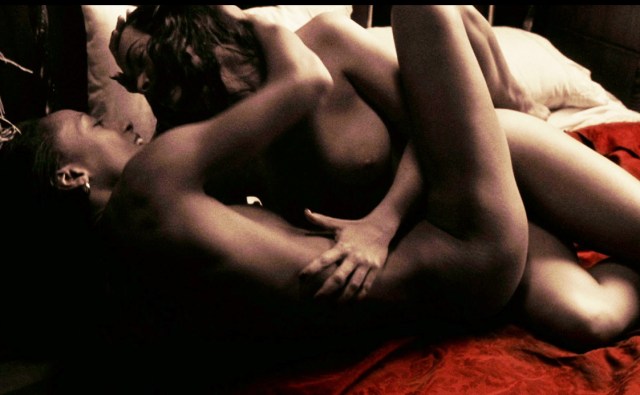 Salma Hayek's always been a confident exhibitor of her fantastic rack, and her turn as bisexual artist Frida Kahlo was no exception. We're especially fond of the love scene between Frida and Josephine Baker, played by Alvin Ailey dancer and Broadway actress Karine Plantadit-Bageot. So I guess we got Josephine Baker in this top ten two ways, so to speak. Fun fact: Julie Taymor, who directed Frida, also directed Plantadit-Bageot in The Lion King on Broadway!
13. Mary Louise Parker in Weeds
Mary Louise Parker 4ever.
14. Erin Daniels, Leisha Hailey, Alexandra Hedison, Rachel Shelley, Lauren Holloman, Mia Kirshner, Rose Rollins, Barbara Kottmeier, Karina Lombard, Katherine Moennig, Anne Ramsay, Sarah Shahi, Lauren Lee Smith, Lynda Boyd, Kate French, Angela Gots, Gina Holden, Sandrine Holt, Shay Kingston, Kristanna Loken, Alberta Mayne, Mei Melancon, Sarah Shahi, Audra Ricketts and Alicia Leigh Willis on The L Word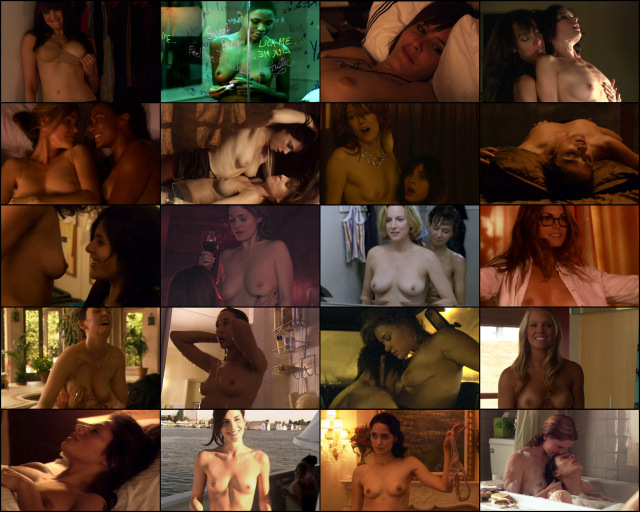 Hey look, we relate: every time we see a hot lesbian, we too want to take our shirts off, too.