Happy Sunday Funday, munchkins! I sampled over 20 types of donut yesterday.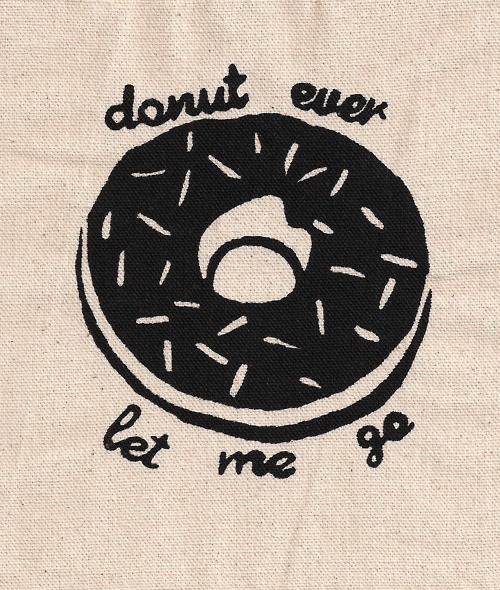 This week ahead will be possibly the brightest of all time since we'll be reading the most moving story of all time together today. But not in a cat font.
Happy Gay Glee Feelings
http://youtu.be/H0eM1TiFN3I
While chatting with Craig Ferguson on "The Late Late Show" on Friday night (above), Rivera revealed that she has a strong lesbian fan base.

"I have a lot of lovely ladies who love me, so I'm pretty excited about that," she told Ferguson.

Although Santana parted ways with her long-term girlfriend Brittany (Heather Morris) at the end of Season 3, Rivera told THR that she has high hopes for them in the long run.
Read and Write
Q-Zine wants to decolonize your mind.
The [queer fiction] collection was published in February as an edition of Q-zine, a quarterly magazine by the Burkina Faso–based Queer African Youth Networking Center. At a time when politicians in several African countries use homosexuality as an explosive wedge issue — often with the active help of the media — the magazine took on a big task when it launched in 2011: to push back on media portrayals of gays, lesbians, and trans Africans as well as to take on the cultural baggage that political organizations can't.
And if you're feeling up to it, you can submit to the Kopf-Kino Mag's second issue.
Kopf-Kino is a space in which to visually discuss youth, gender and sexuality. We believe that the word 'queer' means different, that who you fuck doesn't define you, nor does anything else.
Madonna and Anderson Cooper Same Time Same Place
Madonna's part of the big woo-hoo over Anderson Cooper going down when he receives the GLAAD Vito Russo Award. 
Just Write It In Cats
A Cat Font Generator makes messages a lot easier to read, dontcha think? Here's some quick tests:
Ode to Gaybies
+ The New York Times' first-person story of a gay couple who adopts the baby they find in the subway is the first thing I've encountered on this planet containing a child that I actually wholeheartedly enjoy and find beautiful without any reservations.
Three months later, Danny appeared in family court to give an account of finding the baby. Suddenly, the judge asked, "Would you be interested in adopting this baby?" The question stunned everyone in the courtroom, everyone except for Danny, who answered, simply, "Yes."

"But I know it's not that easy," he said.

"Well, it can be," assured the judge before barking out orders to commence with making him and, by extension, me, parents-to-be.

My first reaction, when I heard, went something like: "Are you insane? How could you say yes without consulting me?" Let's just say, I nailed the "jerk" part of knee-jerk.

In three years as a couple, we had never discussed adopting a child. Why would we? Our lives were not geared for child rearing. I was an aspiring playwright working as a part-time word processor and Danny was a respected yet wildly underpaid social worker. We had a roommate sleeping behind a partition in our living room to help pay the rent. Even if our financial and logistical circumstances had been different, we knew how many challenges gay couples usually faced when they want to adopt. And while Danny had patience and selflessness galore, I didn't. I didn't know how to change a diaper, let alone nurture a child.

But here was fate, practically giving us a baby. How could we refuse? Eventually, my fearful mind spent, my heart seized control to assure me I could handle parenthood.
+ Also, have you seen these kids acting out because they're bored as fuck at a marriage equality conference? Duh it's adorable.
HAPPY BIRTHDAY YES I AM!
I LOVE YOU MELISSA ETHERIDGE, NOW AND FOREVER. Also Meshell Ndegeocello and Kim Deal. And 1993.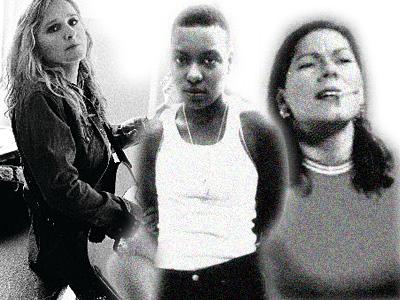 The year 1993 wasn't all great for the gays. Even though Bill Clinton had just been elected on a wave of LGBT enthusiasm, he betrayed that support by pushing for the "don't ask, don't tell" policy in the military. Antigay legislation passed the previous year in Ohio and Colorado. And a landmark court ruling out of Hawaii, with justices saying the state constitution required a compelling reason to ban same-sex marriage, actually became the impetus cited years later by proponents of the Defense of Marriage Act.

Despite the setbacks, in popular music, three albums were released in 1993 that in their own way opened the door for LGBT musicians and maybe even to acceptance of LGBT rights: Melissa Etheridge's Yes I Am, the Breeders' Last Splash and Meshell Ndegeocello's Plantation Lullabies.
Dalmations Riot Over Peanut Butter
The cutest bout of panic of all time.
---
If you'd like to submit a tip for the Sunday Funday, send it to carmen [at] autostraddle [dot] com each week by 10 AM Saturday EST. Tips for LGBTQ-related events, job postings, calls for submissions, and news from around the globe are encouraged.