The '90s were a time of intense innovation in the beverage market as the world became increasingly aware that soda was bad for you and corporations needed to find new innovative ways to sell sugar water. It was a marvelous time to be a teenager with an insulated lunchbox and a craving for the clear water only available in our sisterland, Canada. These are some of the key '90s drinks I still think about to this day and for some reason had intense personal attachments to.
---
Clearly Canadian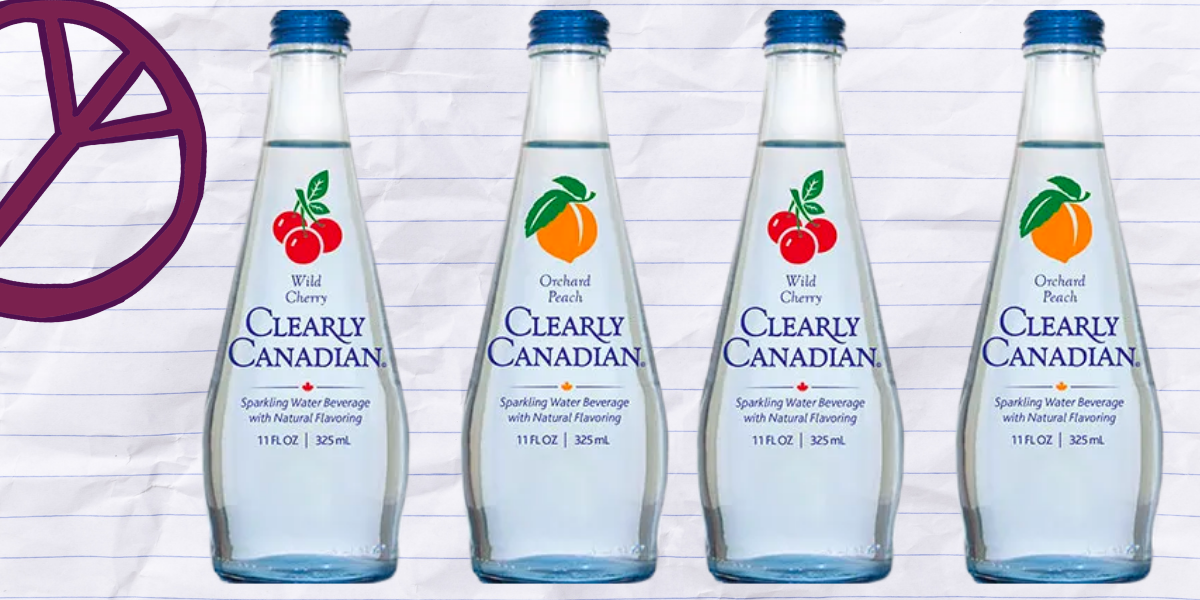 The amount of time I spent thinking and talking about Clearly Canadian in middle school is baffling in retrospect, like when I recall that we were "obsessed" with Clearly Canadian, what did that entail? What did we talk about besides which boys had backwash in their Clearly Canadians? I still recall the glimmering rows of bottles in the massive pack of CCs we'd pick up at Sam's Club, the promise of Mountain Blackberry, Orchard Peach or Country Raspberry, the familiar inadequacy of my final, warm gulps of that day's deteriorating sparkling water adventure.
Anyhow, it turns out our fascination wasn't without cause — founded in 1987 in British Columbia, Clearly Canadian is actually considered the first "new age beverage" product that precipitated the multibillion-dollar market we currently swim within. In 1993, the brand hit $155 million in annual sales, and after suffering mismanagement in the '00s, was roused back into production in 2015 at the prompting of passionate fans.
---
Frutopia
My single positive memory from a two-week stay at Blue Lake Fine Arts Camp was the gentle, psychedelic glow of the Frutopia machine we passed every night on our way from that evening's assigned concert to the purgatory of our cabins. The cool anticipation of purchasing and then consuming a bottle of Strawberry Passion Awareness, a taste which brought me deep animal comfort. Engineered by Coca-Cola in the 1990s and advertised aggressively as cool and trippy in all the teen magazines I poured over as a tween and on TV to the dulcet tones of Kate Bush and the Cocteau Twins, Frutopia was absolute garbage but unlike soda pop, I was permitted to consume it in very moderate doses. Frutopia was "not so much a produce as it is an attitude" and used the slogan "Frutopia: for the mind, body and planet." It was discontinued in 2003.
---
Jolt Cola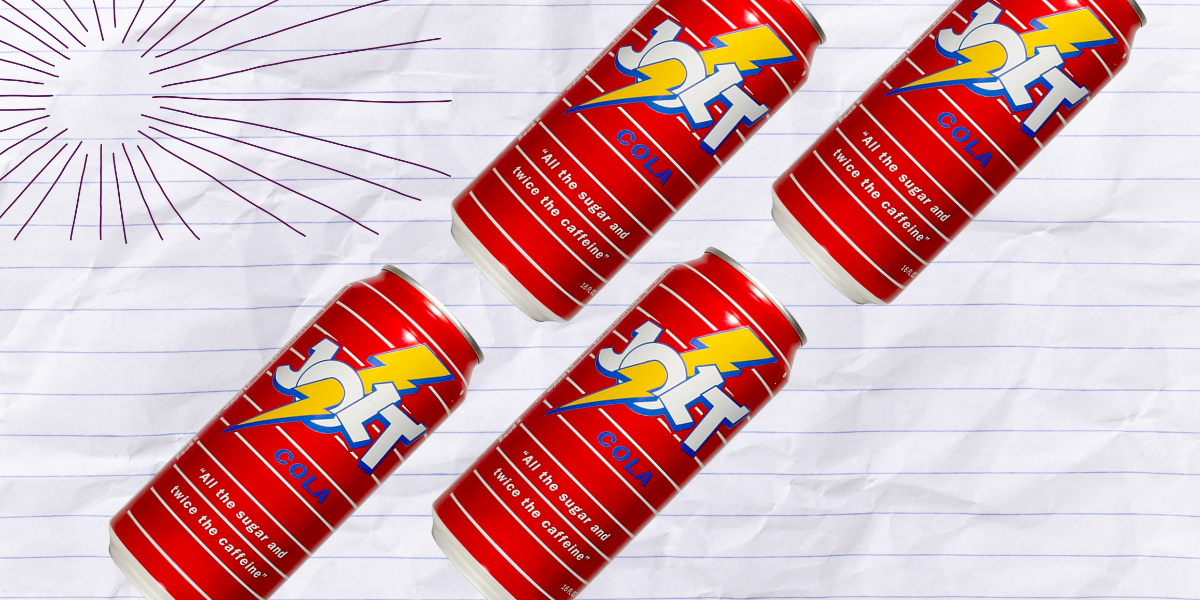 This was essentially an elicit drug and I did not consume my first Jolt until I was 14 years old, if we are being honest (and we are). I bought one (1) bottle of Jolt Cola from a coffee shop in Ann Arbor called "Not Another Cafe" (a real eyeroll of a joint aiming for the fans-of-Friends market) and drank small portions of it every night to study for my final exams, which made me feel like a grown-up. Little did I know that I was merely years away from simply snorting Vivran off my American Diplomacy textbook!!! Anyhow Jolt was created in 1985 with an "all the sugar, twice the caffeine!" slogan but faded from prominence by the 2000s, at which point it rebranded to ride the energy drink train.
---
Crystal Pepsi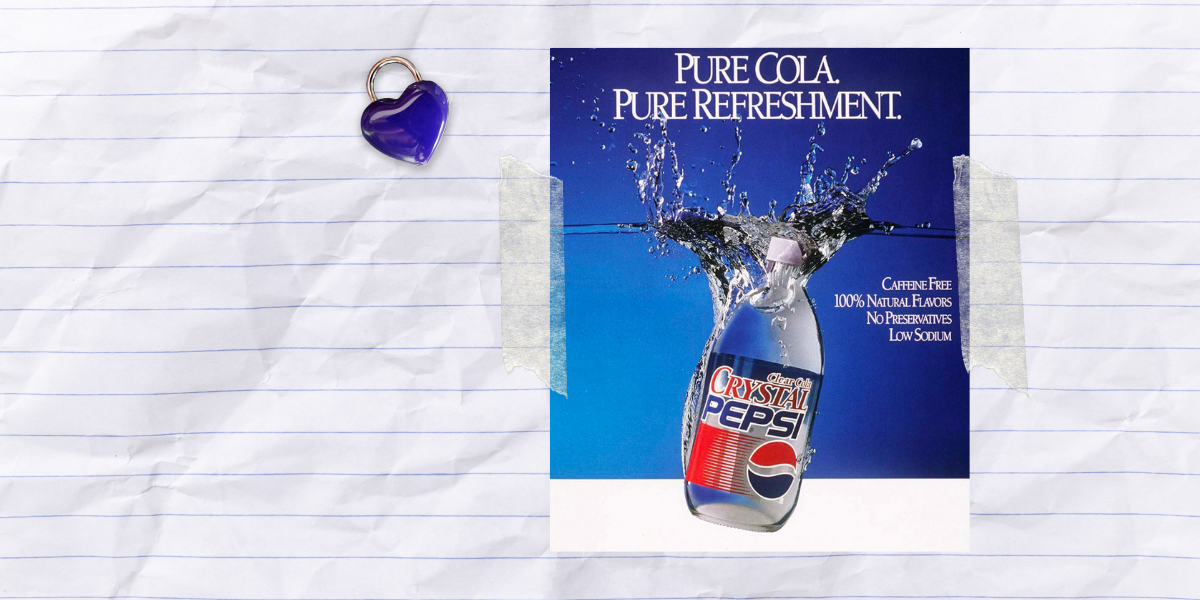 I'm unsure why we were so delighted by the prospect of Pepsi but in a different color, but apparently it was concocted in the early 90s when the "Clear Craze" was at its zenith — a trend that apparently began with clear Ivory Soap. This soda, which in my mind has always been "Crystal Clear Pepsi," was a staple of early 90s middle school sleepovers and regularly consumed with Cheez-its and Dominoes Pizza. Crystal Pepsi creator David C. Novak still considers it one of his best ideas, but cites poor execution and not making sure that it tasted good as the reason for its downfall. Personally, I thought it tasted excellent and I had no notes. It was not long for this world, being pulled from the market in late 1993 despite earning a full percentage point of U.S. soft drink sales. It didn't have caffeine in it, which I imagine was a big plus for Moms stocking up for sleepovers.
---
Orbitz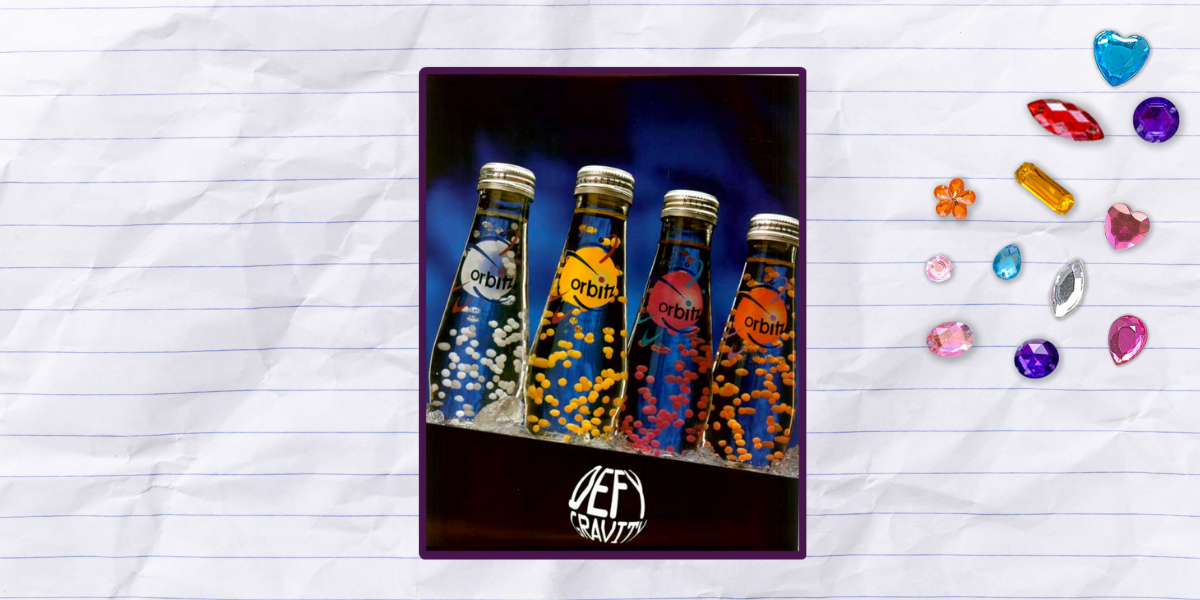 Similarly to Frutopia, Orbitz promised not simply a beverage, but an experience reminiscent of the acid our parents did in the '70s and also vaguely the concept of outer space? Founded by the same team that brought you Clearly Canadian, Orbitz existed for a brief blip of time in 1997 and promised a "texturally enhanced alternative beverage" with small floating balls of gellan gum and sugar. I loved them but I feel like everybody else thought they were gross! Apparently it develops a cult following, but Clearly Canadian told Atlas Obscura they lack the technology to manufacture the beverage.
---
SoBe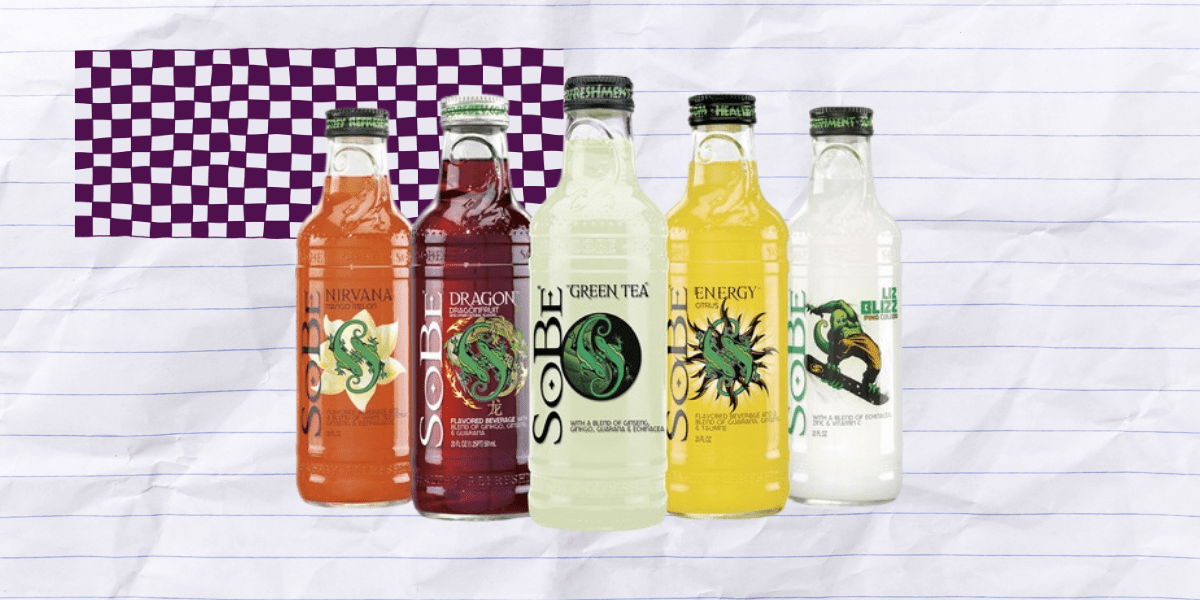 Honestly SoBe (made by the South Beach Beverage Company in Connecticut despite having a very deliberate surfing-town vibe) was never my personal jam but those lizards were everywhere, ready to surf into the stomachs of so many teenagers beginning in 1995, and went from $0 in sales to $300 million by the end of 997. It was sold to Pepsi in 2000. Somehow in my mind SoBe is deeply associated with No Fear t-shirts and the PacSun lifestyle in general. I remember when a kid in my poetry workshop put "Sobe" in a poem and our teacher was like ……
---
AriZona Iced Tea
As the 90s fumbled towards their final years, everybody was guzzling monster glass bottles of AriZona iced tea, encased in a plastic wrapper that obscured its contents. This beverage continues to be popular but at some point it just got too sweet for me!
---
Water Joe
As an unmedicated haver of ADD, I was on a perpetual hunt for new and interesting ways to consume caffeine. Much like the debut of EasyMac and those tiny dots to put on pimples, the debut of "Water Joe" felt like some inventor out there had really been looking out for me personally.
---
Snapple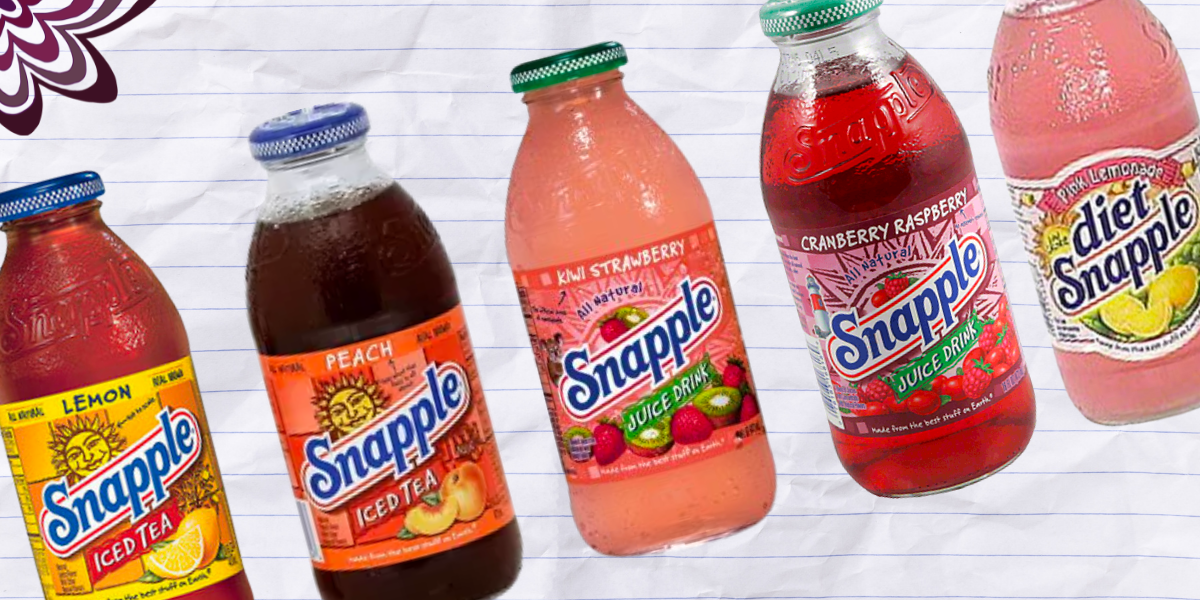 I liked my Snapple like I liked my Body Shop perfume: Peach. In the mid-90s Snapple hit its zenith, with the Snapple Lady Wendy Kaufman ads and the Real Facts under its bottlecaps which apparently contained a lot of lies. Wendy Kaufman's realness "hooked viewers and led them to believe that Snapple wasn't like Coke or Pepsi or Gatorade — they didn't need to hire Cindy Crawford or Michael Jackson to impress fans."
---
Tang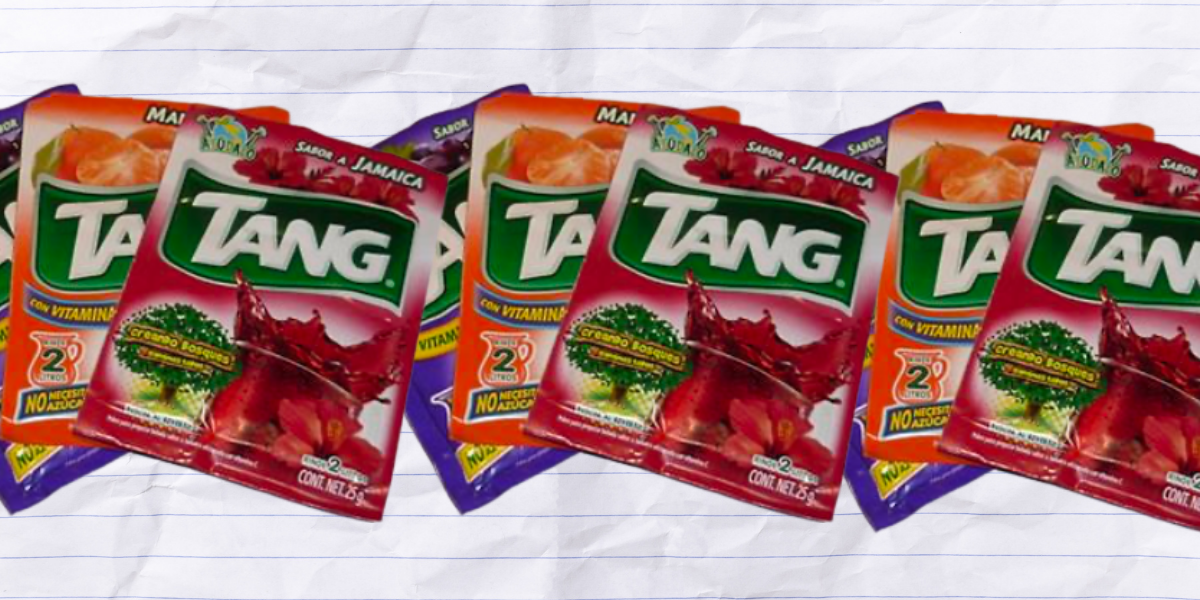 My Mom would put a scoop of Tang at the bottom of a Tupperware cup and send me off to school with everything I needed to make my own little beverage. Usually I'd save it and not drink it because the cool kids on the bus I took home liked to eat the powder raw and I would let them eat my powder in hopes of also becoming cool. Man remember living an entire life on one school bus ride??