And then it's morning, another day. The day of Cat's funeral. Tess is ready to go, but Sadie has just arrived to distract and/or comfort Frankie. She asks Frankie how she's doing.
Frankie: Great. I guess I had it coming.
Sadie: What's that supposed to mean?
Frankie: Nothing.
Frankie doesn't want to go to the funeral at all. How can she sit there and pretend she and Cat were just good friends? I don't know, actually. But Sadie does.
Frankie: Would you go?
Sadie: Yeah, I would. 'Cause I'm not a total idiot. You know what you meant to each other; sod everyone else. Frankie, if you don't go, you'll regret it.
Sadie helps Frankie get dressed, knowing the key is to just keep putting one foot in front of the other.
At the hospital, Lexy's friend Declan makes some bad jokes about the receipts for Cat's birthday presents and the fact that Sam is now back on the market for Lexy to pursue.
Lexy: You're unbelievable.
I would have gone with "prick" or "complete asshole," but yeah.
The funeral is about to start, but Frankie's still not there. Tess calls her and leaves another voicemail. Hey, there's Jay. Whatcha been up to, Jay?
Jay asks Sam whether her parents are there. But she hasn't told them yet; they're on holiday. I used to feel like I was on holiday when I watched this show.
Ed thinks about going on holiday himself, maybe in Australia. Jay says he can always visit him instead.
Jay: Yeah, I've been offered the job in London. I might take it.
Tess: What?
Jay: Yeah, it's um... you don't have to work somewhere every day where she used to be. It's doing my head in.
You're right, Jay. Sam just has to sleep in the bed every night where Cat used to be, and Ed has to be part of a family every day where Cat used to be. Shut up.
But this London thing: I guess we're saying goodbye to two characters, then? And I guess we'll never see Alistair or the architecture firm again? OK. Well, at least we know why Cat seemed so out of character last week: because all bets are off, anything can happen, and Harriet Braun has lost the plot. Literally.
The funeral is weird; the minister or whatever seems to know nothing about Cat. Tess complains about this but is too busy worrying about Frankie to care much. Jay assures her that Frankie's been through shit before and will "come out the other side" OK. Well, fine, but will I? Somewhere in all that, Tess realizes that Jay knows about Frankie and Cat. Not that it matters, since we're never going to see him again.
Ed says a few words.
Ed: Now my big sister's died, and the person I really need to call is Cat. 'Cause she'd tell me how to get through this.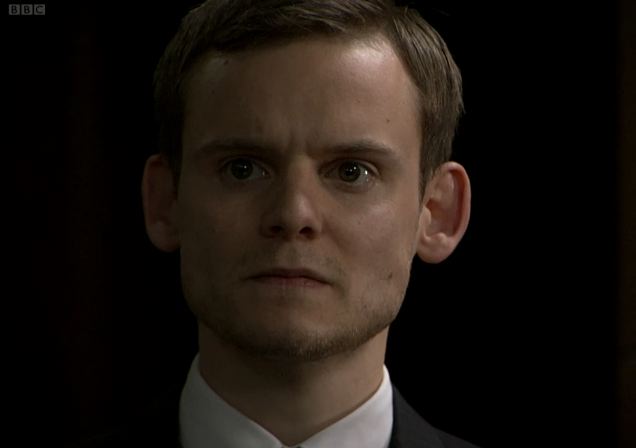 This makes everybody cry, including me.
Frankie has slipped into a pew during Ed's eulogy. But now it's Sam's turn to speak, so Frankie slips right back out again.
Sam: Cat was the best thing that ever happened to me. I thought I'd have kids with her and grow old with her. I never thought I'd be here today, saying this.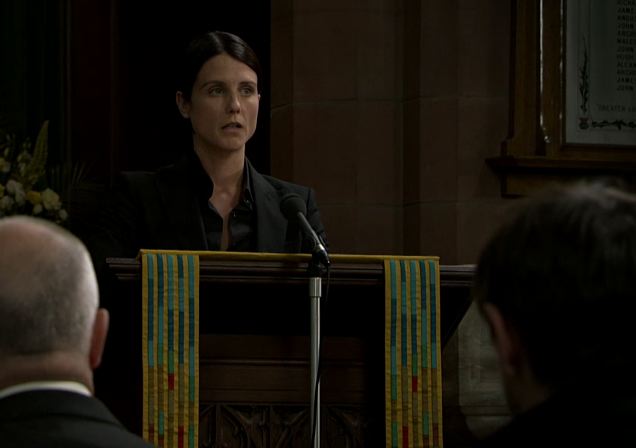 SOB. None of us did, Sam.
At a nearby pub, Frankie orders a double whiskey. Set 'em up for all of us, will you?
Cat's friends and family bury her. Ashes to ashes, dust to dust.
A very wasted Frankie goes to see her mum. She's not exactly welcome.
Alma: You can't be here.
Alma's husband, in the background: Alma, who is it?
Alma: No one.
Frankie: I'm your ... I'm your daughter.
Alma ends up slamming the door in Frankie's face as Frankie screams, "Fuck you!"
Maybe Frankie's been through some shit, but this is a hard something to come out the other side of. She goes exactly where she has to go, being a Heathcliff sort of romantic: to the fresh earth of Cat's grave.
Meanwhile, Sam is at Cat's dressing table, touching her things, remembering her. Unfortunately, she rummages through the drawers a bit and finds the piece of wood that bears Frankie and Cat's initials (the one Frankie took from their old schoolhouse last season).
That's just it: this is the Frankie and Cat show. If you don't think Cat is the center, then you must agree that Frankie and Cat, jointly, are the essence of everything. The show probably should have been called Frankie and Cat, because they are just as inseparable as Laverne and Shirley, Cagney and Lacey, or any other daring duo you can name.
Maybe even Sam is realizing that.
At Frankie's flat, Sadie finds Frankie on the floor, the dirt from Cat's grave still on her face.
Frankie: If she wasn't with me, she'd still be at work. She'd ... she'd be alive.
Oh, no. The rule of the last antecedent only works for pronouns and the law, not people and death. And anyway, the guy who gave her the cigarette is probably to blame, if you think about it. Cigarettes kill!
Sadie tries to calm Frankie down, but the only thing Frankie can think to do is to use sex as an anaesthetic, just like she used to. Sadie resists at first, but then Frankie says "Please" and Sadie sorta gets it, and/or sorta wants it.
It's a hollow end to a hollow episode. I simply would have liked to see more, much more, of Cat's one wild and precious life.
Have you read Harriet Braun's blog post about this episode? It seems she was concerned about finding a "fitting ending to a very dramatic love triangle." And of course she should be. But I don't think she quite got there.
After I watched this episode, I was too devastated to do much of anything. So my beloved and I took our dog for a walk. Here's what we came up with as alternative "fitting endings."
Do a crazy mass-confrontation episode in which Sam finds out the truth and Cat feels horrible end everybody deals with it, and then have Cat and Frankie move to NYC to start a new life so that Cat is only present for 10 minutes in every other episode but is still alive.
Go ahead and do the car accident thing, but put Cat in a very dramatic coma in fine soapy TV tradition, and then have her reawaken in episode 6 of this season, disfigured and played by a different actress but still alive. ("How different you look!" says Sam, still knowing Cat is the love of her life. "You're actually cuter!" says Frankie, always looking to trade up.)
Have Jay give Cat some bad drugs that send her on a walkabout for a couple of seasons, after which she returns with leaves in her hair, a mysterious tattoo on her butt, and no idea who she is -- and every possibility in the world in front of her because she's still alive.
Do the same horrible car accident thing, but at least take full advantage of Laura Fraser's considerable talent and cuteness for the entire episode, instead of giving us a paltry 18.5 minutes of her lively face and way too much time with her corpse. End the episode with the crash and try to start fresh from there.
(Note that the first and third options assume that Laura Fraser is still at least partly available, but guess what? She totally is! And everyone should have waited to see what would happen with the Homeland pilot before throwing out our baby Cat with the bathwater like that.)
I don't know. I get that Harriet Braun was pretty much painted into a corner, and I know this is her show, not ours. But I just don't understand why she took this route. It doesn't feel authentic. It feels spiteful and petulant.
We were all enjoying this fun, funny, provocative, soapy, gorgeously gay show, and whatever happens next, that show is over.
In closing, I would like to present a couple of quotes for your consideration:
"Occasionally writers talk about feeling like a script has come from somewhere outside of themselves, and they're just transcribing what they hear. Well, it's the first time I've ever experienced that for a full sixty pages." -- Harriet Braun
"Ilene Chaiken says she had no control over any of it because, you know, these things just write themselves." -- Me, recapping another show in which a central character was killed off for no good reason
Whatever. Lexy warned us at the beginning of the episode: when people snuff it, only junk gets left behind. Here's hoping (against hope) that next week's episode proves her and me wrong.