Making decisions is hard, and deciding what to buy when you can't tell whether an Amazon review is from a robot or not is harder. To make things a little easier, our team has come together to let you know what real queer people with real lives are actually using and wearing and what's working for them. This month we're talking about our favorite bags that can do it all. Leave your recommendations in the comments!
---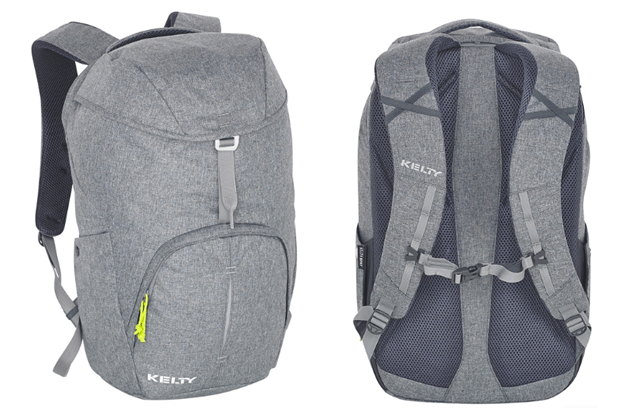 Ten years ago my best friend bought me a Kelty Redtail 1600 backpack for Christmas and that thing has accompanied me across the globe! I took it to Europe. I took it back and forth on every single trip I made to visit Stacy during our long distance relationship life. I took it to two A-Camps. And plus I take it on the train everytime I go into Manhattan. My Kelty goes with me everywhere I need to go when I'm carrying more stuff than I can fit into the pockets of my jeans. Kelty doesn't even make the Redtail anymore, but the Versant is basically the same thing. There's a laptop pocket, little pen pockets, journal pockets, plus space for about five t-shirts, a pair of jeans, and some sneakers, if you roll up the t-shirts and stuff them in a gallon-size Ziplock bag. You can fit two 64-ounce growlers of beer in here if you're riding your bike home from the brewery. And it doubles as a real nice cat bed. (Which: It's completely machine washable. Mine's been washed 30 times and it's still as green as the day I got it.)
---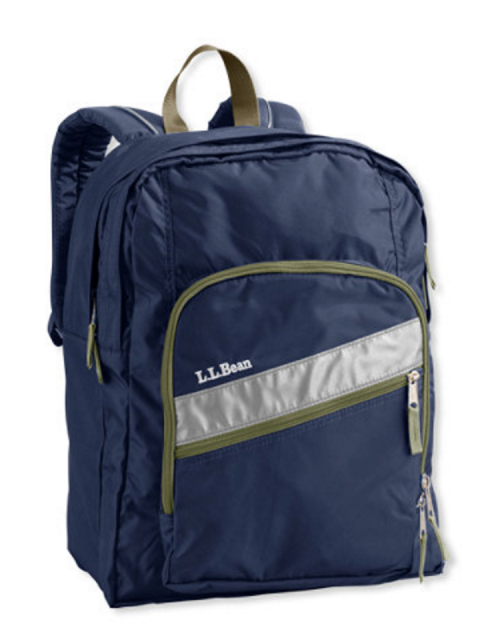 I like consistency and L.L. Bean is consistent. Ten years ago I bought a backpack just like this when I was starting a new high school, and last year, when it ripped, I exchanged it for the exact same backpack. I'm not a fancy bag carrying person; I'm strictly here for utility and this pack holds all of my stuff on my bag and keeps it safe. That's all I need. The universe is wide and vast but this backpack is my constant.
---
I've always been more of a backpack over purse fan. It's hard to find backpacks in the women's section without tassels or chains or ambitious pockets, so I usually look in the men's section for something minimal.
---
My sister bought me this bag for Christmas years ago in hopes that I wouldn't like it so she could take it instead (true story). But joke's on her, because this thing is amazing. Freitag bags are made of recycled truck tarps, so each one is a little different from the next, and the color combinations are great (mine is forest green and bright orange). I don't always want to carry a backpack around, so this is a nice alternative: holds an impressive amount of stuff, fits with my gender presentation, couldn't destroy it if you tried.
---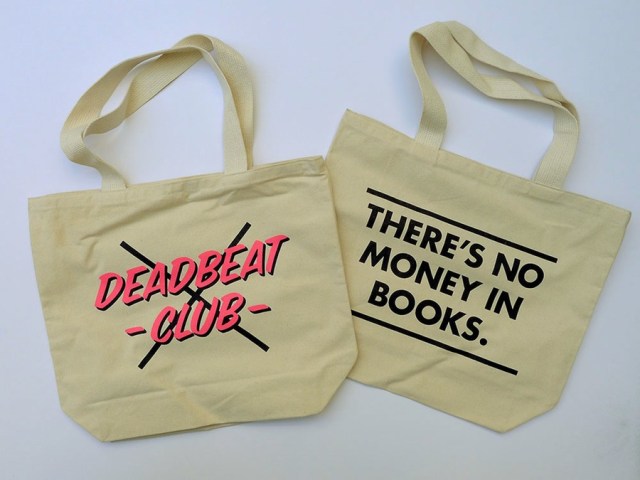 Los Angeles has taught me a lot about myself, but most importantly it has taught me how to master the painless impulse buy. I had brought, in tow, a literal fuckton of old tote bags when I crossed the country toward a better life and then I got here and didn't know myself anymore and I kind of wanted something new, like all new everything, and then my roommate Andy and I cruised through an open gallery space in my neighborhood and I saw this one and I wanted it because it's big and amazing and very on-brand so I dropped some bills on it even though I knew I shouldn't and it was weird because it didn't bother me to do that at all and it should have. I was freelance at the time but also leaving my schedule wide open for like, driving into the desert and drinking milkshakes, so I decided in that moment that yes, I was a deadbeat, I was okay with that, also I love art and being pretentious, and I forgave myself for all of it and decided to literally wear my truths. Also, there's so little money in writing that it makes me wanna cry sometimes, so! Things have changed now, but I'm still spending money aimlessly and using this bag on the daily to carry around some light blue spirits, bottles of both sparkling and flat water, and three pairs of glasses. We've been over this, though.
---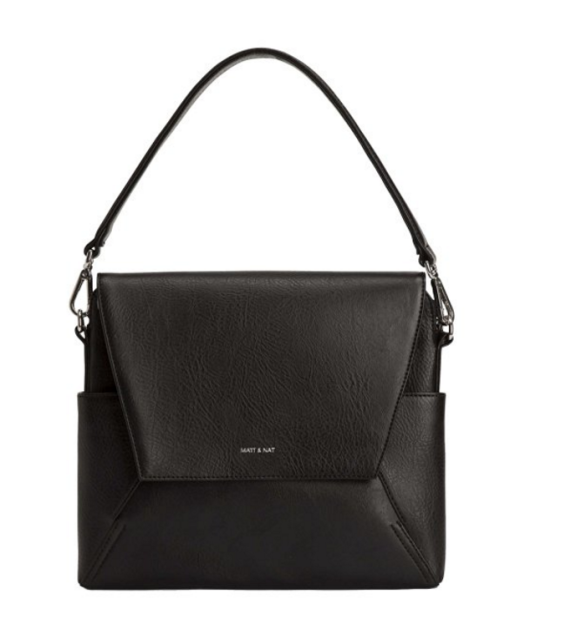 Look, I don't get fancy with bags, but a quality bag from a respectable vegan company is always appreciated. These guys are made from recycled soda cans or something. I like a bag I can fit two bottles of wine in.
---
I can't leave the house without a gargantuan handbag, large enough to work as a briefcase, laptop case, mobile pharmacy, beauty counter, and junk drawer. This one is just tacky enough while still matching almost anything. I have a lot of handbags, but I tend to reach for the same one over-and-over for a whole season and/or until it starts to seriously deteriorate. I just got this one to replace another leopard print boho bag I'd been using on-and-off for five years that was literally coming apart at the seams. Big enough to fit a laptop and notepad? Yep. Lots of pockets for my junk? Yep. Hard femme and business femme appropriate? Yep. So far, so good.
---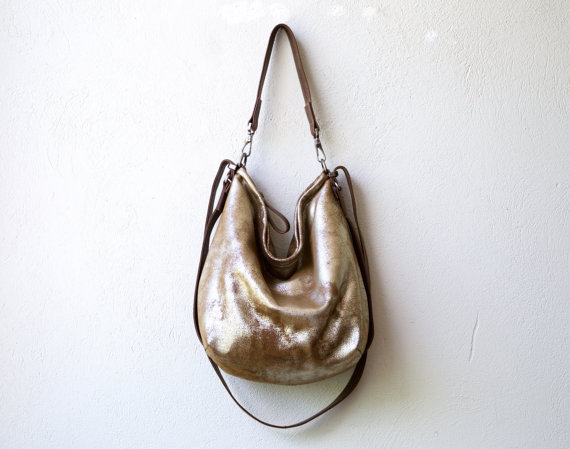 The amount of stuff I can carry in this bag is unbelievable. It can be carried as a handbag, a backpack, or a crossbody bag. The nubuck is super soft, the pocket quantity is sufficient (eight separate compartments plus a removable key fob thing), and the bag also comes in wax canvas or vegan leather if non-vegan leather isn't your thing. I got size "laptop" large in "zinc & clay" (gold), and have zero regrets. The company is independently run by two women in Maine.
---
Less than a year ago, I decided I was over carrying a backpack and wanted to start carrying a purse. At the time, I was watching a lot of Real Housewives, so you connect the dots. In my quest to become a gay fake real housewife, I did a lot of research to find a bag that screamed "Bravolebrity wannabe" but still felt like me. I soon learned that nice purses are expensive—who knew?! But then I found this beautiful and functional beauty at TJ Maxx, and we have been pretty much inseparable ever since, and I have the shoulder pain to prove it. To be clear, the shoulder pain is not the purse's fault. I simply am notorious for carrying too much shit all the time always. But what I love about this purse is that my laptop and iPad can fit in it with plenty of room to spare for books, notebooks, and the 75,000 chargers I have on me at all times. And that little zipper pocket in the front is ideal storage for coffee punch cards, Metrocards, and assorted gift cards. I also like that I can carry it as a tote or a shoulder bag, though I usually prefer the shoulder strap. Anyway, it's a good purse. And I'm ready to be Bravo's first gay housewife.
---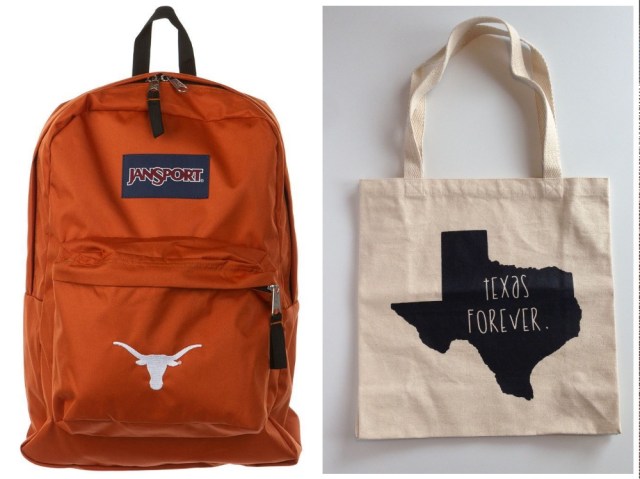 I was at a fancy flea market in Dallas and stumbled upon a small independent shop owned by two moms that sold super cute t-shirts and totes. If y'all didn't know this about me, I'm obsessed with things in the shape of Texas, as all true Texans are. I saw this Texas Forever tote and immediately had to buy it. I carry my laptop, notebook and books in it when I'm heading out to a coffee shop or library or wherever I'm gonna work. It's sturdy and easy to throw things in and also shows everyone that Friday Night Lights lives in my heart everyday. When I'm not using this tote, I use my classic Jansport Longhorn Superbreak backpack that I got when I was a freshman in college that's still going strong to this day. I covered it in all my feminist, lesbian and witch pins which is really instrumental in scaring away men while at the airport. You too can achieve this dream with this simple, yet sturdy backpack that comes in a variety of colors and patterns and the pins available in the Autostraddle shop.

---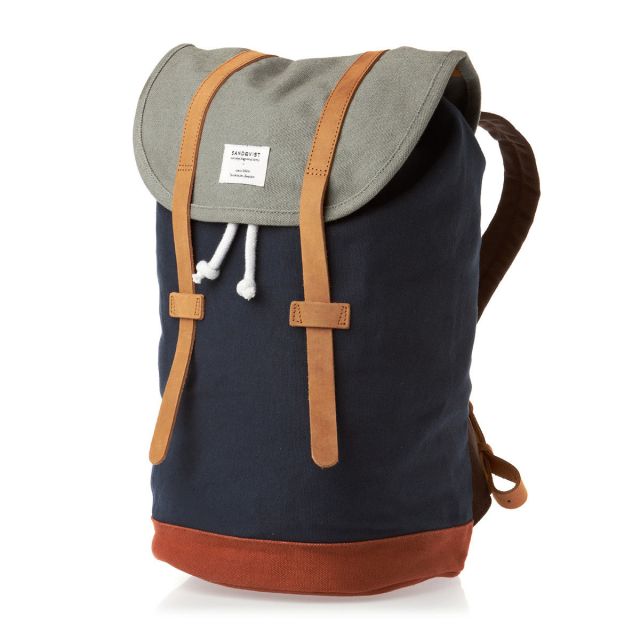 I used to be Team Crossbody Bag but then I moved to a city where I bike a lot and need to carry my giant four year-old laptop around a lot and so here we are. I wanted a backpack that leaned more toward the "fashionable" side because most backpacks make me feel like I'm back in elementary school and that was not a period of my life I want to relive. I've been using this one for about three years and it's held up super well and also, if anything, looks better worn-in! Its only flaw is that it doesn't have any kind of exterior pocket, but I do think that is the reason I've never had my phone or wallet stolen out of it knockonwood.
---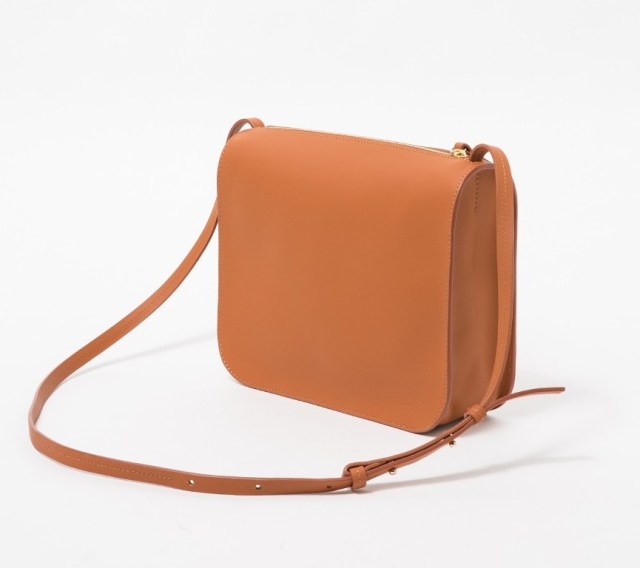 Full disclosure: this isn't my favorite bag, because my favorite bag is a small crossbody handmade leather purse that I bought when I was living for three months in Nicaragua with Audrey. It's the bag I trekked with me all over Nica, for two weeks in Guatemala, and everywhere since I've moved back home. One of the things I love most about leather, especially lightly-treated leather like this one is that it changes with use and becomes something uniquely yours, based on what it's experienced in your possession. This bag has been by my side for about two years now, and in that time it's gotten a little worse (and a little better) for wear: the patina has changed with a surprise rainstorm here and a boozy brunch spill there; the insides have a pinky tint after a red ink pen leaked itself all over my important documents; the latch broke off because I tended to open it too aggressively so sometimes it turns upside-down and spills my things across the parking lot; in short, it's shaped itself to something that is uniquely Mine.
So no, this is not the same bag. But this bag looks just like it looked when I bought it, only a little larger (so you can hold more!), way more expensive (sorry) and without the deep sentimental value. It's simple, it's in my favorite color (honey whiskey, obvi), and it will probably grow with you in much the same way mine did. I can't wait to see it.
---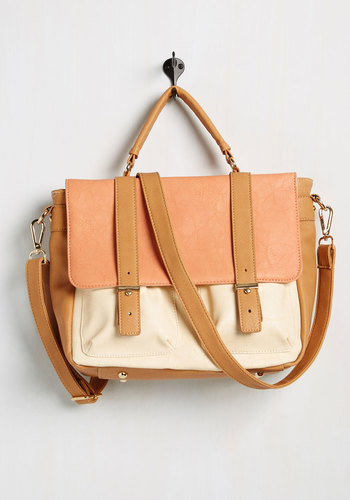 This also isn't my real life favorite bag — I actually bought my beloved satchel at that very same shop Raquel mentioned in Granada, Nicaragua. But now that I'm a satchel convert, I've been on the lookout and coveting this one. Those colors! That perfect size! This one is on my wishlist.
---
I have no memory of choosing or ordering this bag, but I do recall that when it came, my girlfriend was pleased that this meant I'd be abandoning the "ratty old blue bag" I'd been carting around like the Mom I have yet to officially become. However, I'd venture to guess that I purchased this bag because it was on sale, as I now see that the specific color combo I selected is no longer available for purchase. Nevertheless, my friends, I would truly recommend this bag in any color, 'cause it has really nice-sized inner pockets for smaller things, like pens and chapstick and coins and Lara Bars. I'm also a fan of the bag-within-a-bag method, wherein a larger collection of my smaller things (pills, tide pen, kleenex, lotion, chapstick, tampons, sunblock) are safely contained within my Safe Space bag WITHIN my Herschel bag! Also this bag is large enough for a laptop should I so desire to live that way.
---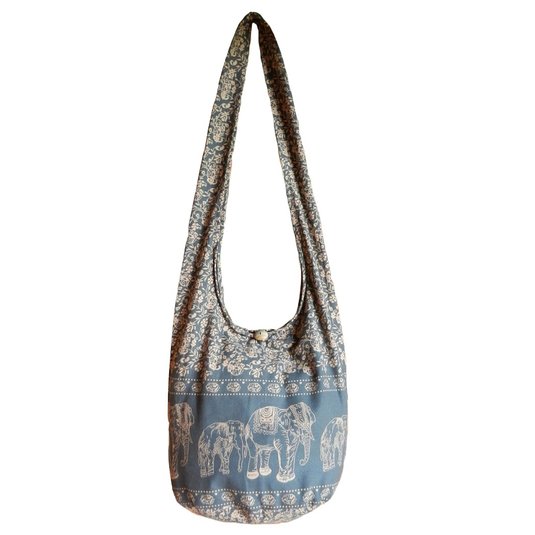 About 74 years ago when I was much younger than I am today, I bought myself a "sling crossbody shoulder bag" in a multicolored elephant/peacock print from Old Navy. It's reversible and has all my favorite colors: tealish blue/grey, burgundy, all the browns, cream. It's also ~74 years old, though, and has been through the wash a few times and carried all over the country, so it's fraying and the strap is ripped into three sections. I'm sad as heck about it! So while I can't link you to the exact bag that I carry everywhere, I can tell you that this one is pretty damn close — close enough that I might replace my tattered bag with one of these babies. To carry a bag like this (which is essentially just a giant sack), you'll need several smaller pouches to put little things in, like chapstick and pens and smoked almonds — things you don't want rattling around in the bottom of your bag. Also I recommend that you avoid looking for things in this bag when you're high or frustrated, as you will not find the things and will only grow closer to losing your entire mind to the void. Maybe ask a friend to find the things for you. That's my advice.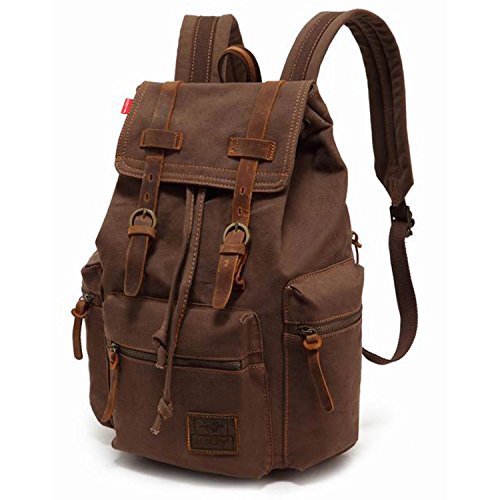 I spent all of my seven years of higher education carrying around messenger bags or shoulder bags because I thought they looked cool; now I'm older and have lost patience with back pain and I bought this backpack. It has a million pockets of varying sizes — a big one on the inside to slip my laptop into, smaller ones that are the sizes of hard drives or notebooks, and even a weird secret one on the outside back of the bag that might be an okay size to fit a passport in. It's now been through many airports and we still love each other as much as the day we met.